Percentile Rank
Super Mario Maker for Wii-U is ranked in the 98th percentile of games scored on OpenCritic.
Rating Summary
Based on 76 critic reviews
OpenCritic Rating
Based on 76 critic reviews
Score Distribution
Unscored Reviews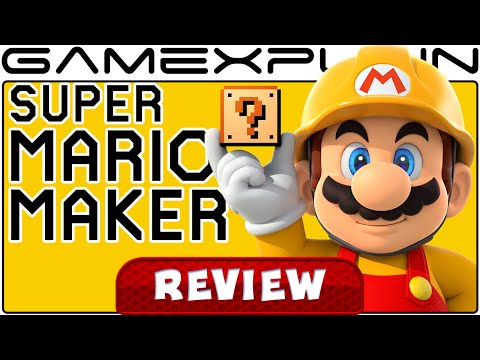 Aspiring game makers will spend hours at a time designing the perfect levels, and those kids-at-heart who grew up with Super Mario will get the chance to live out a fantasy 30 years in the making.
As both a user experience and dream fulfillment, Super Mario Maker is far from perfect, but it is still hugely charming and packs a copious helping of fan service for longtime Mario aficionados. Its greatest accomplishment, though, is showing how such a simple collection of toys can be used in so many different ways. With an active and passionate community, Super Mario Maker could very well be the last Mario game we ever need.
I wouldn't call a game like Super Mario Maker a system seller by any means, so if you don't own a Wii U yet, I'm not sure that this game will make you change your mind, however for those that love Mario's 2D adventures and always wished they could create their own level creations that could potentially outshine Miyamoto-san himself, then this game was literally made for them.
Super Mario Maker is a friendly course creator with a wonderful potential for fun, and it's one of the best games on the Wii U.
An elegant level editor that offers real insight into three decades of platforming brilliance.
"Super Mario Maker" feels like the antithesis of this spirit. "Mario" levels begin to feel like traps that can't be escaped. As with many digital tools that seem to liberate us from the laborious demands of creation, "Super Mario Maker" is primarily an engine for circulating bad ideas and broken gimmicks as if there weren't already an overabundance of them.
Once you overcome the initial frustration engendered by Super Mario Maker's refusal to give you all its tools at once, it provides a wondrously moreish experience that will enthral a generation of tinkerers.
Budding game designers would do well to take advantage of Mario Maker's suite of tools, but even the most uncreative of players will be able to mine hours of playtime and fun from the work of others. Now stop reading this and go buy the thing, already. It's a keeper.
Scored Reviews
Super Mario Maker's chaotic smorgasbord is part of its appeal. Wild, unbridled and even inspiring, Super Mario Maker achieves the envious feat of making both Play and Creation a joy. And all it had to do was remove the barrier between the two.
Super Mario Maker makes level creation incredibly easy and accessible for gamers of all ages. The Wii U GamePad is the perfect tool for level creation thanks to the touchscreen. Whether you are an adult or child, Mario Maker is a stress-free experience to make levels and see your vision become reality. Super Mario Maker is a brilliant Mario game, and a game that Mario fans and those aspiring to be game creators must-play.
Now we have this game that will produce an effectively limitless number of Super Mario stages. I'm not great at math, but I think if you multiply timeless gameplay by countless stages, you get something that is astronomically fun. But Nintendo didn't just do the bare minimum here. It didn't just scrap together a level editor and sharing system. It has put unparalleled craft and care into every element of this game because it loves Mario as much as we do. And that propels this game into a whole other realm of greatness.
Whether creating, exploring or just playing, Super Mario Maker provides an exceptional experience. If you've ever enjoyed a 2D Mario game and have a creative, playful spirit, then you should have already decided to buy this. It has plenty of tough competition, but this is the definitive Wii U game.
What better way to commemorate three decades of Super Mario Bros. than to put the tools for creating Mario games in the hands of fans?
Buy this game. Buy it now! I cannot stress this enough: if you don't have a Wii U, but you love - or loved - Mario games, buy a Wii U and this game now! This is the game you have dreamed of, and more!
Super Mario Maker lets you create as many Kuribo's Shoe-focused levels as your heart can take and then some. The pipes work and you can make giant goombas and stack them up as high as the screen. You can press play and get served up an endless array of user-created levels of varying degrees of quality. If any of that sounds even slightly appealing, you'll probably love this thing to death.
Super Mario Maker sets out to give back to the players, to create their own Mario levels, and to share with the world, and it does exactly that. This is a dream come true for Mario fans and anyone with a penchant for designing their own platformers.
A chance to live out some of your childhood dreams and make games for Nintendo!
The idea of Super Mario Maker continuing into the future is wonderful, because this is a game that can bridge generations. When I was a kid, my dad and I had no idea how Nintendo created a Super Mario Bros. game. Now, I can sit down with the next generation of my extended family and not only show them what Super Mario Bros. is through Super Mario Maker, but also peel back the curtain and figure out together how video games work.
Super Mario Maker is more than a just an amazing toolbox for content creation — it's also a big, beautiful toy box filled with all sorts of incredible, remarkable toys each with individual parts for you to spend hundreds of hours falling in love with. Even if you've never liked this type of game, Super Mario Maker may just win you over.
Super Mario Maker is the perfect tribute to Mario in his 30th anniversary.
Review in Spanish | Read full review
Super Mario Maker's a glorified level maker, but it's a good one. Though it's a little short on content, there's plenty to play around with, and I'm looking forward to seeing what the community can make with it. In the meantime, it's easy to learn, it's fun to play, and it's packed with enough Easter eggs to put the Easter Bunny out of business.
It's magnificent, it's crazy, and it's for everyone to enjoy. Truly inclusive, Super Mario Maker is the game you'll smile the most at this year, and worth every penny.
Nintendo Enthusiast
9.5 / 10.0
Super Mario Maker truly offers you more or less everything you need to create the level of your dreams.
In a world where I started to find too much simplicity and repetition in Mario, I have had my mind turned upside down thanks to Mario Maker. Where I desired difficulty, I received it. Where I asked for more Yoshi, I got it. Where I asked for an endless amount of Mario to play, I have obtained it. And something I thought since being a small child was realized as well. I get to make Mario, the way I want to play Mario.
Super Mario Maker delivers everything you could want from it's endearingly simple concept and it's likely a gift that will keep on giving for years to come.
Other than those minor issues, Super Mario Maker remains an excellent value for gamers: a deep and satisfying creation mode for level building wrapped in a relaxing and non-stressful package that those of any age could enjoy — maybe even multiple generations together.
Where other publishers might release a making-of documentary of their golden era, Super Mario Maker does the unthinkable: It lets you do the making of. I have had a tremendous amount of fun playing Super Mario Maker, but the way it developed that newfound appreciation for something I've known my whole life was the game's biggest accomplishment. Sure, there's touches of fan service here and there, like a startling number of references to Mario Paint, but that's not how it won me over. Super Mario Maker wooed me because it's a hands-on history lesson.
It's unnecessary to beleaguer the points of what makes a Mario game great. Super Mario Maker is all about taking the classic assets, music, and experiences, and making them your own. It is extremely accessible to newcomers, and also offers quite a hefty challenge for those who can claim themselves veterans of the franchise. The title really is the gift that keeps on giving. It packs such a tremendous value that it will make purchasing feature Mario titles seem frivolous.
Super Mario Maker isn't much of a 30th anniversary game; it's more of a tool. A tool that takes advantage of the most iconic mechanics from an entire genre's 30-year heritage.
Super Mario Maker is one of the Wii U's essential games. If you've ever enjoyed a 2D Mario game you owe it to yourself to buy this and get Mario Making!
While you're reading this, I'm probably playing Super Mario Maker. I'm hooked. You could be too.
Reno Gazette-Journal
4.5 / 5.0
Despite its issues, however, Super Mario Maker remains an enjoyable title that makes the Mario world your oyster, er, Koopa shell. Whether it be the game's ability to nurture your inner level creator or inspire future game designers, Super Mario Maker is a great example of the potential that lies in tapping the power of the crowd. Even if you're terribad at stage design, being able to enjoy the crazy creations of other folks makes it worth the prize of admission. Now how about a Super Mario RPG Maker, Nintendo?
Truly showcasing creativity at its finest, Super Mario Maker is yet another gem in the stellar Wii U exclusive library that any Mario fan needs in their life.
If you ever wanted to make your own Mario levels, Super Mario Maker for the Wii U is the way to do it.
A literally endless supply of Mario levels is at your fingertips, as long as you don't mind if they aren't up to Nintendo's standard of quality. Getting creative with the tools is fun, and so is seeing what others have devised
It's an experiment that acts as a deconstruction and overjoyed celebration of everything Super Mario Bros.
The Jimquisition
9 / 10.0
Putting the power to construct Super Mario levels into anybody's hands is such a great idea that it should've been done sooner, and the way it works on the Wii U is almost perfect.
On the surface this is not a gigantic game . . ., but this little software that could allows for more imagination than anything else I've played this year.
Super Mario Maker is where fanship turns into craftsmanship for those who for years have wished to design their own Mario levels. The game is intuitive and perfectly accessible for experienced players and newcomers alike. The lack of multiplayer is difficult to understand, though, as is the nine day timeframe needed to unlock all contents of the level design tool.
Review in Portuguese | Read full review
Super Mario Maker isn't something I necessarily thought that I'd want to play but after spending some serious time with it I'm happy to say I'm almost in love with it.
Super Mario Maker captures the childlike glee of seeing a game in action and wondering what it would be like to create one. Players in the game are crafting classic Mario levels just like Nintendo has done for all these years, albeit with simplified tools. It showcases the imagination of the video game community at large, and it hasn't even been released to the public yet. I can't wait to see how Super Mario Maker grows and improves as more Wii U owners purchase the game and join that community.
The perpetual joke at the end of every 10 Mario Challenge run informing you that the Princess is in yet another castle hints at Super Mario Maker's bigger promise: There will always be more levels to play thanks to the online creation community, and a virtually endless pool of challenges to overcome.
Super Mario Maker is a remarkable game that only just falls short of what many have been dreaming of for 30-odd years. Anyone, regardless of skill and creative talent, can play and enjoy Super Mario Maker, and that is a rarity for creation tools. All I ever wanted to do back in the day was recreate Super Mario levels with interesting twists. Super Mario Maker encourages me to do so much more and try and be a game designer all by myself. And for that I love it.
Nintendo is known for being conservative and protective of its properties, and it's taking an uncharacteristic risk by giving players this much control over its most iconic character. We're already seeing creativity flourish. I can only imagine what will happen when we're all Mario's caretakers.
Super Mario Maker is a special video game, period. You could include all of the lengthy, metaphor-laden nonsense that your little brain can come up with as to what is and isn't perfect about it, but at the end of the day, this is a title that allows you to create and play Super Mario Bros.
Super Mario Maker is a true celebration of gaming's most popular icon. It's Nintendo's love letter to the fans, not just giving them the tools to create and share Mario courses, but wrapping it up in a wonderfully presented package and teaching them everything they could possibly want to know. The beauty is that some fans will inevitably be able to go beyond that and pull off some tricks that Nintendo haven't even thought of yet.
Brimming with positivity and encouragement, Super Mario Maker's brilliant toy box gives you everything you need to easily create and share some truly fantastic levels.
To the few who are dead set on a traditional single-player outing, stay clear. To everyone else, grab your stylus and take the plunge; Super Mario Maker is the king of level creation.
Though surely there's plenty of room for additional features and improvement, Super Mario Maker is a user-generated content experience assembled with the wisdom and mature philosophy of gaming's finest.
And for the first time in a creation-focused experience, I look forward to returning again and again for more than just the amazing levels I know other people will create. I want to keep making my own levels better. The game won't necessarily turn you into the next Shigeru Miyamoto, but you can almost feel a little bit of that magic rubbing off every time you upload a new creation.
There are some incredible moments waiting for you. You just have to dig a little to find them.
New Game Network
86 / 100
Super Mario Maker provides endless fun, heavy doses of nostalgia, and a superb level creator that makes it easy to play the role of amateur game designer. A must have for any Wii U owner who is even mildly interested in Mario games and/or likes to create.
Post Arcade (National Post)
8.5 / 10.0
And that's Super Mario Maker in a nutshell: Making and playing. It might seem small and perhaps even insubstantial on the surface, but it offers nearly limitless creative potential as well as a virtually endless selection of player-made courses to try. It's not going to be Nintendo's next Super Smash Bros., but Super Mario Maker is something close to essential for anyone who's ever played a Super Mario Bros. game and thought: You know, I think I could do that.
Super Mario Maker is tricky to review and score. It's a heck of a first effort from Nintendo when it comes to level editors, with a shockingly deep number of options. However its few limitations are puzzling, and its time-based content gating makes it very slow to start creating.
Simple, inspired, and constantly encouraging, Super Mario Maker gives players the freedom to enjoy Mario the way they like to the most. The pre-made levels are mostly just samples, but the real potential lies with the online community. Super Mario Maker not only respects Mario's 30-year history, it gives players the keys to the Mushroom Kingdom like never before.
If you really sit down and take a good long look at the big picture, Super Mario Maker could go down as the greatest Mario game ever made. It bridges Mario across thirty years of platforming, and puts the power in the player's hands to play Mario how they want. I myself cannot wait to see what the rest of the world has waiting for me to play, and I in turn can't wait to share my creations with the rest of you.
As I argued before, I think it's still likely that Nintendo will profit from the intellectual labor players invest in Maker, and that we'll see the fruits of the community's work in the next Mario game. That said, Nintendo isn't Facebook. Maybe it's better to think about it in terms of participation and collaboration than the work of the many in thrall to the few.
Cheat Code Central
4.1 / 5.0
Super Mario Maker plays a Warp Whistle directly to the right hemisphere of the brain. With fond memories of Mario platforming and an ingrained understanding of its elements, whether you're piecing together a masterpiece on the GamePad or concocting design ideas when not playing (which will happen, I guarantee), it's hard not to imagine yourself as the next Shigeru Miyamoto.
Legend has it that Shigeru Miyamoto designed his original Super Mario Bros. levels on long rolls of graph paper. The tools have certainly changed over the decades, but the magic – in the right hands, at least – remains exactly the same.
You might come for the quickfire fun of the Ten Mario Challenge, but you'll stay for the pleasures of creating and the unpredictable delights of the Course World. Nintendo hasn't just produced a Mario construction kit, but a celebration of all things Mario where you're encouraged to get stuck in. Super Mario Maker is the real Mario Party.
Super Mario Maker gives rare insight into the world of game development, and could prove essential to a new generation of digital creators.
Super Mario Maker is a fantastic creation tool. Just don't expect it to be much more than that.
Super Mario Maker offers an exquisite tool for creating new platforming memories. It realises a dream Mario fans have had for 30 years, but a lack of checkpoints and a skewed course browser that favours levels requiring little effort from players holds the game back from true greatness.
Super Mario Maker already has so much potential, but its true brilliance will only be apparent once it's out and it starts to create prodigies. Whether Super Mario Maker is a gateway to infinite Mario levels or an outlet for your creativity, you will still find unlimited value within. If Mario means anything to you, this is absolutely essential.
NintendoWorldReport
8 / 10.0
The limitations might be bothersome, but at the end of the day, it doesn't matter because crafting your very own Mario levels makes for an incredible feeling, especially with how easy-to-use the interface is. Super Mario Maker is a supreme early leap into the world of game-making software for Nintendo, and I want to see them make more fascinating games like this, even if I can't place a Charging Chuck on screen.
The ability to muck about with our most powerful memories and experiences is bewitching and almost unthinkable, but that's the core of Super Mario Maker. It's exactly as good and as bad as you think a Super Mario level editor would be, and that's entirely subjective upon your own thoughts and opinions.
Ultimately though, Super Mario Maker will live or die on content sharing and Nintendo's long term support. And that's not a criticism or a compliment, it's just an observation of how this investment will be valued.
Nintendo allows the player to become the creator in Super Mario Maker, providing gamers with one of the easiest and enjoyable means of creation ever seen in gaming.
Super Mario Maker is a charming little creation tool, and I'm sure fans will come up with some amazing levels for years to come. However, it feels a bit more constrained than it needs to be, and is in dire need of updates or DLC to keep it going long term.
For all its drawbacks in terms of relying on the gamer to actually put in the effort to enjoy the experience, Super Mario Maker is a fresh approach to the old 'RPG Maker' mould, taking the key elements that any 'build-a-game' title requires and then making sure that there are sufficient in-built goodies to give those less inclined to while away the hours making new content a sense of value for money. Additionally, the online element for stage sharing, as well as potential for new extras to be unlocked via DLC, ensure that Nintendo's anniversary project will certainly not be resigned to a fate of 'dust collector' or 'drinks coaster' anytime soon.
Super Mario Maker is a beautifully crafted and unique game and it feels like Nintendo have put honest time and love into creating it. Other than the fact that timing a jump on the springboards is still horrifically challenging (but it has been for as long as I've been playing Super Mario), you simply cannot fault the meticulous production quality. The simplistic charm and fabulously colourful world will keep you coming back for more, but for how long is really dependent on the player and the reasons they love Super Mario in the first place.
If you accept its purposeful limitations this is one of the few successful attempts to ensure creating your own games is as much fun as playing them.