Outlast II
Rating Summary
Based on 116 critic reviews
OpenCritic Rating
Based on 116 critic reviews
The game wastes no time diving you into a blood soaked desert filled with crazy cultists and weird happenings. The main mechanics revolve around you reaching the end of the game while recording and documenting the events around you. Filling everything you can and piecing the story together. This differs slightly from the original game where recording and event can be viewed on your camera with a dialog over the event. Outlast 2 really tried to up the game of its storytelling and I like that.
Outlast 2 is a lesson in the first-person horror genre and Red Barrels has shown us that they can make lightning strike twice.
Forgiving a story that leans a bit too heavily on its forebears, Outlast 2 is an excellent horror game. It's frightening, repulsive, and filled with the thrilling anxiety of the best games of its type. It does exactly what a sequel should. It delivers on all of the refinements and expansions you would expect to find three years from the original; and though its larger environments sometimes lead to repeated deaths, they also amplify the dread of being hunted. Outlast 2 made me uncomfortable, anxious, repulsed and frightened, and yet I couldn't wait to see what it would deliver next. That's a horror game done right.
Outlast II remains true to their formula of fearing the dark while being surrounded by maniacs.
Outlast 2 is what I hoped it would be. It's horrifying, dark, gritty and disturbing. I was left wondering how the concepts that are implemented into this game were even conceived. After the team at Red Barrels gets a chance to relax from launch I think they should all check into a mental health wellness retreat just to clear their heads of the horror they created for our enjoyment. I also particularly enjoyed how Outlast 2 pays homage to other games in the industry such as DOOM and Mortal Kombat, this adds a rather quirky element of humor to these moments in the game. The new mechanics introduced are a major plus, the added layers to the storyline bring a new element to the franchise, and the sense of fear and dread are almost overwhelming at times. Well done Red Barrels, you smashed it out of the park and I will be sure to forward an invoice to you for the many ours of lost sleep I can look forward to from ANY noise I hear in the dark for many weeks to come.
The greatest horror game to date.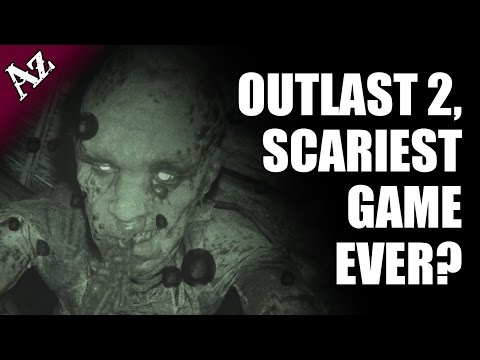 Outlast 2 take its story to a whole new level, but it also undermines it by relying too much on chase sequences instead of letting the player explore some areas at their own pace.
Review in Portuguese | Read full review
The story on offer is fantastic and any fan of horror would be kicking themselves if they didn't try out the gritty and thrilling experience that is found within Outlast 2.