Percentile Rank
Final Fantasy IX Remastered is ranked in the 81st percentile of games scored on OpenCritic.
Rating Summary
Based on 28 critic reviews
OpenCritic Rating
Based on 28 critic reviews
Score Distribution
Unscored Reviews
There are a lot of ways this port of Final Fantasy IX could have been so much more than it is, from a simple change like a console-relevant UI to more challenging ones like the improvement to the background textures. While these gripes are justified in my opinion, the experience of the core game itself has not been affected: Final Fantasy IX is easily one of the best stories in the series with a cast on-par, if not stronger, than any recent game you care to name. While I feel it does little to win over modern gamers, fans of the genre who didn't get to enjoy this one in their childhood would be doing themselves a disservice to not pick this one up immediately.
Scored Reviews
Some of the earlier Final Fantasy games simply transcend time and need to be made available for the newer generations, and this is one that I hope to see them experience
Final Fantasy IX on PlayStation 4 has rekindled my imagination that for years I thought I had lost, giving me a reason to return to these characters and story that deserve to be experienced by any fan of the genre. Final Fantasy IX on PlayStation 4 is upgraded and re-rendered up to the best possible version for every fan of Final Fantasy, new and old.
It's a bold claim, but Final Fantasy IX is the best PS1 era Final Fantasy, and easily one of the best the series has ever produced. With it being on PS4 and PC, even if you don't want to visit a garage sale or local game shop to grab a PS1, you can now play one of the best RPGs ever created. While it manages to only just fall short of greatness, it does so with a level of grace so memorizing, it's hard to believe sometimes. If you still aren't convinced, just play to the final cutscene. That should convince you just fine.
Playing Final Fantasy once more, this time in Ps4, is one of the most notalgic and happy things. The renewed version looks nice and smooth and allows new players to enjoy one of the best game for PsOne.
Review in Spanish | Read full review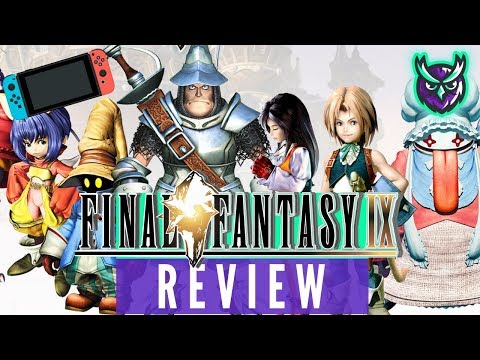 EXCELLENT - The Switch port of Final Fantasy IX is a great way for new players and veterans alike to experience the timeless tale in the best looking version of the game to date. There are a few annoyances that come along for the ride, but nothing that's going to hinder this fantastic game. Get ready to fall in love with Vivi all over again.
This game feels like a home run after almost two decades. The look may be a bit dated, but the gameplay still holds up, and the story still resonates. Final Fantasy IX is certainly worth the time of a first-timer or a nostalgic fan like myself. It's always a pleasant surprise to see how well a complex RPG can hold up almost 20 years later and a joy to have one of my favorite games easily accessible on a modern console.
Not all aspects of Final Fantasy IX hold up perfectly in 2017, but the PSone swansong is still a stone cold classic. Although you could argue that the PS4 port should do more to enhance the experience, the adventure's core strengths in world building and storytelling remain, and they're as flawless as ever. When all's said and done, masterpiece is still a word that we'd use to describe Final Fantasy IX.
I never thought that I would ever have the chance to play Final Fantasy IX on a Nintendo console, and, with Nintendo Switch, Square Enix has perhaps found the perfect place to experience the genre classic.
The definitive return to a heartfelt classic in the Final Fantasy series.
Geek Culture Podcast
9 / 10.0
Final Fantasy IX has sadly always been the most overlooked of the PS1 era Final Fantasy games, but now you have the opportunity to give it a try with its definitive version on PS4. For anyone looking to go back and play the game or give it a try for the first time, Final Fantasy IX on PS4 is definitely the way to go.
Reno Gazette-Journal
8.5 / 10.0
Final Fantasy IX Remastered re-introduces one of the pinnacles of Squaresoft's Golden Age of JRPGs. Some aspects, including parts of the game's visuals, don't quite make the transition to the PlayStation 4 in good shape despite the improved graphics. There also aren't as many new features to distinguish it from the original. A likable cast of characters, however, combined with a well-crafted world and narrative makes this a must-have for any JRPG lover, especially those who missed it the first time.
Seventeen years after its original release, Final Fantasy IX continues to bring lovable characters full of whimsy.
The black sheep of the PlayStation-era Final Fantasy behemoths certainly deserves attention from those who have somehow avoided playing it in some form or another over the last seventeen years and feels like slipping into a worn but comfortable pair of slippers for any returning players.
We won't waste time in small chat: Final Fantasy IX is a timeless masterpiece.
Review in Italian | Read full review
Though Final Fantasy IX's PS4 port lacks the same love and care that was given to the recently released Final Fantasy XII: The Zodiac Age, it is still a solid enough re-release, and more importantly another modern source for players to experience this wonderful RPG classic, whether for the first time or the hundredth time. The timeless charm, characterization and content guarantees that this game will be the place you'll return to someday, now and forever.
Although this is nothing more than a port of the inferior PC version, Final Fantasy IX feels great on the Switch and will introduce a whole new generation to the game's many charms.
Warts and all, Final Fantasy IX remains a great RPG to this day; you likely won't regret picking this one up.
Final Fantasy IX is an amazing experience, with a fantastic cast and story — it's truly a masterpiece of the PlayStation era. This upgrade means that fans don't have to wait years to experience it again without all the pitfalls of the original.
For a seventeen-year-old game, Final Fantasy IX has aged incredibly well.
Final Fantasy IX is a fantastic game with an average port. The price is steep for a 20 year old game with no major upgrades. But once you start playing you won't be able to put it down.
It doesn't matter which console you play it on: Final Fantasy IX still remains a timeless masterpiece, and thus we can only be glad to see its success on the Nintendo digital store. However, this Switch edition is basically the same that was published on PS4 and PC on last two years, so if you already own it on one of these two platforms, there is no real need to buy it again.
Review in Italian | Read full review
NintendoWorldReport
7.5 / 10.0
That's not to say people should avoid this re-release, because despite the problems there's a strong game here that's worth playing and experiencing. FFIX is reminiscent of a simpler time, boasting a strong narrative and quality of life features that make it easy to get into. I just wish it had a better presentation, one that a game of this quality truly deserves.
Eighteen years after its original release on PlayStation, Final Fantasy IX is back on Switch, but with all the flaws inherited from the PC/PS4 port of 2017. But in the end, its compressed soundtrack and smartphone interface will not make us forget the greatness of such an adventure, which could have benefit from a sweeter launch price.
Review in French | Read full review
Final Fantasy IX is an excellent investment on the Nintendo Switch.
Final Fantasy IX is an absolute must-buy and must-experience classic JRPG that deserved a home on a Nintendo console, and should have had one a long time ago.
Final Fantasy IX is an excellent RPG with excellent characters, a fun story and combat, and is a great reason to experience one of the original PlayStation's finest titles on a new platform. Unfortunately, the quality of life improvements made can't cover up the fact that this is a lazy port of a game that deserves better.