Percentile Rank
Dragon Ball: Xenoverse is ranked in the 48th percentile of games scored on OpenCritic.
Rating Summary
Based on 45 critic reviews
OpenCritic Rating
Based on 45 critic reviews
Score Distribution
Unscored Reviews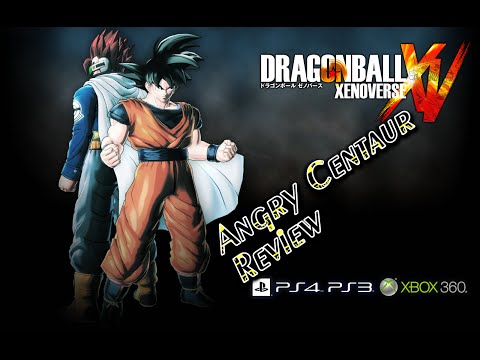 Dragon Ball Xenoverse is a light-hearted fighting game that will serve fans of the anime, but the customizable avatar gives it that extra edge to set it apart as "more than just another licensed game."
Scored Reviews
Overall, Dragon Ball Xenoverse is probably one of the best, if not the best, Dragon Ball related games out there – and there are a lot. You can replay missions to enhance your character. There are various trainers to go on missions for. It also has time travelling - and that's always a good thing.
Geeks Under Grace
8.7 / 10.0
Dragon Ball fans will love Xenoverse for its wide customization options and fast-paced action that delivers... and delivers strong.
Fans of the Dragon Ball franchise and its video games would be remiss not to pick up Dragon Ball XenoVerse.
Dragon Ball: XenoVerse is a very solid fighting game and Dimps reputation hasn't been let down. I just hope that if there is a XenoVerse 2 they put in some extra QA work to fix the niggling gameplay issues and balancing. They also need to fix the massive online issues that are still present, not being able to connect to an online lobby so long after release is unforgivable. However if you're a Dragon Ball fan then getting Dragon Ball: Xenoverse is definitely recommended.
Dragon Ball Xenoverse is definitely a bit better than the previous game on the PS3 and XBox 360 and does offer the gamer some great replay value, especially when it comes to unlocking all the goodies such as costumes and items. With that said, the game still feels a little previous-gen in terms of its controls and I'm still waiting to see that true next-gen fighter on either the PS4 or the XBox One.
Dragon Ball Xenoverse allows players to participate in the world of Dragon Ball like never before as they help change the tide of battle. If you enjoy battling it out with your favorite Z fighters then you will enjoy this game.
Over Dragon Ball Xenoverse is a great first step in this generations set of Dragon Ball games. If you are a fan of the series or fighting games you should definitely give this game a try!
Dragon Ball Xenoverse captures the brutal thrill of soaring aerial anime battles better than practically any game I've ever played, all while allowing us to genuinely enter the Dragon Ball universe as our own character by participating in key canonical events and crazy 'what if?' scenarios.
Xenoverse blurs the line between video game and anime. Despite a few issues, there's tons of replay value here, and fans can finally fulfill their dream of putting themselves in Dragon Ball.
Cheat Code Central
4 / 5.0
You'll get about 12-15 good hours out of Dragon Ball XenoVerse's single-player and co-op missions, but you probably won't touch it much after that. But hey, 15 hours is pretty good for a full price game these days. If you are a fan of DBZ, especially if you have ever written a piece of DBZ fanfiction or made a piece of DBZ fanart, you should probably give Dragon Ball XenoVerse a try.
A refreshing look at the Dragon Ball universe that makes for some great storytelling. Its hub city is more annoying than fun, but the core experience overshadows this simple gripe.
Sadly, if you've been holding out for a more traditional Dragon Ball fighter, Dragon Ball XenoVerse isn't it. It is, however, a well realised and refreshing take on Akira Toriyama's universe, which allows fans to appreciate the source material from a whole new angle. Accessible, bombastic combat, entirely customisable characters, and some fantastic online functionality give the game a unique identity, and arguably make it one of the most ambitious licensed titles that we've seen in years.
Dragon Ball: Xenoverse is probably one of the most impressive Dragon Ball games released so far. With all the game content available, this isn't something that is going to be finished in a day. If interested in the anime series or fighting games in general, this is a good choice for a collection.
Dragon Ball Xenoverse is definitely the best Dragon Ball game in years, though certainly not without its flaws, which shakes up the typical formula and is bound to shape the future of the series.
What it comes down to is if you're not a fan of DragonBall, this score will seem too high. If, like myself, you are a fan, this score will seem too low. It's a game with flaws but it plays very well to its intended audience which, in my books, is a job well done.
The story is silly, but I enjoyed the excuse to revisit memorable moments from the show with a new, sometimes ridiculous lens
Overall, Xenoverse was a pretty nice step for DBZ games, and for fans alike. The customization and online offerings of the game keep the appeal up, the combat is balanced and entertaining, and all in all, its a solid release, and good title for any fan of Dragon Ball Z.
Even though their gamble with the online connectivity and a few fundamental mechanics fell flat on its face, as a long time fan to the series, I found the experience pretty enjoyable all the same.
PlayStation Universe
7.5 / 10.0
Dragon Ball Xenoverse is a pretty addictive and satisfying entry in the series, despite some noticeable shortcomings.
Dragon Ball Xenoverse is a fun and pretty innovative experience for both veteran fans and newcomers. Unfortunately, it's weighed down by some elements like the wonky camera, the fickle lock-on, the dumb companion AI, or the slightly repetitive combat. Even so, you'll find things to enjoy and taking a walk down Dragon Ball memory lane is always interesting.
Dragon Ball: XenoVerse may not be the perfect Dragon Ball experience, but it is absolutely the perfect foundation for one. Here's to hoping that Dimps makes the right choices for the inevitable follow-up.
Dragon Ball XenoVerse may not have a complex fighting system, but this game is all about fan service! Why else would the developers let players fight as Goku against Frieza, then Goku vs. Cell, and then Super Saiyan Goku vs. Kid Boo in the very first scenario?
Xenoverse is far from a bad game; there are massive amounts of collectibles and stuff to do, plenty of things to unlock, and the online Parallel Quests make playing as a group fun. Unfortunately, the grind, relatively uninspired gameplay, and poor AI makes Xenoverse less fun to play than the old-school Dragon Ball Z games from the PS2 era.
PlayStation LifeStyle
7 / 10.0
So, while fans of the series will find a great deal of content to keep them entrenched into the world of Dragon Ball, anyone who hasn't had a history with the seasoned mechanics will undoubtedly find themselves button mashing their way through the confusion and hoping for the best until things make sense. While anyone who doesn't know anything about the history of the series, or just been away from it for some time, will be completely in the dark through most of the experience, as it does rely wholeheartedly on your understanding of who is who, but, also given that the story is far from the reason anyone is going to want to play this, I guess that doesn't matter all that much either way.
..fans of the Dragon Ball Z franchise will not know what to expect from a twist and turned filled time travel story that will rearrange all of their favorite characters until those fans can put them back in order again.
Reno Gazette-Journal
3.5 / 5.0
Overall, XenoVerse is a welcome change of pace for the Dragon Ball fighting formula, which was starting to get stale even for some die-hard fans. Admittedly, the fighting can feel unwieldy at times and it isn't the most technical entry you'll find in the genre. The addition of online RPG elements, however, is something I really liked so I hope Bandai Namco builds on that in the future.
Dragon Ball Xenoverse brings some great new additions to the role-playing, beat 'em up hybrid but even a journey into the future can't shake of those flaws that consistently plague the series
Dragon Ball Xenoverse has its share of flaws, many of which have plagued DBZ games for nearly a decade, but it also fixes nearly all of the problems of its predecessor. The create-a-character feature is a rich pool of choices, filled with expansive combat options and a seamless integration into the story.
Dragon Ball Xenoverse is a game for fans of the show, fighting games and MMOs alike. Although some elements are technologically challenged or more or less average, this game is enjoyable. With fleshed out leveling, combat and skill systems, Dragon Ball Xenoverse can keep you engaged for months to come.
Dragon Ball Xenoverse is a great game for fans of the franchise. It captures a lot of the style of the show and provides a bunch of content. The create-a-character feature adds a ton of replay value. It's not a game for anyone who's not a fan, but it doesn't try to be. It's mostly held back by a lack of polish in some critical places. With some stronger level design and some additional tweaks to the combat system, it would've been amazing. Instead, it has enough weak points that you must struggle past to reach the fun parts. The core gameplay isn't strong enough to reach anyone who isn't a fan, but DBZ fans will be quite happy with the final game, warts and all.
Dragon Ball XenoVerse lets you customize your own fighter, but good luck with the dull, unfair fighting.
Dragon ball Xenoverse has some good qualities but the gameplay is awful
Dragon Ball Xenoverse is excellent fan-service and has a ton of potential, which makes it frustrating as hell to see it held back by technical issues and repetitious combat.
Some great moments, but this is far from being everything a fully interactive Dragon Ball Z battle could and should be in 2015.
I still had more fun than not when playing Dragon Ball Xenoverse. This was a great direction for the story and the RPG elements that give a sense of progression are certainly welcome. There is still room for improvement as some small tweaks to the in-city travel and chaotic combat would go a long ways towards improving the product as a whole, but the game we have now is still one that I easily sunk a lot of hours into.
Xenoverse isn't a particularly great fighting game, or even an above-average one, but it's clearly the best entry in this long-running franchise in quite a while.
Fans of previous Dragon Ball games will no doubt have a field day with XenoVerse. Aside from the immediate sense of familiarity, it has a shedload of content to wade through, including a trove of iconic items and clothing that can be used to customise your own unique character. Online play is also quite the boon, allowing you to saddle up with friends in a Monster Hunter kind of way. Inevitably, however, there will be those who simply don't see the appeal of XenoVerse's core gameplay, and it ultimately grates as it becomes repetitive no matter how much you enjoy it at first.
No doubt a dream come true for fans, but with so little innovation in the core gameplay the boast of being an interactive cartoon seems more like a liability than a positive.
For any information on Dragon Ball XenoVerse be sure to check out the game's official site..
Xenoverse is worth a recommendation for diehard Dragon Ball Z fans interested in participating in the story. Seeing your own created character interact with legendary moments from the anime is satisfying, and it's fun to witness characters like Nappa and Goku become allies. However, the shallow and repetitive gameplay lacks the same impact, and the long grind is a heavy burden. Those without such a strong attachment to the franchise may not be able to stomach the compromise.
Dragon Ball Xenoverse doesn't excel as a fighting game, but the customization options and fresh story beats add a new spin to a stagnant series.
A love letter to fans, Dragon Ball Xenoverse features almost every character, masses of content and the trademark vibrant and frenetic art style. Unfortunately, it's not really much fun to play, succeeding in being something of a repetitious slog. A game for the Dragon Ball purists, Xenoverse is unlikely to appeal to anyone else.
Fans have been wishing for the perfect Dragon Ball Z game for a long time, and Dragon Ball Xenoverse makes it clear that they'll need to wish for something else