Percentile Rank
Gears of War: Ultimate Edition is ranked in the 90th percentile of games scored on OpenCritic.
Rating Summary
Based on 66 critic reviews
OpenCritic Rating
Based on 66 critic reviews
Score Distribution
Unscored Reviews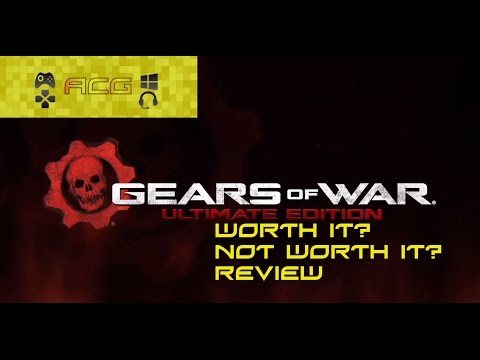 Whether you are a fan of the Gears franchise, shooters in general or perhaps missed out on the Gears craze almost a decade ago, I recommend Gears of War Ultimate Edition due to its polish and refinement on many levels.
In spite of some minor flaws, Gears of War: Ultimate Edition is a solid remaster with incredible value.
Gears of War: Ultimate Edition is a pleasant throwback but the experience feels a bit hollow.
Scored Reviews
Geeks Under Grace
9.5 / 10.0
Gears Of War: Ultimate Edition takes everything that made the original games great and improves upon it substantially. However, despite its many improvements, GOW: Ultimate Edition isn't without fault due to inconsistent and laughably bad friendly AI and a few technical glitches. Overall, it is a great entry point for newcomers and returning Gears veterans to dive back in to true, skill-based online multiplayer.
Marooners' Rock
9.5 / 10.0
Overall, Gears of War: Ultimate Edition is a game I loved playing from start to end. Should you buy Gears of War: Ultimate Edition with your hard earned money? Definitely.
The remake is a fantastic trip down memory lane, bringing arguable the best Gears of War game back and better than ever. If you already own an Xbox One and enjoyed the franchise, this is a must have title. I expect some will be jumping on board in purchasing the system just for this title alone, and I wouldn't blame them in the slightest.
Cheat Code Central
4.6 / 5.0
Gears of War: Ultimate Edition does little to pervert the gameplay formula of the original, as it is held fervently close to the heart by many a fan of the series. Instead, The Coalition takes the template and heightens its controls and visuals to a level that puts other games fresh off the press to shame. It's the same great game you loved nearly a decade ago, it just looks and feels a whole lot better.
If you missed Gears of War the first time around and own an XBox One then I could happily recommend the admission price into this franchise and best of all, it's loaded with content and entertaining gameplay. This also means that players will be able to download the original Xbox 360 games on their next-gen console (November 2015) plus get unprecedented access to the beta of Gears of War 4.
Gears of War: Ultimate Edition showcases how a remaster should be done by redoing all the cinematics, campaign levels, multiplayer maps and adding a bunch of extra content- all in 1080p at either 30fps or 60fps. It also gives choice and flexibility to the players with the Backwards Compatibility titles, making this the ultimate package for fans and newcomers alike.
As it stands, Gears of War: Ultimate Edition is a great addition to the collection of any Xbox One owner. The fact that you get the entire Gears collection for free and Gears of War 4 multiplayer beta access further sweetens the deal. Newcomers get to play one of the most influential games of last generation while old-timers can take stock of the slew of incremental yet important changes that make it worth playing through all over again.
Taken as is, Gears of War: Ultimate Edition is everything a fan would want in a remake of this game, whether they plan to play it alone, with a friend, or against a bunch of people they meet online.
Gears of War: Ultimate Edition stands as a shining example of how a remaster should be done. From the ground up the game has been redesigned to make it look and feel perfectly at home on the Xbox One, and The Coalition have managed to combine remaining true to the original game, whilst at the same time adding improvements. By staying true to the original Gears there are moments where the game shows its age, but they aren't frequent enough to spoil the overall experience, and you'll be more surprised by how well the story and gameplay mechanics stand up to today's standards, and quiet often over shadow them.If you're not a fan of third person shooters or the previous Gears of War games, there's nothing for you here, but for everyone else the name says it all, this is the Ultimate way to experience Gears of War, whether you're a newcomer to the franchise, or if you're looking for any excuse to return to Sera and chainsaw Locust's into tiny pieces, Gears of War: Ultimate Edition is a must play.
A genuine visual upgrade and the multiplayer being 60fps means there's every reason for fans and newcomers to enjoy this package. Ultimate Edition reminds us of why Gears of War is so beloved.
Despite some bugs and network limitations, Gears of War: Ultimate Edition undeniably succeeds in becoming the new definitive version of this game.
Microsoft has a lot riding on the continued prosperity of Gears; after all, it is one of the publisher's largest properties. Gears of War Ultimate Edition effectively reminds why that's the case, just as it reminds why this is the game that partially influenced an entire generation of gaming. It just took a makeover to help us appreciate it again.
New graphics, new levels, and new features make this one of the best games you can buy on the Xbox One.
Rebuilt in every way, and unlocking the entire Gears franchise for a value-conscious price, this truly is the Ultimate Edition of Gears of War. Curb stomping is as fun as you remember, but with this much of a rebuild, you have every reason to experience it all over again.
A right rollicking blast from the past brought bang up to date with a splendid, full 1080p makeover. Its campaign has a ton of macho meat to sink your teeth into, and once you're done, the multiplayer aspect provides plenty of long-term appeal. The fact that the game comes with three other Xbox 360 Gears of Wars titles makes it a veritable bargain.
The Ultimate Edition, even with its facelift, is pretty much more of the same, and will only appeal to series fans and possibly rein in newcomers just in time for a Gears of War 4 release. For a Gears of War fan, however, this remastered edition is a must-own for your library. Marcus has never looked more intense, the Kryll have never looked more terrifying, and the Locust have never looked more disgusting. The Ultimate Edition truly is the ultimate Gears of War experience.
Damn near essential if you've yet to experience the horror that followed Emergence Day, and very heartily recommended to those who've forgotten just what a special time that was.
'Gears of War: Ultimate Edition' is not a mere port, but a labor of love a long time in the making. The price tag is a bit steep with much of the new content geared towards multiplayer aficionados, but this is a lovely showing of Delta Squad on the One.
One of the best third-person shooters in history? It was and still is. The proof is right here.
Gears of War: Ultimate Edition features ample improvements made to the original game throughout, making it a familiar but fresh trip down memory lane.
Gears fans, as well as those new to the series, will be satisfied with this "Ultimate Edition" offers, as it's way more then just an HD remake.
You won't see any major improvements outside of the visuals, but it's the minor improvements across the board that makes this game an incredible shooter.
It may not be perfect, but Gears of War: Ultimate Edition is certainly a game worth playing. There is plenty of value to be had, no matter if you are a Gears fanatic or someone who is brand new to the series. Just make sure to experience it with a friend at your side.
Digital Chumps
8.6 / 10.0
If anyone reading this has a One but hasn't experienced Gears first hand, this is a must buy right before the rush of the holiday releases really gets going in a month or so. For long time Gear heads, I still think this is a worthy hard drive partition, and makes retiring the 360 from your HDMI ports that much easier.
Gears of War: Ultimate Edition keeps the heart of the 2006 release and reimagines it for the new generation. With remastered 1080p visuals and 60 FPS multiplayer it is a well recommended title to anyone's Xbox One collection. Whether you're a new player to the franchise or a returning veteran you'll soon find yourself gnashing grubs and stomping nubs in no time.
Gears' strong style and great gameplay make it enjoyable even today, nine years after the original was released.
Ultimate Edition proves what an outstanding game Gears of War was and is. It's a meticulously-crafted remake, and the online modes are exemplary. Even if you've played the original, it's well worth a look.
Post Arcade (National Post)
8.5 / 10.0
The Coalition's visually upgraded version of Epic Games' classic shooter is an optical treat content to preserve the original's (now slightly clunky) mechanics
While they already had excellent source material to work with, The Coalition has given us the definitive Gears experience.
Yes this is another HD remaster, but whether you're new or returning, this is a classic that still holds its own, even with nearly 10 years passed with its improved visuals and a whole host of new features and additions.
Although some aspects have aged, this Ultimate Edition is solid. The Coalition has done an amazing job, rebuilding one of the best shooters ever made. The game looks incredible, and the framerate upgrade offers a perfectly smooth experience. For $ 40.00, you can't really go wrong with this one.
Gears of War: Ultimate Edition is the Gears of War that fans didn't ask for, but it's the one they got, and it's actually pretty great, as it happens. The campaign seems to have taken a backseat to the multiplayer in terms of improvements, but it's worth buying for the multiplayer alone, so there's that. It'll tide you over till Gears of War 4 at least, but that's about it.
Despite being almost a decade old, Gears of War: Ultimate Edition comes to Xbox One feeling fresh and having lost little over the years. The remaster job isn't perfect, though, and some slight technical issues do present themselves within the game's updated campaign.
The return of Gears of War is a bittersweet one. The updated graphics detract from the original artstyle, but the improved netcode and online features drag Marcus and the gang kicking and screaming in to the next generation. Putting aside the issues with frame rate, it is a smut have for any lancer enthusiast.
One of the best remakes of recent years, both in terms of the amount of thought and effort put into the remastering and how much the original deserves the attention.
Gears of War: Ultimate Edition isn't the Xbox One's killer app but it's a good addition to any shooter fan's library. Some mechanics have begun to show their age but as a whole, it's a worthwhile and fun experience.
Make no mistake—regardless of my feelings about not getting the full trilogy, and my mild disappointment with how Gears of War plays in 2015, The Coalition has made a triple-A package worth picking up for any fan of the series.
I was expecting a bit more from this game in terms of meaningful gameplay improvements and AI fixes, but that doesn't stop this trip down memory lane from being a hell of a ride.
Somewhere between a remake and a remaster, the work done to the original Gears of War is evident at every turn. You'll come to see the impressive new coat of paint, but you'll stay for the timeless multiplayer.
How much mileage you'll get out of Gears of War: Ultimate really depends on what you're aiming to play. There's very little you haven't played before in the campaign and the new cinematics and voiceovers do little to assist the bare story, but the gameplay is still great, it looks and sounds fantastic, and fans will no doubt enjoy playing the formerly PC-exclusive section they missed the first time.
Gears of War: Ultimate Edition is anything but a lazy remaster. With a bunch of new content, a massive visual overhaul, mechanical improvements, and other subtle modernizations, Ultimate Edition has earned the right to be referred to as the definitive version of Gears of War.
It feels good to finally get back into Gears of War. People Can Fly experimented with Judgment, but it ultimately didn't work as well as it could with the series formula.
Ultimate is the best possible demonstration of Gears of War's classic shooter bonafides
The Jimquisition
8 / 10.0
This goes in the pile of worthwhile rereleases that have been churned out lately, and is no doubt going to adequately tide over Gearheads until the next sequel makes its mark.
Fans of the original Gears of War will enjoy visiting Sera one more time to play out humanity's last hope against the Locust. The sound and the visuals all receive the requisite upgrades with just a bit of extra story thrown in for those who did not play the game on PC the first time around. But what will really keep you coming back for more is a robust multiplayer that takes some of the best elements of all three games and serves it up in a smooth framerate that makes it a joy to play.
One of the better remakes of recent years, stifled slightly by bugs that should be squished in future patches. The signs are good for Gears under The Coalition.
Some folks will be telling you that Gears isn't as good as you remember, but this Ultimate Edition proves that they're talking nonsense. Don't blame Epic's blockbuster for the dumb, dudebro sci-fi action games that followed; it's a lean, superbly-paced action game with slick mechanics, stunning aesthetics and some fantastic set-pieces, all of which work as well now as they did back in 2006. The AI has its dodgy moments, but the game is still phenomenal.
Gears of War: Ultimate Edition is truly the ultimate edition of Gears of War. It may suffer from some sporadic performance issues and the occasional loading glitch, but the campaign is entertaining, the Brumak chapters are intense, and the game is great to play in co-op with a friend. Its multiplayer remains addicting and fans of the original Gears will find haven in the game's numerous modes for months to come. Any fan of Gears of War owes it to themselves to buy and play this amazing game.
It was one of the more fun campaign experiences I've had in a very long time, and at 15 hours for a first play-through, it's not too bad for a game that's $30 USD at the time of this review. On top of an improved multiplayer experience and a good chunk of replayability, it's hard not to recommend this game. It's also really fun seeing what terrible situations you can get Dom stuck in.
While the inclusion of all Xbox 360 versions of the Gears of War series could be seen as a sweet deal, I'm certainly torn by Microsoft's decision to do this. It's a nice touch to allow Xbox One owners to be able to play any Xbox 360 Gears of War game through backwards compatibility, but I feel this to be more of a cop out as The Coalition really should have offered the complete collection in what they consider to be the "Ultimate Edition" of the game.
The Coalition has done great work in bringing Gears of War to a new generation, though it's not always without its problems. Changes in general are welcome and well-executed, though some unkempt issues of the original and some compression artifacts do arise here and there. Some technical issues aside, Gears of War: Ultimate Edition is an excellent ode to the original which along with backwards compatibility for the sequels will make for an excellent opportunity for new players to introduce themselves to the franchise, along with returning players who want to re-live this classic Xbox 360 title.
A fun and visually impressive trip down memory lane, even if some of the shooting mechanics feel dated
The original Gears of War holds up better than you might think for a game that inspired years of me-too shooters. It may not be worth $40 for everyone now, but if you haven't touched the series before and want a good starting point before Gears of War 4 hits next year, this is the best place to start.
In spite of the older design choices holding back this game, Gears of War: Ultimate Edition is one of the best remasters around.
At the end of the day if any triple-A franchise deserves the remastered treatment, Gears of War fits the bill. It spawned a legion of devotees. Even though the campaign has shown its age, the multiplayer still can compete with today's shooters.
The Coalition has crafted a faithful homage to a great nine-year-old game, but hasn't completely erased the blemishes of the past.
Gears of War: Ultimate Edition is a fine Xbox One remastering of a classic, important, Xbox 360 game, but it could have been so much more.
Online aside, Gears of War: Ultimate Edition is exactly what Gears fans could ever want from a remake of the original game: enhanced controls, powerful new visuals and a complete transferring of the full Gears of War experience — PC exclusive missions included — from the previous console generation to the current one.
Gears of War: Ultimate Edition does a fine job of remastering the original, but a new coat of paint and some minor upgrades can't disguise the fact that the gameplay experience hasn't aged particularly well.
The campaign has aged pretty poorly and the graphical updates to the campaign side of Gears of War feel half-baked, so unless you're really excited for the competitive part of Gears of War, there's nothing for you here.