Percentile Rank
Star Wars Battlefront is ranked in the 48th percentile of games scored on OpenCritic.
Rating Summary
Based on 112 critic reviews
OpenCritic Rating
Based on 112 critic reviews
Score Distribution
Unscored Reviews
Star Wars Battlefront nails the epic battle atmosphere with great visuals and authentic sound design.The gameplay on the other hand is somewhat shallow. The environments, whilst offering amazing graphics, aren't the best designed ones either. Star Wars Battlefront is most enjoyable in short sessions and should be acquired through the Origin Access subscription.
Review in German | Read full review
It's not Battlefront III enough for the Battlefront diehards. It's not Battlefield enough for the Battlefield crowd. And it's not deep enough ... for me to believe the game has staying power - though it's noob-friendly enough that it may (temporarily) appeal to the masses of Star Wars fans that have never touched its predecessor or a modern shooter, but want to pick up a fun video game after seeing The Force Awakens.
At this point, with less than a month to go before The Force Awakens hits theaters, Battlefront is a necessary balm for Star Wars fans to get their fix. But it's difficult to say whether it's anything more than a temporary pick-me-up that will be forgotten the minute the movie is released. Despite the myriad modes, the scope of the game feels small. Channeling Emperor Palpatine, EA has foreseen this and promised additional content in the coming weeks and months—for a price, of course. Hopefully, the company's powers of prophecy are better than his.
Star Wars: Battlefront is a simplified online shooter for a broad audience that delivers on its promise of Star Wars battle fantasies.
Star Wars Battlefront is undoubtedly a fun game, and it's a great fan service. From the iconic characters to the recognizable set pieces, it definitely pays homage to the original trilogy. But its beauty is only skin deep.
TotalBiscuit, The Cynical Brit
Unscored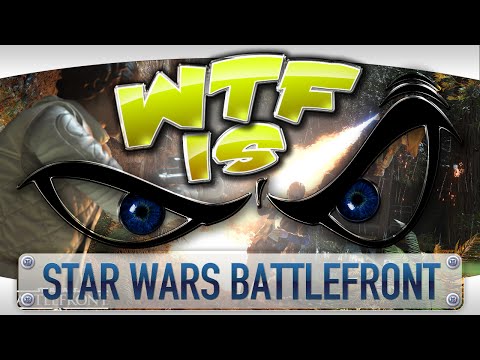 Rock, Paper, Shotgun
Unscored
While the destructive potential of weapons and cards alike in some cases increases as you level up, it's much more about finding the ones you like best rather than having a de facto edge. Sadly, this in turn means that unlocks can be quite underwhelming, especially as weapons are all bound to obey the movies' pew-pew and dead behaviour. A new pistol or rifle might look different, but bar a few explicitly short-range/higher damage variants, it feels broadly the same as anything else. You don't feel empowered by your new toy, but instead have to get on back out there and keep doing the same thing.
It's a fun multiplayer take on star Wars despite repetition and a small number of locations.
In good moments, it feels like you're heading somewhere promising, halfway to getting a gun you really want. In bad moments, getting what you want is a pleasureless anti-climax, that leaves you even further away from the next upgrade milestone.
Star Wars Battlefront is beautiful and true to its namesake. It's fun, but it's shallow, and we're not sure it warrants a $60 price tag.
Star Wars Battlefront is a game for the casual shooter fan. No one ever planned an attack, no one ever talked. So, if you're going into this game expecting a Star Wars skin on Battlefield, expect to be dissapointed, as there is no aspect of team play in this game. While I like a game I can just hop into every few months, I expected more from a franchise that I basically grew up with.
EA DICE succeeds in creating an easy to pick up and learn first person shooter, but this comes at a cost to depth of play and strategy.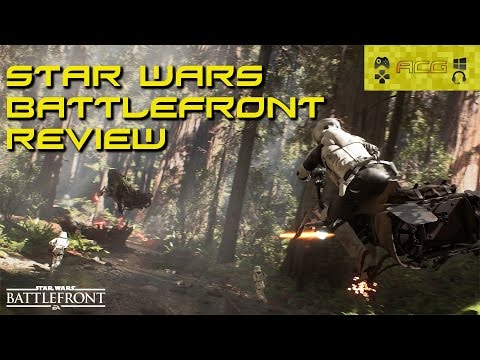 Eurogamer
No Recommendation / Blank
No Recommendation / Blank
Nov 20, 2015
Battlefront's multiplayer-centric action is stylish and refreshingly simple, although it can feel more stunted than streamlined.
Scored Reviews
Star Wars Battlefront might not be terribly considerate of solo players and its by-design accessibility might deter DICE's hardcore Battlefield fans, but there's no denying the multiplayer is a hell of a lot of fun, and as far as creating the feeling of being part of a Star Wars movie, it doesn't get any better than this.
Play Some Video Games
90%
The visuals and audio in this game are top notch; I've never played a Star Wars game that feels more authentic than this.
Star Wars Battlefront is one of the best games I've played this year; the visuals were stunning, the audio was fantastic and the immersion was perfect! Whether you fight for the Rebel Alliance or you walk the path of the dark side, this game will keep you entertained for a long time to come. The force is strong with this one!
A fantastic game if but for a few flaws that might make it not as attractive as it could be. It doesn't quite live up to the hype, but that doesn't mean it's a terrible game to play. It's fun, but just don't think you'll enjoy it for more than a week. DLC makes it worthwhile, but it's too expensive.
While not without its problems, "Star Wars: Battlefront" delivers on most of the potential fans of the series were hoping for. The majority of its gamemodes are exciting and will have you talking about them the next day, while aesthetically, it utterly hits the nail on the head. You feel as though you are in the Original Trilogy. And with the Battle of Jakku and more free modes and maps, along with the planned DLC, "Star Wars: Battlefront" will not be leaving my disk tray anytime soon.
Accessible, well made and full of really, really cool moments, it's hard not to love it. Add in a perfectly crafted Star Wars dressing and an impressive amount of cinematography and you have my favourite multiplayer shooter in years.
Star Wars Battlefront is easily my favorite multiplayer shooter of the year. I can't stop playing it. It finds a perfect balance of strategy and diversity, and most importantly, it is extremely fun, something I find lacking in a lot of online shooters. I can definitely see myself sticking with the online mode for months to come, and here is to hoping the season pass delivers even more content to keep players engrossed. The Force is certainly strong with this one.
At the end of the day, Star Wars Battlefront is a great visit into this universe that heavily focuses on multiplayer and succeeds on this level. However with such a flawless gaming engine, it's also a shame that the game does feature a way to enjoy this title as a solo-player with a strong story and an adventure of your own. Nonetheless, it's still a great multiplayer experience on quite a few levels with some excellent level design, graphics and gameplay.
I've presented the best way to view battlefront, as a complete game. If you ignore for a moment any price issues or early investments and simply look at the game now you have a great shooter experience in the Star Wars universe. With a sequel on the way this year coming packaged with a single player story and multiple eras, it's worth picking up the original/season pass for cheap to get yourself excited and back into Star Wars spirit.
Some may argue that DICE's Star Wars Battlefront lacks longevity to stay the course on the market, or that more could've been done with it. But the developer went through a massive undertaking to not only reinvent the franchise, but also reassure gamers that this would hardly be another Battlefield blunder. It's great to report that both goals have been completed with flying colors, and, as a result, Star Wars Battlefront is an engaging multiplayer experience that will certainly make your holidays. Plus, think of how much time will pass with it while you wait for The Force Awakens…
Star Wars: Battlefront is fun. It's a great Star Wars game. What I can't tell you right now, however, is if it has any longevity. Right now, the lack of map variety could mean that you get sick of the game faster than you would otherwise, and EA dividing the community in the future with paid DLC planets may not help the problem. Still, no other game has made me feel more like an actual participant in a legitimate Star Wars battle. I don't know if I'll ever get sick of that feeling I get when I take down a TIE Fighter, and I doubt that chill I get when I hear the main theme play as I run across a crowded battlefield will ever go away.
IGN Middle East
8.2 / 10.0
EA and DICE's revival of Star Wars Battlefront struck all the right tonal and atmospheric chords. The polished visuals and attention to detail is impressive and the gameplay is smooth and exciting. However, the game lacks content and would have benefited from including the season pass in the core game from the start.
Review in Arabic | Read full review
The Game Fanatics
8.1 / 10.0
Star Wars Battlefront may not be perfect, but it's still better than trade negotiations.
Star Wars: Battlefront is probably the best multiplayer game in the saga, beating what the previous two games could accomplish. Sadly, no single-player campaign, in this way the attention to detail, characters and environments feel a bit wasted. Plenty of easter eggs to enjoy, specially if you leave the menu for a couple of minutes. Hopefully EA will implement an automatic rotation through different games modes, since many of them hardly have any players. A game you cannot miss if you are a Star Wars fan. Play it now though, being multiplayer only, i don't see this game having enough players for too long.
Review in Spanish | Read full review
Star Wars Battlefront is a work of remarkable craftsmanship from developers DICE, and it being a more casual shooter is exactly what the game needed to be to find its place in the crowded online shooter market. There should be more on offer, particularly when it comes to single player modes, but in short bursts Battlefront is a force to be reckoned with.
PlayStation LifeStyle
8 / 10.0
If you ever dreamed of recreating some classic battles or sequences from the Star Wars movies, and are okay with the lack of any sort of campaign, then there is a fair amount of content to keep you occupied. Especially if you are a completionist, expect to sink at least 100 hours to unlock everything in that diorama. You can tell DICE has a bunch of Star Wars fans on staff, and Star Wars Battlefront feels like a loving "welcome back" from a developer who has missed the franchise as much as us gamers have.
Is this good or bad? As a value proposition it's debatable. This seems unlikely to be a game that can be played hard for 12 months. But it's also a far more polished and properly executed tie-in than films are typically given.
A beautiful recreation of Star Wars, and a solid if simple shooter. This is a game you'll love intensely albeit for a short space of time.
In the end, what matters to me is: is the game fun? Am I enjoying myself? Pretty graphics and tight controls only go so far; The Order 1886 is a testament to that. I can honestly say I'm having more fun with Battlefront than I have almost any other game this year, and to me, that's the most important metric of all. May the Force be with you.
Sure, it could do with a campaign and sometimes it's a bit too shallow for its own good, but Battlefront is also one of the most authentic Star Wars experiences you can have outside of kissing your sister - "for luck" - and scrapping with your dad.
Star Wars Battlefront is fantastic at what it sets out to achieve, even if it's not what everybody originally wanted. Aiming for a market not necessarily of hardcore gamers, but those who want some pick up and play fun without a steep learning curve, this is a game which succeeds in carving its own niche, despite borrowing haphazardly from all around it.
Fast, immediate, spectacular, solid. Star Wars Battlefront is the "casual" multiplayer shooter "casual" everyone expected. And basically this is also its greatest limitation.
Review in Italian | Read full review
Star Wars Battlefront fehlt es leider etwas an Umfang und Langzeitmotivation, aber ihr bekommt dafür einen der bisher besten Ableger der direkt an die Star Wars Filme angelehnt ist. Die bekannten Schauplätze und Helden sind wirklich großartig umgesetzt worden und durch den Split-Screen Co-Op und die diversen Modis, habt ihr zumindest für einige Stunden ein sehr gutes Star Wars Erlebnis mit euren Freunden oder alleine in der Online-Schlacht.
Review in German | Read full review
One of the best-looking video games ever made and although relatively shallow the spectacle and excitement of the Star Wars universe comes across superbly well.
Star Wars Battlefront is undoubtedly the Star Wars experience that we all wanted, it's just a shame that there's a distinct lack of content. That said, playing Battlefront is as close to being in a Star Wars movie as you're ever likely to get.
Star Wars Battlefront delivers a great experience for any fan of the series.
Star Wars Battlefront paints an incredible digital picture of the Star Wars universe. With authentic visuals and sounds, the most details and beautiful realization of the universe ever, and familiar settings and sound that pull the player in to their childhood fantasies, it does a lot right. The inability to squad up, motivation drying up after a few hours, and no true cooperation rewards barring the cooperative game modes, the game feels like some serious decisions were made in the wrong direction. Battlefront should be about playing and coordinating with others for galactic supremacy, but comes off feeling more like a big deathmatch that while still pretty, doesn't string the player along and motivate return.
Fans, rejoice! Star Wars Battlefront might not be the most in-depth shooter, but its certainly the best Star Wars game in years.
Star Wars Battlefront captures the essence of Star Wars beautifully, harnessing the most exciting and memorable pieces of the universe for a unique and spectacular combat sandbox. Aside from awkward performances and a poor original score, Battlefront is a master class in aesthetic authenticity. Beyond a few essential modes built for casual competition, however, Battlefront is unfocused, relying on excess game types to compensate for an absent single-player campaign.
Even if you are not a fan of Star Wars, Battlefront still has a lot to offer. Great multiplayer, jaw-dropping visuals and expert sound-design really make up for a few unbalanced gameplay mechanics and despite the lack of a single-player campaign, Star Wars: Battlefront really worth your time and money.
Review in Persian | Read full review
Geeks Under Grace
8 / 10.0
Star Wars: Battlefront is a game for the truly devoted Star Wars fans—those who eat, sleep, and breathe the original trilogy. Battlefront captures the look, feel, and spectacle of the franchise and compiles it all into one fantastic shooter that will undoubtedly be played for years to come.
Star Wars Battlefront is yet another arcade shooter that Star Wars fan didn't quite expect as a successor of the critically-acclaimed Star Wars Battlefront II. With the lack of content, game modes, heroes, customization, space battles, and the prequel era – the game is quite a disappointment to Star Wars fans. Despite these negative factors of the game, visually Star Wars Battlefront is stunning. It brings the game to life and gives a half experience of what a true Star Wars game should be in the first place.
Star Wars Battlefront is remarkably beautiful. So much so that I genuinely believe it is the best realisation of the Star Wars universe we have ever seen in a video game. But it also feels empty. Simple, stripped back shooting is great in a game with tons of ways to play, but when it's confined to what feels like only two fully-fledged game modes, and the metagame is taken back to bare bones too, it begins to make you wonder if there's actually much there at all.
Digital Chumps
7.6 / 10.0
At the end of the day Star Wars: Battlefront has some great positives, but also some clear negatives about it. The game takes current generation consoles to a new level with visuals, even setting some graphical benchmarks for online play, but it drags it down in sustainable substance that is required to keep a game going beyond a two month mark of the release. It needs a bit more to make it worth the price of admission, but there is enough there to keep a gamer entertained during the holidays, or at least until the free DLC arrives in December.
Battlefront is a Star Wars game first and foremost, and its second priority is being a game for shooter fans. Those who enjoyed the original trilogy will be thrilled to see an AT-AT downed by Rebel snowspeeders or Darth Vader appearing on the horizon with lightsaber ignited. Those more interested in a meaty multiplayer shooter may want to look elsewhere.
Nevertheless it can't be denied that Battlefront is quite simply a fun multiplayer game that utilises the license very well. And in the four years since Kinect Star Wars that's all I ever wanted.
Star Wars' battles have never looked or played this well, but the thrills grow repetitive quickly
Star Wars: Battlefront offers excellent set pieces that act as nostalgic playgrounds. At the very least, it's a great experience for the "Star Wars" faithful, and the solid and accessible control cements a production with far-reaching appeal. That appeal may not reach to the core group of gamers that are bound to complain about the lack of depth, customization and overall gameplay innovation, but they're not the intended demographic.
Brilliantly captures the look and feel of classic Star Wars, but beneath its cinematic flair lies a pretty generic multiplayer shooter.
At the end of the day, Star Wars Battlefront is a well-made game that simply feels incomplete. Fans will love all the ways that it pays homage to our favorite series, and nothing compares to piloting iconic vehicles or force-choking Rebel scum as Lord Vader.
Star Wars Battlefront is a beautiful recreation of what it is like to be amidst the chaos in the fight against the darkside hampered by a distinct lack of singleplayer content and an absurd season pass.
If you're looking for a deep, skill-based, tactically-demanding shooter on the scale of Battlefield, Star Wars: Battlefront isn't it.
With the most iconic graphics and the best sound effects to date, Star Wars Battlefront attempts to hook players in without the help of a narrative campaign.
An entertaining game for fans and non-fans alike, but one that suffers from a lack of content and progress incentives. You won't be spending much time with it, but for the occasional game it's a good choice.
Review in Arabic | Read full review
Players will eventually suffer from repetition in Star Wars Battlefront. It's one of those games that you won't be playing for a long stretch at a time.
A solid multiplayer shooter that ticks all those nostalgic boxes for fans of the original trilogy. The graphics and audio design are excellent throughout and the net code has performed without fault. However, the lack of a proper offline mode and small number of multiplayer maps is frustrating given the opportunistic Season Pass content on the horizon.
Star Wars Battlefront is a good Star Wars game, but an average multiplayer shooter. If you have any love for a galaxy far, far away, you'll get a real kick out of the taking part in its fun, large scale battles, and your reverence for the source material may even be enough to keep you coming back despite its shortcomings. If, on the other hand, you're after the next big shooter to keep you occupied longer term, the limited weaponry and simplified customisation mean that this isn't the game that you're looking for.
The Jimquisition
7 / 10.0
The best way to describe Star Wars Battlefront, I feel, is to call it what it is – a good game that was deliberately designed to not be a great one. I wanted to rate it higher than this. Way higher. At least the online connection is mostly stable, though. As far as EA launches go, that's pretty amazing.
Star Wars Battlefront nails bringing home the original trilogy in a new and interesting way, but fails to substantiate the splendor in a meaningful way. A fun nostalgia trip that might barely tide you over until the new film, but not much longer.
The Star Wars Battlefront name is holding strong, but if this is set to reboot the franchise, they could have packed a little more meat on its bones.
The lack of space battles in itself is another blow, which is not to say I don't love dogfighting through a canyon on Tattooine, but there was something about flinging a hapless boarding party against a Star Destroyer in some remote corner of the Galaxy that re-created the heroic adrenaline rush of the original A New Hope trench-run
Make no mistake, Star Wars Battlefront is the best-looking Star Wars game ever made, full of fanboy-pleasing attention to detail in its sights, sounds and action. But its charms fade quickly, and in a month's time – when we finally see Luke, Leia and Han on the big screen again – it could be mostly forgotten.
The ambitious scope of Star Wars: Battlefront creates both its most fun and most frustrating moments.
Star Wars Battlefront shooter brings grand spectacle to the iconic sci-fi universe, but the overall experience wears thin with time.
Battlefront is a fantastic game for a certain type of person. Its dip in, dip out accessibility, matched with the obvious lashings of love and detail from a development team that clearly respect the franchise and its fans - it is absolutely perfect for fans of the original trilogy who these days have limited game time.
Undeniably, if you're a Star Wars fan, Battlefront remains one of the year's most essential purchases – and you can probably add an extra point to the score below – but you will have to rely on, and invest in, DICE's future plans for it to be an experience you'll return to time and time again.
Beautiful but lacking in content, Star Wars: Battlefront has the potential to please Star Wars fans, it's just a matter of for how long.
In some ways, Star Wars: Battlefront is a pleasant surprise. It feels so much more polished than it did at E3, and the effort that DICE has put into the visuals pays off in one of the best-looking games of the year. But every facet of the game is hurt by the lack of variety in the environments, vehicles, weapons, and even enemies. It's a startlingly limited package made more disappointing by the fact that the actual gameplay is really fun. It may reach its potential in a year; but for now, it's one more potentially great game sabotaged by what appears to be a cynical marketing plan.
Right now, it's bigger than life, feels good while you're enjoying it, but is somewhat disappointingly hollow.
Star Wars: Battlefront is a decent shooter that injects a handful of gimmicks to keep the gameplay interesting. However a lack of variety in the maps, game modes, guns, and character development prevents the game from reaching its potential.
Is Star Wars Battlefront the galactic fantasy for which we've been waiting? Well, yes and no. The multiplayer can be fantastic at times and battles play out beautifully and smoothly in all modes. The game looks sleek and listening to those iconic blasters adds to the thrill of play. However, with lackluster battle and survival missions replacing a proper campaign, it stops the title from being as amazing as it could have been. Multiplayer is extremely enjoyable, there is no doubt about it, and it's accessible for everyone who jumps in, but you will quickly see everything that the game currently has to offer and the wide variety of online modes won't stop that. If you absolutely love the battles of Star Wars and shooters in general, you will have a blast with this, but if you want to immerse yourself in the richness of the characters and story, you will be pining for just a bit more. If you take the game at face value, it is still an enjoyable ride to a galaxy far, far away.
The reboot of 'Star Wars Battlefront' rises above the mediocre level of many licensed games to be something quite enjoyable. But as I play, and the energy level slowly wanes, I can't help the feeling that it could have been more. Like 'Evolve' and 'Titanfall' before it, 'Battlefront' has a great premise and strong initial gameplay, but a short honeymoon period.
Star Wars Battlefront is a fun experience – with a solid progression system and a variety of game modes (some better than the others.) There's not much content, but it's still a game that will keep you drawn in long enough to unlock some of Battlefront's better equipment that makes map traversal much easier. It's a tough nut to crack, and forgiving some of the obvious flaws it has, I think I'll be playing Battlefront for a while.
If you want an experience that offers the closest you'll get to be being part of the original movie trilogy then this is it, but If you're looking for something more in-depth and offers longevity similar to Battlefield then your looking in the alderaan places.
While it doesn't quite reach its full potential, Star Wars: Battlefront harnesses the power of the Force to make for a multiplayer experience that's more concerned with fun and authenticity than deep mechanics and impeccable balance. DICE has absolutely knocked the presentation out of the park, making you feel like you're smack dab in the middle of your favorite action scenes from the classic Star Wars film trilogy. For many Star Wars enthusiasts, that's going to be more than enough to justify the price of admission. For everyone else, however, a limited amount of content and a few missteps will potentially diminish long-term appeal. This is a strong return for the Battlefront moniker, but there's much room for improvement.
Reno Gazette-Journal
3.5 / 5.0
Overall, Star Wars Battlefront does a good job with its main focus, which is providing a fun multiplayer experience for players. Admittedly, the lack of a campaign is disappointing so this might not be the game for you if you play shooters for the story and don't even touch multiplayer. If you're raison d'etre with the genre is playing online, however, Battlefront is one side you'll likely want to join.
Yes, so this is an obvious money grab. But at times, you just can't help it. Humming all-too-familiar John Williams' themes and flying an X-Wing and blasting TIE Fighters out of the sky is as fun as ever. You are probably going to buy this game even if I warned you to think twice, because, like me, you're probably too much of a fan to give a shit what anybody else thinks. And believe me, there is some Star Wars magic here and I absolutely loved the top-notch design and art direction that stays true to the movies. It can also be hilariously fun, especially when you are Luke Skywalker or Palpatine and you chop down or electrocute waves of players. I think that even if you're not a Star Wars fan, this game can be an awesome ride, but the question is: for how long? Judging by how much content is on offer, probably not for long. It's sad really, but that's how it is.
It's quite possibly the most authentic Star Wars shooter ever made thanks to some amazing visual production values, but with shallow action and very little ambition to do more than necessary. Just like the films.
Cheat Code Central
3.4 / 5.0
What you get out of Star Wars Battlefront depends entirely on what you expect from it. If you're looking to capture that feeling of playing in a beautifully-realized Star Wars sandbox, albeit one lacking variety and depth, EA DICE nails it. If you're looking for a shooter stacked with substance, engrossing character progression, and endlessly addictive gameplay to sink your teeth into for the months ahead, Star Wars Battlefront misses the mark.
Battlefront can be a lot of fun within a few specific modes. Unfortunately, those moments are only a small portion of the overall experience. While I have no doubt that the game will improve with updates and DLC, what is here in the base game leaves a lot to be desired.
PlayStation Universe
6.5 / 10.0
A dazzling audiovisual spectacle with a solid, highly accessible set of mechanics for a wider audience to enjoy. The problem is, this blockbuster is shallow and soulless beneath its sparkly veneer, and that detracts from much of the good it does.
Star Wars Battlefront fails to match the ambitions of its visuals with equally as impressive gunplay, leaving it in the awkward position of looking amazing while also being rather boring.
Battlefront certainly doesn't reinvent online multiplayer FPS gameplay or even have any lasting reasons to keep you coming back for more, but its presentation and nostalgic values are more than enough to keep casual gamers out there entertained.
Battlefront was a game I highly anticipated, played like mad, and probably won't revisit. It was fun for the time I got out of it, but the lasting appeal, the lacking sense of progression, and the repetitive nature quickly pushed me away from the game. It's a perfect title for a die-hard Star Wars fan that wants to enjoy a cool multiplayer experience, but only if they are ready to play the same thing over and over again for a long period of time.
New Game Network
62 / 100
Authenticity comes at a price—Star Wars: Battlefront is beautiful but makes too many mistakes when it comes to maps, balancing and spawning. These issues cause anger, and anger leads to hate.
Get a bunch of equally enthusiastic friends together and you'll have many hours of nostalgic revery, with that Williams score nudging you through match after match. But then you'll reach the outer edge of this game's progression system, or you'll get a little too familiar with the four landscapes on offer, and the magic will wane. And then, of course, there will be downloadable content, massing in a distant corner of the galaxy, waiting to invade.
Star Wars Battlefront feels authentic in many ways, but that authenticity is aggressively pursued at the cost of gameplay, and is often tacked-on. If you're in the mood for a relatively shallow shooter with caveats you likely won't be disappointed, but I wish that DICE had a little more time to polish it and add more substance.
Post Arcade (National Post)
6 / 10.0
DICE's reboot looks and sounds exactly as Star Wars should, but the game ends up a tired, shallow, and sometimes sloppy retread of well-covered ground
Star Wars: Battlefront is everything a Star Wars fan could want. The game's locations feel iconic, complete recreations of the beautiful settings introduced to us in the movies. But the game's casual attitude towards weapons, and the limited number of locations to explore make Star Wars: Battlefront sizzle out far too early. Top that with an exorbitant DLC offer, which features content that feels like it could be in the base game, and EA has already done a great job of freezing Star Wars: Battlefront in carbonite before it's even had a chance to live a fulfilling life.
There is fun to be had, especially when the spectacle of Star Wars is in full effect. That spectacle, however, soon wears off and what's left is a game with too few weapons, maps and heroes. In the end, Star Wars Battlefront is all Binks and no Fett.
This game was reviewed on a digital copy provided by the publisher.
That nostalgia, much more than the current depth offered by Battlefront is going to drive adoption of this game. You'd probably be better off waiting to see what the expansion packs are going to offer, and then getting the total package for much less than the $110 it's going to cost you if you buy everything on release. Then again, who wants to wait for their Star Wars video game pew-pew fix when it looks and sounds this good?
Star Wars: Battlefront does a fantastic job of transporting players into the Star Wars universe for a big initial kicker, but that ultimately fades when you realize how light it is on content and game features. A textbook case of style over substance.
Unless you're the sort who quotes dialogues from the movies verbatim, fantasises about Princess Leia, and speaks like Yoda, you can safely pass on Star Wars Battlefront.
Beautiful and authentic sound and visuals of licensed materials fail to mask a shallow movie tie-in gaming experience.
For all its polish, it brand-name polish, it lacks that creative energy found in building battles from faded toys and dumb ideas. Battlefront imposes limits and gates on an expansive universe, reigning in instead of expanding the possible ways to become part of that world. As such, the game remains mercenary in its goal of selling an experience solely on those feelings we have about that galaxy far, far away. Instead of offering a chance to inhabit that space, Battlefront only shows us Star Wars at a distance, perfectly preserved in small pocket dioramas tucked away behind the rose-tinted glass of a toy shop window.
Star Wars Battlefront is fun, but it doesn't take long for that fun to be reduced to monotony. Spawn, shoot, die, repeat. It would have also been nice to have a stronger offline component to the game. Even if it was something as simple as battling against bots in the different modes available. Maybe something along those lines will be included in one of the upcoming four DLC packs, so we'll have to wait and see what EA does with this game over the next year. In the end, it's a good game for Star Wars enthusiasts, but it still has lots to work on if it wants to stand up at the pinnacle of first-person shooters.
Slick production values, solid controls, and tons of fan service can't make up for mediocre progression and a lack of content.
The Angry Joe Show
5 / 10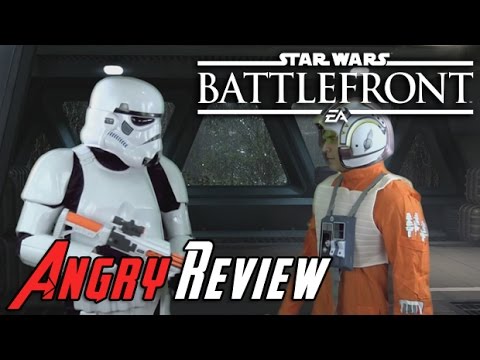 Star Wars Battlefront is a graphical tour de force that fails whenever it becomes an interactive experience. There are hints of better games here, but nothing that saves it from mediocrity.
From the wail of a TIE Fighter and the humming of a lightsaber, to the plastic Stormtrooper crotches and Leia's crown braids, everything looks and sounds fantastic. Unfortunately, this wonderful level of detail and immersion offered in Star Wars Battlefront, comes to a screeching halt once it is realised that this is just a half-done, money-grabbing piece of style-over-substance, which is insanely entertaining in short bursts, yet lacks the required depth or amount of content that would make gamers keep coming back for more.