Percentile Rank
Guitar Hero Live is ranked in the 81st percentile of games scored on OpenCritic.
Rating Summary
Based on 79 critic reviews
OpenCritic Rating
Based on 79 critic reviews
Score Distribution
Unscored Reviews
It sounds hyperbolic, but the amount of personality that has been stripped out of Live combined with the loss of developed multiplayer becomes increasingly depressing with each set. The crowds get bigger but the initial novelty fades and what remains is a stage full of people you don't know. The crowd cheers and boos in time with your missed notes, oscillating back and forth as your vision blurs like some sort of rockstar purgatory where everyone comes prepared with "you suck" signs, just in case.
Eurogamer
No Recommendation / Blank
No Recommendation / Blank
Oct 23, 2015
Guitar Hero Live's lavish reboot feels like a solid foundation, but it falls just short of feeling like the finished article just yet.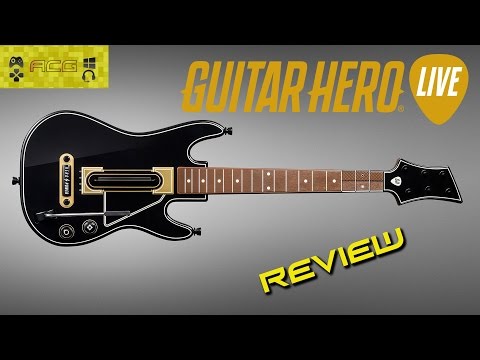 A Guitar Hero game that finally lives up to the name, plus playable MTV. Amazingly immersive experience, excellent new guitar. Music television reborn and made interactive. Short single-player campaign with no hope for more. Singing requires guitar accompaniment.
Guitar Hero Live doesn't want to be your disposable videogame anymore, and it's fine with being in the background. Because like any good song, it knows how to get your attention– even if you thought you weren't listening.
Guitar Hero Live is a wonderful evolution of the music genre. Everything from presentation, to mechanics, to the new controller was an advancement for the better. Whether or not this picks up steam with the gaming crowd is left to be seen, but the effort on both FreeStyle Games and Activision is apparent.
With a cleverly reinvented guitar and whole music video channel of songs backing it up, Guitar Hero Live is the rhythm game for the people who got bored of rhythm games.
Scored Reviews
Gil Scott-Heron had it wrong, at least when it came to music: The revolution most certainly will be televised.
Guitar Hero Live brings a lot of new things to the music rhythm genre of video game and everything elevates the latest installment to "classic" status.
Guitar Hero Live completely took me be surprise. I love the new controller design, the FMV portions work far better than they should, and Guitar Hero TV hooked me with its channel concept. Going forward, I'm hoping that the model further reinvents itself by introducing the world to new music.
In 2015, it's takes a real statement game to justify excitement in the rhythm game genre. 'Guitar Hero Live' is that statement game. With a New guitar, new gameplay, two distinct modes and a new content delivery method that should see players awash in free, marquee songs, 'Guitar Hero Live' is packed. FreeStyle Games has gone back to the drawing board and returned with both a rock star vision and a streaming music/video gameplay model that ought to attract fans old and new. Alongside the normal AAA titles to look forward this holiday, 'Guitar Hero Live' should be of special interest to home theater enthusiasts on account of the sound quality and the enjoyable novelty and passion to be found in the gameplay and visuals.
A bold experiment that pays off, Guitar Hero Live moves in a new direction that's vibrant, exciting and contemporary.
The fact that everyone is, once again, a complete newbie is refreshing; we all get to enjoy those small victories of completing a song on 100% for the first time again, and relive the satisfying achievement of moving up to the next difficulty level
If you're a fan of rhythm games, then Guitar Hero: Live is a must buy.
This is definitely a game you need to own if you enjoyed the previous Guitar Hero games, the new layout is really player friendly and easier to get used to than you'd think. Guitar Hero Live is cheesy but a good offline experience whereas GHTV is super addictive and you'll find yourself just playing through songs thinking to yourself "Oh yeah I've totally heard this one before" unless you already know the song and are already singing along to it."
Guitar Hero Live brings Activision's former fan-favorite franchise back to the fold in new and impressive ways.
A truly fresh, innovative take on a genre crying out for something new. Freestylegames has utterly succeeded in making Guitar Hero relevant again.
Guitar Hero Live gives us an offline first-person rock-and-roll fantasy, but it's Guitar Hero TV that gives this series new life. The new guitar gives veterans new challenges while breaking down the barrier to entry for new players. While the on-disc tracks are, in my opinon, throwaway, Guitar Hero TV should keep players busy for a long time to come.
Guitar Hero Live is basically a return to its guitar-only roots, which is what made the original games great. The current song catalog is a pretty good mix, but it is their presentation within the channel-based TV mode that makes the game truly different. Rock Band still holds the crown as the musical party game, but while that series is in a rut, Guitar Hero Live is a fresh take on the genre that future games would do well to follow.
It's good to have this franchise back and Guitar Hero Live successfully tweaks the gameplay by giving gamers a more fulfilling experience that is closer to playing a real guitar then the previous last-gen console versions. More importantly, the guitar works well and if you're familiar with the previous game, you will need to re-learn the mechanics again but once you put the time and effort into this, you'll soon become a rock god. The only slight gripe I have with this release is the campaign mode is a little cheesy but thankfully the streaming "TV" mode which boasts some awesome music plus video clips really puts some unpredictability into the game and more than makes up for this clichéd oversight.
Guitar Hero Live rejuvenates a tired franchise from top to bottom, making broad changes to its gameplay and presentation that largely work for the better.
It's hard for me to mask my excitement about Guitar Hero Live, because in my opinion, there's nothing more exciting than a developer who's capable of outsmarting an entire genre's fanbase. Guitar Hero Live isn't just well-executed; it's clever and innovative in ways that no one other than FreeStyleGames ever imagined. My fears that Guitar Hero Live would be wringing blood out of the franchise's stone were unfounded; at some point, FreeStyleGames found itself a newer, better stone altogether.
Guitar Hero Live is exactly what the franchise needed after its five-year hiatus, and I'd go as far to say it's what the whole genre needed. Although naysayers will lament the lack of more instruments or complain about the non-permanence of extra songs, for many, Live will become the quintessential party game and is already set to be a permanent fixture in my sitting room.
Cheat Code Central
4.4 / 5.0
Though I was a bit disappointed by the Guitar Hero Live portion of the game, Guitar Hero TV is onto something special with a lot of potential longevity. I've scored the full game just under a "must buy" because players who mostly enjoy a beefy single-player campaign will find it lacking. However, I encourage fans of Guitar Hero to check out this package for Guitar Hero TV. It's both a blast from the past days of music videos on television, and a step into the future of interactive entertainment. I'm looking forward to seeing where Activision and FreeStyle take GHTV in the future – things like a more formal vocal competition or user-curated channels are all possibilities for this new format. I'll be watching and waiting to strum along.
Overall, Guitar Hero Live is a huge jump forward for the music game genre while at the same time abandoning some of the things we loved about music games. If you can get past some of the things that are gone and embrace the new ideas, you'll have a great time playing fantasy rock star.
Guitar Hero Live stands as a gigantic leap forward in terms of immersion and realism, giving us a glimpse of some amazing things ahead for the franchise.
The Live in Guitar Hero Live means a lot of things. In one mode, you're pretending to actually rock out in front of a packed arena, and in the other you're constantly competing against the rest of the world online. Your band mates overact sometimes, and you don't always get to pick the song you want to play in GHTV, but there's always a ton of music to play. So much is new, from the stage perspective, to the streaming service, to the updated guitar, that it feels like a worthy revival.
After seeing what Freestyle Games has done, Rock Band's enormous library, and the promise of making it available across releases feels like a crutch by comparison, tying that franchise to its established model. I'll still hop back to Rock Band to play drums, but right now, Guitar Hero Live is where you'll find me clanking away, waiting for the next time I get to perform Ida Maria's "I Like You So Much Better When You're Naked."
Play Some Video Games
85 / 100
The better rhythm-guitar game is Guitar Hero Live not only because it is the better value, but also because Guitar Hero Live is advancing the genre of the guitar controlled rhythm game that went stale last generation.
Paste Magazine
8.5 / 10.0
As long as they're running and updating Guitar Hero TV, I'll carve out time for this game. It may not be the party machine that Rock Band 4 is, but it offers something no other game, and really, no other TV station, currently does: a powerful combo of play, nostalgia and discovery. I mean, I'd never buy a Darwin Deez record, but I'm glad I've seen that video, you know?
PlayStation LifeStyle
8.5 / 10.0
You just need to buy the game and the streaming library is at your fingertips. But they've also added the offline Live mode, and gone above and beyond in creating an extremely unique way to live out your rockstar fantasies. Add in the brilliant new game mechanics that come from the reconfigured guitar controller, and combining our old love of rhythm games with the modern way we consume music, and Guitar Hero Live is the worthwhile reunion of an old favorite that we've all been waiting for.
Yes, things feel a bit different this time around but do yourself a favor and give it a chance. Once you find the groove in Guitar Hero Live, which is the new GHTV mode, you won't look back or think about the way things used to be again. This is the future of guitar-themed video games.
PlayStation Universe
8.5 / 10.0
Guitar Hero Live brings a welcome challenge, fun, and excitement with its new guitar controller and a new interesting system to experience new songs via GHTV.
Marooners' Rock
8.5 / 10.0
It's been five years since we've had an effective Guitar Hero release to tell us that the series is relevant again – especially one that doesn't have Gene Simmons delivering a hammy performance on why we should care about rock gods.
Digital Chumps
8.4 / 10.0
Guitar Hero Live provides a whole new experience to veterans, yet manages to be accessible enough for those who are only just starting their digital rock careers. It's a solid title,though the streaming service GHTV could use some tweaking to make the game an absolute must-have.
If you were looking for some sort of evolution to the music game genre, surprisingly Activision hit the nail square on the head. Not only is Guitar Hero Live a fun product to play, but it is also an enjoyable game to watch with its live performances and music videos. Rock Band 4 was hesitant to change, while I can't wait to see the future of Guitar Hero now!
[T]his reboot captures the score-chasing and self-improvement of the early Guitar Hero games and puts them into a thoroughly modern spin. The commitment to its ideas makes Live a confident, bold and stylish game. History will tell if the decisions it has made are the right ones, but for now, Freestyle has started down an exciting new path for the genre.
Guitar Hero Live is a bold step in a new direction for Rhythm games. While everyone might not take kindly to the restrictions put on players in Guitar Hero TV, there's a seemingly endless number of playlists and challenges to complete, with room to grow going forward.
If you own a Wii U and like to rock, Guitar Hero Live is your best bet. Not because it's the only game in town, but because it's actually a wonderfully addictive rhythm title with plenty to offer. With GH TV and a snazzy new controller players will find themselves happily diving head first into the best solo guitar experience since the series' inception. Break out the leather vest and fingerless gloves, Guitar Hero is back.
From the moment you pick up that new guitar and play your first chord, Guitar Hero Live is exciting and innovative, and feels like a natural evolution of a genre we've been missing for all these years.
It takes a lot of effort to rebuild a fallen franchise, but Activision and FreeStyleGames have proven to be more than up for the challenge with Guitar Hero Live, taking a classic series and making it its own.
Guitar Hero Live's new guitar helps bring something fresh to the genre, and offers a new challenge for both beginners and veterans alike. GH Live is fun, though a little cheesy, but it's in GHTV where the game's most interesting aspect is found. If this continues to be built out as Activision has promised, it should deliver long-term appeal - and a great way to discover new music.
The most impressive thing to me about Guitar Hero Live is the way the developers have breathed new life into a series that became notorious for doing the same thing over and over again. Guitar Hero Live manages to recapture that essence of playing a beloved instrument, crafting a familiar experience. However, by taking a handful of chances, the series feels different enough to want to invest in it again.
NintendoWorldReport
8 / 10.0
Even with the disappointing Live mode, Guitar Hero Live is a refreshing take on controller-based rhythm games. The streaming focus in GHTV works extremely well despite some technical hiccups, and as long Activision keeps rolling out new songs to the library, this is the kind of game I'll be regularly playing for a long time. This is a fantastic start to a new era of Guitar Hero games.
While there's still trepidation due the fact that much of its appeal rests on unproven promises and its currency system is needlessly complicated, the idea of new songs being added on a weekly basis could render Guitar Hero Live into a persistent experience for rhythm and music lovers alike. Time will ultimately tell how Guitar Hero Live shapes up, but it's alluring enough to once again raise your plastic axe to the sky and rejoin the virtual rock god army.
Guitar Hero: Live takes the plastic instrument genre of music rhythm games and modernizes it in a way that feels appropriate of next generation consoles.
GHTV is a game-changer, pure and simple. With an already sizeable library that's set to grow further, it's a title that pretty much demands repeated play. All it needs now is 'Freebird' adding to the set list and it will be perfect… Rock on!
In theory it sounds terrible, but Guitar Hero: Live's approximation of old-school music TV programming, coupled with the excellent hardware, makes it a winner.
Reno Gazette-Journal
4 / 5.0
After years of incremental to non-existent progress that led to the scuttling of the franchise, Guitar Hero Live resurrects the series with new controls and a new look to boot. Yes, you'll want to slap your cheesy bandmates sometimes — perhaps even a lot. Folks used to the old controls might also find the new button layout maddening while content gating can be a bummer. The added interaction combined with some new fun modes, however, make this a promising reboot for the franchise.
Guitar Hero Live has a few issues, and the buying plays thing doesn't feel on the level, but that doesn't really hold it back from the end goal of a great time, and it's just that. A great and extremely (as well as surprising) variety in the tracks available to play, two distinct and unique modes that mix up gameplay in a significant way, and the rush of memories it provides while defining itself as one of the best rhythm games yet prove that we're ready for a bit of a comeback, just not the overload of the mid-2000's.
If skill challenge is your motivation, Guitar Hero Live will demand much more of you by default. If you're looking for a party game consider the regulars on your guest list and their level of frustration tolerance.
The return of Guitar Hero is a very welcome renovation of the series. Guitar Hero Live and its new television-like mode are a great help to the feeling of immersion and the design of the new guitar are great additions to a formula which was getting saturated. While the multiplayer mode could be more ambitious, Guitar Hero Live is a very recommended title for fans of music games.
Review in Portuguese | Read full review
A smartly redesigned controller and addictive song streaming makes Guitar Hero Live a largely enjoyable music game.
New Game Network
78 / 100
Guitar Hero Live ushers in a new era for the music game genre. It's bold, innovative, but it won't be a hit with everyone.
Guitar Hero Live überzeugt mit der neuen Hardware und doch großteils mit einer sehr guten Tracklist. Die längst notwendigen Innovationen für die Serie, verblassen leider wegen teilweise schlecht gewählten Tracks und dem Free-to-play Ansätzen im Online Modus. Auch im Live Modus konnte die Crowd und die fiktive Band wenig begeistern und lässt uns eher auf einen Nachfolger mit deutlichen Verbesserungen hoffen.
Review in German | Read full review
FreeStyleGames might have done something smart by redesigning the old Guitar Hero controller, and I like playing with their new version better then my old guitar. But Activision might have done something stupid by requiring consumers to buy new hardware if they want to play.
Guitar Hero Live is maybe a change too far for the Guitar Hero revival. It's two facets, Guitar Hero Live and Guitar Hero TV, are wonderfully crafted and superbly engaging, but the fun factor seems to have been zapped from it somewhat. Maybe it's a little too serious, maybe it's hard to accept change, but that spark that we felt when we played Guitar Hero II for the first time… it's just not there.
Guitar Hero Live introduces some really interesting ideas to the stagnant plastic-guitar genre, but the completely baffling refusal to offer piecemeal track/album/pack purchases and a reliance on a free-to-play model with, at best, rentals of songs brings it all to a screeching halt. Rock Band 4 might be more of the same, but it's the same functional, music-filled game we fell in love with. The gutted Guitar Hero Live, on the other hand, is considerably less of the same.
An exciting new take on the genre hamstrung by a frustrating interaction model for getting and playing the songs you want
A great evolution to the controller, but lacks the fun of the originals.
Post Arcade (National Post)
7 / 10.0
Rhythm franchise reboot completely reimagines the music game concept, including a tricky new guitar controller
Guitar Hero Live's microtransactions aren't necessarily as bad as certain sections of the gaming community would have you believe and the new controller presents a fresh new challenge that Guitar Hero veterans will be hungry to take on. The offline GH Live mode is very cool, albeit short-lived, even if the on-disc track selection is lacklustre, but the real meat in the pie is GHTV. It isn't as fully-featured as we'd have expected it to be off the bat, but being able to jump in and spin through a selection from the 200+ tracks (with lots more to come, we're told) for an hour while earning rewards and upgrades is pure addiction.
A lot of the issues with GHTV is that it is confusing to understand how it works within the game. Players are used to just buying songs a la carte. The new six button setup will also throw players for a loop. Again, I totally respect the new direction, but the familiar tones of its competitor really draw me to prefer that offering. Plus I can play what songs I want, when I want. I will be interested to see how this game evolves over time, and I hope like Harmonix, they intend it just to be a platform. I don't want to see Guitar Hero Live 2 next year. As it stands though, this is one purchase I am finding a hard time recommending to those that already bought into Rock Band's ecosystem.
Though Guitar Hero Live is rough around the corners and may not convince casual Guitar Hero players to return to their guitar-shredding ways, it sets a new standard in technology for peripherals, presentation, and online connectivity.
A spirited attempt to reinvent Guitar Hero and the music game genre, but the freemium approach to additional content has its obvious drawbacks.
The changes made to Guitar Hero: Live go a long way in giving the series its own unique identity, but at the cost of making the game less fun to play than its competitors. An innovative post release content delivery system of streaming music elevates what's otherwise an average and expensive rhythm game.
Guitar Hero Live takes some chances and is a better game for it. The campaign and local multiplayer offerings are pretty weak, but GHTV's rotating channels are addictive. It's a shame the game's extra songs aren't available as DLC.
Guitar Hero Live tries to rekindle and re-imagine itself on next gen consoles, but early issues with GHTV failing to save data and the stale approach to background environments results in a once unique charm being usurped by chasing a realistic experience.
Guitar Hero Live surpasses Rock Band 4 in terms of track list and replayability, but sadly lacks the party appeal that Harmonix's latest provides. Though Guitar Hero TV is an excellent addition to the series that really makes the game, the microtransactions ruin it for us. There's no kidding that Guitar Hero Live is a very fun game, it just feels like it cares more about the money than it does about the fans.
All of Guitar Hero Live's numerous changes result in a mixed bag of a revival, but one that rhythm game fans should still try out.
Tracks are banging, the peripheral's bold and performing feels brilliant, but TV mode is a bust, making you rent songs rather than own them outright.
Guitar Hero Live was a decent attempt at rebooting the franchise, at first I was impressed with how everything was going. I was impressed early with how the guitar was and how the gameplay felt with the new guitar, but sadly as the game went on I started to notice things that dragged the game down. No practise mode being a huge miss for a game with a totally new control scheme, a freemium mode that is 50% of the game, and a pretty lazy career mode. They are on to something with the new ideas, but overall the game is just lacking in what it needs to make it a perfect reboot for this franchise.
I dunno, in the end it feels like Guitar Hero Live is a job, and not the party the previous games were.
Guitar Hero Live adds some new ideas to the plastic instrument-driven music game genre, but it makes too many mistakes to overlook.
Embarrassing acting, questionable songs choices, and unwelcome microtransactions spoil the biggest mechanical improvement to music gaming in years.
If it wasn't for some questionable design choices with the game's most important element, it could have been a flawless experience.