Percentile Rank
Minecraft: Story Mode - Episode 1 - The Order of the Stone is ranked in the 60th percentile of games scored on OpenCritic.
Rating Summary
Based on 56 critic reviews
OpenCritic Rating
Based on 56 critic reviews
Score Distribution
Unscored Reviews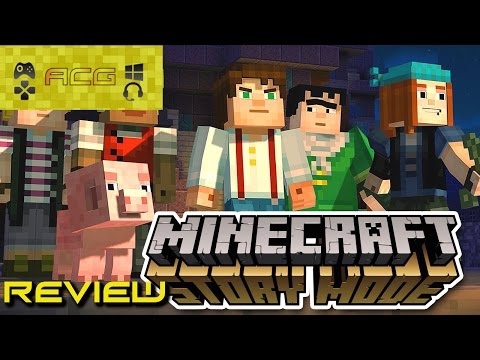 Eurogamer
No Recommendation / Blank
No Recommendation / Blank
Oct 13, 2015
Mechanically you are left with a feeling that there was room for Telltale to - finally - stretch its template a little further than its standard 'side with one character or the other' choices. And if it didn't do so here, with the most open-ended licence going, then it may never. Like all recipes, if you have tried the end result too often then its taste may wear a little thin. But for lapsed Telltale fans or young Minecraft aficionados, Story Mode's opener is an enjoyable first bite.
There's an echo of this sentiment in the sweetly childish tones of "Minecraft: Story Mode," a game that uses the mimetic architecture of storytelling to produce nodes of contemplation and self-inquiry. It's a subtle and sweet work made with an awareness that the best part of a journey comes when you realize that you are the story.
Minecraft might not have a story and lore of its own for Telltale to build upon, but that just means that a Telltale story can fit right in.
Minecraft: Story Mode's first episode gives a clear baseline for seeing where the plot is headed, but the questions it leaves are predominantly on a gameplay front — not the sort you want staying with players. Will the point-and-click elements take greater hold over story sequences that currently dominate? Will quick-time events continue to be a predictable response for every point of conflict? Will player actions feel more and more pointless than they already do? On the matter of how enticing the episode is at building interest in the one to follow, Episode 1 does its job...but not expertly. It's very tame in the gameplay department, and players will find it a shallow experience as a direct result of the contrived design choices. It's enough to put the entire project in jeopardy, ultimately making this introduction a fragile start for the five-part series.
Scored Reviews
While putting a story to Minecraft might seem counterintuitive to the core game's design, the team at Telltale has proven they can make a great story out of anything. And yes, that now includes Minecraft.
Minecraft: Story Mode's first chapter proves that the Telltale style of storytelling can fit in any universe, as it's a delightful romp through the blocky world of Minecraft.
While not quite as good as Tales From the Borderlands was, Minecraft: Story Mode Episode 1 is a pretty solid start to the series. The story is off to a pretty good start, the characters interact with each other nicely, and the voice acting is quite good as well. There aren't many puzzle interactions in the episode and the ones that are there are rather easy to solve, but hopefully that and the combat will improve in later episodes.
Entertainment Buddha
85 / 100
If Episode 1 is of any indication, Minecraft: Story Mode is going to be a journey worth completing.
A no-brainer purchase for fans of both Minecraft and Telltale. Those who prefer Telltale's more complex and mature works may find this title a bit lacking, but the exciting story, quality writing, and talented voice cast make this a hard game to dislike.
A Telltale experience through and through, the first episode is enjoyable and whets your appetite just enough to leave you wanting more
It's too early to call at the moment, but Minecraft: Story Mode looks set to be shaping up to be another fine effort from the folks at Telltale Games. Combining their narrative excellence with the insanely popular Minecraft franchise has created a unique beast all of its own that takes the best elements from both parties in order to create an engaging and, above all, fun playing experience.
Overall Minecraft Story Mode is a great start to a new series. Although the child-like visuals will put some Telltale fans off this is to miss the huge investment and achievement so far. If the series continues in this vein it's set to be warmly welcomed by both Minecraft fans and families.
Minecraft: Story Mode doesn't deviate from the well-established Telltale formula much, keeping both what works (the storytelling) and what often doesn't work (combat). Even so, it accomplishes something impressive. I was skeptical of Telltale's ability to tell a story in the Minecraft universe that would be interesting to people who weren't already fans of the game, but so far, the studio is pulling it off with aplomb.
A new story in the world that they love, but one in which they're participating, not just watching – which isn't afraid to raise some sensitive issues around topics such as friendship. Roll on episode two.
Minecraft: Story Mode will never have the same kind of success that Minecraft does. That's OK — few things do. But what's important here is that Telltale gets what makes Minecraft tick and has translated that into something that fits its story-focused mold.
This episode is an excellent introduction as it just seems long enough. It does not seem crammed or forced, either. Everything about the first episode is extremely entertaining, and it is certainly worth the price of admission.
Minecraft: Story Mode is off to a good start, and despite a story-less canvas and only in-game references to draw from, developer Telltale has crafted something promising.
While I have come to love Telltale's more grown-up titles, 'The Order of the Stone' is fun, wholesome entertainment in its own right. There are plenty of jokes for all ages, along with a healthy dose of slapstick comedy and a few puzzles and quick-time events to spice things up. Perhaps the best thing I can say about it, other than I'm looking forward to the next episode, is that it dearly made me want to fire up my own 'Minecraft' world and get to building.
All told, Minecraft: Story Mode is a wild ride from start to finish, telling a riveting tale filled with plot twists and interesting characters. That being said, not everyone will be impressed with the fact that it's essentially an interactive movie. If you're the type of gamer who skips cutscenes and prefers satisfying gameplay, steer clear and look elsewhere for your gaming fix. If you're the type of gamer who appreciates listening to a good story (and don't mind stumping up the cash to hear the whole thing), then we would highly recommend this. Minecraft: Story Mode does an excellent job of breathing life into the somewhat anonymous world of Minecraft; this is one tale you'll want to hear.
Although Story Mode doesn't deviate from Telltale's usual formula, it still manages to make me excited for the second episode in this new episodic adventure, with great dialogue and storytelling. I was skeptical of Telltale's ability to pull off an episodic series in the Minecraft universe, but as far as I can tell from this first episode, they've done a pretty damn good job of it.
Telltale Games has done it again with Minecraft: Story Mode. I'm still not entirely sure how the developer managed to make an open world building game into such a fun and compelling story-based adventure but it certainly has.
With the first installment of Minecraft: Story Mode, Telltale stays faithful to the popular source material while delivering another enjoyable adventure.
If Minecraft was around 25 years ago, this would be the Saturday-morning cartoon tie-in. And that's a good thing.
PlayStation LifeStyle
8 / 10.0
If you've been looking for an official story set place in the Minecraft universe, this is as official as it's going to get. There's no denying the charm of the world that Story Mode takes place in, especially with the number of in-jokes that are thrown fans' ways. The story may not be particularly deep, but it is age-appropriate and will make for a great time to be shared with the younger Minecraft fans out there (and there are millions of them!). However, even for young, attention-deficit minds, The Order of the Stone feels like it ends a bit prematurely. If you or your child are fans of Minecraft, then this is an easy buy.
Minecraft: Story Mode – Episode One is a promising start to Telltale's latest venture. As someone with only a passing knowledge of Minecraft, the story and characters were interesting enough to pull me in, and the manner in which the first episode ends suggests that there's some fairly major diverging paths to be resolved in Episode Two. It's nothing particularly new, as Telltale games go, but I think that playing with a more family-friendly property has been good for the studio.
Will Story Mode pan out? Will it stand as one of Telltale's best? For now, the answer is… maybe. Episode One is a fun two hours with plenty of shout-outs to fans of the series while also a solid balance of gameplay and characters for those who've never combined flint, sticks, and a feather to create an arrow. As a "player choice via conversation" game, though, the plot so far is fairly standard.
By focusing on a new concept that strays from their normally mature games, this episode paves the way for what is hopefully a great series from a great developer.
A solid, functional episode, but one clearly aimed at a younger audience and therefore less involving than previous Telltale adventures.
Story Mode is a solid attempt at giving all new meaning to creativity in Minecraft. The plot is set and it looks to be both interesting and fun. I'm looking forward to continuing the story Telltale has crafted and seeing everything they have in store for the game.
PlayStation Universe
7.5 / 10.0
Order of the Stone continues Telltale's run of strong opening episodes to their series. The drawbacks are mainly down to a weak supporting cast and that air of familiarity that gets more fetid with each passing Telltale series.
NintendoWorldReport
7.5 / 10.0
The characters and story is easy to get into, and the chapter hangs on an interesting note that sets the basis for the rest of the chapters. The voice acting is really well done, and is very faithful to the source material. It's a bit easier than other Telltale games out there and rather quick to finish, but the experience I've had with the game so far is a very enjoyable one.
Sparse interactivity and a lack of commitment to explaining this world and its inhabitants hold Episode 1 back, but I'm still absorbed in my story, and eager to find out what happens next.
The story for the first episode of Minecraft: Story Mode is a little familiar, but it's solid and full of fun references to Minecraft lore. The puzzles are lacking, however.
Frustratingly, the first 10-15 minutes of Minecraft: Story Mode - Episode 1: The Order of the Stone is extremely dull. It's trying to set the scene but just very little happens to the point of it almost being completely off-putting. It then goes from 0-100 in the space of roughly five minutes, and from that moment onwards, the player will be hooked and craving more. Bring on Episode 2!
Intended for kids who love Minecraft, or adults who really love Minecraft.
A charming good time with some stressful, but not agonizingly life-threatening choices - Story Mode brings plot to the sandbox at last.
It's a slow start, but a pleasant one, for Telltale's narrative take on one of the world's most popular games.
An extremely slow start to Minecraft's first story adventure, but it's a game made with a clear love for the original and is bound to please most younger fans.
The story presented in this first chapter isn't the most engaging, but the writing, coupled with the detail makes it all come together. As is usual though, I find it hard to recommend until all of its episodes are released and we can judge it as a whole - but this first episode is indeed promising, laying the groundwork for what should be a grand adventure.
Reno Gazette-Journal
3.5 / 5.0
Fun and whimsical, Minecraft Story Mode's first episode is sure to entertain fans of Mojang's original breakout game. It won't be for folks who prefer Telltale's more mature fare. But if you like Telltale's storytelling approach and enjoy Minecraft or Lego games, you'll want to add the The Order of the Stone to your crafting table.
Minecraft: Story Mode is off to a solid start, sending our heroes on a quest that will take them across their blocky world. If you're used to Telltale's current output, this isn't as serious, instead focusing on telling a family-friendly tale. With that understanding, Telltale kicks off a brisk adventure in this episode's two-hour running time.
[T]he story seems more like a prologue than a first episode. I believe it really could have been combined with whatever comes next into a longer first chapter, although perhaps I've been spoiled by the constant activity in the narrative-heavy choice-based Life Is Strange.
Minecraft: Story Mode has a lot of positives that make it worth playing – it is gorgeous to look at, and will be a cool experience for any Minecraft fan in particular, as it pays loving homage to its source-material.
If you are someone who is really into Minecraft and understand a lot of the elements of the game, you are going to have a much better experience than someone who doesn't know a lot about the game. Even just seeing things like creepers, spiders, skeletons and zombies felt pretty cool just because I knew what they were and I could relate to how Jesse would feel in the game.
Telltale recalibrates with episode one of Minecraft: Story Mode, returning to younger audiences with a story that's charming and accessible, and opening a surprisingly nuanced conversation with its players. Older audiences, though, may find its path a bit too well-trod.
Nintendo Enthusiast
7 / 10.0
Those looking for a deep story or compelling adventure gameplay may not find it, but there's a lot to love in this first episode. It's just not for everyone.
Post Arcade (National Post)
6.5 / 10.0
Telltale's new point-and-click adventure nails the Minecraft vibe but fails to fill its world with memorable characters or much humour
Minecraft: Story Mode - Episode 1: Order of the Stone is a lacklustre start to Telltale's latest series. While it's certainly not bad, it's not exactly good either. A great performance from Patton Oswalt and some fun sequences aren't enough to cancel out the wonky pacing and bland narrative, while the ensemble cast mostly falls flat. This instalment is inoffensive enough, but it never really provides enough for you to latch on to. There's still plenty more to come, of course, but the jury's still out.
Minecraft: Story Mode gets off to a decent, but flawed start with Episode 1. The series is definitely going to be a more family friendly affair than its Telltale brethren, but not quite enough was done to accommodate the more mature gamer. Future episodes could help, but for now it is best to be wary, while still diving in if you appreciate the universe.
Story Mode – Episode 1 hits or misses with its characters and presents a relatively anemic plot for later episodes to build on; less immediately captivating than its predecessors, yes, but Telltale has set out to find the perfect blend of action and heart – they haven't found it yet – but in later episodes they just might.
The way that Telltale takes advantage of Minecraft lore to form its own narrative is intriguing and will delight fans of the original game, but what the studio is doing with this new story isn't doing much that will excite anyone else.
There is some hope for this series to be great in the future, but The Order of the Stone is just okay. The Minecraft-specific gameplay is a nice way to shake up the usual formula. The blank slate of the universe allows the tale to go wherever it wants. The voice cast is full of actors who can do great work. But the writing needs to be more engaging if Story Mode wants to be taken seriously among Telltale canon.