Percentile Rank
Xenoblade Chronicles X is ranked in the 92nd percentile of games scored on OpenCritic.
Rating Summary
Based on 75 critic reviews
OpenCritic Rating
Based on 75 critic reviews
Score Distribution
Unscored Reviews
Majestic, vibrant, almost peerlessly handsome, Xenoblade Chronicles X is Japanese RPG-making at its most ambitious and determined.
Xenoblade Chronicles X is as massive and challenging as it is wonderful and addicting. This JRPG is a slam dunk for the genre.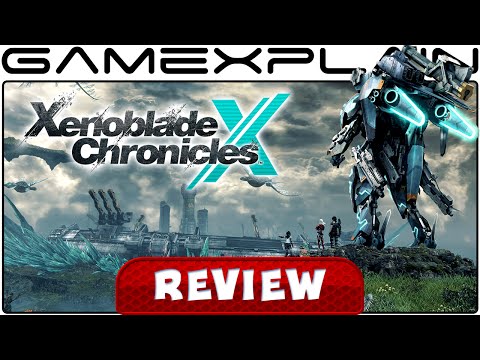 [I]f X were about nothing more than exploring a world devoid of story, battles, and systems it would still be easy to recommend, but the fact it tells a worthwhile tale, constantly rewards your time, effort, and curiosity, and features one of greatest battles systems ever created just makes it all the better. In other words, pick up Xenoblade Chronicles X and clear your schedule, because you have a whole new world to explore.
But even with its irritatingly slow cutscenes, its immature objectification of women, and its determination to keep players away from its best moments for as long as it can, it's hard to dismiss Xenoblade Chronicles X completely. There's just too much of it, for one thing. The simplest play-through will take at least 60 hours, and is likely to scratch only the barest portions of the game's stories and content, some of which, owning to the law of averages, will turn out to be both charming and fun. And there really is nothing quite like taking to the air for the first time, looking down at terrain that you've become intimately familiar with through hours upon hours of exploration of its lush, mesmerizingly beautiful world. It's just a shame that the game chooses to spend so much of its energy preempitively punishing you, before it lets you get to the business of actually enjoying it.
I don't usually recommend buying a console for a video game, and when I do, the core game has to be so stellar, so addicting, that the thought of not having the console to play it would drive you mad. I didn't say that for Rise of the Tomb Raider. I am, however, saying it for Xenoblade Chronicles X.
In hindsight, many of the game's grueling lessons feel remarkably anti-climactic. Getting to the end feels like a definite achievement though the relative uselessness of its rewards make it hard to feel anything but stunned remorse for having gone to such lengths to achieve something of so little consequence. This kind of ego-centric delusion is essential to the spirit of video games, works that are often as terrifyingly wasteful as they are wondrous and energizing. "Xenoblade Chronicles X" manages both in equal measure.
Scored Reviews
Xenoblade Chronicles X is a highly enjoyable game. The exploration, scale, and freedom the game delivers is unmatched by anything on the Wii U. It's one of the Wii U's best games and may be the Wii U's best game for 2015. RPG fans will love what the game has to offer.
Xenoblade Chronicles X is yet another ground-breaking JRPG from Monolith Soft, featuring one of the most ambitious open worlds in today's gaming.
Despite some minor flaws, Xenoblades Chronicles X is a JRPG fan's dream come true.
Xenoblade Chronicles X is a deep, huge videogame: very rich in content, with an extraordinary care to recreate an entire, wonderful ecosystem. A great masterpiece for all RPG fans.
Review in Italian | Read full review
Xenoblade Chronicles X was absolutely worth the import, despite my struggles to progress through the game due to the language barrier. Despite that and my few misgivings, I was still able to completely enjoy the rest of the content: combat, exploration, quests and Dolls, which truly speaks to the quality of the game. I'll definitely be picking up Xenoblade Chronicles X when it releases in English so I can fully experience every aspect of this title as it was meant to be enjoyed.
Nintendo Enthusiast
9.5 / 10.0
[I]t creates an incredible, breathtaking, awe-inspiring world that is an absolute joy to run around in, to fight in, to collect in, to look around in, to be in. It may not have done so flawlessly, but Xenoblade Chronicles X gave me one of the finest worlds gaming has to offer, and it populated that world with incredible things to do. You have the option to be a part of that world as well. And while you should not expect perfection or anything near it, I can say with absolute certainty that you should play Xenoblade Chronicles X.
Xenoblade Chronicles X is wonderful addition to Nintendo's impressive roster for the Wii U. It takes the well-oiled RPG mechanics of its predecessor and delivers a vast and alien world so meticulously and passionately designed that it's easy and fun to get lost inside of it. There are some grindy fetch quests and tiresome elements to the soundtrack, but these flaws become mere background noise once you begin exploring the incredibly immersive world of Mira that serves as the setting. It's a rewarding gaming experience that should not be missed by any RPG fans, or by people looking for a good reason to own a Wii U.
NintendoWorldReport
9.5 / 10.0
In one word: colosal. A colosal world, a colosal amount of content, a colosal adventure for Wii U.
Review in Spanish | Read full review
This just might be the best game on Wii U. If you own the system, buy this in confidence. Worth it for the world alone.
Xenoblade Chronicles X is an RPG that has players exploring the beautiful world of Mira, while helping the human race to survive on their new homeland. The story is slow to get going, but the game is packed full of side-quests and missions, meaning players will always find something to do. Meanwhile, the combat has an impressive amount of customisation, with a choice of weapons, skills, and classes, that allows the player to create fighting style tactics to suit their preferred play style.
Reno Gazette-Journal
4.5 / 5.0
Xenoblade Chronicles X is a love letter to Japanese RPG fans thirsting for a large open-world experience. Progression admittedly can be a grind and just getting to the point where you get your first Skell requires a time investment that equals finishing a game or two in other genres. The game also could do a better job of explaining things, which would be especially helpful to newcomers to the series. At the same time, the breadth of content and things to do, combined with a wonderfully realized world, makes Xenoblade Chronicles X a mighty filling experience for fans of JRPGs that can last hundreds of hours. If you love the genre, this is one game you'll want to spend time with. A LOT of time.
Xenoblade Chronicles X is a genuinely enthralling game. It doesn't take it easy on you though, and the perseverance and attention required may override the spectacle and beauty found here. Fans of the last game may also struggle with the tonal and technical shift, but if you want to experience one of the most involving, creative and expansive open worlds ever created, Xenoblade Chronicles X is essential.
Xenoblade Chronicles X beweist sich als das JRPG auf das Wii U Besitzer gewartet haben. Der Titel bietet alles man von einem JRPG erwarten würde und holt in Sachen Grafik und Gameplay noch das letzte aus der Wii U heraus. Falls ihr aktuell auf der Suche nach einer neuen Welt zum eintauchen oder einfach nur unzähligen Stunden mit Monster bekämpfen und aufleveln verbringen wollt, macht ihr mit dem neuen Xenoblade absolut nichts falsch. Die ersten Stunden sind zwar wirklich anstregend zum einsteigen und auch die Lernkurve geht nach einiger Zeit steil nach oben bzw. erfordert etwas an Zeit, aber ansonsten macht der Titel eigentlich alles richtig.
Review in German | Read full review
So enjoyable that I'm going to start it all over again. This is an essential purchase for all Wii U owners who love the JRPG genre.
The Jimquisition
9 / 10.0
There are moments that make me scratch my head, infuriate me, and even make me cringe, but when I consider the layered mass that is Xenoblade Chronicles X, all I can think of how damn arresting it is. How much of it is there. How much of it is thoroughly enchanting.
Xenoblade Chronicles X embraces the gigantic world found within it and provides gamers with not only beautiful environments, but uniquely designed creatures that inhabit them in yet another gem for the underrated Wii U.
Although certain aspects prevent it from being a universal recommendation, it's easy get sucked in to emerge a likely-unplanned large number of hours later, much like the developer's prior opus.
This is one of the more interesting reviews I've done as of late because I know Xenoblade Chronicles X will be divisive. But it truly feels like an MMO world I've been living in for several weeks now. The more grimdark theme isn't quite as charming as the original Xenoblade, but everything else makes up for it.
Xenoblade Chronicles X feels like a truly breathtaking effort, evidenced by how much love has gone into crafting each and every inch of its massive planet. And it's a planet that Nintendo and Monolith Soft have made worth exploring and worth learning. It's not for everyone, as the story gets off to a slow start. In fact, expect the story to last well over 40 hours. The game also doesn't waste much time with tutorials. Players aren't left entirely to the wolves, but the combat, equipment, stats, and party system is far more complex than the simplistic tutorial tips let on. It's also worth repeating that new players should expect to die a lot!
Nintendo's latest Wii U blockbuster, Xenoblade Chronicles X, is massive, beautiful, and well worth checking out for anyone that currently owns the console.
An accessible ambassador for its genre, Xenoblade Chronicles X makes good choices building a world, but stumbles on writing you a guidebook to it.
Xenoblade Chronicles X is a boundless exhibition of the relationship between scale and structure, and its myriad of frenzied ideas are willed into cohesion only by the congruence of its supporting systems. Xenoblade Chronicles X may be obsessed with scale (and proudly so), but it doesn't leave the player feeling consumed by it.
Xenoblade Chronicles X is epic and a really great game, but one that requires the player to approach it in a specific way. It's an oddity on the Wii U, a full-fledged massive RPG experience from a first-party Nintendo developer. Parts of it are so Japanese—character design, animations, anime/manga-esque plot—that it feels like it should be an Atlus or Nippon-Ichi title; but if it were that niche it would never have been able to develop the expansive environment. There's certainly nothing like it on the Wii U, or anywhere else. It's definitely worth picking up if you have the platform.
Cheat Code Central
4.5 / 5.0
Xenoblade Chronicles X is the ultimate game about exploring and conquering a hostile alien planet. Its design hitches, though occasionally annoying, simply cannot take away from the triumph that is the planet Mira and its fantastic creatures. There are literally hundreds of hours of potential gameplay here, but even if you don't tackle everything, getting to know Mira is exciting, full of breathtaking surprises, and downright fun. If you find the patience to get over its learning curve, Xenoblade Chronicles X will reward that patience with a wealth of memorable experiences.
Xenoblade Chronicles X is a masterclass of design that we don't often see in the JRPG genre, and easily stands besides the few heavyweights we've seen so far this generation. Once you get over the hump and understand its systems, X offers a simply huge world to seamlessly explore.
A content-rich sci-fi adventure that diverges from its predecessor in unexpected but delightful ways.
Xenoblade Chronicles X is a landmark achievement in RPGs unmatched in depth, scope and beauty. While it suffers from a few common RPG issues like grind and fetch-quests, the overall quality of the experience far exceeds anything in competitors like recent Final Fantasy or Elder Scrolls titles. If you have the courage, Xenoblade Chronicles X offers a quest hundreds of hours long and rich in unforgettable moments.
Xenoblade Chronicles X is a worthy successor to the previous title in the series and one of the most ambitious games to be released in the Wii U so far. A monument of content, exploration and complexity, this is a technically staggering work with visually breathtaking landscapes and the potential to spend literally hundreds of hours in its main and secondary missions. A masterpiece of the JRPG genre which is more than certain to gain a place close to the hearts of many who will dedicate themselves to explore this world.
Review in Portuguese | Read full review
Xenoblade Chronicles X is as sprawling, diverse, complex and entrancing as we hoped. It utilises the Wii U's capabilities not only to produce a beautiful world, but shows how something as simple as a map on the GamePad screen can be invaluable. What's most impressive is the dynamism and impression of freedom in play - level caps and grinding are naturally part of the equation, yet they're managed within a structure where even small missions or Affinity quests greatly enhance the narrative and sense of place. To truly experience the story of this human colony and the vast planet Mira requires exploration and patience, and Monolith Soft has found an impressive balance in bringing its vast range of gameplay systems and mechanics together.Occasional bottlenecks are infrequent and easily overcome in the broader experience, and overall Xenoblade Chronicles X delivers a hugely impressive RPG adventure. It's an enormous accomplishment for Monolith Soft and an irresistible part of the Wii U library.
Even with its short falls Xenoblade Chronicles X is a strong candidate for game of the year on the Wii U and is easily the best RPG. While I'll stop short of saying you should run out and buy a Wii U just for this title if you already own a Wii U and are a fan of RPGs this is a must have game for your collection. There is also multiplayer content for X that fans of MMOs might like that I'll talk about in more depth next week after the game's been live. We'll alter our score then if this should change how we feel about the title.
Xenoblade Chronicles X is a poorly explained, but surprisingly addicting adventure with engaging combat, stunning visuals, and a fantastic soundtrack.
Once you get used to all the mechanics, you'll find yourself, and even though it can get really frustrating at times, Xenoblade Chronicles X remains engrossing even after dozens of hours of play. I guess what I'm trying to say is, I'm really feeling it!
Xenoblade Chronicles X is a great RPG that makes investing in a Wii U a no-brainer for fans of the genre.
Xenoblade Chronicles X is a massive RPG with enough surface area, sub quests, and customization to keep you busy for many hours. The presentation can feel stiff and awkward at times, but the satisfying loop of combat and customization makes exploring the vast world of Mira a fun and rewarding experience.
I have high hopes for this series and I eagerly look forward to the potential next installment. I think I'll be playing through the rest of the side missions this game has to offer, and I hope that my time playing it will be filled with the same sort of wonder I began the game with. That being said, the world Monolith Soft built is fantastic and I encourage you to check it out.
Xenoblade Chronicles X is an ambitious game that succeeds on many fronts, but tapping into its greatness requires patience and perseverance.
Xenoblade Chronicles X is epic in scope. Most of the time, it's better for it; other times, it's clear that the developers didn't have a golden thread sewing together all of its various parts.
The best Japanese role-player of the generation and arguably the best open world environment of the year, despite a disappointing story and some arcane systems.
Xenoblade Chronicles X will likely be a mixed bag to those who step in with very little role-playing skill or knowledge of the series up until this point, so they may want to proceed with caution. Others, however, that absolutely love what Monolith Soft has done so far will enjoy this chapter the most, thanks to its immense gameplay options and fantastic looking world. It's certainly worth a look either way.
A new direction for the series manages to lose what made the original so special.
Massive open-world JRPG with astounding exploration but some pacing and storyline issues.
The game is a slow burn, and you have to work hard for virtually everything you earn, but the payoff is almost always worth it. This is one of the most uncompromising games to come out in years, but it's reason alone for "hardcore" RPG fans to consider getting a Wii U if they haven't already. If you've mastered everything involving plumbers, apes and pointy-eared Hylians, there's a planet called Mira that has a heck of challenge waiting for you.
I enjoyed my time with Xenoblade Chronicles X a great deal. I found the combat highly engaging and every new ridge I would climb up provided me with such breathtakingly beautiful vistas that I would sit there simply slow panning around to take it all in. But at the same time, undercooked narrative has hurt the really long-term value of the game, and it was just a little too in love with the more arbitrary and irritating quirks of MMO design for its own good.
Xenoblade Chronicles X thrives on its open-ended nature, to the point where the idea of reigning the player in is simply nonexistent.
Xenoblade Chronicles X is the biggest and best-looking exclusive to come to the Nintendo Wii U yet.
Ironically, the thing that can initially be seen as Xenoblade Chronicles X's biggest weakness will eventually turn out to be its greatest strength. While all of the details and the massive world will frighten people off at first because of its sheer complexity and depth, once adapted, it will embrace them and become an addictive and beautiful experience offering hundreds of hours of wonderful game time. It might, actually, be worthy of the title of being the ultimate RPG game for RPG fans, mixing the dearest elements of both JRPGs and WRPGs into the same package.
A strange blend of sci-fi, action, MMO, Monster Hunter and JRPG, set on a dazzling, weirdly beautiful alien world. It's both a cliché and an understatement to say that Xenoblade Chronicles X won't be for everyone, and some elements of the game are strangely clumsy. Yet there's something about this game's relaxed, exploratory vibe that's oddly compulsive and – as Monster Hunter's proved – battling titanic beasties never gets old.
An old employment credo stands firm with a game like Xenoblade Chronicles X – the more you put into it, the more you get out of it. The question is if you're ready to endure that trial…and there's no question that many fans will be.
New Game Network
80 / 100
While Xenoblade Chronicles X doesn't quite hit must-buy territory, for those who appreciate RPGs, particularly with a focus on action and an open-world brimming with tons of content, should give this Wii U exclusive a chance.
The game used in this review was a physical copy purchased by the reviewer.
Post Arcade (National Post)
7.5 / 10.0
Xenoblade Chronicles X has a lot going for it. The incredible world, in-depth combat engine and an amazing soundtrack sets up the foundation for something that could've been an absolute classic. However, due to the missteps in quest design and overall progression, it's a game that can only truly be enjoyed despite itself.
Xenoblade Chronicles X has a hard time providing a tale suitable for the massive world and complex systems that occupy it, but even the most fairweather RPG fans will need little convincing to pick up this Japanese addition to the open-world genre.
Geeks Under Grace
7.5 / 10.0
Xenoblade Chronicles X is a great open-world RPG with plenty of to see and do. Unfortunately, this game requires dozens of hours of commitment and a slew of side questing to complete the narrative.
Deep and satisfying in the early hours, but a tremendously lengthy and tedious grind gradually slows down the fun in the run-up to the conclusion
Despite never reaching its true potential Xenoblade Chronicles X is still an amazing gaming accomplishment. No other game can provide such a huge world to explore, and one that is filled with variety throughout. If you're willing to embark on the lengthy quest that can easily eat up over 100 hours, and can put up with some technical shortcomings, then Xenoblade Chronicles X is worth picking up. Just be ready to grind.
Xenoblade Chronicles X offers a resplendent world, fantastic combat, and transforming mechs, but figuring out how everything fits together isn't always easy.
Xenoblade Chronicles X is an awesome game buried under a mountain of annoyances
Xenoblade Chronicles X excels when it emulates and improves upon the best parts of Xenoblade. X shines when it comes to combat, exploration, and vehicle systems, making this sequel more engrossing than its predecessor. Its richness makes it easier to overlook the shortcomings from both the technical limitations of the Wii U and the inconsistent soundtrack. Even without the multiplayer, there is plenty to do and see in X, but with that as an added component, the game should make a lot of Wii U owners happy well into 2017.
This JRPG asks us to do nothing except buy into its synthetic religion of scale. You are big, Xenoblade Chronicles X. You are big because big is good. It's like stroking a dead Aibo—an Aibo that was never alive in the first place.