Percentile Rank
Small Radios Big Televisions is ranked in the 28th percentile of games scored on OpenCritic.
Rating Summary
Based on 29 critic reviews
OpenCritic Rating
Based on 29 critic reviews
Score Distribution
Unscored Reviews
This is a neat game, for sure, and you should put it on your wishlist at the very least.
There's a creative idea behind it all, but it barely manages to mask the monotonous, frustrating and illogical gameplay.
Review in German | Read full review
When I first sat down to play my copy of Small Radios, Big Televisions, my faith was already in the Adult Swim brand. Coming a long way since the day of flash games, this network-born publisher cradles creativity. When you play an Adult Swim game, it very much feels like someone gave the reins over and said "Hey, great idea my indie friend. Let's take it and run with it." Rarely am I ever disappointed by anything coming out with the AS name attached.
Scored Reviews
Adult Swim had made some fantastic games in the past, but nothing can even compare to Small Radios Big Television!
Despite its brisk pace and sparse storytelling, Small Radios Big Televisions manages to feel like a complete handcrafted package. The game shines when you're weaving between corridors and virtual worlds hunting for keys to a mystery among forgotten places and glitchy spaces. Like any great mixtape, Small Radios is packed with moments worth remembering, even if feels like it should be just one song longer.
As someone who has ADD, it's difficult for me to concentrate on a game for even 30 minutes — yet, Small Radios Big Televisions plucked me out of reality and dropped me into its world for two hours. I never once looked away when playing it — something that has only happened to me one other time. It was upon that realization, that I knew Fire Face had created something unique and special in an industry deprived of originality.
As I mentioned before, the overall game is relatively short. You can probably see everything the game has to offer in around 2-3 hours at most. I loved the creepiness and all the weird and wonderful things in the game. The game is different and original, and I definitely recommend that you try it.
Play Some Video Games
80%
While overall short, mild control issues, and a little bit of repetitive puzzles solving it delivers a bizarre and fun ride. This game begs to be fleshed out into something much bigger. But if you are a puzzle fan and would enjoy a short endeavor into Small Radios Big Televisions, grab your tape deck and press play.
Make no mistake, this is art. A beautiful trip packed in moulded off-white plastic and labeled with a sharpie from the junk drawer
Everybody's gone to some kind of rapture in Small Radios Big Televisions. It's a rapture devoid of physical labor or mental exertion, but one of technological transcendence. It's a game of sensible puzzles, though a few still stumped me. It's a game owning its simple art style, but assembles itself in broad strokes with bold geometry. And it's a game of meditative musicality, though willing to occasionally strip down my senses or hit rewind on my complacent ears. Small Radios Big Televisions is short, but it takes you deeper, once you stop working so hard for it.
Small Radios, Big Televisions might be small in scale but it's large in impact.
Overall, Small Radios Big Televisions is a fun release on PS4. It might be short (a couple of hours at most), but it certainly has its charm. Jumping in and out of the small, minimalist virtual worlds is entertaining and bizarre, rolled into a tight PlayStation 4 offering.
Small Radios Big Televisions is a short but stimulating trip into a world of multiple realities.
A different kind of puzzle game, perfect for those who want something not very hard but calm proposal.
Review in Spanish | Read full review
It's not a bad puzzle game by any means, and the virtual worlds add intrigue and wonder, but overall you won't be going back after finishing the two-hour playthrough.
Small Radios Big Televisions isn't the type of two-hour indie experience that's going to blow your mind, but there's something oddly relaxing and engrossing about navigating through its creepy factories.
If it can connect with the player, then this game is a profound experience. It takes the medium into different directions, while drawing upon its artistic qualities to find what lies within the viewer. Of course, there's no guarantee that it will garner the same response from everyone. Some people might even say it's pretentious, which wouldn't be an unfair assessment. In the end, this is just a point of view. However, inspiration can't be taken for granted, because it allows someone to look a little harder at the world around them, and a little deeper into themselves. This is reason enough to consider investing a couple of hours into Small Radios Big Televisions.
Small Radios Big Televisions is a different kind of experience for sure and it isn't for everyone. If you like adventure games with challenge this isn't for you and if you like games with clear stories this isn't for you either. If you want a point-and-click adventure game that is easy to get through with a wonderful, soothing soundtrack than you should give Small Radios Big Televisions a shot.
Hey Poor Player
3.5 / 5.0
Excellent presentation alone doesn't make a great game, and without a real hook to pull players into the experience, Small Radios Big Televisions feels like a teaser for something that could have been much more than the sum of its parts.
Small Radios Big Televisions is a good game to wind-down and play after a tough day.
Small Radios Big Televisions isn't a bad game by any means, its beautifully animated style, coupled with a synth led soundtrack, creates an amazing environment in which to explore its well-thought-out puzzles and interesting level design. At times though, it just lacks direction.
While very short and suffering from some control issues, Small Radios Big Televisions mostly succeeds in delivering a fun, bizarre adventure game. Its presentation is its greatest strength, offering moments of tranquility and also of total obscurity. It's a shame that the puzzles never grow beyond their initial design, as the premise practically begs to be expanded upon. Hopefully a more fleshed out sequel can introduce some new ideas, as there's the core of a good game here. It's just not quite long enough or varied enough, so you may want to rewind your expectations before pressing play.
Small Radios Big Televisions has visual style to spare, but the lack of depth in both narrative and gameplay make this oddball experience worth skipping.
Small Radios Big Televisions has trippy visuals and an interesting premise but fails to accomplish anything meaningful as an interactive experience. Add that to its ephemeral nature, and it's unfortunate just how forgettable this adventure can be.
Small Radios Big Televisions is the embodiment of style over substance, providing a beautiful world that warrants exploration, yet does not provide the tools or the desire to do so.
The game leans heavily on its visuals and sound but can't sell its simplistic gameplay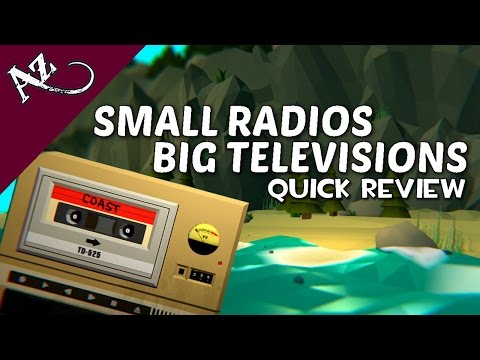 PlayStation LifeStyle
3 / 10.0
I spent every minute in Small Radios Big Televisions waiting for it to become enjoyable, and then before I knew it the credits had hit. There was no magic moment where everything clicked, nor did the worlds I was viewing ever become something more than just a cool visual. This may be an audiovisual treat, but there's absolutely no substance backing it up.