Percentile Rank
Blood Bowl II is ranked in the 48th percentile of games scored on OpenCritic.
Rating Summary
Based on 51 critic reviews
OpenCritic Rating
Based on 51 critic reviews
Score Distribution
Unscored Reviews
Rock, Paper, Shotgun
Unscored
I wish there were more, particularly relating to team management and the persistency of the world, but this will do. It's not as clean and clever as fellow fictional ball-handler Frozen Cortex, but the messiness and violence really do add something. There's nothing quite like recognising that you're not going to score in the last turn of a half and concentrating all of your efforts toward obliterating the opponent team instead. Especially when they're High Elves.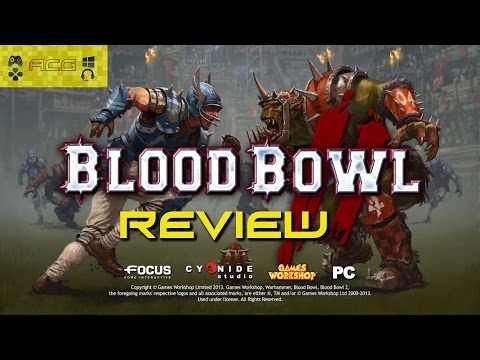 Eurogamer
No Recommendation / Blank
No Recommendation / Blank
Oct 1, 2015
It has numerous issues and lacks content, but Blood Bowl 2 offers a solid foundation for the future of the celebrated turn-based sport.
Scored Reviews
Blood Bowl 2 will require patience to learn its ins and outs, but thankfully it has a great way to teach you the ropes throughout its campaign.
There is very little I can fault with Blood Bowl 2, it is solidly executed and a must for those seeking a fun and competitive game to play.
Blood Bowl 2 isn't going to be for everybody, but that isn't going to stop me from recommending it to everyone I know. At the end of the day, it's just plain fun!
A great mash-up of sports and turn-based strategy in a fresh and exciting way. If you like anything fantasy and enjoy a good turn-based game, then you're likely to love this, regardless of whether you like sports or not.
Blood Bowl 2 is a deceptively simple yet tactically deep turn-based sports game well worth your time. For maximum utility, avoid the campaign mode and join a league as soon as possible.
It's hard to really pinpoint who will enjoy Blood Bowl 2 the most. Strategy, board game and American Football fans will all get something from it. Still, it's worth trying your hand at it even if you're not a fan of those genres. The main issue with the game is the steep learning curve and the length of the matches. If you're someone with limited time this probably isn't the game for you. If you do have the time for such a big commitment though, then you're in for a treat.
The Blood Bowl franchise is an overlooked, yet interesting series. The fact that it warranted a sequel is great for fans and even better for newer players looking to join the blood-sport's pandemonium. The game may look daunting for these new comers as strategy, micromanaging and finding the perfect league won't come without practice.
Gert Lush Gaming
8.4 / 10.0
A faithful recreation of the smash hit boardgame and a ton of fun to boot!
Blood Bowl 2 is an interesting game, while I don't feel there is enough meat on the bones of this game to warrant a full price purchase, it's certainly worth your time when the price is right. Anyone who likes a tactical game and would like a different take on that genre should definitely give this game a try. As a fan of turn based games and the hilarious take on American Football I found it an enjoyable experience.
Not for everyone, but what Blood Bowl II does, it does exceptionally well.
Blood Bowl 2 appears to specific tastes, but offers a detailed and rewarding challenge.
[O]verall, Blood Bowl 2 is a step forward. It's a much friendlier, easier game than its predecessors, with improved looks, a tutorial campaign, controller support, and the UI improvements. New players won't feel blocked off from enjoying it.
This inspired pairing of the Warhammer universe with American Football works surprisingly well, although it has to be said that fans of more straightforward sporting sims may not take to the game as well as those who prefer tactical, turn based titles, as Blood Bowl 2 definitely leans towards the latter.
Blood Bowl II is a unique tactical turn-based game with an amusing setting and a lot of personality. The underlying game is solid and offers a lot of possibility for multiplayer, but the interface and the camera could use a little bit of polishing. Otherwise the biggest problem will be finding players willing to stick around for the league mode.
A smart mixture of Warhammer strategy and American Football, BB 2 combines the nuance of turn-based skill with perceptive risk management to create a game that is equal parts joy and pain to figure out. And though it bears the frustrations of unpredictability and a sporadically malfunctioning A.I., which destroys match pacing (and will probably be patched), the core gameplay is intelligent and deep enough to advocate to anyone who appreciates turn-based strategy coupled with an endearing high fantasy aesthetic.
Undoubtedly Blood Bowl 2 is a very unique game that really has no other similar games to compare it with, but it is a fantastic mashup of two games. The level of detail in the game is a great aspect that will have you admiring all the characters in the game including your opposition
Blood Bowl 2 is a smashy, satisfying, goofy tactical melee that leaves just a bit too much up to the six-sided dice.
If you can accept the role that randomness plays in the overall game, Blood Bowl II offers a great deal of turn-based strategic fun.
Blood Bowl 2 features a lot of customisation, with a focus on the player building the perfect team for their gameplay strategy. There is a heavy 'luck of the dice' element, which may frustrate some players, but serves to add to the board-game feel that the game is emulating.
It captures the spirit of Warhammer's lighter side and translates it beautifully onto the screen.
Operation Sports
7.5 / 10.0
An overall improvement in every way from the original. Worth an investment if you are looking for something different and fun.
PlayStation LifeStyle
7.5 / 10.0
Not only does it offer a fun, strategic take on American football, but it also introduces many unique elements, such as a permanent injury system and leveling up players, that allow the title to transcend past typical sport titles.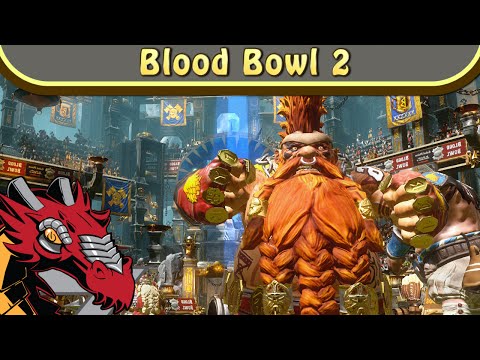 A strong strategy game tarred by its unfinished feel and the influence of luck, but fans of the setting will be able to overlook its flaws
As much strategy game as it is sports sim, this enjoyably bizarre mix of influences and genres has much to offer the more patient gamer.
Blood Bowl 2 has been well adapted from the tabletop game into a fun digital world. Even if you know little about football or Warhammer, anyone who likes the challenge of a complex strategy game will appreciate Blood Bowl 2 - especially in multiplayer.
For all its limiting devotion to the board game that inspired it, Blood Bowl 2 is far more of a touchdown than a fumble.
With its action taking place on a playing field, the scope and structure of Blood Bowl 2 initially feels smaller in scale than you tend to expect from most turn-based strategy games. After a few hours though – with its board game roots exposed – you'll find that there's actually plenty of depth to be explored. While the abundance of random dice rolls will put some people off, if you're the sort of person who relishes the unexpected, then there's a good chance – 70 per cent according to the God of Dice – that its bizarre setting and chaotic action will make it worth a punt.
It's difficult to overlook a lot of the flaws with Blood Bowl 2, but at the same time if you have a group of likeminded people willing to create a league, then this is a great if somewhat limited option. It's everything you'd expect in a Blood Bowl game, with a great tutorial for newcomers and a coat of paint, looking as good as the Citadel Minatures you'd see in the window of a Games Workshop.
Despite some balance issues and long play times, Blood Bowl 2 is a bloody yet engaging sports strategy sim
The storyline of the campaign mode is sort of fun and playing a season with all of the ups and downs that brings is also fun, but for me I think most of the joy comes from the nostalgia, I'm afraid.
New Game Network
67 / 100
The core of Blood Bowl 2 is great. It's a wonderful realization of a fun board game, brought to life with a competent design. Unfortunately, beyond the one-off matches, the title is catered to a very specific kind of fan.
PlayStation Universe
6.5 / 10.0
Fans of turn-based strategy and tabletop games will want to give Blood Bowl 2 a shot, but a muddled presentation limits the broader appeal among gamers and holds this game back from becoming a standout title.
Blood Bowl 2 is a faithful recreation of the board game with improved visuals and a cleaner UI than previous installments. The AI is as poor as ever but multiplayer is really where Blood Bowl 2 shines. The inclusion of only 8 races is extremely disappointing though as is the lack of overall polish the game has. If you already own Blood Bowl Chaos Edition, sadly Blood Bowl 2 doesn't really do enough to justify owning both unless the multiplayer community decides to migrate. It's still a lot of fun though, especially in multiplayer.
If all you want is a better-looking version of Blood Bowl: Chaos Edition, and/or built-in online league support, then Blood Bowl 2 has you covered. But if you were hoping for a bit more from Cyanide Studios' next Blood Bowl release, it might be worth waiting until the price comes down and/or an upcoming Blood Bowl 2 patch gives the game a much-needed content injection.
Blood Bowl 2 is the flashiest iteration of the game so far, but its dice rolls are frustrating, and its amble ruleset isn't introduced well to newcomers.
Chalgyr's Game Room
6 / 10.0
I think that the most shocking aspect of Blood Bowl is that it has been around since the mid-80's, with the first tabletop release being in 1986. I guess that goes to show how much I paid attention to it when walking into a GamesWorkshop retail store (when they still existed in abundance here in the States), though I was admittedly staring at the gorgeously painted models, so I had eyes for little else.
What little Blood Bowl 2 does wrong is more a result of its unconventional mix-up than any technical shortcomings of the game. Combining sports and RPGs is a tricky thing at best, and while Blood Bowl 2 pulls it off well, to say the mix is perfect wouldn't be right. This is fun to play through and through, even if the audience might be limited.
With some deep mechanics and a level of micromanagement that would make even the most compulsive of table top gaming aficionados blush, it is quite easy to see how well Blood Bowl 2 would work as board game. It is for some of these very same reasons, however, that Blood Bowl 2 is somewhat less satisfying as a videogame. The random nature of the dice rolls can lead to some serious frustration and the action is so slow and plodding that it is definitely not the kind of game someone can just jump in and play. There is certainly going to be a target audience that appreciates what this offers, and what Blood Bowl 2 does well it does really well. Grab a six-sided die, then, and some extensive spreadsheets to keep track of stats, because everyone knows it isn't a real American Football game without either of those two items…
Blood Bowl 2 is an interesting experience in what a turn-based strategy/sports hybrid can be. For fans of the first iteration on the 360, the second should be right up your alley. The asking price is a bit steep for what is offered here, and the rougher parts of the game such as the graphical glitches, lackluster audio, and long/frequent loading times take too much away from the experience to warrant a buy at the day-one price.
While Blood Bowl 2 is a solid game on its own, it suffers from the lack of variety compared to the previous game.
Blood Bowl 2 is definitely one for the board game devotees who prefer to play online rather than solo.
A strategy game that offers little in the way of strategy, Blood Bowl 2 at least has dumb fun going for it.
Whilst Blood Bowl 2's strict adherence to the franchise's rules may dissuade some from even trying this out, those that do take the plunge and stick with it will find that despite its faults, it can be a deeply rewarding and enriching experience. The AI isn't really up to snuff though, so expect to ride a long learning curve to be able to become competitive online - if you can find a game.
There are those out there that will really love this game, but for the casual and even some hardcore RPG fans, this can quickly become a mess.
Technically superior, but with a shallow roster the latest Blood Bowl adaptation falls short of a touchdown.
A digital conversion of a physical game is worthwhile, but it might have been best to leave this one on the tabletop.