Percentile Rank
Assassin's Creed Unity is ranked in the 48th percentile of games scored on OpenCritic.
Rating Summary
Based on 88 critic reviews
OpenCritic Rating
Based on 88 critic reviews
Score Distribution
Unscored Reviews
While there are some positives such as the murder mysteries there is not enough to make this game worth purchasing.
Rock, Paper, Shotgun
Unscored
Not a disaster then, but Unity is Assassin's Creed reverting to type despite its glitzy surface. For that reason, and not for the belly-aching about performance and paygating, Unity is probably one to skip.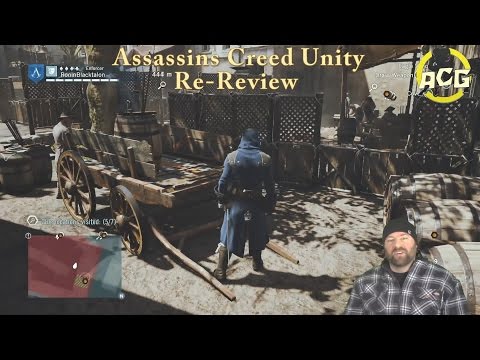 Unity isn't a bad game. If you want to tour Paris, if you want to encounter some of the era's historical figures, that part of Assassin's Creed is intact and, in many ways, better than ever. There are some fun missions to enjoy, as well. But if a consistent, bug-free experience is even slightly your thing, wait on this at the very least. Give Ubisoft a few months to get it out of beta or maybe just wait for next year when the team has a better handle on the engine and the new consoles.
Ubisoft has proven that it is capable of pushing the series in a novel direction, and that's why the complacency of Unity is especially disappointing.
In "Unity", the arc of the "Assassin's Creed" line has become ever clearer as a devolution myth, a lone runner chasing the thread of conspiracy which is unspooling across the centuries derailed by business experiments, untrustworthy technology, and the increasingly insupportable weight of its own storytelling. The result is a regal mirage, opulent and complex but ready to fall apart at the first sign of stress.
For a series that's tackled colonial America, the high seas, and the Italian renaissance, Assassin's Creed Unity manages to keep it fresh. It has enough going for it to make it worth a purchase for the discerning gamer who may or may not still be suffering from the trauma of rote learning every detail of the French Revolution for academic purposes. Well worth the price of admission, and then some.
Scored Reviews
PlayStation LifeStyle
10 / 10.0
With Unity, I felt like I was playing Assassin's Creed 1 and 2 again, with improvements that made sense to the series as opposed to the odd additions that strayed too far from the creed. The entire experience was enrapturing, and the odd skating citizens in crowds were not enough to deter me from thoroughly loving every moment that I spent with Arno. I don't give Assassin's Creed Unity a perfect score lightly, but a return to the core of the series and a strengthening of those central pillars makes Unity shine like the glint of a well polished hidden blade and stay true to the creed.
Wandering around Paris is a real treat, visually the game looks great and Ubisoft Montréal has done a solid job of the visual and audio design. The crowds chatter away in French, adding a backdrop to the scene, while events of significance are spoken in English, allowing you to quickly pick them out. In terms of content, the main game was really enjoyable, while the sheer breadth of side content borders on intimidating.
I was not expecting to love Unity, but I do. Ubisoft nailed the big assassination missions and everything in between. I lost several days to this game, and I'm looking forward to losing a few more. I want to see if I can find all the highest-rated equipment. I want to do some more multiplayer missions. I want to solve the rest of those brilliant murder cases. I want more Unity.
PlayStation Universe
9 / 10.0
Assassin's Creed Unity delivers a stellar narrative and a beautiful backdrop for one of the most palpable historical times in history. With complementary combat tweaks and the addition of co-op, Ubisoft has more than outdone itself in bringing 18th-century Paris to life.
Cheat Code Central
4.4 / 5.0
While I was not on board with Assassin's Creed Unity from the announcement to the moment I started playing, I have to say I was pleasantly surprised with the level of enjoyment I have consistently had with the title. It all feels like this is my assassin right from the very beginning of the game. While this was not something I have been asking for, I am most certainly excited to see where things progress with future installments. Who knows, maybe I will eventually be able to be the assassin in the game… told you I might need to get out more.
If you're a fan of the Assassin's Creed franchise you will undoubtedly love what Ubisoft has brought to the table with Assassin's Creed Unity. A vibrant playground that you can tackle alone or with friends, it adds just enough new while still staying faithful to what made it successful in the first place. Despite some minor hiccups along the way this is a great first showing for Assassin's Creed exclusively on current generation consoles.
And not to say it's without its faults, as noted with some minor, yet impactful, movement snags and a dated combat system. Visually it sometimes seemed as though there were textures in lower resolution, more so in cut-scenes, and I also experienced significant load time a lot which broke the immersion element. The overall experience delivered significantly outweighs any of the negatives mentioned though.
That said, though, the visual glitches did not ruin any of my game experience. Sure, some of the severe texture problems were jarring, and the hair never once looked real on everyone, as though they're all wearing shiny wigs, but it never once hindered gameplay or made my sessions less fun. In this day and age when graphical expectations and perfection demands are rather high, I realize that it may be difficult for many to look past these issues, but those who do will have a rewarding experience awaiting them. Stabbing Templars with a hidden blade has never been more fun.
Assassin's Creed Unity manages to do many thing right like having a story that pulled me in, and made me want to keep playing to see how it all unfolds which was something Assassin's Creed III had a problem with. I was also happy that Unity focused a lot more on assassinations, and made some solid improvements to the assassination missions. While Unity managed to do a lot of things well, it has quite a few problems on the technical side of things like the glitches, framerate, and texture pop ins that can really take you out of the fantastically recreated 1790's Paris. Technical issues aside this is another solid entry to the series.
All told, Assassin's Creed Unity is a great game that's been let down by some technical issues. It's a shame that Ubisoft drew attention to themselves with the quotes earlier on this year by implying one version had been held back, which judging on the PS4 version of the game simply isn't true. It's even more annoying to think that this will be the talking point when really it should be more about how Ubisoft Montreal have nailed the key things in the game and brought the best things from previous games to the table whilst whittling away some of the less well received parts. If you're a fan of the series, Assassin's Creed Unity is an absolute no-brainer. It distills the essence of the franchise into a campaign of decent length, with more variety than before and a much-needed revamp of the mission structure, and adding in a surprisingly deep and fun co-operative mode has revitalised the online side of things for the franchise. Much like a couple of other high profile franchises this year, Assassin's Creed has its best entry in years with the release of Unity. If the technical problems can be patched out, then add a one onto the score.
Although Assassin's Creed Unity doesn't reach the same heights of last year's Black Flag, it definitely screams next-gen, however it is plagued by some graphical bugs and occasional slowdowns. Thankfully this doesn't hamper the gameplay experience too much.
Assassin's Creed: Unity symbolises what is both good and bad in the modern day videogame industry. It may have received patches, but that's the videogame industries modern day cop-out.
True to its name, Unity is a cohesive collection of the fundamental elements of the Assassin's Creed experience, and feels like a much-needed reset for a franchise that was starting to become bloated and scattered. It may not be a revolution, but vive l'unité all the same.
Although it may be the first installment made specifically for the brand new consoles, Unity remains a traditional Assassin's Creed game. The setting and atmosphere is cool, but some of the best ideas are marred by bad checkpointing and a story where the historical elements often feel like an afterthought. Assassin's Creed Unity is a solid action game, but a disappointing follow up to Black Flag.
In doing this, Unity is not the huge leap forward that a next-gen Assassin's Creed promised it would be - rather it's a familiar adventure dressed in exceptional decoration. The artistry to be found in Paris far outweighs the by-the-numbers story. In essence it's more Assassin's Creed, then - that will tell you all you need to know if you're mulling over a purchase. Perhaps this is why this Assassin's Creed feels as though, like its time-spanning storyline, it has one foot in the future and one in the past.
A thoughtful story with some great missions, but fundamental problems in control, balance, and tech hold the game back
Take to the streets of Paris and experience the Revolution, assassin style.
Post Arcade (National Post)
8 / 10.0
A complete reworking of Assassin's Creed for new-generation consoles, Unity is a good start even if it doesn't go all the way
Assassin's Creed: Unity suffers from a stale plot, occasionally intolerable gameplay mechanics, and the lack of novelty when compared to other titles in the Assassin's Creed franchise. Nevertheless, its superior graphics, wonderful sense of atmosphere, and replay value prevent it from being a flop.
While it's true that Assassin's Creed Unity lacks the polish we would expect from the series by now, it's bolstered by its fantastic location, interesting new mission types and deeper emphasis on customisation. This perhaps isn't the revolutionary release we were hoping for, but Assassin's Creed Unity takes some positive strides forward, delivering another stellar entry in the yearly series.
Every Assassin's Creed since II seems to focus on a particular gimmick, from the brotherhood, to the wilderness, to the open seas. Unity is an attempt to get back to the basics of stealth-action, and there are a lot of subtle upgrades that make the formula feel freshly tailored for this new generation. This is an extremely ambitious, beautiful game that you can spend a lot of time with. Unfortunately, system performance may vary substantially, Arno's story is a bit underwhelming, and if you don't have a few patriots to join you in battle the co-op missions won't impress. History has given us better Assassin's Creed games than this, but the Animus can still simulate a captivating adventure.
The Assassin's Creed series' first 'next-gen' only iteration should have launched to much fanfare. However, although Assassin's Creed Unity is a really good game, the coding behind it isn't up to par. The result is an enjoyable experience that is marred by unfortunate technical issues.
The 'Unity' multiplayer aspect doesn't really change things dramatically, it's an entertaining distraction at best, but delve beneath the surface and it's still a bunch of missions revolving around tailing people, eavesdropping, pickpocketing and assassinating. As it stands Assassin's Creed Unity feels like a title that could have done with a little more time in the oven. It doesn't have the je ne sais quoi of a next-gen realise, but it's an engrossing if all-too-familiar ride.
When we look at Assassin's Creed Unity as a whole, it's a favourable addition to the series. The new assassin is worthy of the title, the world is huge and filled with life, the game itself looks great and the free-running is better than ever. However, the co-op is more of a "take it or leave it" element. It's fun, no doubt about it, but it just doesn't feel as important as it should have been. You won't be missing out on a great deal if you decide to roam Paris alone but if you have a friend to tag along with, you'll find plenty of enjoyment. For the first title of the series exclusive to new-gen consoles, Unity is a satisfying game and any Assassin's Creed fan should feel right at home with it.
Unity may have the intention of being Assassin's Creed's next-gen reinvention, but it's remarkably faithful to its roots.
Overall Assassin's Creed Unity is by far my favorite total experience in the series. While not without flaws, the story, acting, and content packed into the disc is pretty incredible, and will keep you busy for quite some time. While yes, it's a bit disappointing to see microtransactions show up, they're entirely optional, and the technical hiccups are there but easy to look past. Unity stands as move forward, and proves that even without awesome ship combat, we can get a great game about the order of Assassins.
Unity may be the hardest game the franchise has produced thus far. Regardless, I welcome any open-world game that can dedicate resources to this kind of heavily-directed play while maintaining the living environments you spend most of your time in.
Unity manages to push the series forward enough to make this truly great, it's only sad that a few left over hiccups have carried over from the previous generation. Traditional Creed problems aside, this manages to be an unrivalled murderous sandbox and Paris hands over a visually impressive blood drenched historical playground.
A solid entry in the Assassins franchise that does a lot well but still has areas to improve.
Despite the "been there done that" feeling you'll get in the first few hours, it almost feels like a new starting point for the series, and I'm ok with that.
Assassin's Creed Unity is a gorgeous and entertaining game of impossible peaks and disappointing valleys.
New Game Network
76 / 100
Assassin's Creed: Unity leaps into the new console generation with uncertainty. There are moments of excellence here, but the overall experience is very familiar and brings its own set of problems.
Unity's predictable narrative and constant technical quibbles mar what would otherwise be a solid entry in the Assassin's Creed franchise. Come for the side-content and co-op, but don't expect any important revelations here.
Assassin's Creed Unity is a good step in the series, managing to successfully overhaul most of the core mechanics. However, a lot of polishing is needed in terms of freerunning or stealth to make it all work as intended. The co-op is pretty fun, but be careful of the pretty common frame drops, errors, and annoying missions, as they can really pull you out of the experience.
Arno's Paris is a modern marvel of the gaming world, and while its structure isn't flawless, I can't say I regret the time I lived in it.
Assassin's Creed Unity makes me sad. Boasting moments of excellence, it falls way short of being the new-gen Assassin's Creed game that I wanted. Regrettably, it's no French Revolution. It's still fun, but screw it. Off with its head!
A reboot and evolution in one gorgeous package, that unfortunately didn't get a full pass through QA testing.
[T]he technical performance is such a hindrance and burden at times; you can only hope it played as great as it looks. There is a lot to love in Unity, like tons of content to keep you busy for hours on end, but you have to be willing to overlook its truly ugly shortcomings.
Assassin's Creed Unity does so much good for the Revolution and also does some things that are not so great for the Revolution. If you are an Asssassin's Creed fan this decent title might be worth the purchase.
Assassin's Creed: Unity is an evolution of the franchise's core in every way, but its next step into the next generation is a problematic one. Whilst Unity offers an amazing environment, great gameplay and a great atmosphere, its technical issues hold this good game from being great. Unity may not be the most stable and technically-refined title on current generation hardware, but once you overlook technical difficulties and its lackluster narrative, you'll without a doubt have an amazing time with it.
Once I was done observing from afar and directly interacting with the world, the persistent problems reared their ugly heads. Assassin's Creed Unity's attractiveness is only skin deep.
As the seventh major instalment in the series, though, not to mention the first designed for new console hardware, Assassin's Creed Unity feels like a missed opportunity. Going back to basics at this point may have resulted in a less substantial game than recent years have led us to expect, but it might have delivered a more satisfying one. As it is, mild improvements in traversal and combat are quickly overwhelmed by the creaking systems onto which they have been grafted. Revolutionary Paris is one of the most beautifully realised environments in a series that has had its fair share of them, but the game you play doesn't really do it justice.
If Ubisoft fixes the glitches, Assassin's Creed: Unity will be a much stronger game, even if the ceiling is a bit lower in general. Unity's potential is not as strong as some of the better entries in the series, but it's good enough for existing fans to continue the journey.
Unity attempts to improve on some of Assassin's Creed's innate problems, but it misses the mark as often as it hits. Nevertheless, you'll want to play it for the gorgeous rendition of revolutionary (etc.) France and the involving, opened-ended primary assassination missions. It's clear Ubisoft is trying to shake up the series a bit, but next time they need to shake a little harder.
Assassin's Creed Unity's recreation of a battle-scarred Paris is a joy to behold, but its so-so story doesn't make the most of this gorgeous setting.
Assassin's Creed Unity's technical woes have overshadowed an otherwise excellent, if familiar, Parisian adventure.
For a game called Assassin's Creed "Unity," this title sure deviates from the rest of its brotherhood by being the most frustrating iteration in the bunch.
Many have complained about the number of glitches within Assassin's Creed: Unity, and while I have experienced some myself, the game is still playable and fun at that. It's got a solid core and I've enjoyed the story, but I feel like Ubisoft completely dropped the ball with some aspects. The connectivity they've forced upon players is just a major drag on the game and I feel cheated that because of their broken systems, I am unable to participate in every piece of Unity. If you can get past that, however, you'll certainly enjoy the game.
Assassin's Creed: Unity is the best looking title I've played on the PlayStation 4 to date, and a bloody good one at that. Worth every penny.
Unity is an impressive technical achievement despite its issues, and it is certainly a significant step forward for the series as a whole. The difficulty of combat encourages use of the overhauled stealth system, perhaps signalling a shift towards a real focus on stealthy gameplay in the series, which is certainly exciting. And on top of that, it's utterly gorgeous almost all the time.
If all the bugs were removed, this game would probably score about an 8 - featuring excellent innovations and beautiful graphics. Unfortunately, the game is simply too broken in its current form.
Assassin's Creed Unity is indeed the prettiest version of Assassin's Creed yet, getting back to basics and focusing on the Assassin part of Assassin's Creed.
Assassin's Creed Unity is a fine entry to the franchise, offering one of the most engaging stories in the series to date, along with a vast and captivating Parisian landscape.
It stumbles out of the gates, but underneath the issues lies a pretty good experience that I would hope will get better with patches.
Despite some good ideas and an entertaining tale, this isn't a revolution for the franchise. Considering the hype and the promises made compared to the final experience, it actually feels like a step backwards.
While it offers little new content and is poorly optimised, Unity does offer the prime Assassin's Creed experience.
Unity follows in the original Assassin's Creed's footsteps in many ways as the first game in the series developed exclusively for the new generation of consoles. And, much like its ancestor, for every good thing Unity does, it adds something else that just leaves you scratching your head—giving the whole experience a hit-or-miss feel that we haven't seen from the series in a long time.
When I returned to the Paris rooftops far above the rabble below I marveled at how clean and ordered the city looked. It seemed endless, pristinely crafted and elegantly set. The rabble of the people turned to a muffled hum, and I forgot about the blood and shit-strewn streets where people carried heads on pikes and screamed for justice from a conflict I would never really experience. On the roof of the city, I thought I could maybe catch the faint words of a song that had some political resonance. But in retrospect it was probably just the wind, carrying nothing at all.
A magnificent city full of exciting assassination missions, marred by broken co-op and technical issues.
Assassin's Creed Unity attempted to improve some core problems with the franchise, but in the rush to meet the Christmas deadline, those efforts have fallen short.
Brighter than Unity's ambitions, perhaps, since the sacrifices made on the story front are clear. But it's still an impressive sandbox, and does its setting justice. Rough edges or no, Assassin's Creed Unity is a technical step forward, and likely a title every fan who's made the leap to next-gen will want to see for themselves.
We fought through the overall unpolished finish of the product, and we were glad that we did so, but this really isn't how anyone can reasonably have expected the game to have turned out.
What could have been the definitive entry in the Assassin's Creed series is actually the definitive example as to why releasing an unfinished product is always a bad call. Assassin's Creed Unity has all the makings of an expansive, ambitious title that fully takes advantage of current generation technology, but it's marred with countless imperfections.
Ubisoft makes some good changes to its Assassin's Creed formula with Unity, but the game is doomed to mediocrity due to its lack of polish and originality.
AC:U has its problems. Some are inherent to the design, some can be rectified by patches and some will get much better in the next iteration. This game made bold changes to an established formula and not everything worked. It seems like Unity will be a great relaunch point, just like the original Assassin's Creed was. But for now, it's not what it could have been. This is going to be both a blessing and a curse to the series going forward.
Assassin's Creed: Unity is full of ideas and systems that don't gel or haven't reached their potential. The return to an urban sprawl is fine after playing in the wide-open spaces of the last few games, and the setting is gorgeous even in its state of decay. The core action is largely the same, with the small amount of improvements being very welcome at this stage in the life of the series. With the plethora of single-player and co-op missions available to the player, the game is full of content that is in line with the series' earlier titles. However, the bevy of technical hiccups, from poor online connectivity to bad stuttering to degrading audio, makes this title feel like a rushed effort. Of all of the entries released on home platforms thus far, Unity is difficult to recommend to even the most die-hard of franchise fans.
'Assassin's Creed Unity' is a conundrum. Some of its components have been put together well, like the visual quality of Paris and the co-op. Other parts are a bit uglier and have still made it into the final product, the glaring dearth of proper bug testing foremost among them. Ultimately, the latter outweigh the former, and this game can safely be passed over by all but the most loyal fans. The Assassins have seen better days.
[W]hen playing something as unrefined as Assassin's Creed Unity, I can't help but wonder how much better the game would have been were it given six more months of polish. What we have instead is a decently functioning Assassin's Creed that wraps the 18th century timeline not with a satisfying and fitting climax, but instead with an unfortunate sense of relief that this period is finally over.
Unity simply isn't ready for release. The majority of its new systems aren't refined enough, and its existing ones are showing their age. It's still intermittently enjoyable, but a serious step down from last year's Black Flag.
Unity plays well, but it's not really good enough for a AAA-game to play well, and this especially applies to Assassin's Creed, which has always been a franchise with stronger narrative and thematic value than its counterparts. I see potential in a Napoleonic-era trilogy for the Assassin's Creed franchise. As I wrote in my Rogue review, I'd love for the next game to star a Cossack doing his thing as Napoleon bears down on Moscow. But for the next one I would hope that Ubisoft puts more effort into crafting an interesting and original narrative than working on the multiplayer nonsense.
Assassin's Creed: Unity would already be a mediocre game, but the quality of this PC port brings the series to new lows.
The Jimquisition
5 / 10.0
Assassin's Creed Unity is a beautiful game that's fun to play with friends. It's also an outmoded mess that incenses with its dated controls and shoves Ubisoft's executive-minded priorities directly in the player's face.
Not the bold new reinvention that Assassin's Creed needed but instead a rushed, patently unfinished mess whose improvements are minor and failings more obvious than ever.
Far from pointing the way forwards for the series, Assassin's Creed: Unity is a model of creative indecision and corporate policy -- a corpulent, broken mess that plays neither to its own strengths nor to its fanbase. There are flashes of promise here, moments when everything comes together, and the game's content package is hefty, but ultimately Unity proves to be a mercifully forgettable disappointment.
The consequences of brash actions are glossed over, and the last three sequences of the game feel redundant, with back-to-back assassinations occurring first at public guillotines and then private dinner parties.
With Assassin's Creed Unity, there's a great game buried somewhere beneath an unforgivable amount of technical issues, from annoying glitches to frustrating crashes. It's a perfect example of how Ubisoft's insistence to annualise the series has backfired, as it's clearly an unfinished product.
Assassin's Creed: Unity is at once an object of exquisite beauty and exhausting boredom.
Assassin's Creed Unity is a gaudy monument to game design by focus-testing rather than creative vision.
As of this writing, Ubisoft has created a live blog that promises to address all of the technical issues that is plaguing their high profile game. Considering their misplaced priorities, however, they hardly deserve a pass for releasing Assassin's Creed Unity in the miserable shape that it's in, which damages both this decent entry in the series as well as the very AC brand itself.