Percentile Rank
Plants vs. Zombies: Garden Warfare 2 is ranked in the 83rd percentile of games scored on OpenCritic.
Rating Summary
Based on 71 critic reviews
OpenCritic Rating
Based on 71 critic reviews
Score Distribution
Unscored Reviews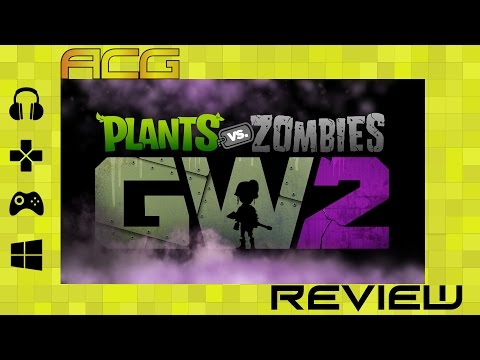 As you could see from the previous page, there isn't a whole lot to dislike about Popcap's latest foray into flora versus the undead. It takes the core foundations from the previous game, such as the tight controls, and great gunplay, and adds a plethora of layers on top of that, with the inclusion of more modes, a solo option for us loners, and even more classes to play as.
Eurogamer
No Recommendation / Blank
No Recommendation / Blank
Feb 24, 2016
A characterful and generous shooter, though its lack of balance is a thorn in its side.
Remember when online shooters were fresh and fun? Garden Warfare 2 certainly does.
Popcap has improved upon the template they laid out with Garden Warfare, fleshing out the sequel with an array of things with which you can wile away your time. It's excellent family friendly fun but genuinely great to play for all ages. Get it, play it with your little ones, and play it on your own. You'll love it.
Scored Reviews
As you can probably tell by now, Garden Warfare 2 has a lot of good going for it. The studio has taken the great foundation laid out by the previous game and built something magnificent upon it.
The Jimquisition
9.5 / 10.0
Fast becoming my favorite online shooter of choice, Garden Warfare 2 is lovable, preposterous, and completely rampageous. Never though I'd say this about an EA game, but it's everything a modern premium experience should be.
The ridiculousness of plants facing off against zombies but the serious controls and competitiveness of any triple AAA shooter,
The first game was a real surprise to me at its time of release, but the second game has managed to recreate this sense of awe, providing a game much more diverse and bigger in scale. Garden Warfare 2 is a colorful and fun experience that will appeal to many, providing a much needed breather in a genre that sometimes forgets it doesn't always have to take itself seriously.
Plants vs Zombies Garden Warfare 2 is a great upgrade from the original, but has some issues to work out.
Plants vs. Zombies: Garden Warfare 2 is a great breath of fresh air in an otherwise starch genre. Not only is it a humorous treat for the eyes and ears, but it's also a very rich, balanced, and enjoyable game, which packs a hell of a lot of content into its less than 20gb install file.
Plants vs. Zombies: Garden Warfare 2 is addicting, charming, and packed with more content than you can shake a husk of corn at. If you didn't play the first Garden Warfare, now is the time to give it a go.
If you consider the original title to be a proof of concept, then Plants vs. Zombies: Garden Warfare 2 is the true realization of the game. The fun of the original title is still here but has been amplified with the addition of new maps and classes. The expansion of the split-screen local multiplayer is very much needed, but the new single-player modes round out the package. This is especially true of Backyard Battleground, which proves to be an enjoyable time-waster, especially since it can also be played online. Though there are still some heavy hitters in the multiplayer space this year, don't be surprised if GW2 has the most staying power.
The Garden Warfare franchise started off as a pleasant surprise, and the sequel improved upon almost every issue I had with the first game. It is a surprisingly competent shooter that breaks the mold, both stylistically and thematically from other titles in the genre. The added single player components and all around improvements make this a worthy sequel that no one should miss.
What Plants vs Zombies: Garden Warfare 2 has managed to take all of the best bits from the first game, build on them and then add more good things on top of them. All of our favourite characters are back, whilst the newer characters that have been introduced are fun to play. One of the biggest improvements is the addition of the Backyard Battleground hub base, and the addition of the single player focused quests, missions and collectibles means that this game appeals to both single and multiplayer gamers more than ever. The bright colours and fun gameplay are ever present and there isn't a lot going wrong here apart from some issues with the sound and music. For fans of the first Garden Warfare game, this sequel is a must play. For those who haven't had the chance to experience the plants and zombies war yet, it's hard to find a reason not to recommend this game.
Plants vs Zombies: Garden Warfare 2 builds on the original brilliantly. It takes everything its predecessor did right and does it again with more bells and whistles. There's new characters, levels and quests to explore and the sticker and levelling system have been tweaked to make acquiring the masses of new content feel achievable. The addition of single player quests and AI companions for Garden and Graveyard Ops make it a viable choice for when you just don't fancy playing with others or you want to power level a character you aren't too comfortable with playing in multiplayer. The current balance issues are an annoyance but the developers have already reassured users that this will be fixed soon; leaving little to criticise in this frantic, fun and family-friendly shooter.
It's literally everything you could want in a party game – and for the first time in quite a while, you can bring the kids, too.
A textbook multiplayer sequel, Garden Warfare 2 builds upon the solid class-based shooting of its predecessor, while both refining the core mechanics and adding a shedload of new content.
Cheat Code Central
4.5 / 5.0
The love and care that was poured into this title is obvious, and translates into a terrifically entertaining experience that I encourage everybody to try out. Play with your friends, your parents, your kids; anybody who has ever enjoyed a video game should have a blast with PvZ Garden Warfare 2. In fact, I think I'm going to go load up Rose and turn some more zombies into goats right now.
Plants vs. Zombies: Garden Warfare 2 is a chaotic good time that takes everything that was great about the first game, gives it a fresh coat of paint, and adds in more nonsense on top.
If you're a fan of the previous games in the series than you probably should check out Garden Warfare 2 that has enough bang for its buck to keep things fresh. This freshness includes new maps, classes, perks and modes for players to master. Add in a great local multiplayer split-screen mode and this is one versatile title with some really fun gameplay.
Although it might not be dragging people away from Call of Duty or the giants of the genre, PvZ: Garden Warfare 2 has a great atmosphere and some really enjoyable moments. If you've ever wanted to do battle as a piece of corn, sunflower or superhero zombie, this might be the only game to fill that niche.
Geeks Under Grace
8.8 / 10.0
Plants Vs. Zombies: Garden Warfare 2 improves upon the original in nearly every way imaginable. With expanded modes and character classes and the inclusion of a solo campaign rife with humor and collectibles, PVZ: GW2 firmly plants its roots amongst the titans of the Third-Person Shooter pantheon. For fans of POPCap and shooters in general, there is no other game that offers as much fun, whimsy, humor, and satisfaction as PVZ: GW2. Despite some balancing issues between the plants and zombies teams in multiplayer and the inclusion of micro-transactions ,this is a game for the ages that can be enjoyed by all players.
Plants vs. Zombies Garden Warfare 2 verbessert sich deutlich gegenüber den ersten Teil des Taktik-Shooters und bietet bis auf leichte balancing Probleme im Multiplayer eigentlich nur durchgehend gute Neuerungen. Vor allem der Singleplayer Part und Co-Op Modus überzeugen durchgehend und erweitern der bisher schon sehr guten Multiplayer Titel um einen großartigen Singleplayer Part. Von uns gibt es eine klare Empfehlung.
Review in German | Read full review
An excellent and amusing more of the same that will cheer you with hours of vegetable bullets, a bit of strategy, a superb gunplay and a lot of smiles.
Review in Italian | Read full review
PlayStation LifeStyle
8.5 / 10.0
If you think you have no interest in Plants vs. Zombies: Garden Warfare 2, I implore you to reconsider. Distinctive characters, detailed maps and a lively sense of chaos all add up to one of the finest family-friendly multiplayer experiences on PS4. There's also solo play this time around, and while that suffers a bit from balancing issues, it's nice to be able to squeeze in a little experience-building and item-collecting in between rounds of online action. Overall, though, it's the childlike qualities at the center of GW2 that are the most important — a seemingly limitless energy, a fearlessly goofy aesthetic and a commitment to making playing fun above all else. Sure, you're not going to see this at any serious competitive tournaments, but you will laugh and smile a lot if you round up some friends and family to play with, and that seems to get to the heart of why we play video games in the first place.
Post Arcade (National Post)
8.5 / 10.0
More maps, modes, and characters plus solo play makes Plants vs. Zombies: Garden Warfare 2 the game we wished we had in the original
Plants vs. Zombies: Garden Warfare 2 isn't a perfect game, by any means. However, unlike other titles, Garden Warfare 2 revels in its imperfections, making it all of its minor flaws, imbalances, and awful puns a joy for the player. But before you pick up the title, make sure you are lighthearted enough to enjoy it.
Plants Vs Zombies: Garden Warfare 2 is gloriously silly in the best way possible and excels at a grass-roots level thanks to some of the tightest gameplay around.
Plants vs Zombies Garden Warfare 2 is not exactly the biggest step forward developer PopCap Games could have taken, but it builds on a solid foundation and for now reclaims its original and unique feeling in the realm of multiplayer shooters.
Plants vs. Zombies: Garden Warfare 2 is a rock-em-sock-em blast and a half, a colorful and always entertaining game that keeps you playing, hour after hour.
Digital Chumps
8.4 / 10.0
Plants vs. Zombies: Garden Warfare 2 brings a lot of variety and fun to the gaming table. Multiplayer options and single player experiences aren't in short supply with this sequel. It isn't a perfect game, but there is enough stupid fun packed into it to make it worth your time.
Under its attractively bright and cartoony art style, Plants vs. Zombies: Garden Warfare 2 has a great amount of modes and customization options to enjoy, whether alone against the AI or with online allies and enemies. The interesting abilities options of the six new character classes gave me something to sink my teeth into, and the customization options are a great reward for playing outside my comfort zone. The sheer amount of enjoyment in this full garden will keep me in the war for some time to come.
Plants vs. Zombies: Garden Warfare 2 brings fun back into first-person shooters, reminding that this genre doesn't need to be serious to be absolutely fantastic. With a great hub world filled with content, and a brilliant multiplayer that improves on the already fantastic formula seen in the game's predecessor, it's something I feel like I'll be playing for a long time. And that's a good thing, because we all need more Plants vs. Zombies.
Plants vs. Zombies: Garden Warfare 2 brings back pretty much everything from the original game, and builds on it with decent single-player content, six new characters, and a handful of new multiplayer additions. At its core, the game is still hugely fun to play, and it remains open and accessible to gamers of all skill levels. It's just that the new content feels somewhat lean.
PopCap have gone out of their way to cater to the solo player, and while the story questing is a disjointed affair, having AI to play with in every part of the game is excellent. However, even with other additions like the Backyard Battleground and new characters, this largely feels like more of the same. It's not as exciting and refreshing as two years ago, but that's not too big a complaint when it's more co-op defence and liberally borrowed and adapted multiplayer, all slathered in the quirky Plants vs. Zombies universe.
A bright, colourful and tasty blend of all your favourite multiplayer shooters, it will leave you with a big smile on your face and feeling good inside.
Perfectly bridges the gap between casual games and hardcore shooters.
This oddball shooter sequel piles on more of everything from the first game, which is exactly what that game needed.
If Garden Warfare was an attempt to make a multiplayer only shooter that just about anyone could enjoy, Garden Warfare 2 takes that a step farther by removing the original's budget-priced compromises. Making the original Popcap concept into a shooter isn't novel anymore, and I hope that the developers pay attention to the game's potential balance challenges over time to make sure that "asymmetric" doesn't become "lopsided." But Garden Warfare 2 stands strong on its own, and with friends.
Plants vs Zombies: Garden Warfare 2 manages to bottle up something magical and succeed a second time in a row.
A triumphant follow-up to one of 2014's most unexpected treats, Plants vs. Zombies: Garden Warfare 2 fleshes things out with loads of modes, new characters and the Backyard Battleground, making for an exciting shooter that never fails to raise a smile. Tuck in.
PopCap Games paid close attention to the criticisms of the original game and ultimately crafted a worthy sequel.
Under the cheery looks is a surprisingly gripping shooter; one that, second time round, offers a healthier spread of modes and an addictive breadcrumb trail of hero progression.
'Plants vs. Zombies: Garden Warfare 2' is less of a sequel and more of a big expansion, but that's not a bad thing. PopCap has made some big steps forward in cementing the 'Garden Warfare' series as a real contender in the multiplayer arena, if not competitively then at least for sheer enjoyment. 'Garden Warfare 2' is big, fun, and mostly worth the price of admission.
A silly alternative to the modern shooter, Garden Warfare 2 doesn't take itself too seriously and is all the better for it.
Reno Gazette-Journal
4 / 5.0
Plants vs. Zombies: Garden Warfare 2 is a nice improvement over its predecessor's solid foundation, featuring more characters, more modes and more content. The single-player additions are welcome though still a bit lacking and the time commitment required to unlock and level up all your characters can be a bit daunting. The gameplay, however, continues to be addicting and is suited for both kids and adults. If you're looking for a fun, family-friendly shooter, Garden Warfare 2 delivers.
PlayStation Universe
8 / 10.0
Plants vs. Zombies: Garden Warfare 2 has the potential to be a sleeper hit. The multiplayer is a major focal point and the classes have a lot of variety and complexity ready for every level of player. The repetitiveness aside, there's enough here for everyone to have a good time, especially when friends are involved.
Plants vs. Zombies Garden Warfare 2 has a massive amount of rich, entertaining and wacky content for players to enjoy. I know I'll be spending another 30 hours on Garden Ops alone, but EA has managed to bring some interesting, new ingredients that help make this series as fun and addicting, as it was the first time around.
All the frenetic excitement of Garden Warfare, but with more characters, more maps, more modes and a ton more fun. Slow movement and some minor balance issues cramp the style, but if you're looking for an online shooter with more belly laughs than headshots give the zombie meatheads and violent veg a spin.
Plants vs. Zombies: Garden Warfare 2's solo quests, hub world, and robust split-screen options make it a significant improvement over its predecessor.
There is just way too much to do in this game and it can get confusing without some sort of organized menu system. But if you can stick past that, be okay with having to walk to each event rather than click a button on a menu, you should be fine. Multiplayer will keep this game alive with so many options to choose from and it's suitable for all ages.
Garden Warfare 2 is an undeniably fun shooter that, unlike the first entry, offers a lot more to do alone or with a couch player
Plants vs Zombies: Garden Warfare 2 improves on its already great predecessor in a bunch of ways. New characters, game modes, and other modifications make for a better, though very familiar experience. This is definitely an iterative sequel, offering nothing revolutionary, but for those that want more PvZ action, it'll easily fit the bill.
Plants vs. Zombies: Garden Warfare 2 improves upon its evergreen predecessor by expanding the scope of the title with single player content and new classes and modes. Popcap has responded to the criticisms pointed at the original release well, and while this isn't a revolution by any stretch, the format has been precisely pruned for shear joy.
New Game Network
78 / 100
Plants vs Zombies Garden Warfare 2 offers more of the same multiplayer action and enjoyable presentation with a few new features coming to fruition. It's charming and accessible, though the game doesn't break any new ground.
Garden Warfare 2 looks great, boasts a huge roster of inventive characters and contributes much to the social shooter genre. Single-player and PvE content is lacking, however, and this exacerbates the already glacial pace of progression.
Plants vs. Zombies: Garden Warfare 2 offers good combination of multiplayer third-person shooter gameplay and platformer collect-a-thons of days past.
Garden Warfare 2 is a simple and approachable team-based shooter that may be lacking on game types, but isn't lacking in content. There are plenty of reasons to stay in Zomburbia once you sink your teeth in.
If you are looking for "toddler's first shooter," then you have come to the right place. Plants vs.
Maybe the same solid foundation with more robust content is all Garden Warfare 2 needs to be. The package feels more whole and satisfying, and while that may dampen my thoughts on the first game a bit, it's really only by comparison to this one. If Garden Warfare was the seed, this sequel is the harvest.
A more complete, more refined version of the already stellar original, though arduous progression and empty solo missions spoil some of the fun.
A massive improvement over its predecessor but is held back by a grind-heavy progression system.
Bottom line: If you dug the original this is probably right up your alley. As I said earlier, for parents I can see this being a preferable shooter for younger teens over Halo or CoD. There's a value in that for consumers. I just wish publisher EA and developer PopCap Games put their considerable resources and talent into a game that made me want to play a game with a fuller experience.
It feels more like an expansion than a sequel, and misses some easy opportunities to improve on the original, but this is still the best family-friendly shooter outside of Splatoon.
With Garden Warfare 2, PopCap builds upon the success of the original Garden Warfare by adding much needed meat to its bare bones in the form a new solo campaign and 6 new character classes, but fails to evolve the actual gameplay in any meaningful way.
Garden Warfare 2 fleshes out the team-based shooting antics of the original with new characters, fresh game modes, and a richer single-player experience.
Garden Warfare 2 will be fun for those who enjoy the tower defense genre. Anyone else will want to stay away from this game that suffers from lackluster controls in third person shooting and a missed opportunity to create a much larger world to explore.
How does Garden Warfare 2 improve on the original's mechanics and gameplay? In short, it doesn't.