Percentile Rank
Fatal Frame: Maiden of the Black Water is ranked in the 38th percentile of games scored on OpenCritic.
Rating Summary
Based on 51 critic reviews
OpenCritic Rating
Based on 51 critic reviews
Score Distribution
Unscored Reviews
Those small issues aside, Maiden of Black Water is a premium title on Wii U that left me very impressed. The use of the GamePad here is a rare example of what Wii U's controller can bring to a game that other consoles can't. The familiar Fatal Frame combat takes on a whole new dimension because of the GamePad. Koei Tecmo clearly pulled from some of the mechanics introduced in Spirit Camera on 3DS (a Fatal Frame spin-off), but improves upon them greatly. Solid presentation and a gripping storyline will keep players glued to their seats, no matter how scared they might be throughout. The biggest (pun intended!) downside for some fans will be the large install for the game; Maiden of Black Water is over ten gigabytes in size, so make sure to have space available before hitting download. It'll be worth it, though, as this is a can't-miss title on a system that has been relatively light on releases of late. Maiden of Black Water needs to be on everyone's wish list.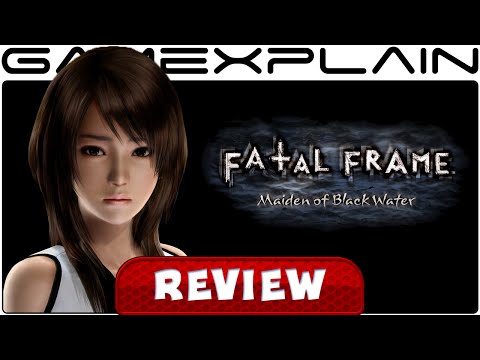 As for established fans, it is a solid game. If you are willing to adjust your gaming posture and stretch your back a bit, you'll find a nice package here. The new ideas can be a bit gimmicky, but they all work together nicely. It's the controls, both the motion and dual-analog, that are what hold it back from a full recommendation.
A bland and formulaic affair that's more likely to bore than it is to horrify. Compared to its cult-hit predecessors, it's a damp squib.
After a few hours with Fatal Frame: Maiden of Black Water, I know I'll be returning upon its release ... It's a clever twist on the classic formula, with an inspired use of the Wii U hardware, and a spooky, pitch-perfect Halloween game in its own right.
Fatal Frame: Maiden of Black Water is not your typical jump-scare-laden horror game. It blends classic survival horror elements with Japanese ghost stories that focus on the feelings of terror and dread. There's no point where you'll be horrified into leaving or quitting. Instead, you'll be subjected to a constant feeling of unease, waiting for the jump scares that may never come and wondering if you really saw something or if the game is just getting to you.
At its best, playing Fatal Frame feels like a more interactive version of movies like Ju-On, putting the player in a terrible place where the only relief is the occasional pause before inevitable doom. The situation is slightly more optimistic, but the feeling of inevitability is hard to shake. Even the few supposedly safe spaces (Ren's study, Yuri's apartment) feel like flickering candles in a world of ever-growing darkness. At its worst, Fatal Frame is bogged down by repetition and a frustrating, if inspired, combat system. Your ability to overlook this will likely depend on your appreciation of candlelight.
Maiden of Black Water polishes an old formula almost perfectly, though the game itself isn't so polished in spots. Buy it anyway.
Scored Reviews
Instead of the in-your-face outright scare without substance, Maiden of Black Water goes for a sense of dread paired with an insatiable curiosity to know what happened next. It's a welcome re-introduction to the franchise in the West, a hit for the Wii U, which is still trying to prove it can appeal to "Mature" gamers. It will make you wonder just what was that sound down your dark hallway at 3am, and just when did your bathroom faucet start leaking?
Nintendo Enthusiast
9 / 10.0
With all this said, Fatal Frame: Maiden of Black Water is easily one of my favorite Wii U games to date. It feels like an old-school horror game but has the modern twists such as GamePad use and HD graphics to make it stand out in the gaming world today. It's a shame that this game didn't get a physical release, because I fear that it might hurt sales for this game. Fatal Frame: Maiden of Black Water is a must own title for Wii U owners, and horror fans in general might want to pick up a Wii U just for this game – it's that good.
Fatal Frame: Maiden of Black Water is a heart-racing, immersive survival horror experience thoughtfully tailored for Wii U. The perfect treat for Halloween.
Fatal Frame: Maiden of Black Water finds a wildly effective new way to utilize the GamePad as the Camera Obscura, and builds some great story and atmosphere. Barring an odd control scheme and some tedious missions, this is a stellar horror title for any Wii U owner.
NintendoWorldReport
8.5 / 10.0
Despite these nitpicks, this game is a triumphant revival of a series that has remained dormant in North America for several console generations, and for those who did get to play the Wii iterations there is much new spooky fun to be had. Fatal Frame is still the crowning king of the genre, and Maiden of Black Water holds the best representation of everything that makes the series great. The fact that an English release of this game exists at all is cause for celebration, and should definitely not be missed by fans of survival horror or Japanese ghost stories. Fatal Frame: Maiden of Black Water is good to the last drop.
[I]t's got an interesting story. It's got some really wicked visuals. The ghosts are creepy as shit. Some of the jump scares are pretty bad. And it just has this sense of creepiness that all the Fatal Frame games have had. So if you're familiar with this franchise, you're gonna be right at home. If you've never played 'um before, it's okay. The games kindof connect via some of the characters, but it's usually a completely new story, so you can jump right in this and still have a great time with it.
Overall, Project Zero: Maiden of Black Water is a superb return for the series, and while it will undoubtedly frustrate most players with its archaic and downright atrocious control scheme, it makes up for its shortcomings with a fun and intuitive combat system, a scary and obscure story and stunning sound and art direction.
One of the best horror games in recent times and a compulsory element in the collection of anyone willing to be plunged into a world of fear where they have nothing to rely on other than their wits and a camera.
Review in Portuguese | Read full review
Reno Gazette-Journal
4 / 5.0
Fatal Frame: Maiden of Black Water is a unique entry in the horror genre that provides players with a different experience from the norm. Admittedly, certain aspects of the game feel dated and the storytelling doesn't quite bring out the full potential of its promising plot. The game's combat mechanics, however, are stellar with the Wii U providing the best implementation of the series' camera controls to date. If you're itching for a classic horror game that's different from the norm, this one's worth a shot — pun so totally intended.
Maiden of Black Water is decidedly an example of a game where genre experience and fandom has everything to do with its appeal. Games like this are fan service at this point, and Maiden of Black Water strikes all the correct notes.
Fatal Frame: Maiden of Black Water is going to be a tough sell for those who aren't familiar with the franchise. It's got a lot of questionable design decisions and feels like a more bare bones experience than past games of the series. But it's Fatal Frame, these games only come along in a blue moon these days, so savor them while they still exist.
Koei Tecmo clearly hasn't missed a beat with this venerable horror franchise, as the fifth main entry plays as well as ever, with nice new touches spread around to make it a great and terrifying trip for any horror fan out there.
There is a good reason why the Fatal Frame franchise is frequently placed in top-ten lists for scariest games of all time. This is a series founded on emotional dread and torment, with themes of sacrifice and spiritualism. Fatal Frame: Maiden of Black Water proves to be a worthy entry in one of the more classy and dignified examples of survival-horror. The sad fact is that they just don't make games like this too often. The censorship that the localization team and publisher implemented is deplorable and disrespectful to Mokoto Shibata's work, and making this title mostly available via eShop only is not doing it any favours either. Perhaps one day Fatal Frame will be in better hands, but for now Maiden of Black Water ranks as one of the better horror games to come out in a long time.
Fatal Frame continues to treat the split between shooting and running as a productive tension, with results that are equally exciting and scary.
If Nintendo realizes that a large enough audience still exists in the West, the next entry in the franchise might be released in the west without such a long wait (and possibly a physical version for North America as well), another incentive for supporting Fatal Frame: Maiden of Black Water. For now, I'll just sit back, turn all the lights off, and enjoy the game.
There are certain aspects to Maiden of Black Water that I can't help but question, but overall, it's a solid addition to the series, and finally provides gamers with the feeling of holding a Camera Obscura with the help of a GamePad. And that pushes the gameplay a long way. If it's a scarefest that you're after this Halloween, Fatal Frame is worth the download. Just make sure you have an external hard drive set up first – it's a massive 13GB.
Project Zero: Maiden of Black Water keeps the essence of previous titles in the franchise with its setting, story, art style and gameplay, while creating fantastic atmosphere and tension. However, the combat can be fiddly, while the necessity to traverse the same location multiple times, as well as the repeated information in the story text, may leave some players with a lacklustre experience.
Fatal Frame: Maiden of Black Water is old-school survival horror. While the story can be convoluted and the controls make navigation harder than it should be, it's dark take on death and atmosphere make it a ghost hunt worth taking.
Geeks Under Grace
7.5 / 10.0
Technical issues aside, Koei Tecmo and Nintendo offer one of the purest horror titles in years.
Project Zero: Maiden of Black Water may start out slow-paced with about a dozen tutorials before the real action begins, but if you stick with the game for long enough to get settled in this is a fun adventure into the unknown. If you're a fan of horror games but aren't a fan of cheap jump scares then this is the perfect game for you. Just make sure to leave the lights on.
Fatal Frame: Maiden of Black Water is a disturbing tale well told. While the GamePad brings the series' camera-as-a-weapon concept to life in a way that feels very natural, the combat lacks real mechanical variety, which, combined with overly repetitive encounters, undermines the impact of its most terrifying enemies. Fortunately, there's an abundance of darkness to be found, with some of the most unsettling and stylish scares I've experienced in a while.
If you're bored of relentless jump scares in horror games, you'll probably get a nice kick out of this paranormal adventure.
A compelling thriller that makes great use of the GamePad, but fails to truly scare or shock.
Those looking for a spooky adventure for Halloween can certainly find one in Project Zero: Maiden of Black Water. Taking photos of ghosts while trying to keep dry is enthralling, while Mount Hikami's forests and shrines are among some of the spookiest locales in the franchise. Once you have gotten used to the mechanics though, it's far too easy to just plough through the game and the characters themselves are almost as vacant as… well ghosts! An enjoyable treat at least, but not enough tricks.
Project Zero: Maiden of Black Water has been put through a wringer of doubt and speculation in the run up to its release, but manages to come out the other side still just as drenched with atmosphere and intrigue as ever. Innovation should give fans that spark of renewed excitement, while newcomers are eased into an excellent horror adventure with plenty of time to learn the mechanics. A bit too much repetition and a few rough edges do mar the experience a little, but that absolutely shouldn't stop you from taking the plunge regardless. The water is lovely.
Project Zero can be frustrating, scary, demanding and off-putting all at once. Fans of Japanese horror will enjoy this, whereas the repetitive combat and recognisable enemies will put others off severely.
Fatal Frame: Maiden of Black Water's full price tag might shy away some would-be buyers since it's only available in North America as a digital release, but veterans of the series or survival horror fans in general will certainly have a good time having an otherworldly photo shoot at Mt. Hikami.
Digital Chumps
6.2 / 10.0
Excitement over the prospect of a new Fatal Frame game was quickly extinguished by the reality of a new Fatal Frame game. Rejecting genre conventions once allowed Fatal Frame to stand alongside Siren, Silent Hill and Resident Evil, but declaring antiquated ideas sacrosanct leaves it, ironically, in a modern version of the same company. Survival horror hit a wall, and Maiden of Black Water isn't the one to overcome it.
This Fatal Frame is hoisted by one specific element. This can feel truest during some truly arduous backtracking. Not the necessity to survival kind of backtracking, but the different characters literally retracing each other's steps from chapter to chapter kind of backtracking. Thankfully, the lynchpin for this game is a pretty decent lynchpin, so if you love ghosts and Instagram and don't mind redundancy, then Fatal Frame: Maiden of Black Water is the sixth scariest thing you can do with a camera.
Fatal Frame: Maiden of Black Water versagt leider auf der kompletten Linie und bietet außer Fanservice in Form von Dead or Alive Ladies und knappen Outfits wenig. Die Steuerung auf dem Wii U Pad wurde schwach umgesetzt und auch die Geschichte bietet wenig neues für Horror Fans. Falls ihr aktuell auf der Suche nach einem neuen Wii U Titel seid, macht lieber einen großen Bogen um Fatal Frame.
Review in German | Read full review
Although it's not a terrible game, the Wii U's edition of "Fatal Frame" feels awfully dated, with sloppy controls and the type of presentation you would have expected a few console generations ago.
Project Zero: Maiden of Black Water certainly delivers when it comes to scaring the player witless, and its use of the Wii U GamePad is commendable. If only other developers had been so bold with their ideas, Nintendo's console might not be in the dismal commercial predicament it currently finds itself in.
The introductory hours captivate with an authentically chilling vibe, but that entertainment eventually gives way to grating repetition
Enjoyable combat and bold enemy design can't save Fatal Frame: Maiden of Black Water. With a dull, repetitive story that abandons any sense of horror, it's a shadow of what it could have been.
Like I said, a diehard Project Zero fan may find something to like here, and if you do find yourself enjoying shooting ghosts with film instead of bullets, there are plenty of collectibles to be earned by getting high scores (including some very out-of-place Nintendo-themed outfits). If you're that hardcore of a fan, you probably bought Maiden of Black Water on day one - so if you didn't, you may want to give it a pass.
The Jimquisition
5 / 10.0
It commits perhaps the worst sin a horror game – or indeed any game – could commit. It is boring. Once you've made the audience yawn, you've lost your ability to frighten them forever.
Fatal Frame: Maiden of the Black Water is a game that horror fans will want to love, but will end up causing frustration due to broken controls and an annoying mission structure. The scares are still there though, if you can forgive the other mistakes.
Fatal Frame: Maiden of Black Water is a well-intentioned addition to the Wii U's mostly family-friendly library and does an excellent job of transporting you to another place and time. That's about it, though. Its story and characters are not compelling, and the GamePad-as-camera controls are frequently unreliable. These prevent the game from attaining any real sense of excitement or drama. With too much out of sync--from wildly variable handling to the way you use items to the unconvincing character relationships--Fatal Frame: Maiden of the Black Water isn't anything more than a mediocre experience.
Fatal Frame: Maiden of Black Water is a disappointing Wii U exclusive horror story that is more likely to put players to sleep than it is to scare them.
Another wasted survival horror sequel, that ruins its chance to make proper use of the GamePad and turns fear of the unknown into fear of the same old thing.
The latest Project Zero horror has a bleak and affecting story, but is let down by dull combat and awkward level design.