Percentile Rank
Costume Quest 2 is ranked in the 48th percentile of games scored on OpenCritic.
Rating Summary
Based on 33 critic reviews
OpenCritic Rating
Based on 33 critic reviews
Score Distribution
Unscored Reviews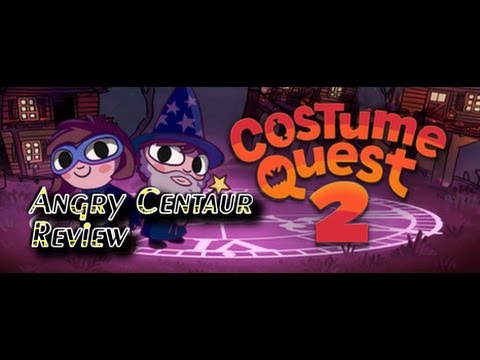 Rock, Paper, Shotgun
Unscored
In other words, despite its combat being such a chore, take that on the chin and Costume Quest 2 just about finds its way to being the sort of game we want Double Fine to make – a puzzle-adventure with gags and fun characters silly ideas. Only just about, though. Is it a children's game? Yeah, but so what?
Scored Reviews
NintendoWorldReport
8.5 / 10.0
Costume Quest 2 has a lot to like, especially with its fun gameplay and witty, clever story. It isn't a particularly long title, but the five hours I spent with it was a blast. Some framerate troubles persist here and there, and the trick-or-treat aspect can get redundant after a while, but the faults I had with the game are minimal compared to the overall experience. It's definitely a game that is not only a treat, but won't rot out your teeth after finishing it.
If, like me, you love the Halloween time of year and are nostalgic for the days of trick or treating and sugar-fueled nights… pick up Costume Quest 2 for its budget price of fifteen bucks and make it a new tradition every year. You'll be glad you did.
Even with all of its Halloween charm, Costume Quest 2's greatest strength is that it knows its limits. It's a short experience, and it's to it benefit as it never feels bloated. It's the quintessential bite-sized RPG, wrapped in all the Halloween charm you could ever hope for.
Halloween may be over, but you should take the chance to go trick-or-treating once again with Costume Quest 2.
Costume Quest 2 still has that Double Fine charm and any game that includes a Blazing Saddles joke in 2014 is okay in my book.
Costume Quest 2 makes key changes to the way battles unfold, removing the unique play style of each costume. The streamlined mechanics work to the game's advantage, especially when you are trying to focus on bonus attacks, as well as blocking and countering. The dialogue is well-written, but the last hour or so of the game falls short of expectations. Parts of the narrative aren't explained as well as they should be, and the last battle in the game occurs rather abruptly.
Costume Quest 2 delivers more of the sweet RPG mechanics and smile-inducing humor from the 2011 sequel.
Lightweight but inventive, Costume Quest 2 feels like a Pixar adventure masquerading as an RPG. It goes out of its way to keep things simple... perhaps too simple at times. But its simplicity is redeemed by its terrific art and wry sense of humor, and most importantly, the sheer fun of its premise.
Costume Quest 2 improves on the first's combat and funny campaign, but the health and navigation systems need a revamp.
Costume Quest 2 isn't a long game - it took me around six hours to complete, including almost all the side quests - but even a short game can outstay its welcome, and while there is still a great concept at the core of Double Fine's Halloween series, if anything this sequel is even further away from nailing it than its predecessor. Shallow and repetitive, Costume Quest 2's winsome appearance and occasional wit never quite obscure the busywork at its core.
While Costume Quest 2 does take some getting used to as far as its simple presentation and tricky battle system go, it's still an enjoyable sequel that fans will want to indulge in. Just be careful with the tricks that come along with these treats.
All Costume Quest needed was a more interesting battle system, better quests and a longer more involving story to be a great game. Costume Quest 2 has better quests and a more interesting story, and a better designed world. It's still got the excellent writing, sound, and music that'll keep most people happy, but it was the battle system that needed an overhaul most and it hasn't had it.
You can wrap up the story in about 6 hours. There are 12 costumes to try on and 27 cards to collect. Whether you can handle the grind or not Costume Quest 2 is a shallow game. It's also a celebration of this sacred holiday that you may find yourself replaying next year. If there's still time before the sun rises on November 1st, you may not regret buying this game.
Costume Quest 2 is a pretty bog standard RPG, but it's outfitted with charm by the bucket load, and that's its real appeal. Sure, the gameplay doesn't exactly elevate a well-established genre, but it's strong enough to suck you into the game's light, carefree fiction, and that happens to be enough. In a world where games are getting darker and darker, this is like a welcome breath of fresh air, and, if nothing else, it's nice to feel like a kid again – even if the experience won't necessarily last that long.
New Game Network
70 / 100
A heart-warming, nostalgic sequel to everyone's favourite Halloween adventure. If you enjoyed the first game, Give Wren and Reynold another go, but Costume Quest 2 sticks close to the original's formula.
Double Fine has brought back Wren and Reynolds in another adventure to save Halloween in Costume Quest 2, a sequel that manages to improve on almost every weak aspect of the first outing while pushing the story further in a way that's not incredibly ridiculous.
Costume Quest 2 is a charming sequel that fixes most of its predecessor's flaws, though it remains a very short, overly simple experience.
Costume Quest 2 is more treat than trick. Some unfortunate repetition means it's best enjoyed in moderation, but it's still colourful, sweet and slightly addictive.
Costume Quest 2 is a decent sequel in terms of story but lacks the necessary gameplay innovations. Environments are varied but a bit confusing and some of the new costumes are relatively fun, while others recycle abilities seen in the first two experiences. As such, while fans will certainly enjoy the "more of the same" nature of the new title, those looking for more new things might have to go elsewhere.
Being too similar to the first game and finishing far too quickly keep 'Costume Quest 2' from greatness. It maintains its predecessor's wit, although the jokes have been diluted somewhat, as have the mechanics. It could most accurately be described as a playable cartoon, and is a short and sweet romp for any RPG fan who doesn't mind its cuteness or brevity.
Adorable, amusing, colorful and well-animated, but the combat is too simplistic and repetitive to remain interesting throughout the game.
Costume Quest 2 is at its best when the repetitive role-playing combat system takes a backseat to its adventure-style exploration and dialogue.
An almost apathetic sequel that accomplishes nothing more and a little less than its predecessor.
Slight improvements to the original game are welcome, though it's still not quite as fun as it is funny
Geeks Under Grace
6.7 / 10.0
It's a great game for a younger audience who wouldn't mind the slowness to it, but for those who are used to instant gratification games, this is not for you.
Costume Quest 2 is an enjoyable romp through an appealing story of fun and sugary treats. The characters are all delightful and the game looks the part. Unfortunately the novelty of the combat wears thin rather quickly and some crippling performance issues can at times make the game a frustrating mess. Its simplistic gameplay is more suited to those with less gaming experience, but there's still plenty to be enjoyed by more hardcore fans looking for something a bit more relaxing or less complicated for a change; just be prepared to play for the charm and story instead of the repetitive combat sequences.
Costume Quest 2 is a repetitive carbon copy of the 2010 title and should probably have been DLC or released as part of a double pack with the original on Xbox One. It's a fun game, but with realistically only six hours of playing time on hand, it may leave you wanting.
Costume Quest 2 on consoles is not a bad game by any means, but it failed to keep me interested during most of its short duration. I wanted to laugh more and I wanted navigating these charming environments to not feel like such a chore, but most importantly I wanted to have more fun than I did.
A disappointing sequel that only compounds the failures of the original, while also featuring Double Fine's least amusing script so far.