Percentile Rank
Anarcute is ranked in the 70th percentile of games scored on OpenCritic.
Rating Summary
Based on 15 critic reviews
OpenCritic Rating
Based on 15 critic reviews
Score Distribution
Unscored Reviews
Overall, I enjoyed some of my time with Anarcute. I started off hot for the game, but the longer I played, the more I started seeing the flaws and getting frustrated or bored with the action.
Scored Reviews
Charming and fast paced, Anarcute is a delightfully quirky little game. Light on story but high on style, this addicting riot simulator offers five to six hours of adorable destruction and cute, colorful animals. As challenging as it is fun, Anarcute requires tactical thinking and quick reflexes. Anarchy has never been this adorable.
Gamerheadquarters
9 / 10.0
Anarcute was well worth the wait being an exciting and challenging riot simulator
Anarcute is one of the most adorable games you will find this year. Great mechanics, simple and fun gameplay and a music selection that almost everyone will love, but not as much as you will love the little anarchists that are featured in the game.
Review in Spanish | Read full review
NintendoWorldReport
8.5 / 10.0
Despite its generally low amount of content, Anarcute is enough fun to keep you playing to the end, with the full package making it incredibly difficult to count the little game out. I found it impossible to ever be in a bad mood while playing this game, spending my sessions bouncing my foot to the incredibly upbeat soundtrack while sending my cat army to throw a gas truck at a group of fascists and shouting about how I was going to "tear down the PETriarchy". It's good old fashioned chaotic fun, and in the end it doesn't really need to be anything else to succeed at what it's going for.
With a fantastic blend of gameplay mechanics that'll keep anyone hooked, I can enthusiastically say that Anarcute is one of the best surprises I've played so far this year.
Anarcute will put you in a good mood through its happy art design and music. The strategy gameplay is simple, but still fun, while providing a decent difficulty curve along the way.
Anarcute is a warm and fuzzy, utterly adorable game that plays with mob violence and social unrest.
Anarcute is a fun, charming game, and I enjoyed the six or so hours I spent with the game. Though not flawless, and occasionally frustrating, it is easy to recommend.
Considering that this is the first title of Anarteam and that this was first born as a school assignment of 5 students, this is a more than decent start.
Review in Italian | Read full review
Nintendo Times
7.5 / 10.0
GOOD - Anarcute brings a whimsical, colorful and (dare I say?) joyful experience to the act of rioting. With a Katamari-esque feel to collecting fellow rioters and grabbing environmental items to throw around, it's a blast to cause mayhem and take down the corporations brainwashing folks. Accessible gameplay and challenging missions kept me coming back for more, although the game could have used more satisfying unlockable elements.
Ever wanted to fight "The Powa" and be cute while at it? Then try out this awesome bundle of arcade-like simplicity and plain ol' fun, the adorable riot sim, Anarcute. It's not perfect, and it has some strong replay value issues, but indie aficionados will surely have a blast with it.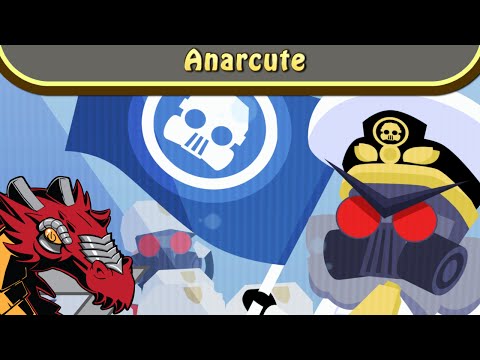 There's a decent variety of attack options on offer but it all ends up feeling just a bit too chaotic
A game about property destruction, cop killing, and corgis, it—needless to say—hasn't found itself with the most tactful launch window in videogame history.