Percentile Rank
Deus Ex: Mankind Divided is ranked in the 83rd percentile of games scored on OpenCritic.
Rating Summary
Based on 136 critic reviews
OpenCritic Rating
Based on 136 critic reviews
Score Distribution
Unscored Reviews
If you haven't already than I really cannot recommend Deus Ex: Mankind divided to you enough. With its story of conspiracy and political intrigue somehow perfectly balanced with Adam's robo arms and ability to shoot frickin lasers. With so many explore able routes and options for dealing with situations there is plenty to keep you interested for several play throughs and even more when you crack on with new game plus!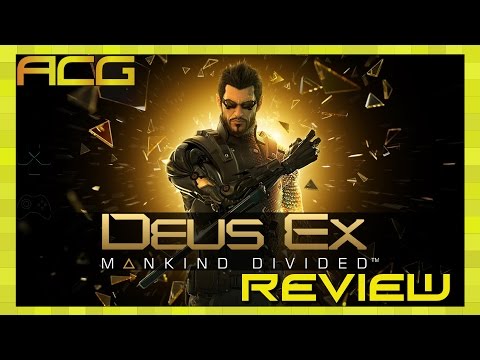 You see, Mankind Divided is what Human Revolution should've been, it just took Eidos Montreal five years to get there.
Deus Ex's mix of shooting and stealth continues to flourish under Eidos Montreal, though the story isn't a match for the setting.
Lots' O Giveaways
Recommended
The final product turned out to be quite flawed, but its presentation and gameplay more than enough to make up for it. I just wish a franchise as historic as this didn't had to fall in the same pitfalls most Triple AAA games nowadays have.
[Review In Progress] If you are the type who loves to read in-game newspapers and diaries, you'll be in heaven (I am). It might be a little overwhelming for series newcomers, but to these people I say: have patience, from what I've seen so far, it'll more than likely be worth it.
Despite its various shortcomings, Mankind Divided remains a worthy sequel to Human Revolution and one of the clearest signs yet that the immersive sim has returned to the top of the gaming heap. Whatever disappointment I felt about the limited narrative scope has been offset by the many surprises hidden in its wonderfully winding city hub.
What's here is an absolute joy to play. It's hugely immersive and the sort of game which can make hours fly by in the blink of an eye. I can't wait to get playing some more this weekend!
Rock, Paper, Shotgun
Unscored
Mankind Divided is a new version of one of my favourite games of all time and free from the execution problems that hampered that last iteration. The levels are bigger and prettier. There are no dumb boss fights. It gives you slightly more agency over its story. The new abilities are nice, even if they don't dramatically alter the flow of the game.
Scored Reviews
By daring to make a statement, Deus Ex: Mankind Divided succeeds in being a nuanced, mature gaming experience that pushes the medium forward in major ways.
Deus Ex: Mankind Divided has some wonderfully slick gameplay that lets you be loud or stealthy, and lethal or non-lethal. This is where the action becomes the vehicle that carries you through this compelling story of "Naturals" vs "Augs".
A great addition to the Deus Ex mythos, and more than just a better looking Human Revolution. If you're a fan of the series, or even just the last one, then you can't go wrong with Deus Ex: Mankind Divided.
Deus Ex has one of the most intelligently thought out, and well-executed themes in the gaming industry today. It actually made me think about racism and segregation and all those other kinds of social constructs that have restricted our society in the past. Which is a nice take on a serious and rather an uncomfortable topic. Add into the mix a Hollywood-style conspiracy thriller, the only real complaint I have with the game is that the storytelling could have been more fleshed out and elaborated on towards the end of the game. Mankind Divided may not be a revolutionary game in the franchise, but it is a tightly polished experience. One that would easily satisfy fans of the franchise or someone who is itching for a stealthy action adventure game. And if the above sounds appealing to you, then you will enjoy Mankind Divided immensely.
Mankind Divided is an amazing game that is just as clever, well-written, and non-linear as the original Deus Ex.
Deus Ex: Mankind Divided is an amazing game and a worthy fourth entry in arguably the best videogame series of all time. It took me 30 hours to finish it and I loved all of it.
Digital Chumps
9.4 / 10.0
A stellar sequel and an outstanding game in its own right, Deus Ex: Mankind Divided is a AAA experience worth your attention.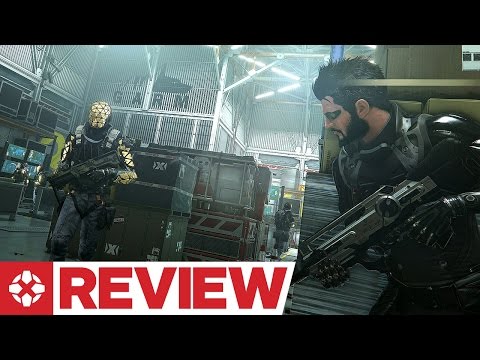 Deus Ex: Mankind Divided is an excellent game. There are few cyberpunk RPGs available, and none that offer such freeform stealth, and because of that it almost always feels novel.
Mankind Divided takes a step forward into learning of conspiracies and the organization behind it all. The story is given a better pacing that allows for more sense to be made over the deeper and more complex areas of its narrative.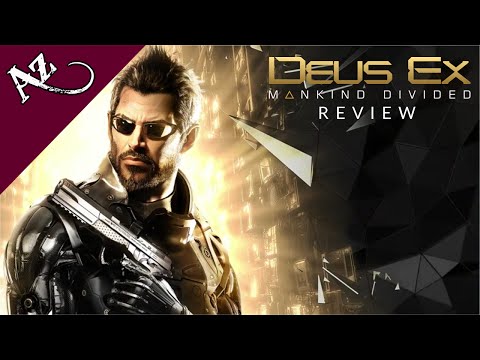 Deus Ex: Mankind Divided gives you truckloads of the great gaming experience already seen in the previous installments and polishes it into near-perfection. Prepare to delve into a thrilling story with lots of possible consequences and outcomes.
Review in Swedish | Read full review
Deus Ex: Mankind Divided is the best so far in the series. The delay has really paid off for Eidos Montreal and Square Enix – sure, it meant we'd have to wait a couple more months, but it really has made a fantastic impact on how the game plays. Add a very fun and rewarding standalone Breach mode to a fantastic story complemented by great gameplay, and you've got what is an excellent game.
PlayStation LifeStyle
9 / 10.0
Once again, Eidos Montreal has created an engrossing, intense adventure that even FPS haters need to check out. Serious subject matter is explored; answers are not always cut-and-dry, much like in real life. There is also the occasional dose of humor, to break some of the tension. While combat can still be awkward from time to time, there are so many options at your disposal that such a minor issue can be overcome with relative ease thanks to the numerous choices at your disposal. This is a game you'll want to play multiple times, to see how things could play out if you play a certain way, and its save system encourages experimentation. Deus Ex: Mankind Divided is this summer's must-play game.
After thirty or so hours, I am still no where near finished with Mankind Divided. I have spent so long completing side missions and basically just breaking into peoples homes, lockers, garages, vehicles, pants… just to hack their computers to read their emails. I have met some very interesting characters, culled a religious fanatic, raged against man, accidentally stunned naturals for calling me a "clank", accidentally stunned police officers for calling me "clank", accidentally gassed myself to death before I found the respirator augment, accidentally gassed naturals to death for calling me a… well you get the picture. I am having difficulties picking faults with this game, but if I had one tiny criticism it would be the aforementioned lack of urgency to rush into the campaign, but I suppose that's not really even a fault in itself. Deus Ex: Mankind Divided is quite possibly the best in the series so far and most certainty fills those boots I mentioned earlier.
The complex and engrossing world of Deus Ex: Mankind Divided is one that sinks its teeth into you right from the beginning, and as you journey through it you never want it to let go. We had to wait awhile for it to finally arrive, but our patience was rewarded with a definite game of the year contender.
With Deus Ex: Mankind Divided, Eidos Montreal once again shows it has a lot of great ideas of how games in this genre can evolve.
Deus Ex: Mankind Divided doesn't betray its heritage: it improves on several aspects of the former chapter in the saga and provides an high quality experience along the whole adventure. Just some of the characters in the game are not as deep as in the previous game, and the underlying menace could be pushed a little more. Overall, one of the best games published in 2016.
Review in Italian | Read full review
Mankind Divided world is huge, detailed, beautiful and ready to be explored! The game rewards exploration and its cyberpunk setting is really appealing to the fans of the series. Although the story seems to be a little off the mark towards the end, the whole package In general is so good that every single RPG fan should play it.
Review in Persian | Read full review
Deus Ex Mankind Divided is a game that not only plays very well but also tells a fantastic story mixed in with moral and social points that enhance the believability of the game.
Deus Ex: Mankind Divided improves upon its predecessor in nearly every way and delivers an incredibly tense and entertaining action role-playing game.
Pixels Game Reviews
9 / 10
As someone that loves these types of stealth action games, Deus Ex: Mankind Divided nails exactly what I wanted from this game. The story is fantastic, the gameplay is superb and everything else about this game made me want to get invested in the world.
Deus Ex: Mankind Divided provides an interesting and at times thought provoking story which is set in a detailed and immersive world that is begging to be explored.
Pure freedom: that's Deus Ex: Mankind Divided, which lets you choose your path - it doesn't matter if you are in a main military mission or just roaming around Prague looking for some side-missions while being discriminated for your augmentations. Adam Jensen is back and it's better than ever.
Review in Italian | Read full review
Jensen returns for more stealth exploration (or combat chaos if that's your thing) in a darkly dystopian near-future.
An excellent sequel that expands your toolbox and offers complex, multifaceted environments to explore.
In my eyes, Deus Ex: Mankind Divided is a must-buy title for anyone and everyone
PlayStation Universe
9 / 10.0
Mankind Divided is a thoroughly satisfying Action RPG that understands how to make stealth play enjoyable, flexible and challenging. The design of its near-future world is remarkable, and the stories held within it are compelling. The only sour taste here is an ending at odds, and the slightest whiff of over-familiarity.
Deus Ex: Mankind Divided is captivating from start to finish, giving players more freedom to make their own choices. Controls are sublime, whether you're massacring the enemy or avoiding them; with enough tools to make both viable options. The take on a futuristic Prague is unsettling, yet hugely immersive, together with some interesting social commentary. It's been a long time coming, but Mankind Divided was worth the five year wait.
Deus Ex: Mankind Divided doesn't reinvent the wheel, nor does it need to. Compelling, tightly paced and most importantly, fun to play, Mankind Divided has created an exquisitely detailed world and now it wants to turn you loose in it. A stronger contender for Game of the Year in a year already filled with great games, what are you waiting for?
As a game, 'Deus Ex: Mankind Divided' has the power to draw me in. That's a power seldom seen at this level, where rebellious heroes and evil organizations are a dime a dozen. With enveloping gameplay, a stimulating story, a signature art style, an excellent soundtrack, and the spin-off-worthy Breach Mode, 'Mankind Divided' is well worth the time and expenditure.
A solid sequel that comes close to but never quite surpasses its exceptional predecessor, Mankind Divided is nonetheless an essential purchase for fans of stealth and story.
Deus Ex: Mankind Divided is a testament to phenomenal world design and player freedom – matched with intense customization with impressive gameplay consequences, the majority of the game feels entirely personalized to your gameplay style. Despite the fact Jensen and his overarching story line are less engaging than the gameplay and world itself, there is an irresistible amount of fun to had in Mankind Divided.
Cheat Code Central
4.5 / 5.0
I'm so happy that this team at Eidos Montreal was able to continue on with the Deus Ex series. While Human Revolution was a promising title with some glaring issues, Mankind Divided is the work of a mature development team that has had the time to fix their weak points and improve on their strong ones. The result is a quality cyberpunk spy adventure with strong visual and level design, true opportunities for players to exercise choice, and some really cool cybernetic toys to play with. Go ahead, be the kind of Adam Jensen you want to be. Just don't forget to watch your back.
Deus Ex: Mankind Divided has a little bit of something for everyone. It's a must-have, must-play masterpiece. The entire industry is better now that this game is a part of it.
Clocking in at around 25 hours, Mankind Divided is a fantastic entry in a franchise that's finally coming into its stride. If Human Revolution was the foundation for Adam Jensen's adventures, Mankind Divided builds upon it in meaningful ways. From a narrative standpoint, it's The Empire Strikes Back of cyberpunk video games - mandatory for fans and newcomers alike.
Deus Ex: Mankind Divided has been carefully taken apart and put back together to create the best Deus Ex game in the series
The Jimquisition
9 / 10.0
Even with a somewhat disappointing final furlong, one can't help but be satisfied by what Mankind Divided has to offer. A solid story that manages to keep its more ridiculous elements in surprising check, tons of gameplay options with hours of optional material, and the simple satisfaction that comes with being a mechanical metahuman, the latest Deus Ex is possibly the most accomplished in the series, despite not being as complete as it seems it should've been.
Could it be better? Most certainly, as pointed out in the review. But Deus Ex: Mankind Divided is already great as it is, and you would be remiss to leave it hanging in physical (or digital) stores if you care the slightest bit about RPGs with a deep story, lots of choices and a cyberpunk setting.
I know we're only eight months in but Deus Ex: Mankind Divided is certainly a strong contender for game of the year. For those who enjoyed Deus Ex: Human Revolution this is the same but sharper, more focused, and gorgeous to look at. Surprises may be few and far between, but few can craft a world as comprehensively believable as this one.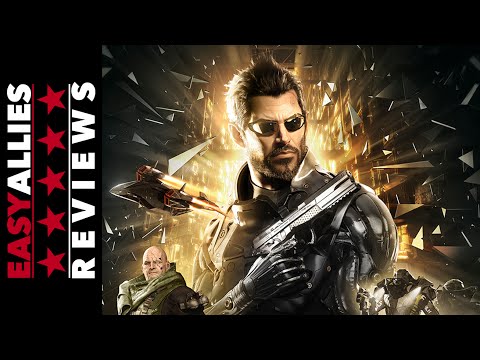 A worthy entry in the Deus Ex series that will please fans of Human Revolution, but the story may leave you wanting more.
Honest Gaming Reviews
9 / 10.0
The first time that I got to see this game was at EGX 2015 when it was there being showcased and I was very impressed with what I saw. Nearly a year later and I am having the privilege of being able to play the game, and I have to admit that the game starts as it means to go on.
Once again Eidos Montreal has managed to craft a game that even people who dislike FPS, should play, since this game's focus is clearly Stealth and Tactics and not so much combat. The choices we make actually do have impact the further we go into the story, and you'll want to replay the game in order to know what would've happened if you had acted differently.
Review in Spanish | Read full review
Lovingly crafted, Deus Ex: Mankind Divided essentially takes Metal Gear Solid and drops it into a Blade Runner-esque transhumanist world full of complexities, oddities, and deception. The result is an engaging adventure with great feel and a few surprises up its sleeve. Definitely one to look into.
I'd have to say, I never expected to enjoy Mankind Divided as much as I did. I had my reservations since playing Human Revolution with its less than stellar animations and horrendous boss fights. I was expecting much of the same and I'm glad I was wrong. With a sprawling hub environment at its heart, Mankind Divided has plenty of off beaten paths to lose countless hours on.
Overall, Deus Ex Mankind Divided is a worthy successor. The gameplay is near-perfect, the story has wonderful twists and turns throughout and despite some occasional graphical issues still manages to look great. If you're a fan of the Deus Ex universe, then I absolutely recommend you pick this up.
Deus Ex: Mankind Divided isn't a revolutionary experience, but it is a high-quality one in just about every way. If you're a fan of the genre or the series you'll love it, and it's worth a look even for those new to this kind of game (though prepare to wade through hip-deep lore as you go).
A beautiful, smartly designed game set in a gorgeous futuristic city, but with a story that doesn't quite do it justice.
Deus Ex: Mankind Divided is an impressive sequel to the brilliant Human Revolution. In the grand scheme of things, there are very few monumental changes, but if it ain't broke, don't fix it, right? And everything that was broken in Human Revolution? It's all fixed. Held back from true greatness by the odd grumble here and there, Mankind Divided is worthy of anyone's time and money.
Mankind Divided works from almost every point of view, from the excellent narrative to the solid gameplay. The title is essential for those who have just Human Revolution, and for cyberpunk lovers.
Review in Italian | Read full review
IGN Middle East
8.7 / 10.0
Deus Ex: Mankind Divided is an excellent continuation of the series. It has a deep and balanced story with additions that might seem trivial to some but are highly effective in transforming the gameplay experience. The graphics on the PS4 need to be upgraded for players on the console to have a better time with the game.
Review in Arabic | Read full review
New Game Network
86 / 100
Deus Ex: Mankind Divided is another outstanding entry in the series containing many viable gameplay options, framed around a fascinating—if not thoroughly conclusive—narrative.
I imagine the Internet will be abuzz with discussion on the "Mechanical Apartheid" issue, debating whether it was offensive, or if Eidos Montreal did enough to warrant the comparison, but aside from that, there is a very solid effort here. The new augments combined with better level design makes exploration more satisfying, and the little upgrades to hacking make that whole system more tense. While it's over a little too soon, if you enjoyed Human Revolution, there is a lot to like here.
Deus Ex: Mankind Divided is one of the best games of 2016, featuring an astonishing artistic design, a detailed universe and marvellous gameplay mechanics. However, its plot could have been more intense and less conservative.
Review in Spanish | Read full review
In a game that needs to balance so much, it finds a way so nearly every feature meets a high-quality standard in this action-RPG
Mankind Divided's cybernetic playground feels fresh, even if it doesn't go as far as expected
Deus Ex: Mankind Divided features one of the best level design in the series.
The ending makes it feel like this story just isn't finished, that it's simply a midway marker to a larger, more weighty tale with a full and satisfying ending. Deus Ex: Mankind Divided takes us only part way there, and we still want to get to those enemies in the shadows.
Deus Ex: Mankind Divided has a firm grasp on what made the original title so iconic- providing some of the best variety in how a player could approach every objective and making each of them feel just as fun and satisfying as the other.
Post Arcade (National Post)
8.5 / 10.0
Deus Ex: Mankind Divided's politics aren't the hot mess the ad material suggests. Heck it barely has politics
Here's hoping that we don't have to wait another five years to see find out what happens next.
She's a bit rough around the edges on the technical side, but it's that classic Deus Ex action that you can't really find anywhere else
More akin to a great part one of a television two-parter – awesome, but not the whole story.
Deus Ex: Mankind Divided is an excellent sequel to Human Revolution and one that any fan of stealth games should buy.
Deus Ex: Mankind Divided offers the players the freedom to choose their own story. The gameplay shines through the use of augmentations and the story never takes itself lightly by focusing on the tension between humans and augmented humans. If you have enjoyed your time with Deus Ex: Human Revolution, you shouldn't miss out on Adam Jensen's latest adventure.
Marooners' Rock
8.5 / 10.0
Deus Ex: Mankind Divided is solid proof of what can be done with a franchise if you take the ideas that worked so well with its return in Human Revolution, and build upon them with great care. There are times the missions can run a little tiring (particularly with certain boss fights), as well as wishing the voice acting was better. Still, it tells one hell of a story, and watching it play out with so many possibilities is a great part of the fun. This is one world you won't get enough of – even if you're tired of issues in the current one.
Deus Ex: Mankind Divided is more of the same from Human Revolution, with improvements.
We've all been waiting for the fourth sequel of what is rightfully considered one of the best, if not THE best PC games of all time. How to reach the level of DeusEx is a question that Edios from Montreal yet again failed to answer perfectly.
Good not great. While I liked many aspects of it, it feels like it had never lived up to its full potential.
Deus Ex: Mankind Divided is a great follow-up to its excellent predecessor. The biggest problem is the story, which was more engaging last time.
Review in Czech | Read full review
Mankind Divided falls pretty short as a sequel with a lackluster plot and some technical issues, but as a whole it's still a well put together package that's a blast to play.
Deus Ex: Mankind Divided is still a Deus Ex game through and through, even if it doesn't always manage to hit the same highs as its predecessor. But for all its faults, its numerous other triumphs made it utterly compelling to play through until the end.
Adam Jensen's return is largely successful, even if the conspiracy surrounding him could've been a little more engaging.
Video game narratives can be great, but nothing will surpass the stories we create in collaboration with a game – emergent, unscripted moments that pop up unplanned and create lasting impressions, and that's where Mankind Divided excels.
The whole game works like a player-defined movie. You can plan the events and do whatever you want to do with the game.
Despite its somewhat abrupt ending and sodding micro transactions, Mankind Divided is still a marvelous addition to the series with a well written narrative, tons of gameplay options, and hours of fantastic optional content. Though not quite the revolution that its predecessor was, the fact remains that Deus Ex: Mankind Divided is one of the few rare cases where basically being more of the same is the highest praise I could give a game.
A polished continuation of an intriguing narrative, Mankind Divided is a familiar, yet enjoyable thirty hours of tech noir.
Deus Ex: Mankind Divided refines and reinforces the defining foundations of the series.
Mankind Divided trades some global breadth for localised depth, setting the majority of its free-approach missions in Prague. The narrative feels closer to home too, thrusting Jensen in with the oppressed augmented masses. It's a strong sequel, reinforcing the mechanics of player agency and unique world design Deus Ex is famous for, but unresolved plot points do disappoint.
If you're a fan of the first game, I certainly recommend this one as well. But in a competitive season, it's hard to see Mankind Divided being as impactful or memorable as Deus Ex's reassurance five years ago.
Deus Ex: Mankind Divided doesn't succeed in making me care about the plight of humans and augs, but it still pulled me into its compelling cloak-and-dagger world where people in capes can turn invisible and shoot balls of lightning out of their arm. Oh, and your aug doctor looks just like Prince, so it's in the running for GOTY.
Adam Jensen returns in an all-new adventure, proving that Human Revolution wasn't a fluke. Eidos Montreal has outdone itself with the same great stealth experience, improved combat, and some gorgeous art direction. There's a whole host of augments and weapons, allowing you to customize your experience and certain moral choices you make will stick with you. Deus Ex: Mankind Divided does not disappoint.
While its desire to draw parallels with real-world issues lacks teeth, that criticism wouldn't be worth making if this weren't an enjoyable game. As an intricate, entertaining, and genre-bending action-stealth RPG, Mankind Divided lives up to the Deus Ex legacy. It may not quite meet its larger narrative ambitions, but it's still a hell of a good time.
Deus Ex: Mankind Divided isn't as polished as it could be, but it still continues the franchise's deft interpretation of modern political, technological, and societal issues without being preachy. Though the story could have brought more attention to the ending and more fully developed the character relationships in the game, the environmental storytelling and exploration through the city of Prague is intricate and memorable. The stealth-based first-person gameplay, paired with the flexibility of the augmentation system, remains as one of the best in the business. Adam Jensen doesn't ask for much, but I'm sure he wants a sequel, and I do too.
Deus Ex: Mankind Divided isn't going to reinvent the wheel but it does present some truly great mission design, writing and gameplay with a plethora of options for any kind of experience. The story could have been improved but Adam Jensen's world is still worth extremely compelling for RPG/shooter fans and stealth enthusiasts.
While I'm not sure any game will replace my nostalgic, rose-coloured memories of the original Deus Ex, Mankind Divided is a small but satisfying step forward for the franchise, offering tons of player freedom in a dark, dangerous and intricately detailed future.
Mankind Divided offers up an excellent romp through a cyberpunk world as it descends into oppressive madness. The story is somewhat lacking, but the numerous side quests, fantastic stealth, and gritty setting will keep you engaged for hours.
A slightly weak narrative can't obscure how compelling and exciting Mankind Divided's is to play. Here, the best stories are those you make yourself through emergent gameplay.
Deus Ex: Mankind Divided might fail on delivering a complete story that feels important or wide scoped, but that thankfully does not mean it falls flat.
While not a triumph, Mankind Divided is an extremely enjoyable cyberpunk adventure with enough content and gameplay options to keep fans of the franchise happy. The main story lacks impact and drops off completely at the end, but the missions are almost universally fantastic, allowing you to flex your cybernetically-enhanced muscles in a multitude of ways.
If you like sneaking around but hate engaging with provoking, meaningful discourse then Deus Ex: Mankind Divided has you covered.
Deus Ex: Mankind Divided is a very strong game that's dragged down by a lackluster plot and weak story structure. If you enjoyed Human Revolution for the gameplay and exploration, you'll find a lot to like here. This is not a story-driven narrative that advances the world of Deus Ex, but anyone who enjoyed Human Revolution will have fun with Mankind Divided.
Reno Gazette-Journal
4 / 5.0
Whether you're a gung-ho Leeroy Jenkins wannabe or a more measured warrior of the shadows who likes skulking around, Deus Ex: Mankind Divided features diverse, mechanically sound gameplay that will entertain. Storytelling could be a bit more fleshed out especially toward the end but it still provides a nice take on a serious and uncomfortable topic. It stops short of being an outright revolution but it's also a tight, polished experience that should satisfy fans itching for either a stealthy reprise or adventurous action.
Despite an overall disappointing story as well as a few technical shortcomings, Deus Ex: Mankind Divided is still an easy recommendation to fans of the series and stealth action games in general. Fantastic level design, interesting new augmentations and gameplay improvements will ensure that Mankind Divided will be a game to reinstall upon its mention.
An impressively complex action role-player, where every problem has multiple solutions, but it's not always quite as smart as it thinks it is.
Pure Playstation
8 / 10.0
Deus Ex: Mankind Divided gives the player a lot of choice in how to solve problems, and is arguably its most interesting and powerful feature. You can really tailor the game to your preferred play style of stealth, action, or a mix of the two. This choice extends to the story, and, considering Adam Jensen is never Mr. Enthusiasm, that is a good thing. Outside some minor issues, the visuals are good, and the music is solid. The story and world are why you should play this game, and they deliver. The ending could have been a little more gradual, but it sets up the sequel perfectly. We can all hope to not have to wait five more years to get the answers this game leaves waiting to be explored.
Entertainment Buddha
80 / 100
Although Mankind Divided has stunning visuals and gameplay, a disjointed narrative and bugs hold it back from being one of the best games of the decade.
A great stealth action game that improves on its predecessor in every way, only held back by a limited scope and a less then great plot.
Overall, the game is very polished, takes all the mistakes from the previous game and deftly avoids them, whilst giving us a lot more to play with. The lack of length is the main downfall, along with a poor narrative conclusion.
With familiar characters and concepts, upgraded visuals, excellent level design and some new toys to play with, the changes made between the last instalment and this one are welcome improvements without invoking the "if it aint' broke" rule. Veteran Deus Ex players will likely jump in head first and love every minute they spend in this world. This is certainly one for the fans.
For being a cyberpunk ode to the potential promise of transhumanism, the missions around Mankind Divided's central narrative feel terribly familiar.
Deus Ex: Mankind Divided has a lot to offer. It's certainly not everyone's type of game, but fans of the series are going to love it.
Deus Ex: Mankind Divided is a stellar stealth first-person RPG, and Eidos Montreal has done a wonderful job of placing players in an immersive world that's been plagued by Aug terrorism and fear. Aside from a few crashes at startup with the PC version, Mankind Divided is very much an enjoyable role-playing experience.
The Angry Joe Show
7 / 10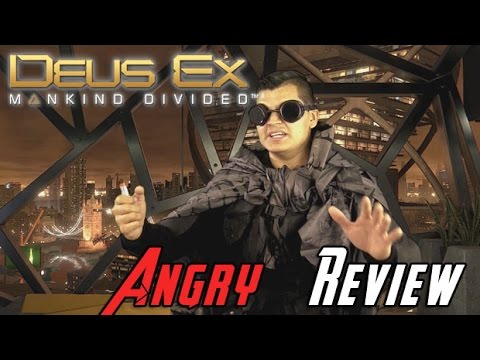 Mankind Divided hasn't lost the soul of a Deus Ex game, but it doesn't hit the heights it's reaching for.
Deus Ex: Mankind Divided is an intricate, intelligent journey through a well crafted cyberpunk world. Eidos Montreal's creation tries its hand at many things, offering an impressive amount of player choice, but it struggles to excel in any one particular area. As a result, we're left with a game that's solid when taken as a whole, but flawed when analysed piece by piece. Still, a great art style, a compelling plot, and a rewarding sense of progression do a lot to bolster the experience, ultimately contributing to a successful sequel.
A reflection of our world today, but it ends up a little too long winded and the narrative sometimes slows the experience to a crawl
A handsome, thoughtful blend of shooting and stealth that delights with its choice-driven play. Though it can feel painfully rushed at times, which is a shame.
Deus Ex: Mankind Divided is a decent sequel, but it's not the game that we were hoping for. There's a lot to like, but a lack of polish, a short runtime and a missing wow factor keep it from being great.
Mankind Divided feels torn, and not just between the story-centric campaign and gameplay-focused Breach.
Deus Ex: Mankind Divided feels exactly like Deus Ex: Human Revolution, for better and worse.
The incredible proliferation of options when it comes to routing your way through some of the larger environments is a clear standout…
A strong narrative and stellar cast are the only things that hold together an experience that is absolutely rife with bugs and downright questionable design choices.
Just like its predecessor, the game offers great concepts and gameplay elements, but it fails to package them together decently. Don't expect much improvement here, as it still has most of its previous issues, as well as losing some of the features we liked. Still an OK experience overall considering the fun I had playing it.
Review in Arabic | Read full review
Compared to Human Revolution, the game feels like a shell of its former self. If you are a fan of the series prepare for disappointment.
It feels the need to address real-world issues, but in a way that's fast and cursory and only pretends at depth while trying hard not to make anybody unhappy. Deus Ex cares enough to sit on the sidelines and play topical for show before moving on to the next attraction. It's become more 24 than Blade Runner, and while it still entertains, it's also lost much of the luster that set the series apart from the serialized masses.
Eidos Montreal's near-future thriller presents a visually impressive dystopian playground, but a wonky narrative and some shoddy touches tarnish its potential
Overall, Mankind Divided is frustrating. There are so many cool game mechanics and interesting story ideas that I wanted to know more and keep exploring every bit of the world. The voice acting and meandering story made me want to shut the game off and do literally anything else. If you are a fan of Deus Ex , you'll probably have a fun time, if you haven't played one before, I'd give this a pass.
A mechanically solid game with some fantastic level design that sadly delivers a narrative that is ho-hum at best.
Deus Ex: Mankind Divided is the epitome of the phrase, one step forward, two steps back.
If this piece of software was judged solely on its gameplay, which, flawed as it may be, is very enjoyable, everything would be just fine... but Deus Ex isn't just the sneaking, hacking, and shooting; Deus Ex is about moral dilemmas, engaging conversations, multi-layered characters, a world with personality - it's about the plot and how everything revolves around it. Long story short: Deus Ex: Mankind Divided is a very good game, but a disappointingly forgettable experience.
Deus Ex: Mankind Divided could – and should – have been amazing. All the ingredients were there: an intriguing premise, engaging and mature narrative themes, solid gameplay foundations and a beautiful look. However, the rushed plot, nonsensical conclusion, under-developed characters and continued shortcomings in combat mean this is a title which fails to live up to its potential.