Percentile Rank
Until Dawn is ranked in the 73rd percentile of games scored on OpenCritic.
Rating Summary
Based on 91 critic reviews
OpenCritic Rating
Based on 91 critic reviews
Score Distribution
Unscored Reviews
A delightfully absurd choose-your-own adventure horror game that encourages multiple playthroughs.
I really enjoyed my time with Until Dawn, and I'm itching to replay it. In many ways, it reminds me of Quantic Dream games like Heavy Rain, except it works and works very well. It respects its characters and the player while offering those same kind of immersive cinematic experience those games went for. If you're a horror fan, Until Dawn is a must-play. It's a love letter and a fresh creation of its own and worth seeking out.
Weird, gory and surprisingly moving - Sony's long-delayed slasher tribute is a flawed but memorable step forwards for "interactive movies".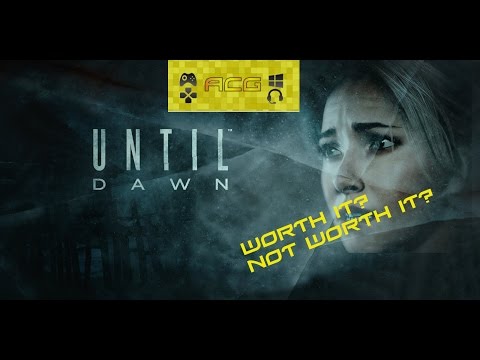 Until Dawn distills the tone of teen horror perfectly with scenes that bounce between chilling and cheesy every few minutes. The characters are hapless and often stupid, and the dialogue is just stilted enough to feel a little campy. Until Dawn offers the rare opportunity to experience one of these horror stories from a position of power. The characters all start out fairly prissy, petty, and unlikeable—again, standard for the genre—and it's up to you to decide who you want to survive and who, if anyone, you want to "accidentally" meet an untimely death.
Birth. Movies. Death.
Unscored
Between its graphics, its storytelling, and its character-driven gameplay, Until Dawn represents many of the things that truly excite me about this generation of gaming.
Until Dawn is entertaining in all the ways it needs to be, even if it isn't perfect in all the ways I'd like it to be. Try it, or wait for a discount.
The multi-character adventure style of gaming that was spearheaded by Heavy Rain is a perfect fit for the slasher/horror genre, and few games, or media experiences in general, are as intense.
Scored Reviews
The most baffling aspect about Until Dawn though is not within the game itself, but outside of it. Supermassive Games, a UK development team based in Surrey have seemingly struck gold from out of nowhere; a team who prior to this you likely have never heard of.
Paste Magazine
9.5 / 10.0
Until Dawn is genre-changing across the board, and I literally cannot wait for other games to pick up even 1% of what it brings to the table in terms of narrative and design innovation.
The Jimquisition
9.5 / 10.0
Until Dawn is everything that Quantic Dream games have tried to be – unsuccessfully – for the past decade. It emulates horror movies while demonstrating a clear understanding of what makes those movies work, its focus on consequence is nervewracking and intricate, and its story is silly but strongly delivered.
Until Dawn may have gone through some development problems and lengthy delays but after completing this title twice, I can safely say that the wait was worth it. It's also one of those games that heavily focuses on storytelling and even though the gamplay does take a back seat, the interactive plot is equally as satisfying. All in all, Until Dawn puts the player into the world the unknown which makes your choices a very hard chore that will leave you with mixed emotions when you "think" you've made the wrong decision. Until Dawn is the perfect interactive medium on the PlayStation 4 that succeeds at drawing you into your own personal horror story.
While Until Dawn lacks complex gameplay, it counters with compelling characters, astounding visuals, and a thought provoking storyline. A masterful fusion of art forms, Until Dawn is a refreshingly self-aware experience that no thriller fan should pass up.
Entertainment Buddha
90 / 100
No negative aspect of Until Dawn deters the player from enjoying the story, and Supermassive Games crafted the game in such a curious way that an urge to replay the game curses the player even before the credits start to roll.
The game really lives up to its promise and vision, and that's a rarity in an age of hype.
Geeks Under Grace
9 / 10.0
Until Dawn is a narrative game for the ages. Rarely is horror done so effectively that you feel you can not pull your eyes from the screen. You know that something is coming and there is nothing you can do but be shocked at you have just done.
Sometimes funny, sometimes cheesy, sometimes downright scary and tense as hell, Until Dawn is one wild ride, and while not everyone will think it's worth the entry price, I couldn't be happier with the end results.
Until Dawn expertly combines choice-based gaming with horror movie mechanics, delivering a game that will be tough to forget. It's so good, in fact, that it will be hard to overlook when it comes time to name this year's best.
Supermassive weaves an intriguing and exciting mystery with all the right teen-horror trappings
Until Dawn is the proper slasher game fans have always wanted, and succeeds at creating a wildly unique and enjoyable narrative experience. Beautiful graphics and sound, amazing performances and engaging stories make this a must-play for any horror fan.
With choices that have real consequences, Until Dawn is definitely a game to pick up. Especially since you can look back at what your choices did and try for a different outcome the next time you play.
If you like adventure and horror games or cheesy slasher flicks you'll be right at home with Until Dawn. It unashamedly uses every trope in the book but is so well developed that it will become the new standard that future adventure games are compared to. Overall I enjoyed it enough to play through again and see the alternate outcomes as well as find the missing collectibles.
The lore of the story might be for a niche group of gamers, but what it lacks in originality story wise it makes up for in ingenious ways throughout the game.
Until Dawn is a (Super)massive surprise hit for the PlayStation 4. Armed with stellar acting, true suspense, and a narrative that keeps you guessing, Supermassive Games smashes its way into the genre as the current reigning champion. Step aside, Quantic Dream. There's a new developer in town.
Until Dawn contains almost everything I want from a story-driven horror game. A thoroughly captivating narrative, a believable dynamic between characters, choices that have a direct and meaningful impact on the storyline, and most essentially: a constant state of tense fear created through the environment and narrative. If you're looking for the next great horror game, look no further. Just wait for the sun to go down, turn off the lights, and try and survive Until Dawn.
Until Dawn is definitely a nice surprise. Despite not being marketed as a huge exclusive like Uncharted or God of War, it's arguably the best one available on PlayStation 4 with the exception of Bloodborne; if you like horror/thriller movies and you don't mind Quick Time Events, you're definitely in for a treat.
An easy recommendation for those looking to munch on some popcorn while you get the crap scared out of you.
Ultimately, Until Dawn is a bold experiment that pays off far more than it doesn't. Though the story's set pieces are set, the outcomes are not, and if you've got the snooping skills to find all the totem guides, the reflexes to ace every QTE, and the luck to pick Hide instead of running away at the wrong time, everyone just might make it out alive.
Due to its thrilling nature, wide cast, and focus on choice, it's one of the few adventure games we could even recommend for parties. It's more fun than we expected, and we can't wait to relive the night with our own group of friends.
I'm sure it won't be for everyone, but if you enjoy horror movies like Scream and want to experience the genre with some agency in the story's outcome, Until Dawn is a great choice. I give the game a resounding Buy on my Buy/Hold/Sell scale. It's like no other game out there.
Gamerheadquarters
8.5 / 10.0
Until Dawn is one of the best horror games I've ever played being that next step for interactive experiences in terms of graphics and storytelling.
Readers Gambit
8.5 / 10.0
One of the scariest and most immersive experiences on the Playstation 4 right now. Even with a few lingering plot threads, you'll be haunted by your decision in Until Dawn and talking about them with friends for months to come.
If you like Quantic Dream's games and think the idea of that style mixed with an "I Know What You Did Last Summer" or "Scary Movie" style narrative would be good, you're probably going to really dig it.
While there are flaws here and there, Until Dawn is a very well put together experience, mixing great graphics and complex storytelling in a super-tight package. If you fit its very specific target, meaning that you enjoy the specific kind of horror it reproduces, and you don't mind old-style adventure-like gameplay and quicktime events galore, you'll find it a really exceptional and fairly unique game, that will scare the hell out of you in all the right ways.
Until Dawn is the best cinematic horror game to torment players this past decade. It doesn't hit every beat, but by morning you will have experienced terror, tension, and tragedy, and killed a few of your friends – if you even survive that long.
New Game Network
82 / 100
Until Dawn is a fascinating horror experience, using the creativity of its gameplay to approach the genre in a new and surprising way. It's well-paced and the blending of horror with choice-based gameplay is a fantastic union.
All in all, Until Dawn is a fun, gripping, immersive adventure that you'll play on the very edge of your seat. It's a little too short (even with the butterfly effect greatly enhancing the longevity), the story is only mildly impressive, and the camera doesn't always cooperate. But spurred on by great performances, a disturbing atmosphere, a decision-making system that might be unparalleled in video games today, and a very personal approach to interaction, the game makes a strong case for a purchase.
Until Dawn is a game that knows exactly what it is - a gleeful mash-up of horror genre tropes that succeeds by wearing its influences on its sleeve, excellent casting, and using well-chosen gameplay elements that give the player choice but fit with the movie-like aesthetic of the game. Despite its flaws, Until Dawn is an easy game to recommend, both to fans of and newcomers to the horror genre.
I expected Until Dawn to be a silly horror game due to its long development time, it was originally slated to be a PS3 move title. But this was not the case, I quickly got pulled into the game's story thanks to the sheer idiocy of the eight teenagers actions and the over the top nature of the horror story. In terms of gameplay mechanics, it's incredibly simple, but that works in the game's favor. Leaving you to become fully engrossed in the story and narratives that the writers were trying to create. If you fancy a gory slasher style game that hits plenty of high notes, then I can highly recommend Until Dawn.
Until Dawn's story isn't particularly long. Unskippable Cutscenes and characters walking very slowly make it feel dragged out in subsequent playthroughs and a lot of things will repeat themselves. All in all, it was a good experience for me though and I enjoyed it. Great actors, great writing, great graphics, great sound, great setting and a spooky atmopshere. I recommend this game, but it might be better to rent than to buy due to the relatively short story length. If you are a trophy hunter you will be happy with this short and easy platinum trophy.
Until Dawn is a really impressive game. While I wasn't the biggest fan of the typical teen horror genre, I still found this game seriously enjoyable. I would love to see more developers create games like this. The lack of guns, platforming and any other standard game play elements didn't bother me at all. It was a fresh break away from the norm that was very welcome. The visuals were strong and it was backed up by great animation and acting. The level of polish here was very high. The story is very subjective and some people may absolutely love it. By the end of the game I loved it, but like all teen horrors you will be left wondering "why the hell are they splitting up!" and all the other typical stupid mistakes than teenagers make in these movies. If you are looking for a scare, pick this game up! It will scare the crap out of you.
It lives up to its title, as players will be glued to it all night, exhilaratingly racing to one of the many potential endings.
Considering the number of cliches thrown in, it works surprisingly well, mostly due to exceptionally good voice acting. Bar some attempts at motion controls which don't quite fit, the control scheme is sensible.
Until Dawn doesn't always live up to the potential Supermassive Games envisioned for its ambitious PS4 project, but the game succeeds in enough ways to make it a fascinating and engrossing twist on the horror genre.
It may not be a masterpiece, almost solely relying on jump scares to shock, but it is fun to play, and that's what matters most. Once it gets going, it is a non-stop rollercoaster of visceral excitement. Letting players have control as they take a selection of disparate characters through the nastiness awaiting them is a fantastic idea that is also well executed. The fact these characters quickly go from looking fine and dandy to resembling someone that's been dragged through a hedge backwards only adds to the fun!
Niggles creep in due to the rudimentary control scheme - and the option to reconsider decisions that are obviously heading a bad way would've been nice - but otherwise I still found I couldn't put this slaughterrific adventure down.
Until Dawn delivers on multiple fronts and it's a welcome addition to any PS4 owner's library.
Until Dawn is gripping through its nine-odd hour running time and never lets off the gas. It's scary — although sometimes cheaply so — and does a great job illustrating the butterfly effect. What Supermassive has accomplished so early in their tenure is impressive and something all horror fans should experience.
PlayStation Universe
8 / 10.0
Equal parts teen slasher, action adventure, and psychological horror, Until Dawn throws a lot at the board and nails only some of it. But its biggest win is choice--permanent, unpredictable, and meaningful.
What we have here is a fun story with actual impactful choices lending a level of replayability unseen to date in similar games.
Until Dawn kept me intrigued from start to finish. I came for the campy teen horror movie feel and left extremely impressed with how well rounded and influential an experience Supermassive Games delivered. This is a game that you'll be talking to your friends and colleagues about for years to come as you'll find no two experiences are alike no matter how hard you try.
Until Dawn is a thoughtful game that exploits its tropes and sets up a system of mechanics and branching narrative that make for a chilling, irresistible experience.
Until Dawn is a pleasant surprise, and something that fans of interactive stories will really appreciate. As a schlocky horror it's a success, but its fiction actually goes beyond simple slasher – even if it remains intentionally silly throughout. The sometimes sloppy controls will irritate, while the performance capture could have been better, but neither of these issues are nightmarish enough to pull you out of the popcorn flick plot, which is buoyed by the impressive, if not gigantically impactful, butterfly effect. A ridiculous romp is what was promised, then, and this one will keep occupied all night long.
Until Dawn is a video game that should jump to the "to-play" pile for those gamers who love classic horror and want to see the high-quality that the PlayStation 4 can deliver when it comes to faces and character interactions.
Until Dawn puts player choice above everything else, and for a horror game that's rather unique. But be warned that the game is more interactive movie than game.
If you fancy a gory treat that hits plenty of high notes, Until Dawn is highly recommended.
There is no doubting the actors commitment to their archetypes, though, and their performances are a big part of why you start to warm to even the coldest character. You end up wanting them all to survive, unlikely as that seems.
Until Dawn is an excellent change of pace from the norm. There aren't a lot of games quite like it.
With its immersive world, branching narrative, and lifelike character work, Until Dawn will have players on the edge of their seats while pounding them with jump scares and a bone-chilling soundtrack. Having previously worked on ports and smaller titles for Sony, Supermassive Games have shown that they can play with the big boys and we can't wait to see what they come up with next.
Fans of interactive story experiences, or just horror in general, would be wise to give this a shot. Supermassive Games has done a great job and hopefully they will have the chance to experiment more with titles of this ilk in the future.
This interactive horror movie is heaps of fun and packed with moments that'll have you and anyone watching jumping out of their skin. Being able to kill off characters you don't like is more fun than you'll want to admit. You'll definitely want to play it more than once too to put the cast through hell again and again.
Until Dawn is a very, very fine game, with a quality, intriguing, and intelligent narrative rolled around the concept of player choice. It's also another example of why Sony is the best blockbuster publisher out there because it's happy to do stuff that breaks away from the safe conventions of expensive games.
When Until Dawn was announced, expectations were low, because I was afraid that Supermassive would simply follow the same horror movie tropes without innovating. But how wrong I was, as, thanks to the "butterfly effect" and some savvy game design, there are multiple ways to experience fear here. Some groan-worthy moments do set in (especially when it comes to some character behaviors), but overall it's an experience that horror fans will gleefully eat up. And that's something you can't really say every day with products from this genre.
Until Dawn is a fantastic title from Supermassive Games with plenty of scope for replay given the amount of alternative choices available. If you've missed out on it so far, get it in time for Hallowe'en, but just remember to watch your back...
Post Arcade (National Post)
8 / 10.0
Until Dawn is a horror themed version of Heavy Rain or Beyond if they were made by talented work-for-hire journeymen instead of an inconsistent auteur
Until Dawn is a game constructed by people who understand how to manipulate its players' sense of control. It's informed by a deep study of horror films and smart in its consideration of how to employ this understanding in an interactive medium. It only fails in its uncharacteristic acceptance of a few outmoded tropes. In some ways that enhances Until Dawn as an attempt to properly translate its genre to a new form, while keeping its spirit intact. In others, it's a disappointingly familiar problem to find in a game with so many novel ideas.
Digital Chumps
7.8 / 10.0
Until Dawn doesn't hide what it's trying to do. It's a game that focuses on story and QTE heavy gameplay. It has linear design driving it, while only deviating from the course with player choices, which affect the direction of the story. If you can accept these things, and realize it's not perfect, then you're going to probably enjoy Supermassive Games' horror show.
PlayStation LifeStyle
7.5 / 10.0
There's a well written and unchanging lore here. It's campy, but it's horror and was never billed as anything else. The events on the mountain are set in motion and then wrapped around each of your decisions and characters' fates. There are certain points and choices that will cause each character to die, some in a variety of nasty and horrific ways, and something about taking the reins of a character in a horror movie is just satisfying. Instead of yelling at the screen that they made a stupid choice, you get to beat yourself up for what you did to get them killed. When the sun rises and the final survivors are tallied up, you'll realize Until Dawn isn't perfect, but no matter which choices you make, it's one hell of a ride.
در نهایت باید بگوییم که Until Dawn در رده بازی های بزرگ سال قرار نمی گیرد و همچنین در رده بازی های بزرگ سبک خود در کنار عناوینی نظیر Heavy Rain نیز قرار نمی گیرد اما با این وجود حاصل خلاقیت ها و ایده های جاه طلبانه Supermassive Games ، یک اثر ایده آل ، دوست داشتنی با تجربه ای بشدت متفاوت شده است . بازی حدود 10 ساعت شما را در محیط جالب خود سرگرم می کند و در بسیاری از اوقات با چالش های داستانی خود شما را سورپرایز می کند و بدون شک تجربه آنرا به دوستداران سبک ترس با چاشنی گیم پلی درام تعاملی پیشنهاد می کنیم .
Review in Persian | Read full review
Until Dawn is an inconsistent horror game, but it's still a heck of a lot of fun.
Pittsburgh Post-Gazette
7.5 / 10.0
"Until Dawn's" overall experience is inconsistent. The production values are impressive, but too seldom did it rely on atmosphere and score to build its tension and regressed into predictable jump scare tactics. And as a game that bills itself as one of near endless possibilities, the choice system doesn't change much of the story. It fills the horror spot in the PS4's library that has since been vacant, but a better thriller is bound to take it's place soon.
If you like this genre, then Until Dawn is worth checking out for its outstanding production values and its solid, but somewhat predictable, writing.
Until Dawn is an excellent addition to any horror fan's PlayStation 4 collection, even if borrowed or rented, you'll still be satisfied with a single 9-10 hour playthrough, but the seeming unending paths towards terror, gore, death and salvation will keep you coming back to see if you can survive another night until dawn.
'Until Dawn' should be on top of every horror fan's must buy list. The game effectively presents the tropes and the stereotypes of the genre in a graphically stunning interactive adventure. Those who loved 'Heavy Rain' or 'Beyond: Two Souls' and thought those titles lacked genuine scary moments, will almost certainly eat up 'Until Dawn'. It shortened my life expectancy by a considerable margin.
It's like an adults-only Scooby-Doo mystery with blood, swearing and sphincter-clenching scares. Only the good kinds of fear.
Until Dawn does what it is aiming to do well. It's a near-perfect adaptation of an average slasher/monster film. It's a fun romp through a horror movie, and the tension of all characters being able to live and die contributes well to the overall feel. At the end of the day, though, it's not exceptional and lacks replay value.
Until Dawn knows exactly what it is, and doesn't pretend to be anything more. In that process it allows for some predictable plotlines, hammy acting, and lack of meaningful choices, but I'm glad that it exists, and every horror fan owes it to themselves to play it at some point -- especially at a price cut.
Until Dawn is a horror movie where you control the plot. Think of it like a Telltale adventure with a much better presentation. If you're looking for a deeper, more interactive title, this isn't it, but it does its best to make your choices feel meaningful. And once you've played Until Dawn, comparing your story with your friends' is pretty satisfying.
As cheesy horror goes, you've never had it this pretty or entertaining but when it comes to a one off experience, Until Dawn is expensive interactive terror.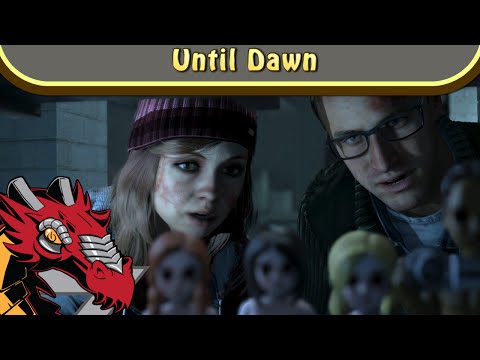 Suspenseful, engaging, well-written horror story. Very good voice acting. Highly detailed world to explore.
Until Dawn isn't a great game, but it's compelling in spite of its huge flaws
The story feels as confused about its direction as Until Dawn feels confused about its identity.
One of the more successful interactive movies of recent years, but that's really not saying much given the lack of gameplay and horror thrills.
Until Dawn struggles with clunky video game elements and rough pacing, but mitigates it with B-movie slasher mainstays and a willingness to embrace player failure.
If you're looking for an interactive horror movie, Supermassive Games has totally nailed it. The strong storyline is bursting with boo-scares, gore and stereotypically creepy settings – to the point I had to put my controller down to stop my heart racing several times. And I loved and loathed all of the characters in their own way.
If Until Dawn were the movie it was trying to be, it's Rotten Tomatoes score would be single digits.
Despite the butterfly effect's premise, a ham-fisted story means you won't care about who might live and who might die. It's not enough to save the game from disappointment, and in the end, Until Dawn is its own self-inflicted nightmare.