Percentile Rank
Skylanders Trap Team is ranked in the 81st percentile of games scored on OpenCritic.
Rating Summary
Based on 54 critic reviews
OpenCritic Rating
Based on 54 critic reviews
Score Distribution
Unscored Reviews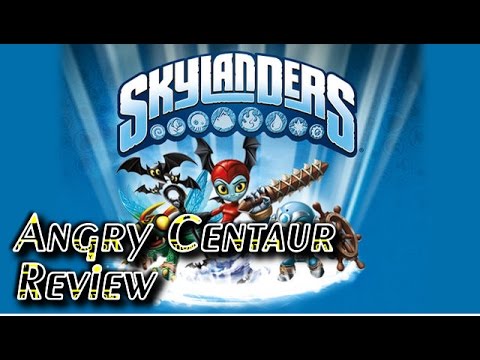 Buying the Skylanders Trap Team Starter Set probably won't be enough for you. Again and again, you'll run into times when you wish you had just a little more cash to buy that colored trap, or that Skylander. But more than any Skylanders game before it, Trap Team makes you feel good about your purchases– even if it's your kid that gets to enjoy them.
With more personality than ever before and a narrow focus on the new toys, it's the perfect time to play a perfect platformer without being overwhelmed by years of toy releases.
Scored Reviews
Digital Chumps
9.6 / 10.0
Skylanders Trap Team for PS4 is better in almost every way than its predecessors. If you have the money, Trap Team is worth every penny.
Toys for Bob have knocked this one out of the park and have returned with what is possibly the very best version of Skylanders available. The new addition of traps and new figurines open up entirely new ways to play. This is possibly the perfect Christmas present for the young at heart in your life.
NintendoWorldReport
9 / 10.0
Skylanders Trap Team is a fantastic, well-made game. The lengthy story mode is filled with excellent gameplay set in gorgeous environments with top-shelf graphics and sound. The bonus modes, while focused mostly on combat, are a lot of fun. Outside of the over-powered and integral nature of the new Trap Master figures, Trap Team is close to being the best Skylanders game yet.
Trap Team delivers a new gimmick on top of an old gimmick and does it damn well. The strong scriptwriting and voice work keep both adults and children interested in the story, even if you have to spend a lot of money to get the full effect.
With great character and level design, and so much to do, there is more then enough to keep anyone busy. The new trapping of enemies adds a more immersion to an already busy game. Those returning to Skylands can feel comfortable that this a great next chapter, and those new to the franchise will play a game that will definitely entertain.
The biggest and most enjoyable entry in the series. It's great for single player or co-op sessions
Toys for Bob shows that they make better Skylander games than anyone. It's simple, fun, and there is an absolute crap-ton of things to do. Once again, I find myself completely engulfed in the Skylanders world and endlessly exploring these worlds with my daughter.
Cheat Code Central
4.3 / 5.0
This game is gaming at its best if you can afford to track down the extra characters. Trap Team (along with any other Skylanders game) is fun for gamers of any age as long as you can put down that bloody shooter and play something more akin to the platformers of gaming past. But be warned, the Skylanders addiction is a tricky thing and your need to collect that final character can become quite costly. Bah, who cares? It's only money right?
Trap Team might make it so that your existing Skylanders are rendered useless, but it just might be the best Skylanders yet.
As usual, it's a costly entry in the Skylanders franchise, but the sum of all its new and improved elements prove that there is still a lot of care and attention given to these little critters.
Skylanders: Trap Team is packed full of clever ideas and sharp design. It's well presented and well executed, but be warned: if you let your guard down, it'll also crit your credit card for massive damage.
PlayStation Universe
8.5 / 10.0
A magical adventure filled with colourful characters and a level of interaction that sucks you right in, Skylanders: Trap Team is a unique experience that once tried won't be forgotten.
Trap Team delivers an experience with enough depth and variation to warrant a fourth buy-in to new toys and a new gimmick. A talking portal and trapping baddies inside magic crystals feel like stretch goals on an original pitch doc from Toys For Bob back in 2011. Take my money.
Skylanders Trap Team is a well made arcade action title that successfully incorporates real-world action figures into the gameplay flawlessly. Sure, there may be additional costs but the starter pack gives players everything they need to complete the game. Even so, additional action figures are relatively quite affordable and just add increased gameplay value to the title.
Loads of great characters and the return of Skystones make Trap Team one of the best games in the Skylanders series.
Yes, Skylanders will make your wallet cry out for mercy, and parents the world over are probably dreading their kids' Christmas Wish Lists this year. But their latest offering, Trap Team, is more than just a money grab. It's one of the most polished, expansive (expensive?) platformers available and is sure to entertain a wide audience, both young and old if you have the cheddar to keep up.
Fun villains and a joyful campaign make Trap Team another delightful entry into the Skylanders series.
With a more intuitive – not to mention, convenient – core gimmick, Skylanders' fourth instalment is a solid outing for the series, dispelling fears that the Activision power seller is succumbing to fatigue. For fans, it's yet another all-round improvement, but Trap Team also serves as a perfect entry point for newcomers.
Skylanders Trap Team won't be the cheapest video game for families this year, but with the Starter Pack and some old figures, this compelling action adventure offers good value.
Yes there is high cost to entry and an even higher one should you wish to experience everything on the disc but once you are on board what you will find is a very well crafted, fun, good looking experience which strikes the perfect balance between young, old, experienced and casual gamers alike. Arguably the best entry in a franchise which shows no signs of withering.
Skylanders Trap Team brings back Skylanders with a new twist, letting you trap defeated villains and bring them back out as playable characters.
Skylanders: Trap Team takes what is already great about the franchise and makes it even better with the incredibly fun trapping mechanic that propels the villains into the spotlight.
Skylanders: Trap Team is full of polish, and expands upon its predecessors' mechanics in interesting ways. It could very easily be the series' best outing thus far.
Even with these quirks Trap Team is still the best game in the series to date. Sure it is yet another massive investment, but I am glad to see that the team continues to improve the core game and make it even more fun with each iteration.
Part of a surprisingly strong series, Skylanders Trap Team is arguably the best iteration yet. Although Traps are a way to further increase merchandising, they add both a enjoyable layer of depth to gameplay and a fun new aspect of collectibility that will encourage players to trade/loan their captured villains amongst friends.
While not without its questionable qualities — expect to pay $120 to get something approaching an optimal play experience — Skylanders: Trap Team continues the series' tradition of catering to kids by treating them with respect. And the new trapping gimmick more than justifies itself through the flexibility it offers... not to mention the amusing and diverse role it gives the game's villains.
It's this sort of cynicism that prevents Skylanders: Trap Team from getting close to a perfect score. No, you didn't misread that. The game itself is THAT good. Everything that the game does, it does with style.
Trap Team continues the Skylanders legacy in style, serving up an excellent adventure with fun gameplay, lots of variety and top-notch production values both on-screen and off. It's kid-friendly in every sense of the word, though grown-up gamers will find plenty to enjoy here as well.
Skylanders Trap Team refreshes the toys-to-life magic with new portal tech, charming characters, and engaging gameplay that any gamer can enjoy.
Skylanders has always focused on collecting various figures and even more apparent in Trap Team. You'll still come across in-game videos that show off new special moves and Skylanders you haven't encountered. As the villains are the best part of the game, you'll want to purchase traps for each element type. Each trap can only hold one villain at a time, so you'll have to switch them out between levels.
Skylanders Trap Team may break the bank a little, but it's still a great game for kids, little and big alike. Just don't let the bright colors, sappy dialogue, and kid-friendly fighting fool you; it's only as easy as you want it to be, and sometimes, it's fun to sit back and play a light-hearted game, even if it is one made for kids.
On balance this is another good outing for Skylanders, although not delivering as much ambition and creativity in the video-game as in the toys. Provided families can enjoy both physical and virtual elements of the game there is still much to celebrate here, and plenty of value.
The toys still aren't cheap, and jumping in here (the new starter pack only has two Skylanders, as it also has two traps) means you're probably going to want to get a few extra toys right out of the gate. But Toys for Bob continue to hold fun in the highest regard, and that's worth championing. But Lord only knows where they go next.
Trap Team will give your kids a crash course in gaming basics — and you'll get an enjoyable and surprisingly deep game to play with a wide range of age groups.
Skylanders: Trap Team is still a fun game, it's bright and breezy and easy to get the kids into. But so much is locked away and what is left is pretty familiar to be honest. The few new ideas are welcome but not enough to differentiate it from its predecessors.
Skylanders: Trap Team is a cute game for kids with a fun story, interesting characters, and plenty of heroes and now traps, to keep parents running back and forth from the toy store.
While I never really connected with the trap mechanic or the new Trap Master toys, Skylanders: Trap Team is still a well-oiled machine. On newer consoles it looks fantastic, the action gameplay is still exciting, and the charm is still there. I just hope that Activision and its ilk have more interesting concepts in mind for the next iteration.
Skylanders Trap Team's biggest surprises lie not in its gameplay, but in how it uses sound to completely sell its gimmick. It'll bleed you dry, but somehow, that doesn't seem so bad.
Skylanders: Trap Team is a mixed bag. The core gameplay is still enjoyable, and the new villains are some of the most charming, creative and fun characters in the franchise. There's a lot to like, and there's a great amount of content for your dollar. However, a few design decisions hold it back. The game feels less inviting than Swap Force due to an over-emphasis on combat and a lot of content being locked behind Trap Master-themed gates. The new toys are a bit lackluster, and villains aside, there isn't a lot that's really new about Trap Team. Additionally, the high cost of entry may make it a hard pill for parents to swallow. Kids who love Skylanders will still find it to be a treat, but it certainly feels staler than the previous entries.
Skylanders: Trap Team brings enough new tricks to keep Activision's cash cow entertaining for another year, but we sense that there may need to be some more meaningful changes next time around. For now, though, kids and adults alike are going to love this charming romp – even if wallets will be hit harder than ever before. It turns out that you can buy happiness after all.
As well as the main story mode, Trap Team offers longevity in the form of a large number of redeeming quests for each villain, a silly amount of Arena battles that will put even the toughest Skylander veterans through their paces and the epic Kaos Doom Challenge. Part horde mode, part tower defence, it features 100 waves across nine different locations that proves that Activision's franchise is not just for kids. An enjoyable adventure, but it's really starting to show signs of fatigue.
The cool trapping mechanics and the villains keep the Skylanders formula from going stale, but there are signs that the level designers are running short of new ideas, and the requirements in terms of new figures and trapping crystals feel a bit cynical. Skylanders is still the best of the Toys to Life games for action – and there's a real magic to trapping and taming those evil critters – but it needs more work to the core gameplay if the series wants to keep heading in the right direction.
Skylanders: Trap Team is definitely fun, looks and sounds great, and offers up some clever new gimmicks on the old formula.
The gimmick is great, and playing as a villain works extremely well, but as a game this doesn't play as fair or as fun as previous instalments.
A good kid's game, film, or book is one that children can spend hours of time on. A great one is a game that children and adults can enjoy equally. Skylanders Trap Team is closer to Saturday Disney than Harry Potter, but that's not really a criticism of it. It's a highly focused game designed explicitly to fill up the Christmas list of the child in the household. But it is a well produced game, well above the standards of most children's games, and those miniatures are highly collectible stuff. The kids will love having this under that pine tree.
Skylanders: Trap Team seems intent on forcing players to open their wallets if they want the full experience of what the game has to offer.
Activision's toys-to-life series is still wonderfully entertaining, but Trap Team's relentless encouragement to buy new toys can be draining on your enthusiasm – and your wallet.
Reno Gazette-Journal
3.5 / 5.0
Overall, Skylanders Trap Team is a solid addition to the Skylanders series. Although the Trap Masters themselves aren't as big a gameplay addition as say, the Swap Force crew, the trappable villains are what really raise the enjoyment for this game. The New Kaos Doom Challenge is fun as well for folks looking for new diversions in Skylanders. If you have kids who enjoyed the previous Swap Force games, they're going to love Trap Team as well.
Through incredibly slow improvements each Skylanders game gets better than the last and you've got to wonder how long Activision can keep this successful train going before it loses steam. Till then, Trap Team is the best Skylanders to play if you're interested in taking the plunge.
Heavy investment is required to maximise the game's potential, and the burning question is whether Skylanders: Trap Team is worth the various upgrades on offer. To its target audience of collectors and Skylanders fanatics, the answer is yes. This is another endearing and inventive addition to the fold, but those unwilling to delve into the game wholeheartedly should probably give it a miss.