Percentile Rank
Final Fantasy X / X-2 HD Remaster is ranked in the 90th percentile of games scored on OpenCritic.
Rating Summary
Based on 43 critic reviews
OpenCritic Rating
Based on 43 critic reviews
Score Distribution
Unscored Reviews
Final Fantasy X-2 is a fundamentally sound JRPG from a game mechanics perspective, but its cheese factor and lackluster narrative pay off hold it back from being anything more than "the other one." There are interesting ideas at work, and Square's logic of trying to present a different look at the same world makes sense, it just doesn't always work in its favor.
Scored Reviews
Upgraded HD visuals make Final Fantasy X/X-2 HD Remaster on PS4 the best way to experience the world of Spira.
Final Fantasy X/X-2 HD Remastered is the definitive versions of these cherished games and something that every Final Fantasy or RPG fan should add to their collection.
A year later, its still hard to say bad things about this compilation. Final Fantasy X is still one of the best installments in the franchise, and the fresh coat of paint is a delightful treat.
Really, for anyone that managed to be around as a gamer when these two games first came round, and, like me, are starting to feel like they've been round the houses a few times already themselves, the greatest element of this HD Remaster is that you can play it outside your home ' it's magic of the purest kind that gets JRPGs of this calibre running on a handheld. We've mentioned this before, back in our Metal Gear Solid HD Collection review on Vita and once again Sony have managed to bottle lightning. Not Lightning, because that would be silly, and is probably a mini-game reserved for FFXIII-4, but close enough in terms of the enjoyment you'll get out of it. Spira is a wonderful and lively place to visit, and quite honestly you could probably get enough content out of this collection to last you the rest of the year.
The remakes of these two classic games was masterfully done. Square Enix is no stranger to remakes and upgrades but they have outdone themselves with this iteration of X / X-2. From the orchestrated score, to the increased polygon count and improved textures the game is atheistically better in every way. If you missed out on playing these games on the PS2 this new layer of polish on these classic gems will leave you unable to guess one is 14 years old this year.
Final Fantasy X/X-2 is an amazing port of classic PlayStation 2 titles, complete with graphical enhancements and newly added features. It's truly the best way to experience the games.
Simply put, Final Fantasy X/X-2 HD Remaster is the most complete package for one of the most celebrated entries in the series. Not everything included has stood up to the test of time, but the sentiment of the whole being better than the sum of its parts describes this HD collection perfectly.
Finally, Final Fantasy X and its sequel have breached a platform outside of the PlayStation family and it comes with positive tidings.
Another fantastic Final Fantasy port arrives on the Nintendo Switch.
Anyone that played and loved them way back when, this is the definitive version of both, and makes reliving the journey through Spira extra special; they are worth replaying all over again.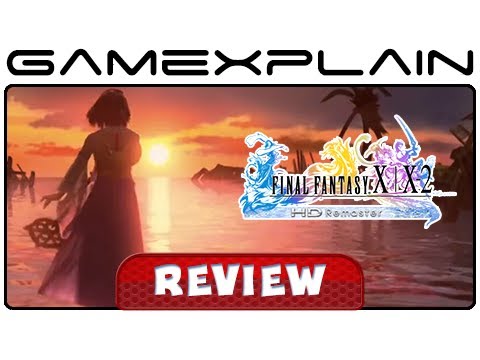 A true labor of love from Square Enix, Final Fantasy X & X-2 HD Remaster are well worth revisiting thanks to an abundance of extras and an exemplary graphical update.
The touch screen options, the removal of PC's autosave feature and other adjustments, aside from playing it in georgeous portable mode, make this Nintendo Switch's version the best of all that have been released as a Remaster, and the most faithful to play the original versions, even if it had to make some sacrifices in the visual part.
Review in Spanish | Read full review
Although Final Fantasy X/X-2 HD Remaster on the PS3 already did a superb job in bringing back two classic games and adding extra content, the new PS4 counterpart has managed to outdo it. That being said, while the definitive version resides on the PS4, if you already own the PS Vita or PS3 version it is a pricey upgrade for only a few new features and a visual upgrade
The Games Machine
8.8 / 10.0
Final Fantasy X / X-2 HD Remaster is a nice fit to the Switch's library, but it adds nothing compared to previous editions of the HD Remaster that appeared on other platforms.
Review in Italian | Read full review
Final Fantasy X/X-2 make for a lovely addition to the Switch's library – a touching experience for new and old players.
The PlayStation 4 instalment is the best version of Final Fantasy X / X-2 HD Remaster and although both games have their flaws and are a bit dated, they are still extremely solid JRPGs. The fact that you can now get the ultimate version of both games in something that costs less than £40 is great. Especially when you consider the 100+ hour's worth of gameplay the game has to offer.
Just Push Start
4.25 / 5.0
If you haven't played Final Fantasy X by now, it's the perfect time, especially if you own the Switch. If you haven't played it by now, Switch is the perfect platform to try, given the portability and smooth experience. Unfortunately, those who played it recently or want something new might be disappointed, though it's hard to please everyone. Especially when PC and PlayStation 4 have been out for a while and are much cheaper.
There's no point in trying to sum up Final Fantasy X or X-2's storyline beyond saying that it is every bit as incredible as you remember, cringeworthy laughing sequences and all. The PC version brings accessibility and graphical upgrades, as well as the promises of unofficial mod-based improvements. If this is your first time with Final Fantasy X, I envy you — it's a powerful journey that you won't soon forget.
Fun Tidbit: There's also the inclusion of a mini story FMV that links FFX and X-2 together and the standalone tower climbing mini game for FFX-2 along with a credits/audio drama.
One great RPG and one curio. Not a perfect port, but definitely Square Enix's best stab at bringing Final Fantasy to PC so far.
Digital Chumps
8.5 / 10.0
Final Fantasy X remains a genre-defining legend while Final Fantasy X-2 still dances through its saccharine and exploitative expectations. Neither feel especially ravaged by time. As either an academic interest in turn-of-the-century gaming or a hopeful re-acquaintance with a bygone phenomenon, the collection makes it easy to invest another lifetime across Spira.
Final Fantasy X/X-2 HD Remaster for PC is the definitive version of two great entries in the overall series. There's more than enough additional content packed in, refined visuals and a remastered soundtrack that alone would be worth it, but put on top of it a few of the better Final Fantasy journeys and memorable characters, as well as mechanics and it's an easy recommendation.
Final Fantasy X/X-2 HD Remaster is a fantastic collection that brings together two great games, and a lot of supplementary material, to create the most complete Final Fantasy X release to date. A few bugs currently mar the PS4 version, but if you can look past them, you'll find the most beautiful and complete version of these games. If you're a fan of Final Fantasy X and X-2, and can get past the bugs, you owe it to yourself to check out this collection.
Nintendo Enthusiast
8 / 10.0
The Final Fantasy X | X-2 HD Remaster collection is an incredible package, and it comes to the Switch with virtually the same quality and improvements as every other release before it.
Final Fantasy X/X-2 Remastered for the Nintendo Switch delivers a solid gameplay experience with greatly improved visuals, but some shortcomings keep it from perfection.
Final Fantasy X | X-2 HD Remaster on the PS4 is the best that the games have ever looked. Sharp, crisp visuals bring the always enticing world of Spira to life on the big screen, while the core elements of both titles remain rock solid and impressively polished. The collection represents a great opportunity to jump back to a time when Squaresoft was seemingly unconquerable, and if you're totally new to the franchise, it's difficult to think of a better starting point.
Final Fantasy X/X-2 HD Remaster has been released on the Playstation 3 and Playstation Vita already, so it's very possible that most players will be wondering whether or not they should bother with yet another rendition simply because it's on the current generation of console. It's a hard question to answer.
Landing for the first time on a Nintendo hardware, these two episodes, especially the first one, are instant classics of the JRPG genre. This Switch version of the HD Remaster is quite clean, technically speaking, with high resolution textures and low loading time. Alas, the cartridge only includes Final Fantasy X (X-2 being available by downloading it), but it's not a reason to pass by these fantastic games.
Review in French | Read full review
Both titles come with some drawbacks, but both are extremely important RPGs. Being important isn't always enough to say something is good, though, and, fortunately, both FFX and FFX-2 are superb. For fans new and old, there's likely something you've never gotten see before. Even if you've seen it all, though, why not journey back in. It's just as lovely as you remember it being.
If you can get past all of these artifacts of 2001-era game design, however, there's an enormous amount of virtue within both games.
Final Fantasy X / X-2 HD Remaster is still the timeless JRPG we all know and love, but the launch price and the lack of new content makes it hard to recommend this new version over the older ones.
Review in Italian | Read full review
With a clean, gorgeous new look, the Final Fantasy X games are good enough to hold up despite a number of surface elements not really aging well.
Even with their linear nature, the gameplay of these games is the high point in the series, offering loads of customizability and the ability to plan out the next move. Use your own strengths or reduce weaknesses - anything is possible. Unfortunately, the characters never really bond, at least not in a way that truly binds them together - not even thematically.
There's no denying the quality of FFX, as it's often hailed by some as the last "good" JRPG Square Enix has made in the last 15 years, but there's already a much cheaper, slightly blurrier version of this compilation out there on the PS3.
Whatever you think of the original games this is one of the best HD remakes ever, and a considerable improvement on the already excellent PlayStation 3 and Vita versions.
All of this leaves us feeling that Square Enix could have done more with the Final Fantasy X and X-2 Remaster. If you own a Nintendo Switch and have never played these games, they're well worth considering. For everyone, else however, there's little reason to dive back in to the world of Spira.
The graphics have received the expected uptick in resolution, but Square Enix has also given both games a decent once-over, adding additional environmental detail, effects, even facial animations for the main characters.