Percentile Rank
Boxboy is ranked in the 76th percentile of games scored on OpenCritic.
Rating Summary
Based on 34 critic reviews
OpenCritic Rating
Based on 34 critic reviews
Score Distribution
Unscored Reviews
Behind the stylish black and white art is a puzzle-platformer that really wants you to enjoy yourself.
BOXBOY! is a charming puzzle game for the Nintendo 3DS that you absolutely should pick up.
My BoxBoy review code sat in my inbox for about a week. It's not that I didn't want to play it, but the end of March and even the beginning of April was filled with a ton of games that demanded more of my attention. Not knowing what BoxBoy was, I looked up some gameplay videos, and wasn't taken by what I saw. Something about a boy that looks like a box and there are a lot of puzzles involved. I figured, passing on the review at that time was OK in lieu of bigger, more time consuming titles. Now that the storm has calmed, I was ready to finally dive into BoxBoy. After just beating the first world, which took me all of probably 5 minutes, I saw the immense potential. This was a game that isn't gaining any favors through gameplay videos. It's a game you have to play to "get." And it's oh so delightful.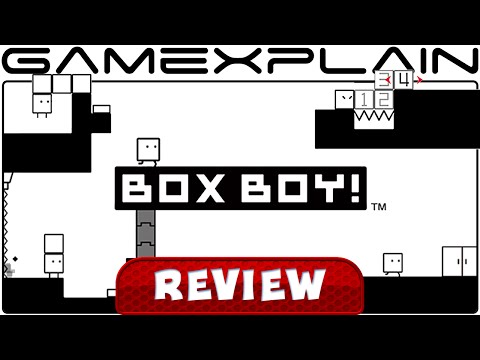 It's a masterfully-designed sidescrolling puzzle-platformer based on a brilliant combination of Mario and Tetris.
Scored Reviews
BoxBoy is a splendid 3DS eShop game. It's entertaining, addictive, and Qbby is a charming lead character. It's a must-own for any puzzle loving 3DS owner.
NintendoWorldReport
9 / 10.0
The only real downside to Boxboy is that there are so many ideas that I wish some of them were expanded upon more. Each new mechanic really only gets about a half-dozen levels to shine, and each one is so rich that they might even be able to support their own game. Because of that onslaught of fresh ideas, Boxboy never gets boring, which makes it a fun experience for your 3DS.
As far as puzzle platformers are concerned, Boxboy is a breath of fresh air and proves that no matter the size or style of game, HAL is always committed to delivering a unique and fun experience with their games.
BOXBOY! is a real winner for the eShop. Its simple design and perfectly-balanced difficulty level mean that it's sure to resonate with players of all skill levels, and whether it's being chipped away at during morning commutes or digested in its entirety over a weekend, Qbby's tale shows that a minimalistic game can be just as satisfying as a triple-A title.
'BOXBOY! 'is Nintendo's latest unmissable eShop exclusive, mixing puzzles and platforming to produce a wholly original and entirely compelling experience.
If you're a puzzle fan, you must get BOXBOY! Even if you're not the biggest puzzle fan, but you're a fan of a good challenge, BOXBOY! is for you. Simply put, BOXBOY! rocks. Whether or not you're wearing socks is irrelevant.
Boxboy! is confident, assured programming. It's brave to make a puzzle game in which players control a box with two little slits for eyes. It requires the confidence of the entire development team that they're going to be able to imbue character into the experience despite the minimalism, and that the level design and puzzles would be interesting enough in their own right to maintain the player's interest. HAL has succeed in doing just that, and the Boxboy! development team was justified in their confidence.
If you crave a digestible and portable puzzle-based diversion, look no further than HAL's Box Boy. Its outright friendliness helps combat the patience-testing nature of most puzzle games, and those minutes-long levels allow players to make some degree of progress, even if they don't have much time to spare. Box Boy might not change the world, but even so, it's refreshing to see a big developer like HAL take a gamble on such a quirky little experiment.
Boxboy finds a good balance of difficulty with puzzles that challenge, but never get too complicated or difficult
It might not look like much, but BoxBoy is one of the cleverest puzzle platformers I've ever played. The constant variety gave me dozens of uses for Qbby's simple-to-learn self-replicating abilities. Coupled with great pacing and level designs that encourage and reward experimentation, I just couldn't put it down until I'd cleared the 18-world campaign and put some time into the delightful side challenges.
BOXBOY! is a fun puzzle platformer that gets a lot of mileage with a simple concept.
The combination of a monochrome aesthetic and simple gameplay conjures memories of the original Gameboy. Qbby would be right at home there, and nothing about the game would be particularly impossible on that system. In fact, the constant reinvention reminded me of Donkey Kong for the Gameboy, another devious puzzle game from Nintendo that repeatedly introduced new ideas throughout.
At $5, it's hard to find more puzzle content than what is available in BoxBoy. That's not always a good thing, as it feels scared of asking players to learn something new without making them study it for three too many puzzle rooms. But the harsh art design and excess gameplay fat don't do enough to negate the thrill of figuring out a solution or the charm of watching your little square friend celebrate. BoxBoy is a welcome, easy-going new entrant into puzzlers that deserves more attention than it will likely get on its current marketing trend.
Boxboy is a fun and addictive puzzle game that is certain to keep players around it for some time, not just because of its mechanics but also because it introduces new ideas and challenges at a very high pace. It only suffers from its washed away visual style, which could have used more work, even for a game of this genre.
Review in Portuguese | Read full review
BoxBoy is a fun game with some pretty creative puzzles. However, the easier difficulty might turn off some more experienced players as there isn't too much of a challenge until much later in the game. While a good game, it would have been nice to see some more complex puzzles around the mid-way point to up the challenge a bit more.
This simple-looking title in which players make shapes with boxes is the equal of Hal Laboratory's more celebrated games
The Jimquisition
8 / 10.0
While not a thoroughly outstanding game, BOXBOY! is an eminently pleasant, breezy little puzzle-platformer that offers some moderate challenge and focuses more on just having a nice time. A fuss-free, no-pressure adventure that takes a plain gimmick and showcases just how versatile it can be. And it's just too damn darling for its own good.
Play Some Video Games
80 / 100
BoxBoy doesn't set the world on fire, but it might be the best game ever that sold on launch day for just $4.99. The puzzle platformer provides a challenge with an interesting aesthetic and plenty of game to warrant the purchase. Must have for 3DS owners.
This 3DS game's disarming simplicity is a ruse that hides an addictive depth.
A slick and fun puzzle experience from start to finish, BOXBOY! will please anyone looking for a great new pick-up-and-play adventure. Just don't expect too much challenge until you dive into the optional areas of the game.
Digital Chumps
7.8 / 10.0
What BOXBOY! lacks in visuals and style, it makes up for with complex level design and intricate gameplay that will keep your brain churning for hours. It may not replace any of the bigger puzzle games out there, but HAL Laboratory's little box opus brings some good, easily addictive puzzle entertainment.
BOXBOY! is an outstanding puzzle game that utilizes an original and creative idea, resulting in some of the most well-designed challenges seen on Nintendo 3DS.
While Boxboy may not be your top pick for platforming action on-the-go, it's worth a try, especially considering its affordable $4.99 price. Its unique, yet easygoing, presentation does fairly well with the hardware at hand, and the gameplay offers a few good challenges here and there. This is a good one to get, ahem, "boxed in" with when you're on the road.
A decent puzzle game that doesn't overstay its welcome. For the price, it's highly recommended.
Nintendo Enthusiast
7 / 10.0
BOXBOY! is a solid puzzle game with touches of platforming mixed in that puzzle game fans should check out. It doesn't reinvent the wheel of the genre or leave a lasting impression, but it's a fun way to tease your brain and enjoy some clever puzzle designs. If you don't find yourself enjoying puzzle games, BOXBOY! will probably be a pass for you, but for those of us who enjoy a good challenge, BOXBOY! is a worthy addition to your 3DS eShop library.
BoxBoy! would have a lot of replay value if I thought it was worth playing in the first place.
BOXBOY! will surely find an audience among those who are deeply in love with the Game Boy's sensibilities, but this writer is finding it increasingly difficult to be nostalgic for a style that never goes away. What's left, then, is a polished puzzler with surprisingly dull tendencies.
Reno Gazette-Journal
3 / 5.0
Box Boy is a charming game that can provide a nice challenge and is affordable to boot. If you like puzzlers and subscribe to the philosophy of gameplay over graphics, you'll want to give this game a look.
HAL Laboratory fails to innovate at all within the puzzle genre and throws many of the same obstacles at you over and over again—to the point where BoxBoy! is as plain a platformer as its monochromatic motif.