Percentile Rank
Fire Emblem Fates: Conquest is ranked in the 95th percentile of games scored on OpenCritic.
Rating Summary
Based on 65 critic reviews
OpenCritic Rating
Based on 65 critic reviews
Score Distribution
Unscored Reviews
Fire Emblem Fates is a fantastic followup to Awakening, introducing some slight new gameplay elements as well as gorgeous new graphical options.
For the foreseeable future, if I'm not reading something, I know what I'll be doing the next time I'm waiting in line.
With Fates, the series hasn't frayed under the pressure. Instead, Intelligent Systems has created one of the most narratively ambitious games to hit a Nintendo platform. Fire Emblem Fates lets you explore the value of familial love and friendship, then offers you the option to go back and kill everyone you love, while loving everyone you killed.
Vast, gorgeous (and confusingly delivered), Fire Emblem Fates sees Intelligent Systems at the very top of its game.
Fire Emblem Fates has all the plot elements you'd expect from an entry in Nintendo's fantasy warfare series. There's a chosen one, a war between two kingdoms that represent the light and dark, magic swords, prophecies, and dragons. But at the core is the profound dilemma of nature versus nurture: Will you define yourself by your biological family or the one that raised you?
Fire Emblem Fates is another wonderful entry in the series. It offers an odd sales choice and some controversial tweaks, but it's a great tactical strategy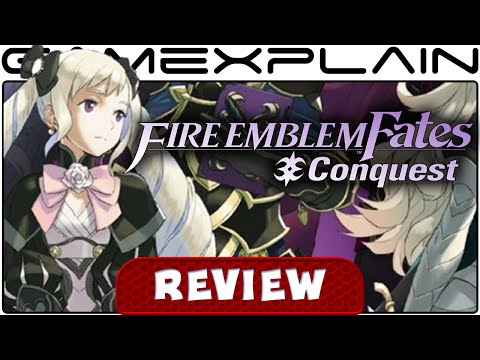 Scored Reviews
Fire Emblem Fates builds off the foundation set by Fire Emblem: Awakening and expands upon it to give players a more compelling and engaging narrative along with gameplay variety. By offering distinct storylines and game experiences, Fire Emblem Fates is able to appeal to both newcomers and longtime fans of the franchise. Those looking for a lengthy and epic adventure to play on their 3DS needn't look any further, because Fire Emblem Fates is all you need. Fire Emblem Fates is fated to be one of the 3DS' best games in 2016.
Fire Emblem Fates still approaches war from a largely idealistic standpoint, but it makes a quantum leap forward by representing a broader range viewpoints along the way. For a series that has changed incrementally over the last 25 years, this latest entry is a refreshing reinvention.
Fire Emblem Fates: Conquest is just about as good as an SRPG can be.
NintendoWorldReport
9.5 / 10.0
Fire Emblem Fates is so perfectly executed that I wonder how they'll top it as the series progresses. Every complaint from Awakening has been addressed, leading to a fine-tuned strategy game that borders on genius.
Conquest on the other hand is a more enjoyable from my perspective as a strategy veteran. It's much more complex from the start, and offers bigger maps, more interesting objectives (such as point defense or sieges), and a more intriguing plot. You can't grind, so you're encouraged to instead play through the limited amount of sidequests or arena world map battles to fine tune your party makeup. This leads to a larger need for a more tactical approach from just about every facet of the game. It's more thrilling and has a different feel to it, especially if you crave a challenge and blow through other titles in the series.
Fire Emblem Fates: Conquest is a rewarding and deep turn-based tactical game with a grand story and characters I liked enough that losing them in combat really stings. The intense difficulty is squarely aimed at veteran Fire Emblem players, and its satisfying campaign is full of variety and challenge. And even though a win or loss can down to sheer luck, I walked away either satisfied or eager to give it another shot.
Conquest is a challenging game that richly rewards players willing to undergo its trial by fire
Digital Chumps
9.2 / 10.0
Fire Emblem: Fates offers an unprecedented amount of content without falling victim to the temptation quantity over quality. Each of the three total games here features its own vivid branch of the story, and everything from the gameplay to the presentation shifts with it. This is a massive and highly enjoyable addition to the epic franchise that really does stand as one of the most prolific and memorable amongst its contemporaries.
If Birthright delivers a classic Fire Emblem experience, Conquest steers it toward the future to outpace it in every way imaginable. Rewarding in its tactical brilliance, it dethrones Awakening to become the very best strategy RPG experience the Nintendo 3DS has to offer.
Nintendo Enthusiast
9 / 10.0
In conclusion, Fire Emblem Fates: Conquest is an absolute must buy for all those that are previous fans of the franchise. The game builds upon everything that came before it, and presents an experience that is truly challenging. New players may struggle through Conquest, and they may find a better experience within Birthright. However, for all those players that have been craving a truly classic Fire Emblem title, Fire Emblem Fates: Conquest is the game for you!
Fire Emblem Fates: Conquest is a monument to the elegance of Intelligent Systems. Hard, yet accessible, it's even deeper than the series' standards. Fans will love it and newbies should try it (maybe starting from the Birthright version).
Review in Italian | Read full review
Fire Emblem Fates: Conquest is a must-have gem for the 3DS. While some of its battles may feel exceedingly unfair at times (thanks for one-shotting my avatar at full health with a 1% crit chance, game), the satisfaction of overcoming a tough battle is as sweet as ever.
While the story can feel like it's dragging at times, it's tough to hold too many grudges against what feels like padding since the core gameplay is so much fun.
As a 3DS title and as a Fire Emblem title, Fates does not disappoint. It is everything you could expect from a good Fire Emblem game and a solid addition to the 3DS library. It's the first good 3DS game I've played in a long time, and it's one I'm still playing today. It's minor flaws are easily outshone by its major accomplishments, and localization issues slowly lose all meaning as the player is lost in the mountainous content and beauty of this game.
Fire Emblem Fates exemplifies the best way to approach a sequel. It maintains and iterates on Awakening's best qualities, while also introducing new systems that have a profound impact alongside a richer and more poignant story. It's more than just a worthwhile successor to a recent hit. Taken as a whole, it's the best Fire Emblem to date.
The brilliance of this game lies in the fact that these are all viable strategies, and that all are possible if you plan enough moves ahead
Fire Emblem Fates, regardless of which game you begin with, is a wonderful experience that builds on everything Awakening did right, and makes it even better.
Fire Emblem: Fates is easily one of the biggest and most intimidating entries in the series, but the refined systems and sheer breadth of content, mixed with a colorful and memorable cast of characters, makes this a grand offering for both Fire Emblem faithful and newcomers alike.
Fire Emblem Fates: Conquest is as lethal as it is lovingly crafted, with challenging tactical gameplay that will push series veterans to the edge. It's hugely satisfying when you successfully navigate any of its encounters, and you can't help but be drawn in by the likeable characters and engrossing narrative. I still have to wonder whether three separate releases was truly necessary, but it's hard to argue when the resulting games are all equally phenomenal.
The better of the two retail Fire Emblem Fates releases, Conquest offers satisfying and challenging combat that lives up to Fire Emblem Awakening's heady legacy.
If you're a hardcore Fire Emblem fan, this collection will give hours upon hours of unbridled gaming fun and if you're really keen, you have the option of playing it through again in order to experience the other side of the war.
Fire Emblem Fates: Birthright and Fire Emblem Fates: Conquest are two great tastes that taste great together. Provided you're willing to put up with the high cost of entry. Even if you only settled on one title you'd be getting an awesome game with plenty of content that will keep you busy.
Not exactly novel but fantastic all the same. There's something here for everyone to love.
Fire Emblem Fates is hands down one of the best strategic title ever created. The two branches of the story, Conquest and Birthright, bring new elements on the formula and deliver a solid and unforgettable experience.
Review in Italian | Read full review
Fire Emblem Fates: Conquest clearly stands out as one of the greatest titles in Nintendo's tactical RPG series. Improving on its formula while delivering what the players expect, this chapter provides a rich, refined and long-lasting gameplay experience, along with a magnificent visual work and an extremely demanding difficulty level. Fire Emblem Fates: Conquest shows that it's possible to improve key aspects of an established formula while remaining loyal to its roots.
Review in Portuguese | Read full review
A captivating story and strong cast of supporting characters, along with the very well designed gameplay and impressive breadth of pure content make Fire Emblem Fates: Birthright, Conquest, and Revelation a must own trilogy for the Nintendo 3DS.
Beyond its impressive robustness, Fire Emblem Fates complements its size with substance. It's not quite the equivalent of getting three Fire Emblem Awakenings in a single release, but it's nonetheless an impressive follow-up.
Fire Emblem: Conquest is billed as the "hardcore" side of Fire Emblem Fates, and it doesn't disappoint with its intricate and challenging maps. On top of that, the core of Fire Emblem's relationship mechanics are strong as ever, and the castle hub is a very nice addition. Even if you opt to ignore Birthright, Conquest is a full-featured and satisfying RPG on its own.
Fire Emblem: Fates is a fantastic turn-based strategy game. If you're worried about the multiple versions, you don't need to be. You'll get a full experience with a single campaign, but it's great to know that you can keep going and discover new content long after beating a single path.
Reno Gazette-Journal
4.5 / 5.0
Fire Emblem Fates builds on the strengths of Awakening by serving up three great games while presenting much improved storytelling that's backed by impressive production values. The piecemeal approach to enjoying the full Fates experience for those who miss out on the special edition is unfortunate as it unnecessarily punishes the most loyal fans. For gamers who want more Fire Emblem, however, having not one but three games to play in Birthright, Conquest and Revelation pretty much equates to gaming heaven.
Post Arcade (National Post)
9 / 10.0
Regardless of which version of the three editions you buy you'll be in for dozens of hours of top-notch turn-based tactics – plus a bit of old-fashioned Japanese melodrama
Fire Emblem Fates: Conquest is proof that less can be more. Harder, more intense and balancing a better plot between the two games, it's Fire Emblem at its purest.
Outside of those unfortunate problems, Fire Emblem Fates provides the memorable gameplay of the series and a formidable, entertaining challenge for any 3DS owner. The added stress of betraying characters you've come to admire elevates the narrative tension to a natural and organic height.
Fire Emblem Fates: Conquest is one of the best RPGs available on a handheld device, offering a punishing challenge that is mischievously veiled by immaculate visual design and thought-provoking tactical gameplay.
In a series underwritten by amnesiac orphans, Fire Emblem Fates breaks away to tell a story about memory, family, and the self, meditating on the decisions that define us and how we regret them.
If you are a fan of Fire Emblem or tactical games in general, Fire Emblem Fates will not disappoint.
There's nothing that gets your blood boiling and your heart racing like a hardcore strategy-RPG with perma-death, and Fire Emblem Fates fits that mold to a T.
The look has been upgraded and is much sharper now, along with many new animations that make it feel more cinematic. Combine all that with a rather amazing soundtrack and the presentation is top notch, and one that I thoroughly enjoyed.
While 'Fire Emblem Fates: Conquest' can stumble in a few places, namely the melodramatic plot and a few structural annoyances, this is ultimately a great SRPG that should please series fans. Some of the newer mechanics don't work quite as well as they should, but the tweaks to the core gameplay go a long way to making this a challenging, and immensely satisfying game.
Fire Emblem Fates smartly revises a quarter-century old battle system and offers ever more reasons to care about your little chess pieces, but neither version does enough to welcome new players.
There's little doubt that Fire Emblem Fates: Conquest delivers on every front that it promised fans, serving up an interesting narrative and tough-as-nails gameplay.
There's something that definitely seems to be missing from Fire Emblem Fates: Conquest. The challenge is certainly there, but it brings its own sacrifices, as well. Ultimately, the narrative feels a little worse off for its separation into three parts, and despite each telling a complete story, there's something nagging about the "What if?" that always seems to come to mind while playing. Despite that, the characters and the challenges provided give so much that, aside from its shortcomings, it's still a compelling story, and an excellent role-playing game.
Fire Emblem: Fates takes two steps forward and one step back for the series. It still retains and expands on many of the great Fire Emblem elements, but Fates slips on a few important aspects.
By the end any notion of nature versus nurture is long forgotten. Tragedy falls on both sides of this war no matter what you or your hero do. Friends and family die or permanently retreat with regularity. Fire Emblem is both an adorable game about cute anime kids becoming friends and lovers, and also one of the cruelest and most unforgiving virtual death marches you'll ever play. Don't hold all that death against Fates: it's the game's birthright.
Whether new to the franchise or a long-time fan, there's something for everyone in Fire Emblem Fates' three games. Unfortunately, when you find what you're looking for in one, you might be disappointed when it's then not present in the other titles.
It often lacks the accessibility and sense of fun of Birthright, but for Fire Emblem and strategy veterans this is still an excellent entry in the series.
What this all makes for is a much tighter and more precisely balanced game than Fire Emblem Fates: Birthright, where decisions matter, even in Casual mode. The story in Fire Emblem Fates: Conquest is stronger, but still feels somewhat like filler meant to set up the true narrative to be revealed in Fire Emblem Fates: Revelation. While this feels like a vastly superior game, it also feels very much like part-two of three, in a three-part title. Fire Emblem Fates: Conquest is an excellent, challenging SRPG that requires a great deal of forethought and precision, rewarding the player for hard choices, and keeping your characters in play. While the story is stronger with more engaging characters, it still feels like another "bad ending" setting up the player to have to purchase the third campaign when it releases in March.
Conquest is very lucky that its gameplay and localization are so excellent, because its tired story leaves much to be desired.
Fire Emblem's gameplay is second to none, but Conquest sports a lackluster narrative and questionable dialogue that brings the whole experience down.
Fire Emblem Fates: Conquest is a punishing strategy RPG that marches forward and never looks back.
To say this game has significant issues is an understatement, and the blame can't be placed on one team. These issues range from simple gameplay mechanic choices that go against much of the internal logic the game was founded on, story issues that seem to have no place existing in the game in the first place, localization issues butchering the grammar and flow of many important points, and a business practice that uses and abuses its customers. While this isn't the worst Fire Emblem game I've played, I can't in good faith suggest people buy this game as it is.
Fans waiting for the next Fire Emblem will certainly not feel cheated by Fates: The nerve-wracking decision over risking a character's life with every move has not diminished. That said, with its many attempts at innovation falling short of their marks, and its core gameplay lacking the refinement seen in its predecessors, perhaps Nintendo should signal a tactical retreat and focus on making the best Fire Emblem possible.