Percentile Rank
EA Sports UFC 2 is ranked in the 70th percentile of games scored on OpenCritic.
Rating Summary
Based on 49 critic reviews
OpenCritic Rating
Based on 49 critic reviews
Score Distribution
Unscored Reviews
Eurogamer
No Recommendation / Blank
No Recommendation / Blank
Mar 23, 2016
EA crafts one of the finest MMA games to date, although it's let down by a lacklustre ground game.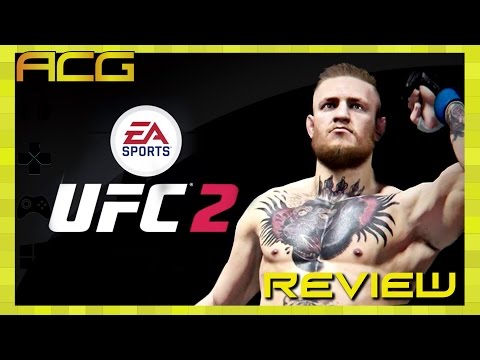 "EA UFC 2" is an effective tribute to of professional sport fandom, the spirit that causes the crowd to roar to life not in appreciation of another person's actions but because they believe it means something for them to have witnessed it.
Scored Reviews
With enhanced visuals and improved gameplay, EA Sports' "UFC 2" is the mixed-martial arts game you've been waiting for. While the host of improvements alone would have been enough for a solid sequel, the addition of the Ultimate Team mode makes it a game that every MMA fan should play once in their life. It also creates a more than interesting quandary this year at the EA Sports camp later this year. How do you top a game that does so many things right?
UFC 2 is an great MMA game, providing the most authentic and fun game on the market, adding yet another string to EA Sports' bow, even if the career mode is a little empty.
As someone who has played almost every MMA game since UFC Undisputed 2009, many of the controls came naturally to me, but UFC 2 features quite the learning curve if you've never played a UFC game before. Whether it's Ultimate Team, knockout physics or improved grappling, EA have made great strides to improve and make UFC 2 the best MMA game on the market so far. That isn't to say there isn't still room for improvement but there is a lot of fun to be had here.
It's a fantastic follow-up to the Freshman UFC title. If you were a fan of the first one, you will love it. The multitude of game modes and presentation all combine to give the game a very professional feel that helps legitimize the sport as a big time player.
Simple enough to pick up, but tricky to really master, UFC2 has a lot going for it and if you are a fan of the sport it's certainly worth the purchase. The roster is right up to date and if you feel a bit quirky (and don't mind a bit of DLC) you can add Mike Tyson and Bruce Lee to your roster.
EA Sports UFC 2 verbessert sich deutlich gegenüber dem Vorgänger und bringt mit einem verbesserten Karriere Modus und dem neuen Knock Out Mode einiges an Umfang für Kampfsport Fans. Für die etwas komplexe Steuerung fehlt zwar immer noch ein gutes Tutorial und auch die Karriere an sich hätte etwas mehr Inhalt vertragen können, aber ansonsten überzeugt der Titel durchgehend mit einer großartigen Präsentation und einer umfangreicher Charakter Auswahl.
Review in German | Read full review
PlayStation LifeStyle
8.5 / 10.0
Fast loading, fast hitting, and ready to rumble, EA Sports UFC 2 is ready for the octagon.
Where the first EA Sports UFC failed to go big on content, EA Sports UFC 2 delivers big time. That it also successfully improves upon the strong foundations laid by UFC 1 in the gameplay stakes, makes UFC 2 nothing short of superlative. It's a winner.
It's not a perfect game, but EA UFC 2 is a punchy good time in the octagon when I'm looking for a fight.
UFC 2 captures the adrenaline rush that is MMA with features like a deeper career and the wild Knockout mode
Cheat Code Central
4.2 / 5.0
Though classified as a simulation, EA Sports UFC 2 is still a fighting game, and thus must contend with flashier and fantastical competition in the genre. However, on an immersive level, the authenticity both in the visuals and atmosphere is astonishing. The fighting itself is intense, but requires patience, skill, and memorization to master. It's a must have for any MMA enthusiast, and one that promises months of full-bodied content in its meaty modes.
Digital Chumps
8.4 / 10.0
EA's second stint with UFC's license shows some positive growth. On the plus side, the ground controls are simpler and the optional Grapple Assist does make learning how to roll much easier. Fights feel a little more steady in terms of character interaction with improved collision detection. But although the striking principles are solid, I still think the tempo is turned up too high. If stand up was more even keeled and ground transitions were quickened a bit, all aspects of gameplay would feel just right. Despite this criticism, it still plays very proficiently. Available modes cover all the bases of the sports genre with the advent of a strong Ultimate Team experience and addictively fun KO mode. And presentation is pristine in all areas and couldn't have been designed much better. UFC 2 didn't correct all of 2014's mistakes, but it's still striding in the right direction.
There are still some small improvements to be made when it comes to getting on the level of Undisputed, but EA Sports UFC 2 is a significant improvement over the first game, and proof that the team is more than ready to step into the Octagon. Whenever it rolls around, EA Sports UFC 3 will have a hell of a game on its hands. But, for now, part two is well worth trying, especially if you're a fan of the sport.
More mass and definition for one of the best looking console game on the market. The control system is not yet on the same level, though.
Review in Italian | Read full review
EA UFC 2 is much better representation of UFC with the improved gameplay features, the expanded roster that covers 10 divisions, and the additional game modes. While career mode was a huge let down, and felt pretty much like a copy and paste, the other modes managed to provide the entertainment of a UFC game. If you wasn't a fan of EA UFC, I would recommend EA's 2nd try as all in all it's a much better game that is worth buying.
EA's UFC 2 is a good follow up to the original and continues to give a good representation of an actual UFC bout
EA should be commended for taking two-years to provide a much-improved sequel. UFC 2 presents a huge step up over its predecessor, with more modes, more fighters, better in-cage action and incredible visuals. While I can't speak for the online modes yet, as things stand, UFC 2 deserves a spot on every fight fan's shelf.
Operation Sports
8 / 10.0
Putting aside the familiar career mode, EA Sports UFC 2 is a worthy upgrade.
UFC fans won't be disappointed with the amount of value on offer here, and its hard to think the franchise isn't going in the right direction. Minor issues do nothing to distract from the overall quality.
EA Sports UFC 2 is a perfect example of how to capitalize on a mostly solid start. Even though it could still use additional improvements, the fighting system remains solid, and the tweaks make it more accessible to those who aren't well versed in fighting games. The presentation has been improved to make it even more impressive on all fronts, but the amount of modes give the game some longevity beyond online play. It isn't perfect, but it certainly is one of the better representations of an MMA game, so fighting fans of all types should check it out.
Offering improvements to Career Mode and introducing new modes like Ultimate Team and Knockout Mode, EA Sports UFC 2 builds upon the already solid gameplay and presentation to bring fans a fun experience for yourself or with friends that are either a fan of UFC or just can't wait for a new Fight Night game.
PlayStation Universe
8 / 10.0
EA Sports takes a positive corner on the MMA market with UFC 2 as it focuses on what makes the sport great: strong mechanics and a lot of training. With strong servers and gameplay mechanics, UFC 2 has what it takes to represent the UFC both offline and online.
While I'm still not the biggest fan of the sport, UFC 2 is fun to play and see and allows players to try out different things while still having a decent time. The grapples and submissions are sometimes confusing to understand, but the fighting itself is fast, fun, and great to watch. Fans of UFC will get the atmosphere of a real UFC match, while fighting and sports game fans have enough here to have some good fun.
Consider the bar for MMA games officially raised, as EA Sports UFC 2 improves upon almost every facet of the original, while also introducing an intuitive new grappling system and realistic knockout engine.
EA UFC 2 is certainly an improvement over the original game and while it does add more game modes and more to do, it's just disappointing that the main game mode, the career mode has almost gone untouched and the new additions don't really add much to the experience. EA UFC 2 isn't a knock out but it's good enough to earn a 29-28 decision victory.
EA Sports UFC 2 has shown its improvements over its former self and continues to play the part. A mix of power and finesse, both in ring and out, there's no doubt this is a solid pickup for folks interested in handing out beatings like their favorite MMA fighters do. With the Live Events regularly updating and Ultimate Team keeping a steady dose of online competition rolling in, this simulation will stay relevant over its life. As Bruce Lee, a DLC character for the game, would say: "Notice that the stiffest tree is most easily cracked, while the bamboo or willow survives by bending with the wind." For EA Sports UFC 2, it certainly seems survival is imminent.
Charles Darwin would be a big fan of UFC 2. This isn't just because of the natural selection angle of the combat, where the only the strongest and smartest survive, but rather because this is the most natural evolution of MMA games as a whole. There is certainly plenty of room for continued improvement in the future, but it is still far and away the best take on the sport to date. Those who have already found themselves smitten with the series will find plenty to enjoy the second time around.
Pittsburgh Post-Gazette
7.5 / 10.0
"EA UFC 2" is an improvement on its predecessor. The next chapter needs to go the distance.
Like its younger brother, UFC 2 looks to simulate the most complex contact sport on the planet, and in some ways does so with perfect accuracy. The new animation and knockout system looks better than ever, and the career improvements are a welcome sight, but the barebones career mode, consistent bugs, and ever-present AI cheating are a pretty nasty cut that, if unchecked, may stop fans from wanting a round 3 with EA Sports UFC.
These grappling exchanges typically end up being intense affairs that go down to the wire before someone either escapes or taps out like Mystic Mac.
EA Sports UFC 2 delivers the grandeur of MMA in a remarkable and brutal presentation. A traditional fighting game this is not, and the genuine attempts at simulating a dense sport result in clumsy combat that only on occasion captures the drama and nuance of human chess.
Hard-hitting and visually arresting, EA Sports UFC 2 refines its brutal action while still retaining some notable flaws.
UFC 2 is hard to get into and not as rewarding to play as it should be, but its smart system design, presentation, and generous helping of content should keep UFC fans occupied – provided they make it through a gruelling training camp first.
EA Sports Canada has improved upon the UFC formula greatly, although plenty of the modes still feel shallow.
EA Sports UFC 2 is a much better excuse to go looking for a fight than the previous game, even if it's missing the allure that made UFC Undisputed 3 so great.
EA have attempted to fix a lot of mistakes made by the game's predecessor, ending up with something much improved and fun.
As a mixed martial arts simulator it fails in some key areas and as a balanced, competitive fighting game it just doesn't compare to the champions of the genre, 2D or 3D, offering limited depth and distinction between fighters.
While UFC 2 certainly looks the part, it doesn't feel it. Strikes are razor sharp, kicks are satisfyingly heavy, and each and every fighter is beautifully sculpted and recreated, but each and every element is too robotic and rigid to recreate the dynamism and unpredictability that draws me to real UFC fights. Those fights are often won by finding those spaces between the lines that your opponent hasn't thought to cover, but those spaces simply don't exist here. As a fighting game it's worth your time if you're seeking something other than the usual options, but as a recreation of the UFC it falters before the final bell.
EA Sports UFC 2 certainly has a lot of new additions for fans new and old, but it still hasn't gotten the gameplay right just yet. The standing game is satisfying and has some real weight to it, but the floor and clinch mechanics are where things go downhill. This content-laden sequel packs a fair few punches, then, but ultimately doesn't deliver the knockout blow.
Bruising, buggy and beautiful, UFC 2 is a technically triumphant fighter, but its combat can easily flounder and frustrate.
The lack of overall options and content creates a shallow feeling that EA Sports UFC 2 can never quite shake. It is more pronounced in the career mode, where there was perhaps the greatest opportunity to do something interesting with the source material, but outside of the original tournament the game never shows much personality in that mode. The same can be true of the other modes as well.
Microtransactions and the brutal learning curve make UFC 2 hard to play and even harder to recommend.