Percentile Rank
Hatsune Miku: Project Diva X is ranked in the 81st percentile of games scored on OpenCritic.
Rating Summary
Based on 35 critic reviews
OpenCritic Rating
Based on 35 critic reviews
Score Distribution
Unscored Reviews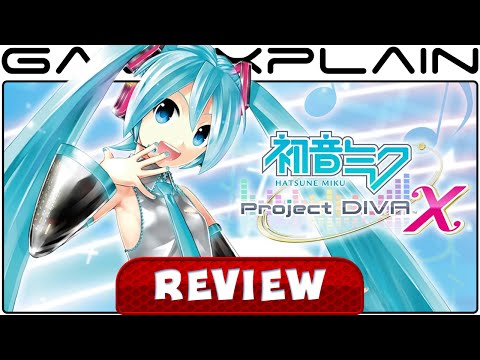 It's a blast to play, of that there's no doubt, but the lack of song content is a real sticking point; Sega managed to get almost everything else right with Project DIVA X, but this key missing component seriously hampers my enthusiasm for the game.
Scored Reviews
While Hatsune Miku: Project Diva X isn't as brilliant as Future Tone, nothing is, and the core rhythm game action is faultless. An inspiring, entertaining soundtrack, coupled with stunning characters, costumes, and choreography makes this essential. Not just for Miku fans, but for anyone who enjoys fun. And you enjoy fun, right?
Project Diva X boasts an outstanding soundtrack, stunning visuals and engaging, addictive gameplay that'll keep pulling you in over and over again.
Listen, Miku fans are already glued to their screen, and didn't need a review to tell them the game's fantastic. However, rhythm game fans who wanted a truly amazing game in the genre on their PS4 can certainly do no better at the time of this review, than Project Diva X.
While this iteration fixes many of the annoyances of the previous titles, it added a few of its own, though not enough to sour the experience. This is hands-down the best music and rhythm game of the current generation of home consoles, though it isn't exactly a competitive genre these days. I'd rank Project Diva X in my top ten favorite music games ever, but no one has yet to topple the king; PaRappa the Rapper is still the funky flowing top dog of the genre.
Despite some minor issues, 'Hatsune Miku: Project DIVA X' is a lovingly produced, beautiful, and extremely fun rhythm game that stands as possibly the best on both PS4 and Vita so far. For those who haven't experienced the series before, there's no better time to jump in, and for those who have, this is one of the most refined takes on the formula to date.
Miku has never looked better in her jump to PlayStation 4, with Project DIVA X delivering an array of show-stopping songs and performances that make her latest outing her best to date.
I've been having a ton of fun playing the game for this Hatsune Miku: Project Diva X review, and I'll keep going strong for a while.
Despite the lackluster modes, a slow start to seasoned fans, and one-dimensional story, Hatsune Miku: Project DIVA X is likely the best rhythm game you can find on current generation consoles thanks to the great music and tight control scheme. Whether you are a longtime fan, or someone thinking about broadening their horizons,Project DIVA X should be on your shortlist of games out this Fall.
The long-running Project Diva formula gets a welcome freshening up in Hatsune Miku: Project Diva X. While a good-but-not-great soundtrack and a few misguided decisions keep it from reaching its full potential, this is probably the best chapter gameplay-wise we've received in the West yet.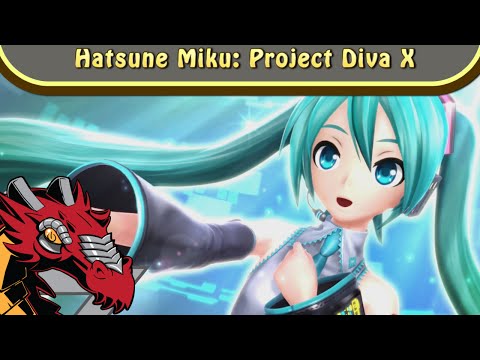 Project Diva X is another great entry in the franchise where it's easy to pick up and play but harder difficulties will certainly test your limits. It's a fun and cutesy experience that's just full of energy.
Project Diva X is by far the best game in the series so far. It improves the visuals, customisation, music selection and even the performances. It's hard to recommend previous games over this one, but it's not perfect, and the weak story mode that's been added is hard to ignore. If you do manage to overlook it, you're in for an addictive and endlessly replayable rhythm game that hits a high note for the Project Diva series.
The Game Fanatics
8 / 10.0
This is one of those moments where style outweighs content. While there's not a whole lot of variety, the game shines on its positives. Even for the people that have no idea who Hatsune Miku is or what Vocaloid even means, Hatsune Miku: Project Diva X is definitely worth a play. It certainly converted me.
Hatsune Miku: Project Diva X is a strangely catchy, thoroughly Japanese rhythm game that's a blast to play, even if you don't quite understand what a vocaloid is.
Project DIVA X might be a very different beast from its predecessors, but it ends up feeling like a step down in quality. It's still a great rhythm game worth playing, but newcomers to the series might want to play Project DIVA F 2nd instead for that game's more substantial content and feature set.
Japanese and Korean rhythm games are a very niche genre in the western market, and it's obvious that Project DIVA X won't be for everyone. Still, if you can find simple joy in assembling a three-piece idol girl group (you can include the boys too, but magical girl groups are just fabulous), and perfecting their outfit coordination so they look absolutely gorgeous onstage, you're going to get a lot of enjoyment out of this game.
Fans of catchy music, arcade-based rhythm gameplay, or even good games should give Project DIVA X a go. This is one of those titles that will stick with you, in more ways than one. After all, how can you resist the siren call of a VOCALOID?
Level Down Games
80 / 100
Hatsune Miku: Project Diva X is certainly not for everyone. Those that cannot stand the idol culture in Japan probably won't find much enjoyment out of this, even if they are a fan of rhythm games. However, those that greatly enjoy rhythm games, and can look past the cutesy nature of what's there (or those that are truly in to that culture) will find a very enjoyable game here. And if you walk in to this with an open mind and an open heart, you may just find yourself falling in love with what Hatsune Miku has to offer.
Hatsune Miku: Project Diva X is definitively the finest music game on PlayStation 4. It boasts a ton of replay value, and the mechanics are in a league of their own. Trying to better your own high scores can become incredibly addictive, and you could sink hours into the game without even realising it. If you know that you hate J-pop then this game won't be for you any more than a great football game like FIFA 15 would be for someone that hates sports. But if you're willing to take a chance on Hatsune Miku and her sugary sweet brand of pop, then you'll find an incredibly well-crafted rhythm game that is welcoming to new players while providing just enough of a challenge for veterans of the genre.
Your enjoyment of Hatsune Miku: Project Diva X depends on a few things. If you're looking for a great rhythm game for the PS4, this is it. It has been a while since we've seen a rhythm game that doesn't need peripherals, and this title is loads of fun, especially if you're into the music. If you're a Miku fan, this is still fine if you can live with the absence of modes from prior games. For those players, they might want to look into importing Future Tone instead if they can't wait any longer to see whether Sega releases that one stateside.
Hatsune Miku: Project Diva X is another fine handheld entry into the rhythm game series, but in the end I was left wanting more. Still, genre fans can't go wrong with it.
Less bang for your buck is the best way to describe Hatsune Miku: Project Diva X. You've got a truncated songlist that has to be milked for modules, giving this series a grind game that it never needed to have. It's still got some great music and the presentation is as excellent as ever, but it still feels like we've been shortchanged somehow.
While it isn't without fault, Hatsune Miku's western PlayStation 4 debut is addictive, compelling, and plenty of fun.
All in all, Hatsune Miku: Project Diva X is a little bit of a downgrade from past Diva titles, but the core gameplay is still as great as ever. If you're a fan of rhythm games, definitely give this a go
Reno Gazette-Journal
4 / 5.0
Hatsune Miku: Project Diva X is a meaty entry in the rhythm genre featuring bright visuals, catchy songs and plenty of stuff to collect for obsessive-compulsive gamers. The game is a bit grindy and can be intimidating to newcomers. Track selection also can feel limited when compared to certain Hatsune Miku titles. Still, it's a cute, fun and mechanically solid idol-based rhythm game that you can enjoy without feeling like a creep, especially if you're a dude who's starting to get up there in age like I am.
As I've said in the past, if you're a rhythm game fan, you'd be doing yourself a great disservice in passing this game up. While it's not the best entry I've played in the series, it's a very solid release nonetheless.
PlayStation LifeStyle
7.5 / 10.0
Hatsune Miku: Project DIVA X may start off too simple for returning players, but it opens up into a fun, yet familiar, rhythm game. The action is highly enjoyable, even if I was just frantically pressing butons, and I even found myself getting into some of the periphery features. It may not reinvent the series, but it's yet another solid entry.
New Game Network
72 / 100
Hatsune Miku: Project DIVA X boasts a nice graphical upgrade, some good tracks, and the same solid gameplay as previous games, but some awkward changes in progression cause it to stumble in its overall execution.
Hatsune Miku games always excel thanks to their libraries of great musical tracks.
A solid entry in the series, but takes several steps back that are bound to alienate long-term fans of the series, and quickly put off anyone who isn't already a devout Miku convert.
Hatsune Miku Project Diva X is a complete retooling of a series that didn't need it, hobbled by a sub-par tracklist and an overall lack of substantial content.
It is such a shame to have to say this about a Hatsune Miku game, because there has been little to fault in previous entries, but Project Diva X is a shocking let-down on many levels. The biggest disappointment is not just how few songs there are, but just how boring they are musically and video-wise. The predicament is that the chances of localising what looks to be one of the most superior titles in the series in Project Diva Future Tone may rest upon sales of Project Diva X—a game that is starved of quality content and introduces ideas that are no improvement on the previously-sound format. Fingers crossed the lengthy localisation process for Future Tone is underway, because it's the game Hatsune Miku fans need after this limp performance.
The Outerhaven Productions
Hatsune Miku: Project Diva X seems to miss the mark in too many ways, in my opinion, for new players to even get into the series. Long-standing fans will love this game, most assuredly, but that's not saying much towards the negative takeaways from this game for new people.