Percentile Rank
7 Days to Die is ranked in the 2nd percentile of games scored on OpenCritic.
Rating Summary
Based on 32 critic reviews
OpenCritic Rating
Based on 32 critic reviews
Score Distribution
Unscored Reviews
For a game to release at retail (no matter the cost) looking like this, performing like this, um, everything like this, it just really feels to me like they needed to make a quick buck. I'm sure it's working. I just wish it didn't happen like this.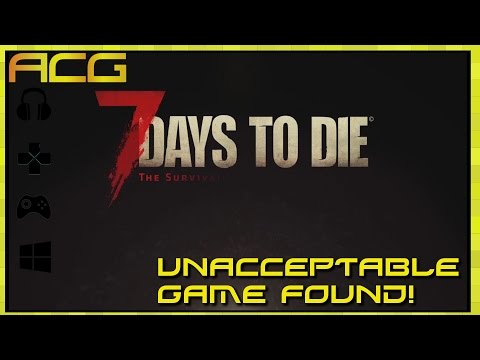 Scored Reviews
Ultimately, 7 Days to Die emits an incredible amount of potential, but could still be vastly improved all around. However, the countless recipes and environments mold quite the inventive experience.
I simply cannot fully recommend the game in its current state. This 7 Days to Die review has shown you that The Fun Pimps has a great title that will sell great on consoles once it is in a proper finished state. If you are comfortable with buying an unfinished title that lacks the polish you'd expect from a final release, then by all means buy it.
A unique zombie survival game that offers multiple ways to play (and die).
It's not a game that takes commitment, yet people can also spend a lot of time in the world surviving, building, and just having some co-op fun. It has plenty of content to experience even though it lacks any sort of story or cohesive quests. It's literally about surviving in the undead world, alone or with friends, rough spots and all, and the fun factor is what you make of it.
7 Days to Die features a very interesting mix of role playing games and survival games mechanics, with customization possibilities and multiplayer features deepening the experience considerably. Sadly, everything is damaged by the horrible interface and menu system, a sub-par presentation, some serious technical issues and a general lack of focus. The "make as you go" type of experience offered by 7 Days to Die is definitely intriguing, but when you're fighting the menus more than the undead, something must have gone terribly wrong along the way.
A frustrating and flawed experience that could have been great. It will be interesting to see how the game is updated and whether the developer's can capitalise on the potential that 7 Days To Die offers, but unfortunately doesn't deliver on.
There's a hint of a good game in 7 Days to Die's mix of zombie attack preparedness and crafting and cooperative stands against zombies, and it has valuable ideas to contribute to the genre. In fact, you can almost hear them screaming to escape from beneath terrible graphics, barely useable menu controls, and shoddy console optimization. This is an apocalypse amongst apocalypses.
7 Days to Die is arguably one of the worst looking games I've seen in 2016.
An ambitious game that just doesn't feel good enough even for a low budget title.
7 Days to Die had the potential to be something impressive but with frequent glitches and game freezes it falls well short of being the game it could so easily be.
A super-deep zombie survival crafting simulator ruined by a sub-par PC-to-console port effort, resulting in endless bugs and glitches and an ugly game which struggles to run competently.
7 Days to Die has little in the way of a failstate, meaning that your one task to survive often feels a little redundant
Right now, 7 Days To Die is an extremely shoddy release on the PS4. Hardcore fans who love crafting and survival games may find a potential time sink here, but I find it hard to recommend this title to anyone else just looking for a game to occupy themselves with during this summer drought. Don't Starve is available on PS4. Try that one instead.
7 Days to Die has resulted in an infamous port from the PC game. It still features some good ideas like crafting or the combat system, but the technical aspect is full of bugs and graphic issues.
Review in Spanish | Read full review
7 Days to Die has a compelling premise, but it withers within minutes. The gameplay here is fundamentally not fun, and having to deal with technical issues every few seconds becomes extremely grating. The multiplayer injects a little entertainment, if only because you'll be observing the release's shoddiness with others. In all, this is a bit of a rotter.
When buddied up with three fellow survivors, there's certainly some fun to be had. However, these moments will usually stem from the hilarious situations you'll find yourselves in, enhanced by the game's dumb raft of bugs and glitches.
I have not played '7 Days to Die' on Steam and I am struggling to understand why people would choose this over some of the really excellent survival games out there. Maybe on PC it's really great. On the Xbox One it is not.
My fear is that the situation won't improve fast enough, assuming it ever really does get better down the road. Despite its rough edges, the PC version has been successful for years now, and I have to imagine 7 Days to Die will also do well on consoles where competition among these types of sandbox survival experiences isn't so fierce. With that in mind, it's disappointing to see this sold on Xbox One and PS4 (with a retail release!) as if it is completed game. It clearly is not. After some substantial updates, I'd potentially want to give it another chance, but as is I wouldn't want to spend another minute with it.
After having to commit myself to going through the unfortunate things 7 Days to Die offers, I looked up more to see why it was in this seemingly unfinished state. Turns out, the developers who ported this also worked on the PC version of Arkham Knight. If this really is the case, I'm surprised there isn't more controversial traction about refunds or store removals. 7 Days to Die simply does everything wrong in nearly every way.
Kinglink Reviews
1.5 / 5.0
A very poor game, not just something I dislike, but something I hate. If you must play a scavenging game with zombies and base building go for it, otherwise skip it.
7 Days to Die, is as disappointing as it is unfinished. And just like its PC counterpart, the PlayStation 4 version of this particular title should still be labeled as alpha, rather than a finished product.
7 Days To Die has a compelling premise and concept that slowly disappears as players begin to play more and more of it.
7 Days to Die is awful. I'd imagine this is how the PC release initially played back in 2013 as part of Steam Early Access; I'm utterly confused as to why there's no polish at all on this new console release. There's no excuse for such a flimsy mess, and I'm quite surprised Telltale Games would permit its name to be associated with such tripe. Avoid the game at all costs.
Considering it's half broken and patently unfinished this doesn't deserve to be called a video game at all, just an unpromising work in progress.
I am absolutely staggered that Telltale have put their name to this game, as releasing this under the guise of it being a finished product is disgusting. I don't follow too much in terms of the Steam Greenlight/Early Access scene, and genuinely didn't know that this was an unfinished product. It's being released at a 'budget' price of £30, with "DLC Packs" included. Here's a tip, guys. If you want to hock DLC for a game, make sure it's finished before you let it dribble out onto consoles. There was a point where every man and his dog was making a PC game trying to capture some of the DayZ market, and this feels like a rushed hangover of that time. In time, this could change. However, 7 Days to Die is being released and marketed as a completed game on consoles, and we are reviewing it as such. It is a buggy, glitch-ridden mess of a game, which looks like an A-Level project and has less atmosphere than the moon. The fact that it's being released and pushed in this state is, quite simply, unforgivable.
7 Days To Die is a retail release of an alpha build of an Early Access game, and a downright scummy thing for Telltale to market as a finished product.
Gamerheadquarters
1.5 / 10.0
7 Days to Die is a horrible game that should be skipped, hidden and locked away forever.
I played some boring and awful games on Xbox One but 7 Days to Die beats them all, I don't understand that the developer didn't bring this game for Xbox Preview. They are simply selling an unfinished alpha game. AVOID.
7 Days To Die is an extremely poor game. The game suffers from poor visuals and poor controls and the game also has frame-rate issues and glitches. Avoid at all costs.