Percentile Rank
BATMAN - The Telltale Series - Episode 1: Realm of Shadows is ranked in the 63rd percentile of games scored on OpenCritic.
Rating Summary
Based on 99 critic reviews
OpenCritic Rating
Based on 99 critic reviews
Score Distribution
Unscored Reviews
Even with the annoying performance issues, I still feel like this is a solid first entry for our hero and this new Telltale universe.
Telltale's Batman slowly transforms its routine story into a promising mystery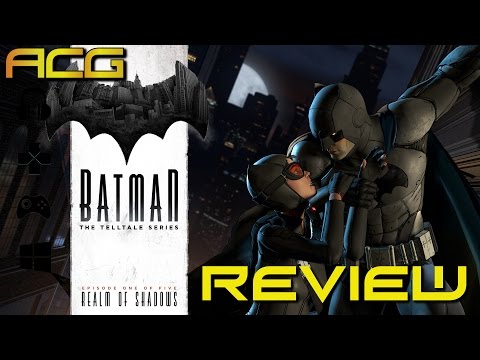 Rock, Paper, Shotgun
Unscored
I should not feel bored in a Batman game, but bored is what I felt for most of it.
The first entry in Bruce Wayne's tale is not a bad one. I enjoyed the setup, and hope the rest of the series delivers on that payoff. I just wonder how long between episodes I will have to wait to figure out if this Batman story is worth the price of admission.
Birth. Movies. Death.
Unscored
Batman's first episode ends on an exciting and intriguing cliffhanger, promising a story that feels genuinely new for the franchise.
For now? It's a good start. I'm not hooked like the first season of The Walking Dead or Wolf Among Us, but it's looking like more of a slow burn with a lot of potential. Telltale sets up a lot of plot threads in this first episode, and it's actually pretty impressive how many bit players they've introduced in just an hour and a half.
Episode 1 of Batman: The TellTale Series is well worth your time if you're a Batman fan, and can act as a great way to introduce people to the character as well. Tweaking some of Batman's traditional mythos and focusing more on Bruce Wayne makes the character more accessible to both new and old fans.
Scored Reviews
Gamerheadquarters
10 / 10.0
Batman: The Telltale Series is truly Telltale at their finest providing a perfect imaging of this iconic caped crusader.
Batman: The Telltale Series Episode 1: Realm of Shadows does a great job in getting the series off to a tremendous start. Telltale Games has proven it can handle known properties by creating stellar sound and music in addition to their unique vision. As always, story driven games require a great story and the developer definitely did not disappoint in this department. My only concern is that the quality and depth of the overall experience would somehow recede in future episodes. Nevertheless, the future looks bright until proven otherwise.
Entertainment Buddha
95 / 100
Telltale's first Batman episode is a gem and offers up a great narrative for the characters of Bruce Wayne and the Batman, but a few technical miscues such as poor framerate performance and stiff character animations keep it from being a perfect experience.
The first episode of Batman: The TellTale Series serves as a riveting start to what could be the best Bruce Wayne story ever told.
Batman: The Telltale Series – Episode 1: Realm of Shadows offers a tantalizing taste of the new paths this series might forge for its legendary comic book hero. It's got everything you'd expect from a game about the Caped Crusader... plus plenty of things you wouldn't.
Batman: The Telltale Series: Episode One was the perfect start for Telltale's latest franchise quest. The combat was slick, the storytelling was as per usual second-to-none, and the investigation moments helped to keep the gameplay varied.
There's plenty to look forward to with Batman - The Telltale Series and fans of the studio, and especially fans of the character, can rightfully get excited for the next few months ahead. Under the cowl, and just as often not, "Episode One: Realm of Shadows" is a worthy introduction to comics' greatest hero.
It's easy to say that Batman: The Telltale Series Episode 1 – Realm of Shadows is one of Telltale's best first episodes yet
Batman: The Telltale Series offers up the true Dark Knight experience, letting players make tough choices and gather clues as both Batman and Bruce Wayne.
Without playing all the franchises in Telltale Games' catalog, I can't say whether Batman is their best work – but I can tell you that it is masterly crafted for both fans and casuals alike, and Episode one had me hooked to the point to where I couldn't put it down.
This game is as much about the man behind the mask and the problems that Bruce Wayne faces, as it is taking on crime bosses, meeting familiar faces in new and interesting ways, and unravelling mysteries. Telltale's Batman series is off to a great start, giving us a fresh view into the character that goes well beyond beating up criminals in alleyways.
Batman is a superb game in the point and click style. The overall narrative and Bruce Wayne driven interactions in Episode 1 really pull you behind the cowl and are a unique take on a fan favorite. The art style sells the whole thing and the majority of vocal performances add a strong sense of life to what's happening. The heavy use of QTE does feature in the replayability score as it severely limits the possibilities in combat situations. Batman or Telltale fans should get their money's worth at the current price for the full series. I rated this review as I did, due to episode 1 currently being free. You can't beat that. And it should give players a great idea on whether the rest of the game is worth it for them.
Realm of Shadows is a great first episode in what is sure to be some of Telltale's finest work. The presentation is both familiar and unique, with a strong comic book vibe that takes clear inspiration from Nolan's trilogy (particularly in the music department). If you're a fan of Telltale's previous work, you'll find plenty to enjoy in their latest offering.
Damn you Telltale games... now I have to wait for episode 2 before I can don the cape and cowl again...
Pure Playstation
8.5 / 10.0
The first episode of Batman: The Telltale Series sets a foundation that gives Bruce Wayne the same narrative importance as Batman. The game allows the player a lot of choice throughout the episode to determine how both characters will respond to the world and shape it through those responses.The new engine, the voice acting, music, and sound breathe life into a two dimensional Gotham. The graphics are definitely the best Telltale has ever produced, but there was a slight, but noticeable, judder in a couple areas. The story and dialogue are very good. This is only the first episode, but it promises great potential for future episodes.
Overall, Telltale's Batman Episode 1 is one of the best and most complete experiences to be found in one episode of a Telltale game. The episode is directed expertly and pacing is very well executed; you'll have time to experience all of the multi-faceted lives of Bruce Wayne but you're also introduced to a wide array of classic characters without feeling overwhelmed. You get the eery sense that something is brewing in Gotham City and I can't wait to find out what it is in the episodes to come.
Telltale's take on the Caped Crusader has a confident storyline that captures the essence of the iconic world well, and establishes an intriguing tale for future installments to expand upon.
Real Game Media
8.5 / 10.0
Another great series from a veteran player in the story-driven narratives, Telltale Games treated Batman with respect by presenting the duality Bruce Wayne/Batman in a way that I never experienced before. It is highly enjoyable, and I can't wait for the second episode
Telltale's first Batman episode is marred by technical issues, but the writing, gameplay and presentation are superb as always. Maybe hold off for a couple weeks while it gets patched, but after that, Batman fans should definitely take the plunge.
The prospects of taking on a character with such a varied and diverse range of work like Batman is surely one that is daunt: how do you take a hero like Batman and make him feel new again? For the large part, Telltale Games' Batman series finds more of a middle-ground (much like the studio's games) between the old and the new for the Dark Knight. With engine improvements and the episodic gameplay we've come to know from Telltale Games, Batman provides a vision of Gotham and the Caped Crusader that's at once familiar and unexpected (with some big twists I didn't see coming), and shows that new stories with the Dark Knight of Gotham don't have to be relegated to the shadows.
This first episode of their Batman story is full of Bruce Wayne than Batman. Surely, it makes the others think that it wouldn't be wise to have more Batman gameplay as it's not an action-button smashing game, but I'd rather look to into a point of view where Bruce Wayne has started his journey as the Dark Knight and the origins of his arch-enemies. It's a great episode to start, Realm of Shadows shows the potential of Telltale's Batman story and surely the next episode is something we don't want to miss.
The Game Fanatics
8.5 / 10.0
Bolstered by a supped up engine, Batman: The Telltale Series' first episode, "Realm of Shadows," is their strongest opening episode in years, and the most engaging take on the Caped Crusader in recent superhero adaptation history.
Batman: The Telltale Series is a captivating adventure game that highlights a different side of Batman. The new take on the Caped Crusader is much welcomed as Telltale's original story makes its impressive debut in the first episode titled "Realm of Shadows".
Batman – The Telltale Series is a fun game and a great take on the Batman IP. I suggest everyone give it a look, casual and hardcore Batman fans alike.
Chalgyr's Game Room
8.3 / 10.0
Batman: The Telltale Series - Episode 1: Realm of Shadows allayed any concerns I had about how a character usually shown in video games as an action-packed superhero would be handled in a more story-driven format. I am happy to report that it was handled quite well overall, due in large part to a solid presentation (the visuals fit the comic book source material far better than they do The Walking Dead) and excellent voice acting (led by veterans Troy Baker and Laura Bailey), some new gameplay mechanics and a story that I am invested in.
I certainly like playing Batman: The Telltale Series for my Batman: Realm of Shadows review. I look forward to seeing what Telltale Games does with the rest of the series, because if it's as solid as the first episode, I definitely want a second season to be approved as soon as possible!
Episode 1 sets us up for one hell of a good season and I can't wait to see what happens in Episode 2.
While there were a couple key choices throughout the episode, the game played mostly like an overarching story with different dialogue options. With what appears like 4 more episodes, we have yet to see any real game changing plot options but I still think there is plenty of time and this was an incredible start. What it truly needed was more of that friggin Batmobile. Seriously, How cool was the Batmobile Lambo? The thing friggin went from Red to Black with camouflage tech then Armored up while also opening the back for jets. LAMBO BATMOBILE GG Telltale. Click HERE to see the GIF
In typical Telltale fashion, you're delivered a fiendishly teasing twist at the end that already has me speculating about where the series can go in episode two. But the good thing is that this will not be a series where the crook just gets away at the last second. Rather than be a series where Batman always feels a step behind an ever-elusive bad guy, Telltale has instead opted to have new and intriguing foes to take on with each episode. A consistent political undercurrent tied to Bruce's backstory, and how his parents weren't all they seemed, adds further intrigue to the plot that I can't wait to explore in episode two.
The first foray into the world of Telltale Games Batman is full of mystery, intrigue and a hard edged adult portrayal of the world. Its technical issues bring the experience down, however, this first entry its the ground running with an interesting story and gives a first episode that not only is gripping but also left me salivating for more.
Telltale begins breaking down Bruce Wayne with a strong first episode.
Telltale and Batman fans are well catered for in Batman: A Telltale Series' first episode, with a hefty dose of action and intrigue to set things up for the rest of the ensuing saga. We can't wait for more.
Batman: The Telltale Series is still packed, like any of the developer's games, with conversational social roleplay choices. This episode alone asks you to give a press conference and multiple speeches. And though the game begins with kicking butt as Batman, the front half of "Realm of Shadows" does drag a little.
Technical issues aside, I really enjoyed the first episode of Batman. I think what they're doing with both the Batman and Bruce Wayne sections of the game are engaging, and I like the new mechanics that were added for the Batman sections.
While still enjoyable, as the credits were rolling, I still wanted a little more. Thankfully, Telltale is already hard at work on Episode 2, which should be coming next month.
Telltale wastes no time in establishing its Batman and the surprising thing is the studio is spending an equal amount of time on Bruce Wayne. The elements are familiar, but the focus is rarely this evenly split. An strong premise, sold takes on familiar characters, and great fight scenes bring this first episode to a strong conclusion. Looking forward to see what's next.
Batman: The Telltale Series may stumble a bit in the opening act, but it quickly hits a comfortable stride with a promising first episode as Bruce Wayne steps out of the shadows.
A fine start then to Telltale's Batman, let's hope the developer builds on it.
Telltale's take on Batman is fresh, and shows a side of Bruce Wayne most games shy away from, and that's enough to make it interesting as we head into the rest of the season.
The Outerhaven Productions
Telltale really knocked it out of the park on this one. I really hope that the rest of the season provides the same, refreshing look at Gotham that "Realm of Shadows" provided. They have introduced lots of interesting characters, and I am really excited to see where they take them all. Keep an eye out for episode 2, "Children of Arkham" releasing in September!!
The production values of the game are excellent with character models and environments rendered in great detail.
I would be remiss not to mention just how gorgeous this all looks. Tales from the Borderlands was a colorful delight, but the challenge here, to use mostly blues and greys, seems doubly impressive. A simple setting like a PR event in the park can feel lovely hosted by Harvey Dent and is both serene and ominous. This is the best first episode since Borderlands for Telltale Games. I can't wait to see where Batman: The Telltale Series goes next.
There's plenty of mystery and betrayal and a good, fun, and fairly brisk story that will leave you wanting more—even if the end isn't really a massive cliff-hanger or anything (like some Telltale episodes are.)
The Bruce Wayne heavy story is going to turn some people off, but this is a rather unique and interesting take on Batman and it features the most gameplay that Telltale has offered yet. A great first episode that has me interested in the rest of the series.
It wouldn't be Batman without taking control of some of those wonderful gadgets in the caped crusaders utility belt.
Around an hour and a half to two hours long, Realm of Shadows is quality vs quantity all around. Besides for some really obvious foreshadowing, minor technical gripes, and uneventful decision making, I'm really looking forward to how Telltale expands this universe, for the better or for worse.
This tale premiers with a complex and intriguing story that's chock full of cinematic panache.
While the narrative is getting a juicy setup, the dialogue is altogether more whiffy, full of 'sometimes you need a monster' naval-gazing from pretty much everyone.
If Episode One is just setting the stage, I can't wait to see what the next four will bring. A must-play for Batman fans.
For the first time Telltale Games have ventured into the world of DC Comics with their adaptation of the Batman universe. But will this game offer something new or have we seen it all before?
It will be a hard wait. The cliffhanger that Realm of Shadows ended on frustrated me for a good few hours, the game's narrative clearly sinking its hooks into me. For the first time in a Batman game, I feel like I know the person behind the mask, and while I can't wait to don the cape again, it's the mortal underneath whose future I'm more intrigued to see.
One amazing, well rounded package, a very promising story and an excellent technical performance with a "seen-before, yet proven" gameplay. Telltale games are played for their stories and atmosphere anyway and that's where they absolutely delivered.
A slow but solid start to the series that should please fans of the movies.
While I would've liked a little more story from Realm of Shadows, it's definitely an opening chapter that gets off on the right foot. The scripting is excellent, the voice acting equally so, and the art style beckons the older days of the Dark Knight, instead of the modern design that so many developers seem to be going for these days.
It's the third best TTG game for me thus far. It's not as polished as earlier games as we can experience mismatched dialogues and subtitles, popping textures and unremarkable, yet quite different origin story. BATMAN deserves a quick look and is a must if you are BATMAN fan.
Review in Polish | Read full review
Batman: The Telltale Series has everything you would expect from Telltale: an engaging plot, important choices and a ton of dialogues, but we want to see more of the new gadgets and the link mechanic in the next episode.
Review in Italian | Read full review
A fresh take on the Batman, and although some of the moments as Bruce Wayne can be great, the overall experience feels a little flat.
PlayStation LifeStyle
7.5 / 10.0
Batman: The Telltale Series is off to a strong, if very basic, start. It shows promise of the ability to be more than just another Batman story, though Realm of Shadows did dabble in the ultra accessible exposition more than I (or just about any other Batman fan) would have liked. The intrigue lying in the episode's cliffhanger regarding a dark Wayne family secret has me itching to find out more, but I don't feel like the series has really taken off yet. It's unusual for a season opener by Telltale to land in the mediocre category, but it seems like they are taking their time with such an iconic legend, letting us in to know the heart and hope of Bruce Wayne rather than just the fists and terror of the Batman.
Story is what you pay for, and 'Realm of Shadows' will certainly leave you in a position of wanting to see more.
An intriguing, story and dialogue driven game that gives us a new look through the mind's eye of Bruce Wayne and gives us the chance to groom The Batman into the crime fighter we want him to be. Various gameplay modes keep the game interesting and will have you begging Telltale to release the next installments sooner rather than later. Unfortunately the PC port problems hinders the enjoyment on computer.
An effective style and a good pacing. Nnot all scenes are built with the same attention, but the main character models are wonderful, and the plot seems to have a dark twitst we are eager to explore.
Review in Italian | Read full review
Telltale's Batman is an unpredictable, multi-faceted adventure told through Batman the brawler, Batman the detective, and Bruce Wayne the politician. The three almost entirely separate characters and play-styles keep the familiar Telltale formula feeling fresh and inviting. While some of the dialogue does feel overly expositional, it's hopefully only there to provide concrete padding for future episodes, and the gorgeous, high-action combat sequences and creative detective work provide the right amount of contrast.
Batman: A Telltale Games Series: Realm of Shadows is a nice setup. It's not as strong as some of Telltale's other work, but it manages to honor the legacy of the series and throw in a few curveballs to keep things interesting (thank God there's no Joker yet).
A few points of political intrigue are quickly washed away as the story adopts a greater mystery. Many of the sequences are surprising slow with little in terms of character or plot development
As it stands, Batman: The Telltale Series is off to a strong start, promising a contemporary retelling of a pop-culture icon while shedding light on his life outside the cowl. Wether it lives up to its promise remains to be seen, with all too familiar technical concerns marring an otherwise solid experience.
A slow but solid first chapter which offsets ponderous exposition with some thrilling fight scenes, and introduces much-needed new mechanics to a now familiar template.
In 'Realm of Shadows' we see the usual monolithic monument of Telltaleness, wrapped up in a cape and cowl. We also see the shadow of something different, something new. It's not ready yet, not fully formed, and could die by the end of the series or even by the second episode, but it could also bring their craft to a new level. Either way, I don't see a need to wash my hands of it just yet.
As the first episode in the series, Realm of Shadows offers a compelling start to what could be an enjoyable Batman adventure. Performance could be better - notwithstanding other issues plaguing PC gamers - and Telltale's gameplay is getting pretty old but Batman: The Telltale Series more than holds up with its story-telling, art and mechanics.
As for whether this Telltale game in particular is worth your time; considering the glut of Telltale games now, it's really only worthwhile playing the ones based on IPs you're most fond of. If you're a fan of a the Caped Crusader then step right up. If you're not, there's not much here to raise Batman above some of Telltale's other, stronger, efforts.
Batman has gotten off to a promising start and has a pretty unique premise but there is still six or seven hours left to play. However, it feels largely the same as every other Telltale game and has technical issues like most Telltale games.
Level Down Games
70 / 100
While Realm of Shadows certainly didn't hit as hard as some of the first episodes Telltale Games has done in the past, there's enough here that will leave fans wondering where the story is going and wanting to come back for more.
This is an easy recommendation to those who are fans of both Batman and Telltale, even before the next four episodes are released. Others may want to hold off, since the story is this episode's high point, future episodes will dictate the total worth of the series.
Realm of Shadows indicates that it might tell an interesting Batman story, but takes time to get there and suffers from Telltale's tired design and engine limitations.
Telltale comes back again with their same formula for Batman: The Telltale Series. This first episode is pretty dull, but ends with a promising ending that opens the door for innovation..
Review in Spanish | Read full review
Thanks to a number of issues with the PC port, Batman's adventure is off to one of the roughest starts we've seen from the developer.
Gaming Masters
6.5 / 10.0
Readers Gambit
6.5 / 10.0
When it comes to Batman, I have some unreasonably high expectations and I am highly aware of it. But I can't shake the feeling that I am not the only one let down by what Telltale has provided. On one hand they have laid the groundwork for a truly interesting and perhaps more human story that we have seen in Batman games before, but at the same time the delivery of said story doesn't quite match the potential.
Geeks Under Grace
6.3 / 10.0
Telltale Games is off to a good start with this new series. However, I do not think that the moments as Batman lend well to the genre.
Batman - The Telltale Series doesn't reinvent the wheel and it has plenty of confusing design choices, but in giving it the Telltale treatment, the studio have made a fascinating adventure game and a unique portrayal of the Dark Knight that, if the rest of the series can live up to it, might stand the test of time.
Realm of shadows is not the best game on the market, but its not bad. Buyers should be cautious about buying the game right now though, because not all of the technical issues have been fixed for everyone.
This is a Batman game where it's kind of more fun when you're not Batman
PlayStation Universe
6 / 10.0
A steadfastly solid start to Batman's Telltale series, but Bruce Wayne isn't the only one with demons to overcome. Some poor writing and acting, plus the usual slowdown and engine troubles means that this isn't a peak performance for the developer or the character, even if it does set up the rest of the series nicely.
It will be impossible for Batman aficionados to not enjoy the first episode of Batman: The Telltale Series. However, while it's a very enjoyable amalgamation of all things Batman, it doesn't manage to stand out, or be original in terms of story. More importantly, it repeats the developer's frequent mistakes; boring QTEs, and useless (although immersive) "choose the answer" dialogue sequences and all. It's a good, promising episode, but it could be so much better.
The QTEs may be very lacklustre in Batman: The Telltale Series - Episode 1: Realm of Shadows, even compared to Telltale's earlier works, and the combat scenes need work, but there's plenty of opportunities to grow after this first episode. All in all, it's a solid and promising start that establishes a world via "show, don't tell," and sets up enough plot threads to keep players interested in what comes next.
A disappointing start to what should be a potential rich concept, with an overfamiliar storyline and bland presentation.
Even ignoring the many technical issues, this isn't a particularly inspiring start to Telltale's newest series. There's plenty of time for it to improve, but I'd hold off and see how the next few episodes go before taking the plunge on the series.
When it's obsessing over the broken politics of Gotham, this alternate take on DC's most famous franchise promises plenty – but lacklustre heroics and writing inconsistencies really drag it down. There's reason to be excited by some of the fictional deviations that the developer's taking, but they're yet to manifest themselves in any meaningful way, and the overemphasis on tired series tropes will draw many a groan. It's obviously too early to determine where this story is going to go, but our biggest concern right now is that Telltale isn't entirely sure either.