Percentile Rank
Assassin's Creed Chronicles: China is ranked in the 34th percentile of games scored on OpenCritic.
Rating Summary
Based on 53 critic reviews
OpenCritic Rating
Based on 53 critic reviews
Score Distribution
Unscored Reviews
So far, Climax Studios seems to remember what Ubisoft has long since forgotten: Assassin's Creed isn't about captaining a ship or poaching animals or curating an art gallery. It's about wearing a hood and assassinating people.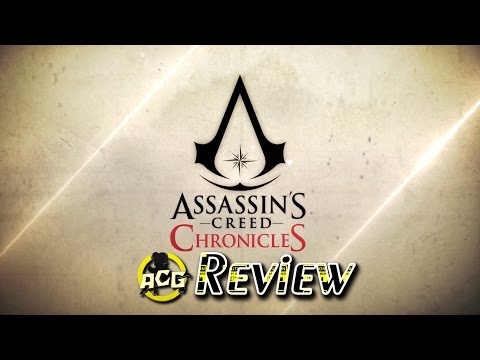 An entertaining if perosnality-light translation of Assassin's Creed from open-world 3D to linear 2D.
Scored Reviews
Simply put, this first Chronicle alone is must-buy for any fan of the Assassin's Creed series.
Geeks Under Grace
8.8 / 10.0
Assassin's Creed Chronicles: China stands out on its own as a 2.5D action-platformer side-scroller with incredible presentation and seamless gameplay. While the story is lacking, the game plays exceptionally well.
A stripped down stealth offering that reinvigorates Assassin's Creed by putting attention back on the sneaky stuff.
A refreshing take on the extended fiction of the series, and the most stealthy to date.
A joy to play for any fan of stealth and secret stabbing, Assassin's Creed Chronicles: China is nuanced and immersive in a gorgeous setting. If you loved Mark of the Ninja, you really shouldn't miss out on this one.
Despite its issues, Assassin's Creed Chronicles: China is one of the most entertaining experiences I've had from the series in a while.
'Assassin's Creed Chronicles: China' is a mixture of classic 'Assassin's Creed' gameplay, the stealthy 2D success of 'Mark of the Ninja', and sharp art design. It's rather short, but also rather cheap, and has more replayability than most games in this category. It's probably the most fun I've had playing an Assassin's Creed since 'Black Flag'.
As someone who has admittedly grown a bit tired with the Assassin's Creed series, I found Assassin's Creed Chronicles: China to be an invigorating breath of fresh air. The minor quibbles I had while playing it weren't enough to ruin what is, to me, an expertly-crafted side-scrolling adventure.
Assassin's Creed Chronicles: China is a refreshing entry in the series. Shao Jun's story is interesting but the chance to see the Templar vs. Assassins conflict in a new historical setting is even better. Unfortunately, the emphasis on stealth and some of the tough stages in terms of enemy patterns and behavior force players into a trial and error approach.
The plot is also sadly quite predictable - certainly not living up to the superb presentation of the game. Still, at its budget price of just €10/$10/£8, this is a recommended purchase for both newcomers and veterans of the series.
The Jimquisition
7.5 / 10.0
Retaining the flavor of core Assassin's games without the stodginess and content padding that undermines them, China is – in my humble opinion, of course – a superior Assassin's Creed production. It's clear that China took the best bits of its larger siblings and added its own flavor – I feel the big budget work of Ubisoft Montpelier would be served well by returning the gesture.
If the other two Chronicles games can build on this start then Ubisoft and Climax Games could show that just as with Child of Light and Valiant Hearts it's possible to make a smaller, superior experience.
Chronicles: China is the smartest twist on the Assassin's Creed formula yet
This spin-off starts strong, yet loses steam the further you progress
And yet despite those two criticisms, here is a game that I played through in a couple of long sessions of play, and typically my patience with 2D platforms is very, very limited. I could have done with a stronger and more robust narrative, and I would have loved to get to know Shao better, but where I generally tolerate the gameplay of an Assassin's Creed game because I find the world and history so inviting, this time around the reverse is true, and I rather like that.
PlayStation Universe
7 / 10.0
Assassin's Creed Chronicles: China is a decent stab---no pun intended---at bringing the series to a 2.5D realm, though it's sadly let down by poor level design and dull combat.
Assassin's Creed Chronicles: China is a decent change of pace for the franchise. The goals are more focused and deliver some great stealth gameplay across the approximately five hours it takes to complete. With all the open world distractions stripped away I felt like I was playing a proper assassin-based title, with the only focus being to take out the target. The issues with the combat, as well as a story that feels shallow, combined with lackluster delivery, detract from the overall experience.
Assassin's Creed Chronices: China is a nice change of pace for the series, and a great way to spend $10. I had a great time with the experience, and am on board for the next two whenever they release. If you like bite-sized stealth adventures like Mark of the Ninja, this is definitely one to check out.
Assassin's Creed Chronicles: China has the makings of a good 2D Prince of Persia re-awakening, but it lacks a lot of character both aesthetically and mechanically. Still, there's very little actually wrong with it if you're looking for another platformer to add to your pile. Hopefully future iterations of the Chronicles subseries can build upon the foundation that China has provided.
Assassin's Creed Chronicles: China is a fun and enjoyable game that does the franchise justice while taking it into another genre. There are some truly fantastic ideas here, some super-smooth parkour, brain-tingling puzzle challenges and occasional flashes of brilliance when it's time to get down and dirty in combat. Some ideas haven't been explored as thoroughly as we'd have liked, and there are a few rough spots, though. We're looking forward to the next installment.
In the end, Assassin's Creed Chronicles: China takes a bold new step for the franchise. While I did have fun, I spent most of the game frustrated by buggy controls and A.I. that seemed to forget what its limitations were.
Assassins Creed Chronicles: China does an impressive job of taking the lore and core mechanics of the series and making them work in a 2D game. It's slick, fast-paced and entertaining, with some beautiful stylised art, and all it lacks is a little magic to turn it from a good spin-off into a great one.
New Game Network
69 / 100
It is nice, refreshing even, to see Assassin's Creed doing something a little different from the norm. But the differences are only skin deep. Much of ACC: China is routine and unpolished, failing to capitalize on an opportunity to stand out from the rest of the series.
However, the game's main problem is that it's just rather dull overall. Perhaps it's the push to avoid enemy contact or the lackluster sound design or the droning music, but Assassin's Creed Chronicles: China never really comes to life. It's a different take on side-scrolling gameplay, but the added depth doesn't save it from feeling flat.
I suggest waiting until more of these Chronicles titles have been released to see how well they end up fairing as a whole. They might be worth it in the end, but for right now? Only if you're wanting a few hours of meaningless stealth action in your life.
It's always somewhat tacky to compare products, but it's warranted when so very much is borrowed. This game is a bit of a knockoff of the superior Mark of the Ninja. Mark has a better story, less frustrating mechanics, and guards that are slightly less lobotomized than these dolts. If you've beaten Mark and want another crack at a decent sidescroller, Chronicles China should fit that bill, but let's hope they bring some new concepts to the table for the next two outings.
Cramming many of Assassin's Creed's calling cards into ACC: China's diminutive 2.5D frame, while amping up the importance of stealth, is impressive. But too much of the game is flat and uninspired. There's the barest bones of a great game here. Let's hope one of the sequels expands on that promise.
Assassin's Creed Chronicles: China does a lot of the hard stuff well, but can't convey the rush of being an assassin.
Though it sheds many of the series' best elements, Assassin's Creed Chronicles: China has its own charm, and is worth a play for those in search of a simple stealth experience.
Assassins Creed Chronicles: China offers some solid building blocks for this spin-off series, including beautiful art and decent stealth gameplay. The poor combat and sad attempt at storytelling, however, both leave far too much to be desired.
Assassin's Creed Chronicles: China feels like an Assassin's Creed game without the sense of adventure and scope, and a Prince of Persia game without the cool platforming and exciting combat.
This side-scrolling spinoff of the famous series is a striking, well-executed game, but it could have been a lot more.
As a 2D interpretation of Assassin's Creed this works perfectly well, but the workmanlike design and bland atmosphere makes it hard to get excited about.
Without a better story, and the game ending before you can really ever test your mettle, Assassin's Creed Chronicles feels lackluster.
It is the most sumptuous and stealth-focused Assassin's Creed yet, but Chronicles: China doesn't assemble its pieces into a gratifying whole.
Assassin's Creed Chronicles: China isn't terrible in any particular way. It is, from top to bottom, entirely middle of the road standard at best and its main attraction is the cheap selling price for a few hours of side-scrolling action.
Assassin's Creed Chronicles: China could definitely be a better game, and it's definitely setup all the foundations of one.
Assassins Creed Chronicles: China sees a massive departure from the core gameplay of the franchise, and while it is refreshing to see the game take some risks it never really finds its own identity.
'Assassin's Creed Chronicles: China' features a unique art style and fun level design, but the stealth-focused gameplay starts to wear thin after a while.
Assassin's Creed Chronicles: China is sadly a bit of a let down. Gorgeous to look at, fiddly to control and a tad dull to experience, this is yet another AC iteration that falls flat. A bold idea, poorly executed.
At this point, unless you're an Assassin's Creed diehard, this offering is difficult to recommend in the face of the competition.
I don't fault Ubisoft for trying something different with its acclaimed Assassin's Creed franchise, and in some respects there's a lot to like. However when the game stumbles it does so in grand fashion, creating an infuriating experience that makes me want to throw my controller more than continue on my quest.
Assassin's Creed Chronicles: China is an absolutely solid spin-off in almost every way. Traversal is fluid and fun, combat is enjoyably simple, and the level design is often lovingly crafted, but it never comes close to stepping out of its comfort zone and trying something remotely memorable. Even outside of Ubisoft's main series, the confining walls of Assassin's Creed remain recognisable and reliable, but they're in increasingly desperate need of a new lick of paint.
Assassin's Creed Chronicles: China features some great stealth gameplay reminiscent of Klei Entertainment's Mark of the Ninja. Unfortunately, the mechanics lack more depth and grow tired by time you reach the end of your quest. Ubisoft also misses the opportunity to tell a bigger story. Worth playing, but Shao Jun deserves better.
Assassin's Creed Chronicles: China doesn't look like an outcast, but its tedious and bland gameplay make it the ugly duckling of the Assassin's Creed franchise. That's not to say that it's a bad or awful game; it's simply boring and forgettable, despite featuring decent mechanics and great presentation values.
Assassin's Creed Chronicles: China is a wonderful setting for a competent, but fairly unimaginative, 2.5D stealth title. Hopefully this won't be Shao Jun's final appearance.
PlayStation LifeStyle
5 / 10.0
That is kind of the way Assassin's Creed Chronicles: China feels like in general — it starts out okay, but soon becomes dull fairly quickly thanks to a lackluster plot and uninspired gameplay. While there is a lot to explore, especially considering the $10 price tag, the poor enemy AI and almost useless gadgets probably won't have you staying in the game's visually beautiful world for long. Unless you are the world's biggest Assassin's Creed fan, you should probably think long and hard before giving this a go.
Still, I think of how The Devil Inside essentially is a film with no third act. By the same token, ACC: China never really lets the itself soar. Everything feels deliberately muted. And that leads Assassin's Creed Chronicles: China being ultimately just as forgettable as The Devil Inside.