Percentile Rank
Driveclub VR is ranked in the 34th percentile of games scored on OpenCritic.
Rating Summary
Based on 26 critic reviews
OpenCritic Rating
Based on 26 critic reviews
Score Distribution
Unscored Reviews
Eurogamer
No Recommendation / Blank
No Recommendation / Blank
Oct 13, 2016
Evolution Studio's great game is stripped back for this VR standalone, losing more than it gains in the process.
It makes me extremely nauseated within a minute every time I jam it – to the point that I'm yet to finish a race.
Scored Reviews
In spite of the immediately obvious drop in graphical fidelity, Driveclub VR has a great sense of immersion that can only be achieved with VR, and the PlayStation VR headset produces an experience that I don't think I've ever had from a racing game before. An impressive swansong for a game that never had it easy, DriveClub VR is well worth picking up if you're grabbing a headset in the coming weeks.
DriveClub VR has lost the stunning visuals of the original game, but it remains a brilliant racer to play. The immersion offered by VR is superb, making this an essential launch title.
Driveclub VR is an outstanding showcase for PlayStation VR. As the lone racing game available for it, it stands atop a short mountain — but its core foundation being so well-crafted bodes well for it working as a showpiece for quite some time. Anyone who loved the original game should check it out, while those who always wondered what was so good about it will find out in the best way possible by experiencing it in VR.
There is no doubt in my mind that racing games can be one of the genres to benefit the most from virtual reality. Driveclub VR has shown me that racing will never be the same again unless I actually feel like I'm in that car. It nails that sense of immersion for sure. It has it's issues especially in the graphics department but if you can look past that you'll experience a racing game unlike any other.
PlayStation LifeStyle
8 / 10.0
Driveclub VR isn't pretty, but it's still some of the best racing found on PlayStation 4. I've never found drifting around corners to be this satisfying, and having to actually look at my mirrors helped fool me into thinking I was actually behind the wheel. If this is the end for Driveclub, it at least gets to leave on a high note.
If you're willing to overlook some blurry visuals and get down to the serious business of racing you'll find that there's still a lot to love here and, for a launch title, it's an impressive first outing for racing games on PSVR.
Despite some rough edges that mar the experience, Driveclub VR is a great racing title that justifies getting back into the seat of a Koenigsegg Agera R as long as you don't mind being motion sick every now and then.
PlayStation Universe
7.5 / 10.0
Though a sizeable visual step down from the regular version of the game, DriveClub VR remains a worthy offering. Boasting tons of content, great handling and some cleverly implemented VR immersion, it's a worthwhile buy for PSVR owners looking for a decent racing game to showcase their latest purchase.
Pure Playstation
7.5 / 10.0
Yes, the visuals have taken a hell of a beating to get DriveClub VR running on PlayStation VR, but even without the game's trademark obsessive attention to detail, DriveClub VR provides a hell of a lot of fun. Just, er, make sure you've got a bucket parked next to you. You know, just in case.
Immersive and lots of content, it is a pity that the poor graphics overshadow the overall result of Driveclub VR.
Review in Spanish | Read full review
New Game Network
72 / 100
DriveClub VR is a content-packed racing title that's cool to experience VR, if you can forgive the poor visuals.
Driveclub VR has its shortcomings and doesn't quite match up to the high bar that the original game now sets, but even then, it's an outstanding racer, especially if you have a racing wheel. Driveclub VR is an essential purchase for racing fans on PSVR.
Those who have previously played Driveclub will no doubt get a kick out of trying Driveclub VR with its host of new tracks, but it's unlikely to wow them as it feels just too familiar and too visually inferior to impress.
Virtual reality racing has an enormous amount of potential. Racing games are often visual delights however, so what Driveclub VR lacks in this department is notable despite the sense of presence that makes it so fresh.
When I heard about DriveClub VR, I was really expecting the same PS4 experience as the previous title, however I was sadly mistaken. Sure, it has very similar parallels, especially with the amount of content but it's all about the illusion and due to the reduced graphical capabilities of this game, particularly if you've played the previous game, it's a little disheartening. Nonetheless, the gameplay is sturdy and the VR aspect works but it missed reaching the next level which would have been amazing.
The Angry Joe Show
6 / 10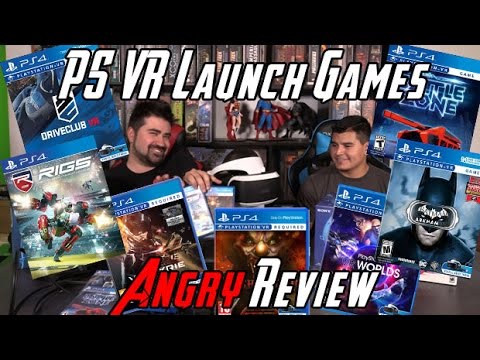 DriveClub VR has all of the features and functionality of its PS4 forebear, so you're guaranteed quality handling and plenty of content here. But the compromises made to get the virtual reality working strip the racer of its visual prowess, and its poor image quality can make it hard to see. There's no shortage of effort been invested here, but we can't help but wonder whether the rewards were worth all of the evident exertion.
While the game may not be anything near the visual showcase that the original game was for the PS4 itself, Driveclub VR is one game that gives a glimpse at the potential of VR racing and needs to at least be tried by any PSVR owner.
Racing in VR is a thrill, but playing Driveclub again isn't, which makes Driveclub VR a pretty unenticing offer despite the game housing more content than other VR titles so far.
Driveclub VR retrieves many of the contents included in the "classic" edition, but it would have needed a more careful optimization process, aimed primarily to "restructure" circuits and layouts and to lighten the rendering job. The new development team, instead, cut features and reduced visual enhancements. The result is a "scrambled" and ugly look.
Review in Italian | Read full review
Driveclub VR is Sony's VR racing welcome wagon and, in small doses, I think it does its job of demonstrating the potential of VR racing. The racing genre is perfect for seated VR, and Driveclub VR delivers a functional example of that experience. Unfortunately, that's really about all it delivers. Beyond that it's just a pre-existing game with fewer features and graphics that make me feel like I have the vision of a 95-year-old man.
Rather than being PlayStation VR's killer app this updated racer lays bare its limitations in embarrassing fashion, at least until the PS4 Pro comes along.