Percentile Rank
LEGO Jurassic World is ranked in the 45th percentile of games scored on OpenCritic.
Rating Summary
Based on 64 critic reviews
OpenCritic Rating
Based on 64 critic reviews
Score Distribution
Unscored Reviews
Lego dinosaurs. If those words get you excited, great - I recommend you look into Lego Jurassic World for a few hours of dumb, mindless collectible-hunting and light puzzle solving. If they don't get you excited, give this one a miss. With this series, it really is that simple.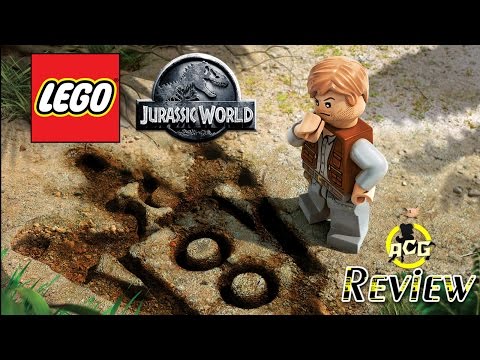 Rock, Paper, Shotgun
Unscored
Lego Jurassic World ends up being a middling entry for TT's enormous franchise, but a middling entry by them is still enormously better than most other family games.
If you're a fan of the Jurassic Park films and you aren't sick of the Lego formula, Lego Jurassic World is a great title.
After the Lego series reached new heights with Marvel Super Heroes and The Hobbit, Jurassic World feels like a step backward.
Scored Reviews
Using the tried-and-true gameplay mechanics and bringing the one-of-a-kind "Jurassic Park" and "Jurassic World" stories to life with the Lego series firmly attached, "Lego Jurassic World" is so much more than a kid-friendly romp through one of the biggest film franchises of all time.
A nice surprise for all the Lego fans and the Jurassic Park fans, Lego Jurassic World lived up to the hype with all the hours of fun it has in store. So, without further ado, I recommend this game to all Lego enthusiasts and Jurassic Park enthusiasts alike. Lego Jurassic World is one game worth playing and replaying for hours.
LEGO Jurassic World is a fun, wild romp through the Jurassic Park films that not only lives up to their legacy and the expectations of fans but also those of Tt Games' LEGO franchise as a whole.
Small innovations keep Lego Jurassic World interesting - for all ages.
LEGO games may very well be formulaic, but the old adage of "if it ain't broke, don't fix it" applies very aptly here. There is the same comedy and parody of the source material as with many of the other releases, which while is done to make the game more family friendly, has the added benefit of resulting in some genuinely funny moments. The games are simple and fun to play for audiences of all ages and sizes; for fans of Jurassic Park or the LEGO games in general, LEGO Jurassic World is a must pick up.
If you're looking for the ultimate LEGO experience for the dinosaur / Jurassic Park/World fan, this is it. There are some design choices I'm not fond of, but LEGO Jurassic World keeps pace with the popular LEGO franchise games.
LEGO Jurassic World is a fantastic addition to the series, and if it ends up being one of the last ones, it is going out with a bang. Life found a way, so make sure you find a way to play this amazing game.
The game is extremely fun but is the shortest and most story focused in the entire series so far. As was to be expected, lots of sections have been cut out. The PS3/PS4 versions are massive open world things with lots more content and collectibles, leaving the Vita version at roughly half the size. I have played the PS4 release, and while I like the PS4 version better since it's a much bigger world, the Vita version is very fun since it gives us a bite-sized releae on the go.
LEGO Jurassic World hits all the right notes on the nostalgia scale by providing gamers with faithful recreations of the four movies in the series for a really fun experience, but there is really nothing brick breaking this time around.
LEGO Jurassic World manages to keep the LEGO franchise alive with refined gameplay, new types of LEGO characters and a brand new film franchise to embark upon while still staying true to its roots. All four films are given plenty of attention and the combination of four hub worlds means that there's plenty to do. Having twenty levels in total as well as six bonus levels fleshes the game out more so Jurassic Park fans will find plenty in here that they'll enjoy. There are a couple of glitches cropping up but there's nothing completely game-breaking. While the dialogue may sound a bit off in places, that nostalgic quality means that both LEGO fans and film fans will be able to enjoy the game. The LEGO series is now ten years old but it still remains successful with its quirky humour and accessible, fun gameplay, and LEGO Jurassic World is definitely one of the best in the series. Whether you're a fan of the games or the films, it's certainly worth your time.
Just like Lego Marvel is the best MARVEL game, Lego Jurassic World is the best JURASSIC PARK game!
Jurassic World is a bit more constrained when compared to recent LEGO titles. There's less open world exploration and more linear gameplay design. What it lacks in exploration, it makes up for with story, presentation and quick gameplay design.
To put it more succinctly: after careful consideration, I've decided to endorse this game.
LEGO Jurassic World strikes an excellent balance between delivering a nostalgic take on a beloved series of movies, whilst incorporating the brand new Jurassic World storyline as well. By allowing you to choose your jumping in point it also frees you up to experience them in your own order, and whilst the formula is becoming tired in some aspects, this is the most refined Lego game yet, displaying a snappy pace that previous games have often lacked. You should also never, ever, underestimate the simple draw of being able to play as a dinosaur.
'LEGO Jurassic World' is a light-hearted, funny and generally excellent take on the four movies. Filled with enough chuckle-worthy moments to lighten up even the sourest of sourpusses, and featuring addictive and worthy gameplay, the game is a no-brainer for 'Jurassic' fans and a must for casual gamers. The only downside is that it's more of the same. If you are tired of TT Games' LEGO offerings by now, steer well clear. All others can safely pick up this title – get it now while the free LEGO Gallimimus is still included!
LEGO Jurassic World's puzzles and combat keep up a great pace that get you past annoyances and back to the fun quickly.
Part of the addictiveness is opening up as many characters as possible and coming back to each level to access areas you couldn't before. As much as I enjoyed this aspect I found something new that overshadowed it, and it was playing as some of the dinosaurs in the game. You can play as some of the famed movies dinos as part of specific levels, but you can also hunt for amber stones and open up other dinosaurs for play later. You'll get to relive that famed scene from the original Jurassic Park movie where the T-Rex fights off a pack of Velociraptors in the park's visitor center or take on the role of a Triceratops and help Ellie and one of her friends get back to safety as a storm hits the island. Playing as a dino is fun, and adds a bit more to the game's overall experience.
TT Games have been bringing us Lego games for quite some time now, yet they somehow find a way to entertain us and perhaps none more so then with Lego Jurassic World. Find out why in our Roarrrrview!
LEGO works its magic on the four Jurassic Park movies – creating a fun-filled game for all the family.
Not a change from the same old formula, but is that really a bad thing?
LEGO Jurassic World is a fun little romp through the Jurassic movies, but it's not as deep as most other LEGO games and it has more bugs than the last several LEGO games combined. It's a must-buy for fans of TT's series, but it's not high on the recommend list for anyone new to the LEGO games. Although, it is a lot of fun to run through the parks as a Tyrannosaurus Rex. Stomping on cars and watching the NPCs flee never gets old.
PlayStation LifeStyle
7.5 / 10.0
But, despite the bugs and the annoyingly repetitive soundtrack, LEGO Jurassic World is a whole lot of fun. Being able to relive some of my favorite Jurassic Park moments was fantastic, and being able to play as not only the movies' main characters, but also the dinosaurs is something that sets this game apart from other LEGO games. If you're a fan of either LEGO products or the Jurassic Park franchise, I recommend picking up LEGO Jurassic World.
PlayStation Universe
7.5 / 10.0
Lego Jurassic World is full of nostalgia for fans of the franchise, while still highlighting the new film. It is the most refined Lego game and even with its downfalls it is still full of fun and charm.
Overall, LEGO Jurassic World is an entertaining game that is large in scope and high in fun factor. If you're a fan of the "Jurassic Park" movies and you've got kids (or you're just a big kid yourself), this is a definite must-try. Playing co-op is always the best option but even playing alone will put a smile on your face.
I would definitely recommend the game if you're both fan of the Lego series and the Jurassic Park movies.
Lego Jurassic World isn't a high point for the Lego series, but it's more enjoyable than last year's Lego Batman 3: Beyond Gotham, despite the absence of exotic alien worlds and a slightly dull cast. It doesn't stop the feeling that things need shaking up in the world of Lego games, but it still delivers what matters most: strong co-op gameplay, plenty of laughs, some engaging puzzles and a smorgasbord of silly slapstick fun.
LEGO Jurassic World is true to its source material and easy on the eyes, but underneath that shiny exterior lies dated and far too familiar gameplay.
Reno Gazette-Journal
3.5 / 5.0
Overall, LEGO Jurassic World continues to employ the same familiar features seen in the LEGO series with a few additions to change things up. The changes may not be major enough for folks who want a completely new experience. For fans of the series or people looking for a family-friendly game, however, LEGO Jurassic World just might scratch and claw that itch.
It's a shame about the bugs, which could be the product of meeting the movie deadlines rather than oversights from the developers; or maybe the fact that it had to sit alongside four other LEGO titles this year alone. But if you can look past randomly flying triceratops or temperamental vines - LEGO Jurassic World is still fun, full of charisma, and with enough unlockables and customisation to keep your attention.
There's lots of enjoyment to be had here, but it's also cruel reminder that the LEGO franchise needs something new to break out of its now conveyer-belt approach.
There are also quite a few memorable moments throughout the game, but when you're playing through the fourth or fifth chase scene or big dinosaur fight those initial flashes of brilliance lose their luster.
Yup, it's still a Lego game. But it's one of the best in recent memory, full of silly laughs, gentle puzzles and delightful playable lizards.
LEGO Jurassic World follows the tried and tested formula but is missing that little bit of magic, despite John Williams' amazing score being part of the expereince.
While it may have its flaws, I was still perfectly satisfied with my time in LEGO Jurassic World. Fans of the LEGO games should basically know what to expect, and Jurassic Park fans should be more than happy with the story, cutscenes, characters, and references. It captured all of my favorite Jurassic Park moments and added its own unique sense of humor into the mix, and that's essentially all I really wanted. And if you still need a reason to play this, just remember that is has LEGO Jeff Goldblum. Let's be honest: that's all anyone really needs.
Despite those problems however, Lego Jurassic World is undoubtedly one of the stronger games in the series. There's far less needless time-wasting compared to Lego: The Hobbit's dull crafting, and the levels themselves can be great playthroughs. It draws on the greatest hits of Jurassic Park, and while your love of the franchise will determine your love of the game in the end, gamers with a soft spot for plastic dinosaurs would do well to give this a shot.
Jurassic World is obviously a great theme to pursuit when creating a game in this genre, though whereas the game has its moments to shine it more often stumbles. Fans of the movies and returning players who want some more to play should have a decent time with LEGO® Jurassic World, but it is definitely one of the weaker instalments in the LEGO® franchise.
LEGO Jurassic Park is, as ever, a sizable package with plenty of replay value when it comes to finding every hidden nook, cranny and minikit. However, the same gameplay persists as do some of the same bugs and glitches – often revolving around co-op play. So while it is nice to revisit locales both new and old, it's not so great to see the same issues and problems when you get there.
From the minute LEGO Jurassic World is booted up, it's obvious just how rushed production was in order to get it out to tie in with the film
Lego Jurassic World gives families four dino-filled adventures to romp through in the increasingly familiar Lego template.
The comedic lengths the game goes to make the series's trademark wanton cruelty palatable is impressive.
LEGO Jurassic World is stuffed full of lightly humorous charm, and contains a wealth of content. Whether you stay long enough in the park to experience it all, however, will depend on if you can overlook its often dull puzzle gameplay and frustrating lack of polish. Nevertheless, thrashing about as dinosaurs and recreating classic Jurassic Park scenes can put a smile on any face.
When all is said and done, LEGO Jurassic World is still going to appeal to fans of the LEGO franchise, but it's not going to impress them. This is a by-the-numbers game that doesn't bring anything new to the table. Unless you've played through all of the other LEGO games or are a massive dinosaur fan, there is no reason to buy LEGO Jurassic World at full price. Wait for a sale on this one, and save your pennies for LEGO Dimensions.
The name of the game pretty much spells out exactly what you can expect: LEGO Jurassic World. It is the traditional, Travelers' Tale LEGO experience that is becoming all too familiar, set in a Jurassic Park setting. Nothing more. Nothing less.
Still, with the control issues aside, LEGO Jurassic World manages to be another solid addition to the LEGO family of games. Four amazing films transformed into some really fun gameplay that put you right into the center of the action.
God creates dinosaurs. God destroys dinosaurs. God creates man. Man destroys God. Man creates video game featuring dinosaurs.
Lego Jurassic World has clearly been rushed through to release alongside the new movie, and as such is riddled with bugs and glitches -more so than any other licensed Lego game. There are plenty of grin-inducing moments for fans of these incredible movies though and as such Lego Jurassic World is still worth a look if you love the films enough to forgive the defects in its DNA.
Those suffering from Lego game lethargy, then, may find this lacking. But for fans who want a good family-friendly game that will keep the children entertained through the summer holidays while providing the opportunity to relive some classic movie moments, then this park is open and definitely worth a visit.
Whether you are looking for a family friendly way to introduce a child to the franchise or simply fancy yourself a survival expert, Lego Jurassic World has plenty of fun to be enjoyed by all ages.
The game is not without fault. It lacks the polish and scope of some of the previous LEGO games. But if you're a fellow dinosaur nut and eager to indulge in some relaxed puzzle solving, collectible hunting or need to add something new to your Jurassic Park collection, then I'll gladly recommend LEGO Jurassic World. If none of this resonates with you… give it a wide berth.
LEGO Jurassic World has been birthed from the same DNA that the LEGO series has been reliant on for quite some time, and it's doubtful that anyone will be truly awestruck by its attractions. But that doesn't necessarily mean the adventure's not worth embarking upon. Reliving the Jurassic Park films in such a playful manner helps to offset the gameplay and technical disappointments, and the trip down memory lane will likely be enough to keep the biggest dinosaur fans entertained from start to finish. The park can be amusing, but it lacks its usual bite.
As charming and accessible as any Lego game but Jurassic Park doesn't suit the Lego formula terribly well and the ability to play as dinosaurs is underused.
Just like the game part, LEGO Jurassic World's entire presentation - its cinematics, its atmosphere - is predictable. Good enough, but incredibly safe, and definitely a factory line production that inspires little other than blandly trundling through the game, chuckling a bit at some jokes and ignoring most of them.
Lego Jurassic World is a joyful, brightly-colored tribute to Jurassic Park that fails to channel the franchise's trademark tension and excitement.
The game suffers from a lack of truly unique and memorable characters in the source material, though and is one of the more repetitive LEGO titles as well, with limited mechanics popping up repeatedly and a noticeable lack of variety in the Jurassic Park side of the experience.
Fans of the movies will smile at this interpretation of events, but it isn't much fun to play
Lego Jurassic World is as expected: Legos, dinosaurs, and puzzles. But, the formula is too familiar and needs more chaos theory.
Though I have plenty to complain about with LEGO Jurassic World, it's because I have spent the last number of years playing through each of them with family members. Most of my platinum trophies have occurred thanks to LEGO games. Chances are I will be getting a platinum in this one too, as the game functions well enough for me to somehow enjoy myself despite all of its irritations. In both single player and co-op, there's still fun to be had, and most people play the LEGO games for the fun factor. You'll find nothing ground breaking in LEGO Jurassic World, but it is so rushed that I can only recommend looking at one of the many other LEGO games out there unless you're a massive fan of Jurassic Park.