Percentile Rank
Rise & Shine is ranked in the 28th percentile of games scored on OpenCritic.
Rating Summary
Based on 73 critic reviews
OpenCritic Rating
Based on 73 critic reviews
Score Distribution
Unscored Reviews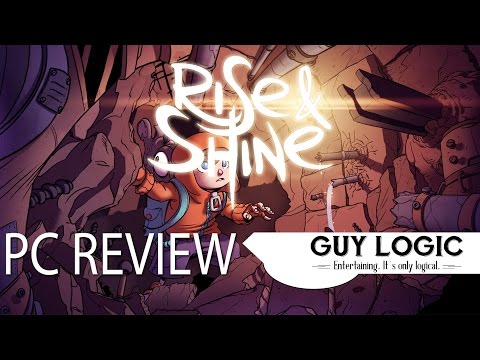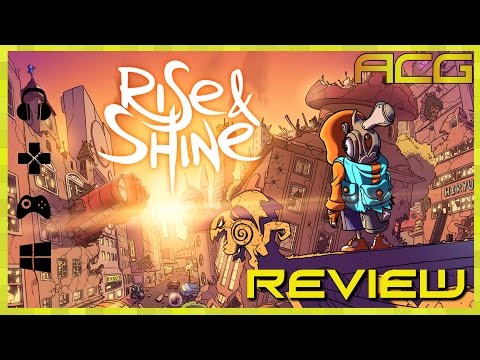 Wade D McGinnis
Wait for Sale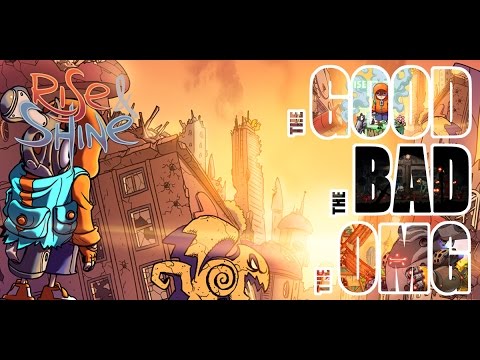 Rise & Shine is a very challenging action/platformer/shooter. The game is not impossible to play, yet there are several moments where you will yell out in frustration. The animations and graphics look great. If you are in need of a more challenging type of plateformer, then Rise & Shine is right up your alley. If you get frustrated easily by less than perfect aim mechanics, then you might want to look elsewhere.
When Rise & Shine's gameplay works, it works well, providing a fascinating take on the run and gun genre that I hope Super Awesome Hyper Dimensional Mega Team has a chance to refine and perfect at some point. If you can take the pounding, Rise & Shine might be worth a look.
Rise & Shine is short and sweet and fun while it lasts, but it's all over far too soon.
Scored Reviews
Puzzles. Platforms. One hell of a bullet storm. What on earth could go wrong? Well thankfully with the unbelievably delightful Rise & Shine, not a lot. In fact, it's very very good. But it's also very very hard and will no doubt frustrate those whose skill levels aren't quite up to par.
Entertainment Buddha
95 / 100
Lately most of the games that have been released in the last few months have not been challenging. Rise & Shine is breath of fresh air in terms of challenge and the story is not half bad either.
It's full of blood, violence, puzzles, humour, all set in such a beautifully designed world. Definitely one of the most fun platformers of recent years.
If a bullet hell had a baby with a puzzle/platformer and then threw in classic gaming pop culture references, you'd get Rise & Shine.
While I don't think any game is perfect, Rise & Shine is incredibly exemplary. Highly recommended.
Rise & Shine is a challenging and good looking platformer. Prepare your reflexes and logic, you'll need them.
Review in Czech | Read full review
Play Some Video Games
85%
Rise & Shine is a action packed side scroller with challenging puzzles and enemies.
The Outerhaven Productions
Rise & Shine is a fantastic adventure and a change of pace for the traditional 2D side-scroller. A great looking game that plays well and has a lot going for it. Great gameplay, interesting characters and a nice change of protagonist as well. Sadly, the game is a bit on the short side and can be beaten in 4-5 hours. The ride is definitely worth the time spent, yet once you beat the game the first time, there's nothing to do afterward.
Influenced by adventure-platform games of the past, Rise & Shine manages to enrich a classic gameplay formula with a tight mix of different genres, interesting combat depth, and varied puzzles. Shooting controls can be a bit uncomfortable on a gamepad, but this is the only gripe in a game that's objectively very well put together. Highly recommended to fans of Another World and Flashback as well as to those looking for a quirky and fun experience that doesn't overstay its welcome.
If you like a good challenge and value quality gameplay over length, which you should, Rise & Shine is a great little title and a great start to the gaming year.
Regardless of its few flaws, Rise & Shine is a fun, vibrant arcade shooter that should please fans of the genre and remain accessible enough for newcomers. Its light-hearted approach, humour and gunplay make for a enjoyable fast paced experience that is filled with smirks.
If you want a game with lots of action, lots of fun and lots of references to the video game world, Rise & Shine is your game. But the aiming system and it's difficulty will drive you crazy.
Review in Spanish | Read full review
Rise & Shine is an enjoyable side-scrolling action game that perfectly blends the run and gun gameplay of past games with puzzle elements that make you think. The artwork is nothing short of spectacular and the sheer amount of nods to other franchises in the game will make you smile. The game can be completed in a handful of hours unless you become stuck on the final boss like I was, which added a couple more hours to my total. Upon completion, you can go back and find missing collectibles or try your hand at the Ironman mode. Besides a couple of puzzles that bring the game's pacing down to a crawl, I thoroughly enjoyed everything from the gameplay to the atmosphere in Rise & Shine.
With a playtime of around three to five hours (a chunk of it down to death-induced restarts), Rise and Shine mercifully doesn't outstay its welcome. Unless you're keen to replay the game on its unlockable permadeath Ironman mode - or hunt for a handful of useless collectibles - you'll have little reason to return to Gamearth. However, if you can tolerate/appreciate the hammy humour, there's a tight and often tricky adventure that delivers a decent, if fleeting experience.
Overall, there's not too much more to say on Rise & Shine - Some characters are likeable, some just disappear, and some are just killed off outright for irony's sake - The gameplay is difficult, and doesn't hold your hand too much, and the references to gaming culture are up there in the hundreds. If you're looking for a good-looking and challenging game that may make you chuckle here and there and go "Oh that's from xxxxx game!", then Rise and Shine is certainly for you. If you were coming into this expecting all laughs and something a bit more casual, then I'm afraid you may be disappointed...
Honest Gaming Reviews
8 / 10.0
Overall, Rise and Shine is fun once you get going and get the hang of how shooting and aiming works. There is no Platinum trophy for this one, but it has a good list of objectives to complete for things such as killing the first boss without receiving any damage, opening all chests in the game, or doing the Konami code.
Switching Worlds
8 / 10.0
Rise & Shine not only has great artwork, but it also feels great to play as well. The shooting is solid and feels polished. Its pace is a little more deliberate thanks to the gun & bullet modifiers that require a slight bit of thinking. Levels never felt stale because the way mechanics were incorporated always kept things sort of fresh and because of that it strongly adheres to replayability; which you might be doing since the experience is a short one.
Rise & Shine is a good action-platformer though its main shortcoming is how short the game can be. Once you get the hang of things the game can be finished in a few hours, but if you're looking for a challenge the game's difficulty spikes about a third of the way in and it just gets harder from there. If you're up for a challenge, this is one to check out.
Rise and Shine is a delightful title that pays homage to a lot of great franchises, and has solid gameplay. While the story elements could be better, this game is still entertaining until the end.
Fun but short action game that also has a great amount of puzzles. Its control it's not perfect when played with a controller, but that almost the only flaw.
Review in Spanish | Read full review
Rise & Shine is a special title, a 2D side scroller shooter that can conjure up old memories of us in the past, giving us an interesting and entertaining game, highly detailed in graphic detail and capable of perfectly setting scenarios.
Review in Italian | Read full review
Rise and Shine is a tough but fun action game in which everything and anything can kill you in a couple of seconds. You need to make the most of the available cover so that you can destroy all enemies before they overwhelm you, making sure that every shot counts. There are several areas in the game where you'll be attacked from all sides of the screen, with slow moving bullets, bullets that split into smaller ones, acid that covers the floor and does considerable damage, and even bombs and mines that can one-hit you. It sounds overwhelming, but if you stick with the game, you'll see this is a charming and fun PS4 release.
Rise & Shine feels like a game that tries too hard to be too much, ultimately coming together in a fun package that could have been great. The action is tight and rewarding, the gameplay is varied, and the difficulty is satisfying, if a bit frustrating in some parts. Fans of old-school arcade shooters will find plenty to love here, even if the jokes don't always hit home.
Rise & Shine reminds us of the visual style and of the gameplay of Metal Slug series. It's hard, fulfilling and funny, but it suffers also from a lack of game contents.
Review in Italian | Read full review
Nindie Spotlight
7.5 / 10.0
If you're a shooting fan who is up to some crazy battles where you'll need to use your brains as much as your reflexes Rise & Shine is a pretty good match. It won't coddle you hardly at all, which will be either a positive or a negative depending on the type of gamer you are. I don't recall ever having played a shooter that has had puzzle elements to it like this, so that does help it stand out from the crowd. Just keep in mind the caveats that come along for the ride when you decide whether to check it out.
Rise & Shine won't likely single-handedly propel Super Mega Team to Indie Stardom. But it will certainly put them on the radar for gamers who like something different. Much like Supergiant's Bastion, it's the beginning of a bold new voice in games. It's not perfect, but Rise & Shine's a fun and frenetic little game that seems wholly worth the $15 bucks it costs on Steam and XBL. Recommended for those who like unique and challenging action games, and don't mind the lack of longevity.
Rise & Shine's gameplay is fun and challenging, but the game has a really short length as well. Being a cheap indie game, it's definitely worth a try.
Review in Italian | Read full review
Rise & Shine packs itself with references galore in a world it doesn't quite explore. But its combat, puzzle design, art direction, and brutal difficulty make that largely irrelevant.
Although Rise & Shine may sometimes look like a more cartoonish version of Contra, it doesn't play like one...and the majority of battles ultimately play out as fast-paced puzzles that test how well a player can prioritize targets.
Gamerheadquarters
7 / 10.0
Rise & Shine has beautiful graphics that capture this weird crazed war well, but is also far too difficult for the regular player to enjoy.
It only took three hours to get through Rise and Shine in its entirety but it was an enjoyable experience. With beautiful visuals and some exciting boss fights, there's plenty of flash to get your attention.
Despite its brevity ultimately doing some notable harm to it, Rise & Shine is still ultimately a solid platformer for the most part, one that has a lot of cute callbacks to classic video games while still having its own unique charm, along with some impressive graphics and nifty ideas sprinkled throughout.
Rise & Shine isn't the deepest action-platformer you'll ever play, but the tongue-in-cheek nods to the gaming industry at large, along with its stunning art style, will push you to the finish line even when the gameplay starts to let you down.
Rise and Shine is a colorful and hilarious, if a bit short, adventure through an incredible gaming inspired world. Arcade fans, indie fans, those who aren't afraid of a few hundred deaths, all will have a lot of fun with this title. If you haven't checked out this title yet, it would make a great addition any indie gamer's library.
Trying to combine too many elements of action-platformer genre actually made brutal and gory gameplay of Rise and Shine repetitive and slow-paced.
Review in Persian | Read full review
Marooners' Rock
6.8 / 10.0
All in all, Rise & Shine is a fairly solid game with only a few flaws. I recommend it to anyone who wants a challenge while also enjoying the many callbacks to the older generations of games.
Readers Gambit
6.5 / 10.0
Ultimately Rise & Shine just didn't hit the spot for me. Failing to reach the end I often found myself frustrated with no real satisfaction. There was never a grand pay off for my achievements and several bugs relating to dying would often result in completely killing the game and starting several checkpoints back.
Rise & Shine tries to constantly use nods to other games, which is really repetitive sometimes. Good ideas on many occasions, but poorly performed in multiple times during its short duration.
Review in Spanish | Read full review
All in all, Rise & Shine isn't a bad experience. It's just one that has a lot of wasted potential. If the AAA barrage on indie games is real, then this game would not make a good soldier to fight in that battle. The gameplay is good and the game doesn't overstay its welcome at 10-ish hours, but the sudden ramp up in difficulty plus the finicky aiming blemishes the experience. If you want a game that touches upon the horrors of military engagement, try This War of Mine. If you want a game that parodies/honors video game culture, try Super Meat Boy or Scott Pilgrim. If you want a weird mash-up of the two, I guess this experience was made for you.
VGProfessional
6.4 / 10.0
Rise & Shine is a visually stunning, promising game on paper, but that does everything possible to contradict with its vision. While the developers claim that it's "NOT another run'n'gun clone at all", but more of a "Think and gun" both core game mechanics and elements makes it a flawed and unoriginal experience in a lackluster package.
Rise & Shine may be an infuriating endeavor but it's also a memorable one full of humour and a fun mix of gameplay elements.
Geeks Under Grace
6.2 / 10.0
Rise & Shine is a gorgeous game that pays homage to a slew of video game touchstones. While it employs some interesting mechanics, it is ultimately a frustrating experience that disrespects your time in an effort to artificially lengthen an otherwise brief game with a ho-hum story. Let this one sleep in.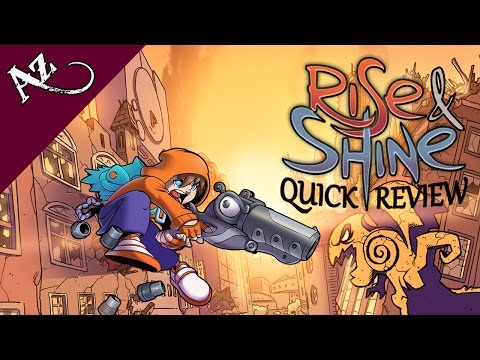 Rise & Shine is a run and gun 2D shooter that struggles to find its footing in game play and tone. Small issues can be found throughout the experience, but the difficulty and level design, in both variety and beauty, makes the experience worth a few hours of your time.
Rise & Shine has a lot of interesting ideas to keep players on their toes. It's just a shame that some of the fun turns sour due to repeated puzzles and poor gun accuracy.
A strong case can be made for Rise & Shine. It boasts fantastic visuals, tons of references that appeal to the older crowd, and a more thoughtful approach to running and gunning. Unfortunately, it never realises its full potential. There are numerous intriguing elements, such as destructible cover or contending with adversaries while platforming. Simply put: they don't get enough attention. If a few of the less interesting segments were excised or moved to optional modes, and in their place were stages designed with a more advanced skillset in mind, then the campaign could be tighter and more complex. All told, it's still a worthwhile venture for shoot 'em up fans seeking a change of pace.
Rise and Shine is a very challenging platformer that relies heavily on references to other games to balance its lack of a good cast of characters.
At its best, Rise and Shine is a marvelous reinvention of shooter mechanics wrapped up in puzzle-heavy stages that require some serious grey matter to think through. But most of the time? Rise and Shine's charm can't save it from its sadomasochistic formula.
Rise & Shine looked like an early sleeper for 2017, but its design holds it back more often than not. I wanted to love it, but after banging my head against it for the short duration it lasts, it wasn't worth the tedium.
Players who like tough games will love Rise & Shine, but it will never truly shine unless the developers rebalance the difficulty.
A solid, if uninspiring run 'n gun title with some very nice visuals. The game's length and difficulty make it hard to recommend without reservation but if you are after something a little quirky you might enjoy your brief time with this.
Brutal difficulty isn't bad by itself, but Rise & Shine doesn't balance it with a sense of satisfaction when you succeed
Rise & Shine makes an amazing first impression, but the game hiding underneath lacks the depth and replayability of the many SNES action games that it attempts to imitate.
Try this game out for the beautiful art style and your occasional dose of maniacal bullet hell gameplay, but prepare to rage quit more often than you would like.
Rise and Shine's awesome 2D art-style and references can't help the uneven shooting that pervades its shoddy gameplay.
Rise & Shine is a beautiful 2D action title marred by annoying difficulty spikes and an uninspired story. It's not an outright bad game, as there is enjoyment to be found in its puzzle segments and Gears of War style cover based shootouts, but the overall package isn't very fun to play.
Rise & Shine wants to be a throwback to the awesome games of the past, but misses the mark.
Nintendo Enthusiast
5 / 10.0
Rise and Shine is undoubtedly one of the best-looking games on the Switch.
NintendoWorldReport
5 / 10.0
When everything is put together, Rise and Shine is incohesive, and no aspect of it is compelling enough in its own right to make the game more than the sum of its parts. It probably isn't a waste of an afternoon to play Rise and Shine, but it's probably better to do anything else instead.
Rise & Shine aspires to be like the NES classics it's inspired by, but ultimately falls flat with a short campaign and uneccessary difficulty padding. While the visuals are jaw-droppingly gorgeous, it doesn't make up for the overall lackluster package.
The Digital Fix polish their firearms and stroll into an apocalyptic landscape to review Adult Swim's Xbone homage to gaming's golden age: Rise & Shine.
the ability to make the gun point at the right spot is the difference between gaming nirvana and controller chucking rage. Go ahead and ask my controller where this experience leaned.
Paste Magazine
4.5 / 10.0
Rise & Shine has all the markers of a hit indie game. The gun's add-ons, a series of upgrades that include a special curve-the-bullet ability, give the game an individualistic "hook", and the art style is funky and appealing. If you approach it with the expectation of being entertained, you probably will be. But if you're looking for a game that will reinvigorate your passion for the innovation of the indie game scene, look elsewhere.
To summarize in a similar vein to Rise & Shine's humor: This game could have been a triumph, but then it took an arrow to the knee. The graphics make you think the gameplay cake is real, but the cake is a lie. All you'll find are Flappy Birds, a dead Princess Peach, and Marcus Fenix. But hey, at least you can kill the Duck Hunt dog, so that has to count for something. Oh, and this is the Dark Souls of video game humor. Take that for what you will.
Gorgeous graphics but gormless gameplay leaves you wishing you were playing any of the dozens of other games this indie dud attempts to parody.