Percentile Rank
Digimon World: Next Order is ranked in the 45th percentile of games scored on OpenCritic.
Rating Summary
Based on 37 critic reviews
OpenCritic Rating
Based on 37 critic reviews
Score Distribution
Unscored Reviews
Scored Reviews
I like Digimon World: Next Order better than Pokémon Sun and Moon.
Next Order isn't without flaws, but it's exactly the kind of game the Digimon World series needed after a regional hiatus. While the unconventional combat and grind-heavy skill training aren't likely to deter fans of the franchise, newcomers might find some of the game's quirks unwelcoming. As such, Digimon World: Next Order likely won't appeal to everyone, but the game is something longtime fans of the series will have no problem dumping hours upon hours into.
The Outerhaven Productions
Digimon World: Next Order is a game that fulfills every Digimon fans needs and is also a fun introduction for newcomers in gaining a deeper understanding of different Digimon throughout the Digital World. Though this game is a bit slow-paced, and becoming used to the combat system will take time, witnessing the progress made in both your tamer and partner Digimon before your eyes will make the tedious grind worth it.
Digimon World: Next Order takes the classic V-pet formula and brings it into this century packing it with plenty of variety, a fun storyline, and plenty of interesting mechanics to discover and master.
While the more daring and dedicated fans will love the remarkably deep Digivolution system and the homages to previous entries in the series, newer or more casual fans will likely be scared away by the importance of every single action they take.
PlayStation LifeStyle
8 / 10.0
Both newcomers and long-time fans of the franchise as well as the series will undoubtedly enjoy Next Order for the massive amount of content it has to offer.
Digimon World: Next Order offers a very enjoyable 60+ hours of gameplay (more with Hard Mode) with challenging mechanics and rewarding systems for caring and raising Digimon, a huge city that you can upgrade and improve in more ways than I can count and a host of features designed to reward exploration and skill in combat.
In the real world that's filled with limited time, do you really want to be spending 50 hours just raising digimon teams only to spend another 50+ hours trying to complete the story? Answer that question and you'll know if you should own this or not.
VGProfessional
7.6 / 10.0
While a bit plain in terms of storyline, Digimon World: Next Order is attractive enough for Digimon fans. It might not be the perfect introduction to this world for other more technical demanding JRPG fans and gamers.
After Cyber Sleuth this really feels like a big step back for the Digimon Series. Besides caring for the needs of your digimon, the game doesn't really offer anything for JRPG-Fans and also delivers a really empty world.
Review in German | Read full review
Digimon World:Next Order is a bright, slow-paced game that intermixes a open-world RPG with monster raising to great success. Refreshingly simple and fun, the game overcomes some issues with AI to be a surprisingly addictive title. With team based battles focused on strategy and plenty of exploration, Digimon World: Next Order provides solid content worth a look.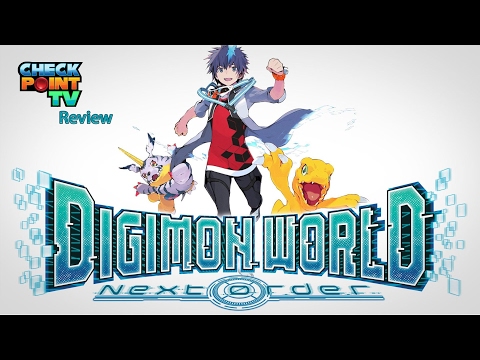 Throughout my 35 hours of playing Digimon World: Next Order I began to feel like I did the first time a discovered the series. Every Digimon that joined my team made an impact on me and I wanted them all to be the best they can be. The game can be frustrating, but in the end there's nothing like raising two healthy Digimon. The old mechanics of the Digimon World franchise prove to stand the test of time and can now be experienced by a new generation of gamers to discover and immerse themselves for hours in the digital world.
Okay, so it's obvious that Digimon World: Next Order didn't leave much of an impression upon me; personally I found the world to be devoid of any real life, the combat unsatisfying and the micro-managing of every aspect of raising my creatures to be an annoying contrivance rather than a rewarding experience.
Digital Chumps
7.3 / 10.0
Although there are some drawbacks to the game Digimon World Next Order is actually an engaging and fun game.
The newest entry of Digimon is really great piece of code. There are some flaws, but it's a step in the right direction for whole series.
Review in Polish | Read full review
If you don't mind taking your time to go through the game and constantly rebirth your Digimon to get stronger, this is an amazing game. Regardless, it is well worth a try and could end up being your favorite RPG.
Reno Gazette-Journal
7 / 10.0
Digimon World: Next Order is a throwback to Digimon World from the original PlayStation, complete with its town-building aspects and limited lifespans for your creatures. Its grindy nature and technical aspects for training can make it less accessible for newcomers and more casual players. If you like old-school Digimon gameplay, however, this is gaming comfort food that's a blast from the past.
Level Down Games
70 / 100
Digimon World: Next Order is going to be the perfect game to satisfy the appetites of the diehard Digimon fan base and community. The game seriously has a lot to offer, and if you invest the time and energy needed to really appreciate everything it has going on, you'll definitely want to keep coming back for more. A really solid roleplaying game foundation lies underneath the steep learning curve presented to the players, we're just afraid that particular issue is going to scare off a lot of potential newcomers to the series.
Chalgyr's Game Room
7 / 10.0
Fans of the Digimon world will likely enjoy this offering the most. However, this is a slower grind of a game, one that will not appeal to everyone. However, despite the very slow learning curve here, Digimon World: Next Order offers some real depth that I found myself sinking a ton of time into - and I was enjoying it more often than not.
Digimon World: Next World offers a steep initial difficulty and learning curve but for those who stick around, they end up with a satisfying experience.
Digimon World: Next Order excels with a fairly easy combat system and simple gameplay mechanics, but I was let down by the repetitiveness of the world and environments, as well as some pretty unresponsive controls (mostly in dialogue sitations). The nostalgia factor and the excitement of evolving my digital partners was what kept me playing, but the drawn-out travel methods and consistent grinding in training didn't impress me too much. Digimon World: Next Order is a bit of a mixed bag – die hard fans will likely love it, but newcomers may be turned away by some of the gameplay mechanics and extreme grinding.
While a robust digivolution system features plenty of layers to explore while raising your partner Digimon in a very faithful follow-up to the original, the lackluster battle system may hinder newcomers to the franchise from really enjoying Digimon World: Next Order.
Digimon World: Next Order is a different breed of RPG in a pretty stagnant genre, and for what it tries and does to bring this old favourite to modern times, I have to commend it somewhat. But what it does is in places archaic, or not explained well enough to be managed properly without a guide.
While the world is vast, it feels barren with an uneven difficulty. Digimon World: Next Order is a fantastic RPG for those who like to get down into the nitty-gritty of different stats and how they can affect your Digimon. For everyone else, it might have one too many frustrations.
Fans of the Digimon TV series would be wise to give this game a look, but do not go looking for a traditional JRPG like Cyber Sleuth was.
Its combat system and less deep story make this game worse than Cyber Sleuth.
Review in Spanish | Read full review
Digimon World: Next Order is an interesting game. It is honestly is nothing like anything I have ever played before. The unconventional leveling system, the complex raising mechanic, and the passive battle system all take a while to get used to, and the first parts of the game can be a real difficult time for some, but in all, I think there is room for this game for many RPG fans out there. It's not going to win any awards, but it is different enough to keep players on their toes and if you let the raising become an addiction to you, it can easily last you a very long time. I would say wait for a little price drop unless you're a hardcore fan of Digimon.
All in all, I would still highly recommend Digimon World: Next Order. Even though I'm an outsider, its deep system for raising Digimons is engaging and fun enough for me to like the game.
While deep and captivating on their own, Digimon World Next Order's bloated mechanics step all over each other and make progressing through the game as a whole a stressful chore.
Digimon World: Next Order offers a great amount of hours of entertainment, especially for the fans of the franchise. A good combat system but a very weak plot.
Review in Spanish | Read full review
The game world, while vast, lacks compelling content and appears far too empty for that reason, while some of the gameplay systems are intimidating and confusing.
Digimon World: Next Order its one of the clearest examples of how a series can age badly. It offers a really monotonous and tedious gameplay that takes time to develop and arrive to the most important parts of the story. By the time you get to the best or most interesting sections, you will probably be annoyed by its repetitive mechanics and slower pace of development. Only diehard fans from the Digimon World series will have what it takes to stand and tolerate its flaws and value its well hidden contents.
Review in Spanish | Read full review
Digimon World: Next Order makes it difficult for newcomers to get invested through repetitive grinding and a very slow pace. Despite this, fans can still savour the heart-warming pride of raising two Digimon friends.
Digimon World: Next Order is definitely a game for fans who are looking for a challenge. If you've always felt you had it in you to take your own Digimon partner and save the digital world, this is certainly a game you should check out.
On a whole, Digimon World: Next Order isn't a bad experience. It does take some time in order to get used to the flow of the game, and to deal with its irritations, but once you're there, you're in for what might potentially be a very addictive grind indeed.
A dense and impenetrable creature-management simulation that relishes in gut-punching the player every time they make progress.