Percentile Rank
Rain World is ranked in the 31st percentile of games scored on OpenCritic.
Rating Summary
Based on 63 critic reviews
OpenCritic Rating
Based on 63 critic reviews
Score Distribution
Unscored Reviews
Rock, Paper, Shotgun
Unscored
There was a big part of me that didn't want to stop playing and maybe I'll pick it up again some day, because there is so much to love about discovering the laws of nature behind this huge, ruined ecosystem. But with each random death, each accidental roll off a cliffside, each checkpoint drought, that love turned to ash. There is so much beauty and intrigue and diversity of life in Rain World. It's a pity the game doesn't want you to see any of it.
Eurogamer
No Recommendation / Blank
No Recommendation / Blank
Mar 29, 2017
Relentless and brutal, this post-apocalyptic pixel art survival quest is a gruelling, if often beguiling, challenge.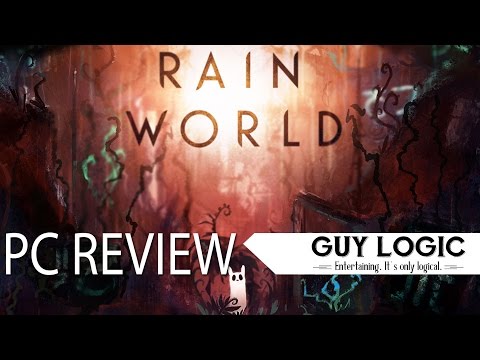 Throughout it you can see the hard work that the team put in. From the weird physics engine to the character designs, and all the way to the pixel art, the game comes across as a labor of love. But somewhere it lost touch and decided to focus more on aesthetic than on the actual game design and gameplay. The game gives me a sense of defeat because there's such a beautiful and fun world that has been held down with the cumbersome controls and overbearing difficulty. Rain World is a game that will end up breaking you emotionally, not because the main character is cute and dies every five seconds, but because game forces you to submit to its rules without any form of consent.
Rain World isn't a game that everyone will enjoy unfortunately, and that is a shame. Rain World is brutally gorgeous and an unforgiving world that continues to amaze and throw surprises at you along your journey.
Scored Reviews
Rain World is a one-of-a-kind experience, that while perhaps understated in its simplicity, challenges notions of traditional game design in an experimental way that yields brilliant results.
Hauntingly beautiful and challenging. Rain World is more than a platformer, it transports the player to a fully fleshed out ecosystem in which he must play by its rules to survive.
Review in Portuguese | Read full review
Not since Mark of the Ninja have I played a stealth game that felt so impactful, lingering in my thoughts long after I put the controller down.
For an Adult Swim game, I didn't expect much. That's still true. There isn't much to this game, except for what there is. If that makes any sense? Rain World is an excellent piece of art; however, it leaves the story very ambiguous as far as I can tell, but the 2D side scrolling stealth platformer is not a game you want to miss.
A gem of a platformer featuring an adorable Slugcat. Rain World is both brutal and challenging.
While this game is a port to Nintendo's hybrid console, it has seen some major improvements to controls, balancing and even added features, such as new modes to play as and a local multiplayer option, which definitely adds to the experience of playing on the Nintendo Switch when compared to other consoles. Rain World is a challenging experience, to say the least. If you are looking for a new game to really test your skills, a game with little to hand-holding and lots of exploring or a game that has a little of all your favorite genres, you have to give this game a try. However, do keep in mind that the difficulty can be a bit stressful at times, making you leave the game to cool off for an hour or two… or maybe a few days before you're ready to try and take another stab at it.
Rain World is an incredible adventure and rewards persistence while being an extremely aesthetically pleasing game. Paying homage to older games with its design, it still feels like its own entity. To me, this is nostalgia done right.
Real Game Media
8.4 / 10.0
Taking everything into perspective, I found Rain World to be an absolute gem. There's not much of an explicit story, yet the world is spelled out all around you with your experiences in this ecosystem personalizing each encounter. The difficulty can be a nice throwback however, the fact that your progress can be so easily lost is going to be a 'make or break' point for most gamers. If that's something you can't deal with, I strongly emphasize my caution to you to stay away. For those who do choose to press on, you're in for an incredible journey through a world that's truly unique every time through.
In the end, Rain world is a 2D crowd funded game by an independent studio and it does what it intends quite brilliantly: Showing the players the survival of the fittest. Not minding the extremely hard gameplay and puzzles, Rain World is one of the few 2D indie games that brings a new experience for platformer lovers
Review in Persian | Read full review
Think Limbo, but more haunting and with better controls, and you'll have a basic idea of what Rain World is about.
Rain World is not an easy game and that can only be good. The experience puts emphasis on the difficulty level and thanks to its very well designed game world, Rain World is set to quickly grab the player's attention and become a very cherished game, despite its difficulty sometimes reaching rather frustrating levels.
Review in Portuguese | Read full review
Few will see the more remote corners of Rain World's relentlessly dire stretch, but those who do are unlikely to forget the experience.
The Outerhaven Productions
Among this year's many exciting triple-A games, Rain World holds its own for being original, exciting, and addictive. This beautifully animated indie title keeps players on their toes by facing them with threatening creatures, each with varied tactics, and imminent storms. Mechanics can be mildly frustrating at times, but there is certainly a learning curve. All in all, Rain World is delightfully weird and should not be overlooked.
While working on my own review, I knew that the game received a lot of bad reviews. I did not want to read other reviews because I didn't want my review to be influenced by others. Most people hate what they cannot understand. But for me, you can't just hate a game simply because it's difficult (what about Dark Souls?). When you're playing to have fun, you need to give Rain World plenty of time to get the best out of it.
To me, Rain World is an example of how independent projects can progress some of our basic conventions of fields like animation, design, and world-building, but also how sometimes they can ward off some players with their quirks as well. It is a game that instigates you all the time to experiment but also reminds you how risky your mistakes can be, keeping you always aware and focused. At times I was extremely pissed at the game and even though sometimes it was justified, I often saw that I was guilty of my deaths and realized that I could abstract knowledge from my mistakes to conquer this world. Its subjectivity and brutality will for sure be problems for many and they have been for me too at various times, but in the end I feel that experiencing Rain World is not so much about progressing in this world to get a conclusion (something I didn't come across after spending 15 hours on my playthrough), but is about understanding how this world works and make yourself the king of it, well, at least until the next time you die.
Review in Portuguese | Read full review
It is odd to only just be getting to this game now with it having been out a while. The joy of the Switch is that once again Rain World will be brought into people's lives. The resurgence is going to be good for the few who play it, but I think it will probably still be criminally overlooked. Even those that start it might not see it all the way through, but I implore you to do so. This is a cold and loving game that is far more than most people realise. It is worthy of both your attention and your time. It thoroughly deserves this second chance and I hope that people make the most of it. Also, I want a Slugcat now.
Even though the game frequently gates off my progression, I can't get enough of Rain World.
Despite how much I enjoy that kind of experience on a conceptual level, it definitely isn't my favorite kind of game to play, and I generally felt like I was solving puzzles with half of the pieces. Rain World is a beautiful, forward-thinking game that points to a form of game design that I want to see more of. I just wish it made itself a little more accessible.
Rain World might suffer from poor controls, challenging difficulty level, and some bad gameplay mechanics, but if you are patient enough, you'll enjoy it.
Review in Persian | Read full review
VGProfessional
7.6 / 10.0
Rain World manages to create a big, scary world for you to navigate but it doesn't really put much in that world besides its visuals. You're not given much instruction, and after a while it can feel boring and frustrating to get through. The game does offer quite the challenge, but with no real reward or sense of progression, it's not a challenge you'll feel like taking on.
Despite my grievances with the unfair difficulty of Rain World I did enjoy my time with it but not as much I had hoped to. It's massive, interestingly, designed world begs me to explore it but the unfairness of it all pushes me away. Rain World has so many things going for it like an awesome enemy AI system, great animation, huge world and more but the other lesser done well things like the way too slow movement speed and the moments of unfairness keep it from being truly great. I do think it is worth checking out though and judging for yourself as it is unlike most other games out there.
Nindie Spotlight
7.5 / 10.0
Overall while there's no doubt that Rain World is a unique title on Switch it's also very likely going to be a love / hate affair for people at best. The controls that feel novel and unique to one person may just seem to be wonky and difficult to another, and I'd say both perspectives are right to a degree. It's very much a trial and error kind of game, and the ever-present reality of the next monsoon coming to wipe you out when it's most inconvenient adds to the tension and, often, frustration. That said, if you like a challenge, are interested in something that plays quite differently, and have some patience for getting to know how to make the best use of your always-limited time is can be rewarding.
Rain World is a formidable experience to fans of the survival genre, and one that you can now take with you on the go via the Nintendo Switch.
Sticks and stones may break my bones and the rain will totally kill me. Like every other thing in Rain World. If you are up to some challenging puzzle-platformer with extreme survivor elements, Rain World is what you are looking for.
GOOD - Rain World is one part cute, one part creepy, and another part frustrating survival game. The controls are not easy to master, and some will no doubt find the punishment of death in this game unforgiving. Still, those that like a challenge are sure to find something to like!
"Rain World was definitely not what I was expecting and it's not going to be what a lot of players will be expecting either. It subverts your expectations and delivers something different and unique but not very approachable. While it looks amazing and is originally animated, your exploration and desire to delve into it might be seriously hampered by its crushing difficulty and unforgiving failure penalties. It could have been an indie darling, talked about in mainstream gamer communities but the developers wanted to deliver another experience entirely. The end result is a solid piece of video gaming, lovingly crafted and with a lot more depth than it may seem, but it will probably remain a cult classic, bearing the tried and true "not for everyone" label."
If you're looking for a slightly different 2D platformer that provides a challenge then Rain World is a great fit
Rain World is certainly one of those "love it or hate it" type of release where the premise is either going to strongly resonate with you, or you're going to abhor it and not want to play it again. The game's presentation is top-notch, and its gameplay mechanics feel tight and to the point, but this might not be enough so save it in your eyes. Did I have fun with it? Yes. Is it a flawed release that could have been made a tad less difficult? Definitely. Is this a must-have game on PS4? Hard to say. But I'm sure that if you play the game you won't forget about it anytime soon.
I wanted to love Rain World. It's an admirable game that tries many interesting things, but it also puts up too many barriers that deter gamers from truly enjoying it. There's an interesting world to explore, but most will lack the patience to do so.
Rain World is a surprising fun game when it manages to click together. However, it also suffers from some frustrating design choices that makes it difficult to enjoy the game. Despite its flaws, the game offers a solid experience if you can overlook some of the difficulty spikes.
Rain World is difficult and unrewarding unless you're willing to persevere through unforgiving trials of time and sheer luck, then you'll likely find a plain frustrating experience. That said, those who don't waver are bound to find a gem within the rough.
Do not be fooled by the serene music or a cute protagonist, Rain World is an extremely difficult and highly frustrating survival game. You will become part of the food chain from a hostile environment with deadly rains. Death will constantly follow your steps and progression will have a slow pace. Several secrets await to be uncovered, including game's own mechanics and objectives. If all of this enticed your competitive spirit, go for it; buy the game and be happy. Otherwise, stay away from all the stress. Above all, have in mind that you may face technical problems that may corrupt your save file.
Review in Portuguese | Read full review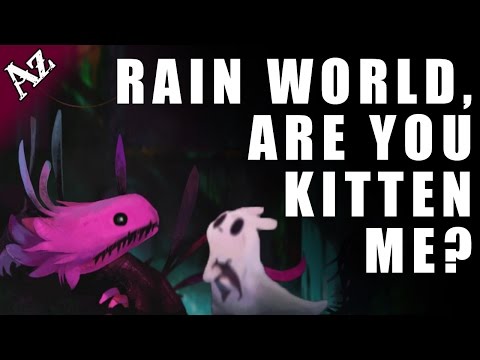 In short, we can say that Rain World offers a platform adventure that also introduces some aspects of survival; However, if the game offers good ground on the card, in the realization we encircle some aspects that do not convince us too much.
Review in Italian | Read full review
PlayStation Universe
6.5 / 10.0
The bountiful promise of Rain World's grim world and the assortment of cunning creatures which inhabit it are summarily undone by fiddly controls and an overwhelmingly punishing level of difficulty. Underneath it all there's an assuredly decent effort here; it's just a shame that all but the most masochistically inclined will ever summon the requisite determination to plumb its intimidating depths.
Rain World is a fun game with a lot of fun survival mechanics and beautiful art style. This title is held back by its own level design that felt confusing at time.
Rain World is a maddening thing, because of quite how special it could have been. Beautiful environments, incredible animations and enticingly hazy mechanics are fantastic, but the sheer cruelty of how it's pieced out to the player transcends challenge and becomes an unwanted trial.
Rain World is a charming and beautiful game held back by its overly punishing gameplay. Imprecise controls and cheap deaths contribute in making this survival platformer way more frustrating than it needs to be.
Incredibly difficult but nicely drawn, atmospheric and surprisingly deep platformer about long and rough journey of one small slugcat. Rain World don't really have enough mercy, the game doesn't forgive the slightest weakness or inattention, and it's rules can remain misunderstood for a very long time. To go through it, you need an iron will, perseverance and aspiration. If you've got what it takes, it could be a lot of fun.
Review in Russian | Read full review
NintendoWorldReport
6 / 10.0
The main appeal I saw in Rain World was in its art style and the design of its enemies. Its mechanics need some fine tuning for it to be the masterpiece it has the potential to be. If you're looking for a game that'll really try your patience and give you a good challenge, then I'd absolutely recommend adding this to your library. Otherwise, I'd recommend you look elsewhere.
The end result is complicated: it's a game we bounced off quite a lot but one we still greatly appreciate. The game does something new with the genre and it does it well for the most part, making the game worth at the very least giving a look.
Rain World shows up to the table with a lot of good ideas but fails to execute successfully on many of them. What should probably be a challenging but enjoyable game feels more like a directionless, unintuitive slog that, while mostly pretty to look at, is confusing and possibly overly difficult for the sake of being difficult. I can see a situation where just a few tweaks to character movement (namely improved speed and agility) would go a long way toward making this game feel like a properly balanced challenge. It's entirely possible that the point of the game is to be really hard, but if so I find the controls, mobility and systems design is at odds with that intention, because as a player I never felt empowered to deal with the challenges laid before me so much as at the mercy of the whims of whomever is pulling the strings.
Too often in Rain World, death does not feel warranted, as the ruthless creatures make any attempt to advance truly punishing. I felt that many times that there was simply no way to avoid dying, which in turns sets you back in your progress to locate new areas to explore. There are thrilling moments in the game, but the poor design decisions in the game hamper any enjoyment.
I wanted to love Rain World, I really did, but in the end I couldn't. Although it starts out strong, and boasts a variety of unique gameplay features, it ends up coming out a bit muddled due to the abusive limits it places on players and overbearing confusion.
Rain World will probably establish a cult following, which is great because it deserves a fan base for its thoughtful ideas. Unfortunately, too many factors get in the way of what very well could've been one of 2017's most interesting indies.
Rain World has so much potential, it's infuriating to watch it crumble under the weight of trying to be difficult. There seems to be a new mantra in gaming that the game's not good unless it's brutally hard, and this is clearly misguided. If it controlled better and gave the player a bit more sympathy, Rain World would have been sublime. As it stands, though, Rain World is just an angry experience, yelling at gamers for every little mistake.
An endearingly designed creature and a captivating world in ruins cannot save this 2D platformer from its punishing gameplay.
There are definitely some cool ideas in Rain World, but the moment-to-moment gameplay is far too unsatisfying to wholeheartedly recommend.
Become a slugcat and don't let him drown or be eaten. Classic mix of platformer and survival, but only for persistent players.
Review in Polish | Read full review
I feel so badly for this game in a way. It seems so close to being something special and wonderful, but is just undermined at every turn by baffling design choices, poor controls, and frustration. Maybe some of these issues will be addressed in a future patch and Rain World will become the game it feels like it should have been. Someone else will have to let me know. As far as I'm concerned, my days of being a slugcat are officially behind me and I won't be looking back.
With core systems opaque and unnecessarily limited, all I ever felt equipped to do in Rain World was fail.
Sadly, despite its pretty aesthetic, Rain World is a confusing and sluggish platformer that failed to give me any reason for what I was doing and just left me feeling bored and bewildered.
One of the best-looking 2D games ever made, but the beautiful animation can't compensate for the tediously unfair gameplay.
Rain World is so very close to being something special. Its aesthetic is haunting and its dynamic AI creates a world that feels real, as opposed to one that exists purely for you to overcome its challenges. Unfortunately it's a game undone by poorly implemented controls and a series of strange design decisions that undermine the type of game it wants to be.