Percentile Rank
Ultra Street Fighter II: The Final Challengers is ranked in the 31st percentile of games scored on OpenCritic.
Rating Summary
Based on 68 critic reviews
OpenCritic Rating
Based on 68 critic reviews
Score Distribution
Unscored Reviews
I'm not entirely sure what I was expecting from Ultra Street Fighter II: The Final Challengers. Like many others, I think the biggest draw was that it's another SFII remix game, which have traditionally been well received in the past and a joy to play, even if you're not a fighting game fan. There were so many missed opportunities to introduce new modes or improve versions of old modes, and anything that was included honestly felt like it was thrown in as filler. As far as SFII sub-series re-releases go I can unequivocally say that this is the worst; for both time and money, there are better SFII remix titles out there that you could be playing. It's plain to see that Capcom, knowing that the SFII allure would sell units, pushed out a half-assed release as a full priced game. If this is their idea of quality these days, they need to let this sub-series rest.
Street Fighter 2 on Switch is a disappointing release made worse by the rip-off price.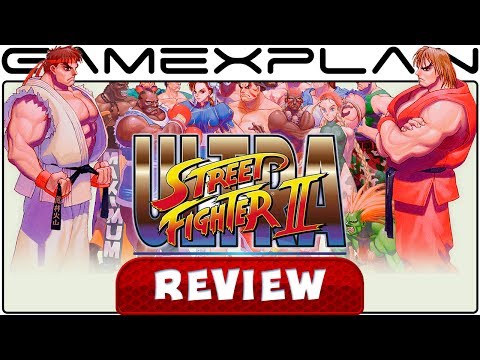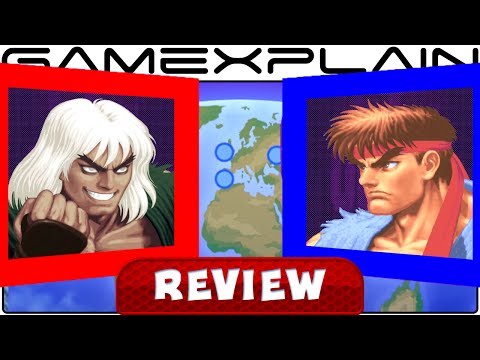 Despite an underdeveloped Buddy Battle, a poorly-conceived and executed "Way of the Hado," and some missing modes, Ultra Street Fighter II is joyful to play.
Though the extras on the cartridge are hit or miss, this is an overall wonderful addition to Switch's library.
Scored Reviews
Ultra Street Fighter II: The Final Challengers is a tribute to a classic. Street Fighter II made the fighting genre what it is today, and this game certainly celebrates it.
It might sound strange to call an anniversary repackaging of a decades old title a "must own" for a new system, but Ultra Street Fighter II: The Final Challengers is just that well produced.
"there's little denying that Street Fighter II is one of the finest games of all-time and if you're a Nintendo Switch owner and a fan of the fighting genre, then this definitive version of the game is a must own for fans."
Switching Worlds
8.4 / 10.0
When it comes down to it, the core gameplay is just as fun as it has ever been. Playing with others is what makes this series remain fresh after all these years. People only looking for a single player experience should look elsewhere.
Ultra Street Fighter II: The Final Challengers will still entertain Newcomers and presents itself with a great graphical overhaul that fits mostly even a bit better than Street Fighter IV. The Way of the Hado Mode is a big disappointment and if you're familiar with fighting games you'll soon want to get a pro Controller instead of playing with the Joy Cons.
Review in German | Read full review
Ultra Street Fighter II: The Final Challengers for Nintendo Switch is a great tribute to a perfect videogame, probably the greatest beat 'em up of all time. Happy 30th birthday, Street Fighter!
Review in Italian | Read full review
I've loved this game since I was a child, and I've always felt that it was in need of only minimal tweaks to bring it up to date. And Ultra Street Fighter 2 is exactly that – familiar territory but with better graphics, plus a few nice-to-have but non-essential extras. My biggest concern are the controls, since the Switch clearly isn't built for fighting games. The Switch Pro controller is an effective fix, but it's expensive. If you don't already have one and invest in one just for this game, you're looking at £95 – which is quite steep for a game that's nearly 30 years old.
Street Fighter 2's core gameplay remains as fundamentally strong and compelling as ever, with the Switch breathing new life into it. Fans of the franchise, and of fighting games, would be remiss if they didn't pick this up.
Nintendo Enthusiast
8 / 10.0
All in all, I've been really enjoying my time with Ultra Street Fighter II: The Final Challengers. If you aren't a fan of the genre, this won't be a game that changes your mind, and while some feel the price tag is a bit too high for the game, I've gotten a ton of enjoyment from it thus far.
Ultra Street Fighter II: The Final Challengers offers a nostalgic trip down the memory lane, featuring the same addictive gameplay from Super Street Fighter II but improving it with remastered visuals. It takes advantage of the hardware features offered by the Switch to offer an experience that makes it the definitive version of Street Fighter II.
The idea of bringing a Street Fighter game on the go is great, specially when you have the possibility to share the experience with someone else. While not perfect it offers a fun an addictive experience while playing with friends.
Review in Spanish | Read full review
Cheat Code Central
3.9 / 5.0
Ultra Street Fighter II: The Final Challengers is getting a lot of attention as a release for the Nintendo Switch and for good reason
Ultra Street Fighter II retains all that made the original SFII a classic: solid gameplay, charismatic rooster... that now you can enjoy and share everywhere. It's as fun as it was 25 years ago, but at the same time, it feels like a missed oportunity: the new modes doesn't add nothing new or interesting enough (and Its price isn't cheap).
Review in Spanish | Read full review
There's a surprising amount of content here, but also a surprisingly large price tag for a game that's 26 years old.
Ultra Street Fighter II: The Final Challengers is a great addition to the Switch's library. But at $40 it won't be for everybody on day one. I think hardcore Street Fighter fans will find the content included pretty enjoyable, and young kids who may not have had the opportunity to experience those games will find it a lot of fun too. Meanwhile, most people should wait until there's a more appropriate entry price before jumping into The Final Challengers.
Despite having little novelties and being the most complete version of Street Fighter II to date, the specific additions for the occasion does not just excite us.
Review in Spanish | Read full review
Ultra Street Fighter II: The Final Challenger brings fresh air to the Switch games. Great for playing online and with your friends, but this game had more potential that has not been exploited.
Review in Spanish | Read full review
Ultra Street Fighter 2: The Final Challengers is a solid addition to the still thin game library of the Nintendo Switch. Sadly though, the new game modes feel sluggish and even flat-out mediocre due to the lack of emotion, making gamers wonder if paying $40 bucks for the experience is actually worth it.
Review in Spanish | Read full review
Ultra Street Fighter II: The Final Challengers' greatest success is how well suited it is to Nintendo Switch. Setting the console in Tabletop Mode, detaching Joy-Con and passing one to a friend, it's a reminder that there simply isn't any experience like it, let alone the fighting legacy that it now becomes a part of. Whether a play on nostalgia or not, the result builds to a definitive version of a fighting great.
Street Fighter 2 remains a good game, whatever incarnation it appears in, but the new modes add nothing (and are bad) and it's far too expensive. A conundrum, then, and one only you can decide if you're willing to pay out for.
As an exercise in nostalgia, or an introduction to one of the most seminal fighting games, Ultra Street Fighter II: The Final Challengers is great. Its new modes, characters, and features are ultimately disappointing though, making the definitive edition of Street Fighter II less meaningful than it should be.
Super Street Fighter II: The Final Challengers with its colorful hand-drawn graphics and a full set of modes proves that the original concept of the project even after 26 years is still relevant. Despite some technical problems and unreasonably high price tag, The Final Challengers can be recommended to all fans of two-dimensional fighting games on the Nintendo Switch... Just wait for discounts, price cuts are definitely coming.
Review in Russian | Read full review
If you want arguably one of the best iterations in the Street Fighter series on the Switch, then Ultra Street Fighter II is definitely worth getting but bear in mind that it is definitely overpriced.
In the end, I was a little underwhelmed with Ultra Street Fighter II The Final Challengers on the Nintendo Switch and given the technological advancements in fighters since this game was released, it did feel like it was stuck back in the day. Sure there are some new modes and new control systems for the Nintendo Switch but it just felt dated at times. Overall, this game is definitely one for the purists and although not a bad game per se, it doesn't offer anything new either which is a shame. However, if you're looking for that classic fighting experience, then Ultra Street Fighter II The Final Challengers delivers in that area!
This is still an incredibly fun fighting game to have at the ready and online, but Ultra's new modes and features are all minor additions
NintendoWorldReport
7 / 10.0
A blast (or Hadoken) from the past that's still fun over 20 years after it's original release.
Capcom is definitely onto a winner with Ultra Street Fighter II: The Final Challengers. Taking a Super Nintendo classic and sprucing it up just a touch retains enough nostalgia-factor so as to appeal to older gamers, yet has enough re-balancing, shiny new paint, and extras to ensure newcomers can enjoy the ride, as well. Hardcore or not, there is something for every level here in The Final Challengers. It may suffer when using Joy-Con, but crack out the Pro Controller and this feels as good as the series did in the past.
Each stage has been updated substantially to properly fit modern TVs and has a nice, smooth, cartoon-like look
Meet the new Ultra Street Fighter II: The Final Challengers, mostly the same as the old Street Fighter II. Beyond the veil of some visual wizardry and a few rote fleeting fluff modes, this is the old school foundation that a lot of folks built their fighting game careers on. That's not a bad thing, especially with the Switch's on-the-go hook, but it could just as easily have been a downloadable release.
Ultra SF2 is still a frantic and skilled beat'em up, but it lacks options and single player modes.
Review in Italian | Read full review
Ultra Street Fighter 2 is a fun title which is a testament to the quality of the original title, however the extra content on offer and the horrendous Way of The Hado mode do little to justify an eighth iteration in the SF2 series and falls woefully short of it's £35 price tag.
The Games Machine
6.8 / 10.0
This new installment of the SF series is not exactly mind-blowing: the fights are balanced, but the new additions to the rosters are pretty dull and anonymous, and overall everything seems pretty sloppy.
Review in Italian | Read full review
Paste Magazine
6.7 / 10.0
There are no drastic changes, just smudges at its corners, and the failure of any apparent dramatic variations feels disappointing in its own right. Capcom could very well have tried something different and experimental, and I think that attempt would have had more virtue than simply a good, portable version of an existing game. Ultra Street Fighter II is indeed fun to play, but I can't help but feel sad to see a legend retire by aiming for the middle.
Geeks Under Grace
6.7 / 10.0
The classic fighting game has again found itself a new home on Nintendo Switch. The basic gameplay is fun and the aesthetics are mostly outstanding, but the overall experience is let down by the addition of rushed gimmicky features.
Ultra Street Fighter II: The Final Challengers is a fun fighting game with interesting new mechanics and touted as the definitive version of Street Fighter II, but it comes off as lazy and overpriced, padded with a lackluster buddy mode and an unnecessary and almost broken "Way of the Hado" mode reminiscent of the worst of the Wii era.
Digital Chumps
6.5 / 10.0
Ultra Street Fighter II - The Final Challengers packs the punch of the 1991 original arcade release, and the inclusion of two new modes and all the SFII characters helps make the experience unique, but the price doesn't justify the package. There's just not enough here worth the asking price for the release.
I walked away from Ultra Street Fighter II: The Final Challengers surprised at how much fun I could still find in the game, even when playing on the less-than-adequate controls the Switch offers by default. Still, that enjoyment doesn't change the fact that Capcom was off the mark on this release—we either should have received the game as a cheaper digital download, or as a more expansive collection.
The quality of Street Fighter II is unparalleled, and it is still one of the most balanced fighting games ever created. The addition of Violent Ken and Evil Ryu doesn't do much to the roster, and Way of the Hado is a diversion at best. However, the $40 price tag stings.
Ultra Street Fighter II: The Final Challengers does a great job of scratching that nostalgic itch and has a few bonus features but overall the package feels like a misstep. At $15 to $20 I'd have no problem recommending this to everyone out there. However at $40 for physical or digital download it feels like Capcom got a little greedy and put minimal effort into this port but is an attempt to extract a premium price. With classic Neo Geo fighters appearing on the Nintendo eShop for $7.99 this price difference seems even more glaring.
Geek Culture Podcast
6.5 / 10.0
If you are looking for a tried and true fighter, you can't get anymore classic than Street Fighter II. The addition of two new fighters adds some content, but not a whole lot. The real draw is the mobility of the game with the Nintendo Switch. If you are down on your luck with fighters on the new platform, there is only one choice right now and it's not half bad.
There's no argument that the gameplay in Ultra Street Fighter II: The Final Challengers is timeless. It strikes the right balance between technical flash and grounded mechanics to provide an experience that captivates all types of fans, whether they're jumping into fighting games for the first time, stopped playing from Street Fighter III onward, or never stopped playing fighting games. The various extras, however, feel half-heartedly done. From the Buddy Battle mode to the abysmal Way of the Hado, few things feel fully fleshed out, while parts of the presentation fare worse than the work Backbone Entertainment did almost 10 years ago. At least the online works fine this time around, which may be enough to entice some players. With a price tag of $40, the game represents a very steep cash grab, so unless you're adamant about getting Street Fighter II on the Switch, it's best to wait for a sale or a price drop.
Reno Gazette-Journal
6 / 10.0
Ultra Street Fighter 2 looks like a love letter to fans such as myself who spent tons of time and even more quarters at the arcades during SF2's heyday. While classic mode remains fun and modern mode looks nice, a lack of extra features and a poorly implemented first-person mode with waggle controls sours what should have been a celebration of Street Fighter 2's legacy. It's still a solid title but also represents a missed opportunity.
Ultra Street Fighter II is a more than competent release, but if you're a seasoned veteran it's very difficult to recommend the move over to this update… even if the Switch hardware is perfect for this game.
The Outerhaven Productions
All in all, Ultra Street Fighter II: The Final Challengers is an impressive title for the Nintendo Switch. Sadly, the fact that we've seen this game several times before heavily negates its appeal. Short of adding two new characters, and the disappointing Way of the Hado mode, this is still Super Street Fighter 2 Turbo HD Remix. The title is worth picking up if you enjoy fighting games, but not its current price. Definitely, wait for a sale.
The Final Challengers isn't the deluxe reissue that it should've been, but it's still a solid enough version of Street Fighter II that lends itself well to portable play.
Ultra Street Fighter II: The Final Challengers is certainly a competent game at what it does best: classic 2D fighting gameplay and plenty of online possibilities to extend the game's lifespan. It also adds two modes that bring no added value whatsoever and its selling price is completely out of line with what is to be expected from a new version of a game that is over twenty five years old.
Review in Portuguese | Read full review
Overall, Ultra Street Fighter II: The Final Challengers is an impressive port for fighting game and Street Fighter fans. This addition to the Nintendo Switch library is much-needed and proves that the Switch can handle the rigors of a fighting game, especially in portable mode. It's going to be great to get more fighting games in the future on this platform.
Ultra Street Fighter II is an admirable effort; a pitch-perfect version of Street Fighter II on the Nintendo Switch. Capcom has re-balanced the game from its Super Turbo release, thrown in the Super Turbo HD Remix art, and added some additional Switch-only modes. Unfortunately, the whole package just feels adequate. Ultra Street Fighter II doesn't feel like it goes above and beyond for the series' 30th anniversary and the asking price is steep for what's there.
Beyond its core, though, The Final Challengers' value prop is pretty bad, and with no real modes outside of Arcade to makes this edition particularly appealing, there's little reason to need it. It's true there's online play, which does feature a clever point-based ranking system, but the former is not new and the latter is not so compelling as to drive player investment. Ultra Street Fighter II: The Final Challengers will make a fine gift for a youngster or acquaintance Street Fighter celibate, but it's probably not worth your time until the price goes down otherwise.
A classic that is still enjoyable today, with optional enhanced visuals, and additional features, not all of which are successful. Some fun can be had with it, but at its current price it's hard to recommend.
Review in Arabic | Read full review
Ultra Street Fighter II doesn't offer true value for money and represents Capcom at its most lazy and exploitative; this really should have been a low-cost digital download. It's still a fantastic one-on-one fighter, but before making a purchase you need to seriously ask yourself if you need another version of this game in your life – and if you do, you should perhaps explore cheaper options.
Capcom's latest take on its seemingly forever-popular Street Fighter 2 is an enjoyable version of the game on Nintendo Switch that allows fans to take the fight with them.
This game hardly presents anything worthy of its price tag. The HD version released on previous console generation is almost the same at half price.
Review in Arabic | Read full review
Ultra Street Fighter II: The Final Challengers is nice for fans of the series, but anyone else might feel ripped off paying full retail price for a game with so little new content. Great for online play, bad for basically everything else.
Ultra Street Fighter II tries to add a robust package around its tried-and-true Arcade mode, but much of that package doesn't pan out. All that leaves is the Arcade and Versus modes and for as great as Street Fighter II is, it's a game that also shows its age after a while.
While Way of the Hado feels tacked on and ultimately a pointless gimmick, this is still a great version of Street Fighter II and currently the best way to experience the classic game on today's hardware. The additions to the main game are minor at best for the astonishing price tag, with Evil Ryu and Violent Ken just being amped up clones of existing fighters, but it still plays like the classic arcade fighter. Just don't expect anything revolutionary.
It's still amazing that such an old game can remain so playable after all these years, although it's equally incredible that Capcom still insist on charging full price for it.
An overpriced package that offers little new content, Ultra Street Fighter II: The Final Challengers isn't a marvelous return for this venerable series. Being mobile is great, and the game looks good, but everything else about this release is skippable for all but the most die hard SF fans.
With remasters being such a well-defined entity in today's world, there is plenty of titans for Ultra Street Fighter II: The Final Challengers to measure up against, and sadly it falls short against all of them
Ultra Street Fighter II: The New Challengers feels like a lazy afterthought from a developer reluctant to commit fully to the Switch. It's so frustrating given that Street Fighter II is itself a classic game, but Ultra does little to provide reason to purchase it yet again. Way of the Hado and an Art Gallery are nice touches, but ultimately superficial and fail to justify the game's price tag.
If you're a fan of fighters, you've no doubt been spoiled of late by high-quality offerings that come with a range of extra features and — perhaps most importantly — engrossing, engaging story modes that help to create an attachment to characters. Ultra has none of this.