Percentile Rank
The Long Journey Home is ranked in the 24th percentile of games scored on OpenCritic.
Rating Summary
Based on 29 critic reviews
OpenCritic Rating
Based on 29 critic reviews
Score Distribution
Unscored Reviews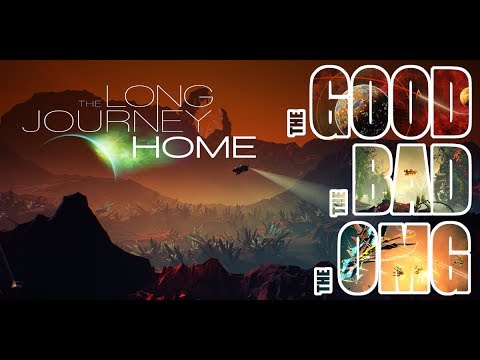 If you can handle its flaws and problems, are a fan of good quests, plots and experiences, The Long Journey Home is defintely something for you, if you´re able to spare 40 bucks for such a game. Even tho it may have the content to allow a playtime worthy of this price tag, it´s up you, how long you can have fun with it.
Rock, Paper, Shotgun
Unscored
There's not quite enough here to win me over completely, but there's more than enough to make the numerous trips I've made worthwhile, and part of the charm is in never knowing if there's anything left to discover.
Scored Reviews
It's a beautifully crafted narrative driven game that is made for space enthusiasts. Those who daydream of one day leaving Earth and explore new horizons. It made me feel emotional in ways I didn't expect.
Review in Portuguese | Read full review
Space the final frontier... this is the attempt to return from that frontier.
The Long Journey Home is an interesting exploration game that succeeds in a lot of ways, but never really seems to shine.
The Long Journey Home is a roguelike sci-fi survival simulator fueled on hope and hopelessness. Bring them home, commander. But be ready to die a hundred deaths before that ever happens.
The Long Journey Home is a richly detailed, challenging experience which quickly and efficiently sucked me in. For those willing and able to master the complexities of the game, it will provide a rewarding and memorable adventure with an abundance of replayability and variety.
It's slow moving, but that's mainly because you're trying to conserve fuel. If you're awful at resource management, then you'll find The Long Journey Home takes longer than it should. There's quite a bit to do and see, and kill, but if you want a time sink then this will be right up your alley.
The Long Journey Home is a nice spatial game that suffers repetition.
Review in French | Read full review
The Long Journey Home on paper is a game that is very much for me. It is a game about the exploring space, seeking out new life and interacting with fascinating civilizations but the fact that it is a rogue-like takes away from all that.
I spent many moments cursing its name in frustrating due to consistently dying. However, the game has grown on me, and I am excited to take different paths and play different ways. Fairly priced, The Long Journey Home provides some comedic relief in a dire and stressful time. The game's atmosphere is beautiful and the exploration into the game provides a vast amount of space adventure.
A savage, sometimes frustrating space exploration game that succeeds because of beautiful design and a compelling universe.
In short, we can say that The Long Journey Home is an indie title that starts with very good intentions, intersecting different and varied genres within it, but which in fact does not fully meet our expectations.
Review in Italian | Read full review
Daedalic has created a very brave space roguelike that features strategy elements and a huge universe to keep us in front of our screens.
Review in Spanish | Read full review
The space adventure of The Long Journey Home it's hard, a journey into the galaxies that requires a lot of patience. Not a bad game, but not for everyone.
Review in Italian | Read full review
When The Long Journey Home focuses on interactions with a diverse and entertaining cast of aliens across its procedurally generated star systems, it's possible to find a degree of wonder and personality that many roguelike seldom achieve. Unfortunately, such interactions take a back seat to a barrage of frustrating minigames with rewards that rarely match the risks. The experience as a whole suffers for it.
The Long Journey Home never attempts to make its journey particularly thrilling, but the deliberate pacing combines well with its risk-versus-reward elements and the simple enjoyment of travelling the stars.
The Long Journey Home is a roguelike that tries to do things differently but it still fails to become accessible enough to a wider audience. While there are some interesting mechanics and features, the bad controls for both ship and lander and the lack of precise information will put more than a few players off.
If you're looking for an strange little alternative to No Man's Sky then look no further than The Long Journey Home
If The Long Journey Home had focused gameplay and transitioned smoothly between its many elements, it would be a great game.
The Long Journey Home has some great ideas. But ultimately it is a victim of its grand ambition. Repetitive, often frustrating gameplay further mar the experience.
The procedurally-generated nature of each jump warrants countless replays – you'll just have to deal with a game that's often doing its best to scupper its own best characteristics.
Cultured Vultures
5.5 / 10.0
The Long Journey Home tries to strike a balance between engaging exploration and conservative resource management, but its punishing learning curves throughout the adventure make it a challenge to really sink your teeth into.
The Long Journey Home promises much more than its punishing gameplay can deliver on
The Long Journey Home is bound to drift to the far left side of my Switch home screen, but I hope it's not forever. I will keep my eyes peeled for an announcement promising "drastic changes." In the meantime, I will dream of a better game.
At this point in time I can't really recommend The Long Journey Home. The game's control system is fundamentally broken and I think it would take too much work from the developers to patch this in. I personally think it would be a worthwhile investment as it would seriously make the game much more playable and enjoyable. My other main gripe is the repetitive gameplay, unless you like grindy type games, then The Long Journey is probably an easy one to skip. Especially for the very high price point.
The Long Journey Home is a painful war of attrition. It feels at odds with itself: it wants to incorporate randomization to encourage replayability, yet that randomization makes the critical resource-management components even more frustrating. It could have seriously benefitted from some restraint on the part of the developers; if fewer systems were left up to pure chance, this could have been an expansive, exciting new exploration game. Instead, it's an overpriced curiosity that buries some great ideas under a planet-sized mound of bad decisions.