Percentile Rank
Assassin's Creed Origins is ranked in the 94th percentile of games scored on OpenCritic.
Rating Summary
Based on 166 critic reviews
OpenCritic Rating
Based on 166 critic reviews
Score Distribution
Unscored Reviews
Assassin's Creed Origins is a masterful return to form from a franchise that some had considered to be on the slippery slope towards irrelevance. One of the finest games of the year.
With The Hidden Ones, Ubisoft has already delivered a decent expansion for Assassin's Creed Origins and hopes to repeat that trick with The Curse of the Pharaohs. This time around however the focus is on Egyptian mythology rather than the Creed.
Assassin's Creed returns and its vast and evocative Egypt inspires wonder - even if much in the game remains familiar.
Overall, besides the aforementioned lack of instant assassinations in some cases, I do have a lingering concern regarding the depth and variety of content, an important aspect of games belonging to the open world genre. Ubisoft stated that it would always be meaningful, but I still have to check whether this will actually be the case. Other than that, though, Assassin's Creed Origins is looking great so far.
Assassin's Creed Origins is ungainly and uneven, beautiful and frustrating, expansive and unexpectedly conservative.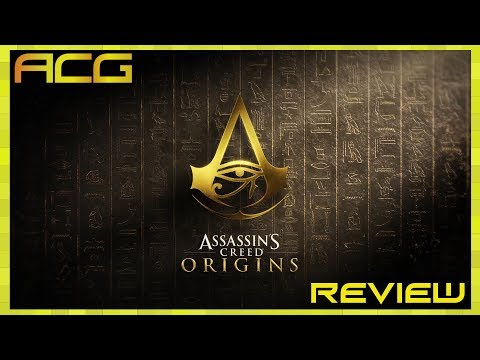 Assassin's Creed Origins is a triumphant return for a franchise that was tottering about with fatigue just two years ago.
A shining example of what exploration-based games can be, dropping many of its franchise's worst traits even while being sometimes held back by the mundane. Buy it.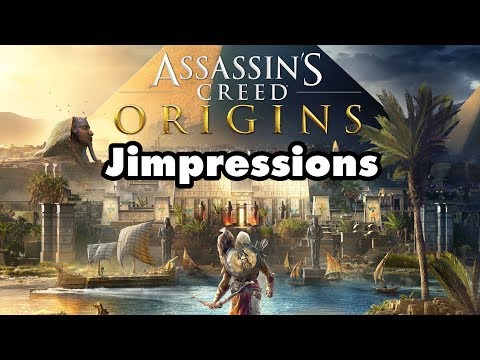 Rock, Paper, Shotgun
Unscored
Origins handles its creative inheritance more elegantly than some open worlders, not least because unlike, say, the first game's Altair, its protagonist actually feels like he is of this realm rather than merely in it. And if the levelling and to-do list grate, the series has never offered a society and a landscape so worthy of close attention.
Do I think this is the game that's saved the franchise, yes I do. It needed a shot in the arm, the corpse of Assassin's Creed was starting to shamble around and lurch like a mummy rising from Sneferu's Tomb - AC: Origins is the best thing to happen to the series for a long while and I'm going to keep my eyes on what Ubisoft does next with the game. The future is bright, shimmering, like the heat-haze over the Pyramids of Giza. Only it's not a mirage or a false dawn, this is a new breed of Creed and the change was right on time.
Checkpoint Gaming
Unscored
Assassin's Creed Origins is the breath of fresh air that the franchise so desperately needed. It genuinely feels like Ubisoft took the time to really think about where the franchise was going and address the concerns that we've had over the last couple of versions. The combat is wonderful, the effort put into making Egypt feel authentic and interesting is everywhere you look and Bayek is a strong, emotional and sometimes flawed character that you truly root for.
In "Assassin's Creed Origins," history and the amusement park intermix and the result is thoroughly transporting.
Scored Reviews
Assassin's Creed Origins took an amazing new direction with a brand new story, new world, and new hero. The story is quite epic and it presents some of the most important historical events and characters in Egypt. I loved the variety of targets and how each boss has a complete different approach that changes the combat strategy and gameplay.
Review in Arabic | Read full review
After a year's absence, Assassin's Creed is back and it has been reborn. And I'll happily admit that I've got egg on my face, because it's better than ever.
As beautiful as it is deadly, Origins' Egyptian playground is finally everything you wanted the Creed to be.
Assassin's Creed Origins is a worthy addition to the franchise and in my opinion, is among It's best. I'd still have to say Assassins Creed 2 is my favourite, but Origins certainly has me excited for where they can go in the future. Ubisoft taking a year out after Syndicate was definitely the right move (I'll admit I was wrong when I said they didn't need to as Syndicate was a perfectly good game). I still say that I enjoyed Syndicate but Origins is by far a better game. If you're a fan of the franchise then this is without a doubt a must. If you're not a fan of Assassin's Creed then unfortunately I don't think this game is enough of a change to bring you on board (but then again if you don't like Assassin's Creed why are you reading an AC review?)
Assassin's Creed Origins is a breathtaking sensorial odyssey. It is the MMO I have been waiting for without the MMO part and boy would my heart skip a beat if it were massively multiplayer online. Ubisoft has won a new superfan.
An amazing game overall that incorporates everything that the fans have been asking for - Improved graphics, a new gear system, an updated UI and HUD, completely redesigned fighting and stealth mechanics, and so much more.
Assassin's Creed Origins takes the series in a new direction with more RPG elements and it's better for it. The game has a huge map with an incredible density of things to do which will keep you busy for well over 100 hours. It looks amazing and especially those playing on an Xbox One X hooked up to a 4K/HDR TV will not believe their eyes at how simply gorgeous it is. The production quality here is off the charts and I can't help but look forward to where the series might be headed next. But for now? I'll gladly dive back in for a NewGame+
The Loot Gaming
9.5 / 10.0
After playing all the Assassin's Creed games and now having played Origins, I have to say that I'm not disappointed. I didn't really expect anything in this game to be different except maybe the story line but Ubisoft rose to the challenge and crushed it with this game! Origins is a perfect starter game for anybody who wants to be a part of the AC franchise. Just know, that once you're hooked it's hard to get off.
Moving away from the industrial sausage machine to a bespoke creation oozing with attention to detail, history, love and satisfying combat, Ubisoft is back in the ring, ready to take on other open world contenders.
Digital Chumps
9.5 / 10.0
Assassin's Creed Origins sets a new bar for the series. It brings a taste of tomb raider mixed in with the girth of a Horizon Zero Dawn and wrapped in a traditional Assassin's Creed structure. It will exceed gamer expectations and set a new standard for a series that needed life breathed into it.
Assassin's Creed Origins has the best gameplay and story of the franchise. Even with a few problems, it successfully reinvents its formula and delivers one of the best games of the year.
Review in Portuguese | Read full review
In conclusion, Origins successfully adds to the franchise of Assassin's Creed by delivering something fresh yet similar. It plays like a treat on the Xbox One X and thanks to the 4K graphics is easily one of the most immersive titles as you explore Ancient Egypt and its connecting lands.
Oyungezer Online
9.3 / 10.0
It's a magnificent restart for the Assassin's Creed franchise. Origins slowly but surely follows in the footsteps of The Witcher 3.
Review in Turkish | Read full review
Assassin's Creed: Origins is that important, it may have not only revitalised the series, but it may just have saved it
Assassin's Creed Origins improves from its past few installments in almost every way, yet it never quite reaches the heights of the games it tries to emulate.
Generación Xbox
9.2 / 10.0
Assassin's Creed Origins will take us on an extensive journey through Ancient Egypt to discover the origins of the brotherhood. Its excellent artistic section, together with a renewed and well developed gameplay, shows that large projects require slow cooking. The wait has been worth it, as Origins is what you always wanted to see in the Assassin's Creed franquise, which we ventured to say, is already its best title.
Review in Spanish | Read full review
Assassin's Creed has been perhaps the best known franchise for annual releases.
Review in Spanish | Read full review
IGN Middle East
9.2 / 10.0
Ubisoft has promised that Assassin's Creed Origins will bring the series back to its roots, but it surpassed its roots. It provided amazing RPG system and led us to a journey we would never forget in Ancient Egypt.
Review in Arabic | Read full review
Origins can pretty much be considered one of the best entries in the series (if not the best) for introducing a myriad of changes, all for the best, and making the series advance in the same way Assassin's Creed II did back in the day. Put it into a sarcophagus next to the pharaohs, because this game is worth of the Valley of the Kings.
Review in Spanish | Read full review
Origins is an Assassin's Creed Action-Role-Playing hybrid worth playing. The best Assassin game in many years.
The series of Assassin's Creed has decided to stop for a year after the release of Syndicate, to regroup and find a way to lessen the criticism received. The role-playing footprint is marked and appreciable with the leveling and the equipment's enhancement system that allows the gaming aspect to vary greatly.
Review in Italian | Read full review
Despite some hard-to-miss flaws, Assassin's Creed: Origins makes one hell of an impression. The game is such a big leap from AC Syndicate, the same way ACII was an improvement when compared to the first game. Fans of the Assassin universe simply need to play this game. Ubisoft proves that they still have something interesting to say in their biggest franchise.
Review in Polish | Read full review
One of the year's better action games and well worth some time in its scorching sun.
Assassin's Creed Origins is the most in-depth and enjoyable title in the Assassin's Creed series so far, and ancient Egypt is the perfect location to showcase it.
Assassin's Creed Origins is exactly what the series needed. Changing up just enough elements to feel like a major difference in formula without ripping out the heart of the series, this is easily the best entry into the series in a long time.
Assassin's Creed is one of those franchises which started out strong but after a few games the shine began to tarnish. I'm not sure what state Origins was in when Ubisoft decided to give it extra time to iterate, but it was clearly time well spent. Origins is exactly what the series needed to make it new and wonderful again. It's not perfect, but it sets a great roadmap for the future and the imperfections can be honed into something even more incredible.
Assassin's Creed Origins changes genre to action RPG and that is exactly the direction in which it should follow. One of the best open world game on the market.
Review in Polish | Read full review
Assassin's Creed Origins is a brilliant return to form for a series that had begun to get stale over the last few of it's annualised releases. With a vibrant new setting, great characters and the introduction of RPG elements i'd recommend this as a must play for any fans of open world RPG games even if they had previously not been a fan of the AC series. Major props to Ubisoft for realising issues of the past games and taking the time to get this one right. Delivering what is arguably the best Assassin's Creed game yet.
Gamer Professionals
9 / 10.0
The new direction to a more expansive role playing experience is a welcome change. I wish that the modern day story had been crafted to the same standard that the story of Bayak and Aya had been written. If you prefer to ignore the modern day aspect of the story, however, you might find that it keeps these portions short and sweet. I am beginning to really enjoy the new combat system, even though I have issue with its controls. Thanks to new skills and a range of weapons to experiment with, combat is always evolving close to the same rate as the player is developing their mastery. Really though, the most standout thing about Assassin's Creed Origins is Egypt itself and the people who inhabit it.
The Game is a Lie
9 / 10.0
Assassin's Creed Origins is one of the best Ubisoft games of all time, if not the best. It's able to harmonize a big story with an innovative gameplay.
Review in Portuguese | Read full review
I could wax on about Assassin's Creed Origins for a long time. For all its foibles it's a staggering achievement, and most certainly the best the series has ever offered alongside Black Flag. Those who prefer the dense city networks of the original games may bounce off it a little, but for anyone even remotely interested in the prospect of The Witcher and Assassin's Creed crossing paths, this comes highly recommended.
Handsome Phantom
9 / 10.0
Gameplay changes, while a little jarring to past fans, seem overall to have been made for the better, and the game plays like a more cohesive experience than ever before.
This is a big win for Assassin's Creed. Just about every aspect of the game is better from combat, to hunting (thanks to Senu), to stealth play with a sense of consequence. Top it off with the memorable yet vulnerable duo of Aya and Bayek, and this sequel managed to go back in time while taking several steps forward.
Gorgeous and addictive game, which not only looks spectacular, but also plays really well. If this is the start of a new trilogy, we can't wait to see what's next.
Review in Russian | Read full review
Even if you've been away from the series for years, Assassin's Creed Origins is a great jumping-on point.
Origins absolutely achieves Ubisoft's goal of bringing back their flagship franchise with a bang.
Origins provides a much-needed change in direction for the Assassin's Creed franchise.
It's one of the best Assassin's Creeds games I've played, and probably one of my all-time favorites right after Black Flag and the controversial AC III. This one was worth the wait. Now time to get back to exploring another ancient tomb!
Assassin's Creed Origins is a modern work of art. Aesthetically it's a masterpiece, but while many elements of the franchise have come leaps and bounds in the last couple of years, other parts remain stagnant. It leaves a far more exciting legacy in its wake than previous games, and demonstrates Ubisoft's true abilities when given the time to create something truly inspiring.
Assassin's Creed Origins is a gorgeous and well-realized world filled with danger and excitement in equal measures. A stellar return from hiatus for the franchise.
A welcome sea change for Assassin's Creed, Origins is not only a hugely ambitious open-world action RPG, but also a game that breathes new life into a series that was in danger of losing its way. Assassin's Creed Origins stands as a genuinely fantastic game and a remarkable achievement.
If Assassin's Creed Origins is not perfect, it perfectly understood what it had to do to regain the hearts of the players and fans of the series. In addition to delivering the mysterious and fascinating ancient Egypt on a silver plate, in an absolutely gigantic open world, full of activities and secrets to discover, it succeeds in transforming its gameplay by brilliantly integrating RPG elements and completely renewing, with no less talent, its combat system. It will literally absorbs you for dozens and dozens of hours. Assassin's Creed Origins succeeds in taking care of its fans and its fundamentals, while starting its own revolution. We can only hope that the next episodes will keep this momentum.
Review in French | Read full review
Assassin's Creed Origins is the epic adventure that the series has always been building towards. The FingerGuns Review;
The world Ubisoft have created in Origins is a masterpiece and one I'm looking forward to immersing myself in further by mopping up all side missions, exploring each corner of the huge map and exploring the many tombs that remain hidden under the sand.
Gamerheadquarters
9 / 10.0
I found Assassin's Creed: Origins to be an excellent entry in the series providing a breathtaking and authentic look at ancient Egypt.
Assassin's Creed: Origins takes all the best elements of the action-RPG genre, and gives you a complete freedom to use them all in the gorgeous setting of the Ancient Egypt.
Assassin's Creed Origins is a triumph, taking the series back to the beginning and allowing players to partake in the genesis of the war between the Templars and the Brotherhood of Assassins.
After putting in 70+ hours into the game and unlocking all achievements, it is easy to say that it's refreshing coming back to a game on a different perspective of the series that's never been touched, its origins.
For those of you who were suffering from franchise fatigue, Assassin's Creed Origins should cure your ailment. Ubisoft's increased development time for the game brought a gigantic open-world full of stories, exciting battles, and a loot system that have you exploring for dozens of hours.
PlayStation Universe
9 / 10.0
Beautiful to look at and packed full of compelling content, Assassin's Creed Origins ranks as one of the best entries in the series to date.
Cheat Code Central
4.5 / 5.0
Assassin's Creed is one the greatest action-adventure franchises out there, though its hidden blades have been dulled of late from overexposure. After its brief sabbatical, Assassin's Creed: Origins enters the arena glistening in the Egyptian sun with quality and quantity. Whether you're a devout member of the Creed, someone who's fallen off the hay wagon, or even a prospective new member of the Brotherhood, this is the time to dig your blade deep into a succulent new Assassin's Creed.
Assassin's Creed Origins is a return to form for the franchise, delivering some true iterations upon the formula for this latest installments. After a two-year hiatus, the latest adventure is one full of intrigue, delivering an appealing world which cries out to be explored. With a strong narrative that stands on its own, Origins is a game not only for series fans but a great starting point for newcomers.
Geek Culture Podcast
9 / 10.0
Assassin's Creed Origins is raw in its brutality, but refined in its delivery. This is a new era of Assassin's Creed and one that could serve as a strong basis for further RPG-focused installments in the series. It has re-emerged wearing the same trappings as other video game masterpieces while not losing complete sight of its own image, for better or worse. We have been reminded of the Brotherhood's place in gaming and we are eager to see where this revitalized journey goes next.
Invision Community
9 / 10
Assassins Creed Origins is as big, beautiful and brutal as the version you played in your dreams, simply making it the best game in the history of the Creed. This is the innovation the 10 year old franchise needed, and the blueprint that the next 10 years needs.
What we have here is a game that is more than it seems. Origins is a fitting title because there are a lot of beginnings to witness, many of which will pique the interest of lore aficionados.
Assassin's Creed Origins is a deep-dive into a truly stunning realization of ancient Egypt, with a rich series of cultures, genuine characters, and more mission variety than any other game in the series. The combat is challenging and thoughtful, and while the loot system doesn't match up to games like Destiny 2, there are enough different weapon types and enough enemy variety to keep you swapping between weapons, catered to the situation. The RPG elements encourage challenges of their own, and even despite a handful of bugs, I desperately wanted to keep playing.
Assassin's Creed Origins is a pharaoh's tomb chock-full of shiny treasures for gamers, especially those fascinated with Ancient Egypt. The side quests may feel a little repetitive, but the credible, nuanced characters and diversity of the main plot make up for it. And with so much to explore and do in its jaw-dropping setting, Origins is exceptional.
Assassin's Creed: Origins delivers a robust experience that mixes up the traditional Assassin's Creed formula in a way that's fresh and fun to play—but which also harkens back to the series' roots in some welcome ways, too. It marks an evolution fans might not have even known they were waiting for, delivering one of the best overall experiences we've seen yet from the series.
Assassin's Creed returns with an entry that moves the series forward, but also goes back to the beginning of the Brotherhood. This new entry is a bit more of an action RPG, telling the story of how Bayek of Siwa becomes the first Assassin alongside a number of intriguing side quests. Combat is overhauled, but it's still a bit muddy when fighting multiple enemies. What absolutely does work is the world itself; Egypt is beautiful and the diversity in the environments is impressive. I'm unsure if Assassin's Creed Origins will convert anyone who isn't already a fan of the series, but it does what it does well enough to join the top of the franchise.
Assassin's Creed Origins manages to combine familiarity with revolution. Its RPG mechanics, new combat system and equiment management make you feel a fresh enough experience. The map is huge, beautiful and detailed, supported by an outstanding artistic direction. Unfortunately, the narrative fails to captivate us to make it closer to perfection.
Review in Spanish | Read full review
For those out there with lingering apprehension about gratifying their Creed cravings with Ubisoft's latest addition to ever expanding line of Assassin's Creed (AC) games, have no fear as Assassin's Creed Origins easily puts to shame the last few bland and "samey" AC titles. I kid you not, this installment to the series has been redefined in a way that almost separates Origins from the series altogether. For the most part of my first few hours of gameplay, I didn't feel like I was playing a Creed title – I liked that. Origins doesn't reek of the traditional, rapidly deteriorating Assassin's Creed game mechanics that felt like they were clinging onto the series by nothing more than fraying nostalgic threads in the last few games. No, instead the series feels profoundly like it's found a fresh lease of life and in light of it's forebears and where the series was headed without a serious rethink, this undoubtedly had me breathing a distinct sigh of relief.
It's fitting that Origins showed the birth of the Assassin's Creed while also indicating the much-needed rebirth of the Assassin's Creed series.
I fell out of love with Assassin's Creed a long time ago, but Origins has recaptured the magic that made the series a powerhouse all those years ago. With its humble protagonist, whose outlook on life is clouded by relateable and crushing heartbreak, and a world so detail-rich, it's hard not to be floored by everything Origins manages to be. Assassin's Creed Origins is the definitive action-adventure game of the year. It's a wild power fantasy that satisfies not only a curious thirst for knowledge but both bloodlust and wanderlust to such lengths it's almost gluttonous.
Overall, Assassin's Creed Origins is a beautiful game and it lives up to the success of Syndicate. It's just that the present-day story needs a little more attention. Where Bayek's story is the strongest part of the game, our modern-day protagonist's story is very lackluster and just feels like it was added their as a requirement. One thing is for sure, this game is definitely worth playing. It revitalized the series into new heights and I cannot wait where the next adventure will take us.
Marooners' Rock
8.9 / 10.0
This is one of the most realized open worlds ever created in a game and Origins is easily a Game of the Year contender. If someone told me that at the beginning of 2017, I would've laughed in their faces and gone to play Black Flag again. Oh yeah…and players can pet cats.
Assassin's Creed: Origins is formulated, but because of the great story and the motivating RPG system it is the best part in a long time.
Review in German | Read full review
A revamped design breathes new life into the franchise. Origins is the start of something great.
The Games Machine
8.8 / 10.0
Assassin's Creed Origins is the best possibile series comeback. With a gripping narrative and an amazing Ancient Egypt open world, Origins is a wonderful and unforgettable journey. The revamped light-RPG gameplay works like a charm and it's the perfect mix of the most iconic features of the series and a contemporary taste in terms of game design.
Review in Italian | Read full review
Assassin's Creed Origins re-presented the series in an excellent way that erases the negative effects of previous versions, starting with the world's own virtual design and Atmosphere and through the best combat in the series, which have more powerful enemies and more difficult confrontations, not to mention wildlife, And the story that offers a series of famous historical Characters and the number of weapons and equipment available for use and variety.
Review in Arabic | Read full review
Pure Playstation
8.8 / 10.0
Ubisoft needed to recapture the magic that made the series great in the first place, and it seems it has done so. It's just all the quintessential problems within said magic tag along for the ride.
With Origins, Ubisoft has managed to give a new life to its brand without compromising the original concept. The company was inspired by many other products such as Ghost Recon Wildlands, GTA V and The Witcher, and these contaminations make Origins' gameplay really unique and fascinating, also thanks to the historical setting chosen by Ubisoft Montréal. Bayek's adventure is the right step for the saga to start again after a few missteps, and we hope that this will be the first of many other huge titles in the Assassin's Creed franchise.
Review in Italian | Read full review
Assassin's Creed Origins performs remarkably in every aspect and shows a final and finished product, leaving behind the ghosts that had this franchise. It's a title that every fan of the series should play, because it correctly maintains the essence and implements fresh and fun elements to the series. To sum up, Assassin's Creed Origins is the renewal that the saga needed.
Review in Spanish | Read full review
Besides some minor technical and A.I. issues, Assassin's Creed Origins merges up as an astonishing, dynamic world where Bayek begins the history of the franchise. It surely represents a great way to celebrate 10 years of Assassin's Creed and a redemption chance for Ubisoft as a developer.
Review in Spanish | Read full review
VGProfessional
8.7 / 10.0
Assassin's Creed is back in fantastic form, and Origins it's a title that any fan of open-world adventure titles shouldn't miss. Assassin's Creed: Origins brings a lot of new ideas to a tried and tested formula, and while it downplays classic elements like stealth, it refines most of the core gameplay with expertise, creating a memorable experience.
Assassin's Creed: Origins helps Ubisoft to keep its dignity after messing up this long-running series. It's not perfect and it's not all bad, but it certainly keeps Ubisoft in the right path.
Review in Persian | Read full review
_________________________ "There is a depth to Origins unlike any of the other games of the series
Assassin's Creed: Origins is as much a departure as it is a homecoming. Revamped combat mechanics defibrillate the series with much-needed challenge. The guided open-world design encourages and rewards exploration unlike any Assassin's Creed game before it, and takes place in one of the series' most memorable settings. But at the end of the day, and despite some growing pains, Origins is a culmination of the best aspects of the series. And for that, some hiccups in the transition to full-fledged RPG are a fair trade.
The series has managed to reinvent itself, all whilst still keeping the heart of the series intact. Bayek is a great character, and the open world of Egypt is remarkable.
Assassin's Creed Origins is a much-needed reboot for the franchise. Its massive areas to explore not only look better than ever, but will keep you entertained for for a long time.
In the end, Assassin's Creed: Origins is one of the best in the series and one of the most exciting action adventures of the 8th generation. The ancient Egypt setting is done perfectly to the smallest detail and it takes you on a memorable journey with a likable hero. Origins is a must have for long time fans or fans of Ubisoft-esque open world games
Review in Persian | Read full review
PlayStation LifeStyle
8.5 / 10.0
Assassin's Creed Origins blew my expectations away in so many areas, but there's still something missing that made the likes of Assassin's Creed II and Brotherhood so special. However, this is most definitely the best title since then, and one that I'll be jumping back into very soon. The new combat system makes for some incredibly satisfying moments, while the design of the world is only matched by the likes of The Witcher III. Ubisoft Montreal can be proud knowing that they've delivered a level of AAA-production that likely won't be seen again until Cyberpunk 2077 rolls around, but there's just that last leap of faith that needs to be made to once again deliver a generation defining game.
Expanded progression, open-world freedom, and a fascinating backdrop make for an enticing origin story
After a year-long hiatus, Assassin's Creed returns with one of, if not, the best entries in the series thanks to its immersive Ancient Egyptian setting, engaging story and refined combat mechanics
Assassin's Creed Origins is a beautiful open world action-adventure game, a real reborn for the Ubisoft saga made possible by a fresh new combat and quest system. The story is passionate and the character of Aya is very cool. Perhaps the game is not perfect and had some trouble of game desing, but we can surely say that is very good and a perfect way to follow for the next chapter.
Review in Italian | Read full review
In essence, Assassin's Creed Origins is much the same game as the original Assassin's Creed, which came out a decade ago. It's a formula that people like to play, and it's certainly been honed and improved over the years. Origins is, then, undoubtedly the best iteration of this formula yet. But I yearn for a fresh approach and new ideas, something that astounds the senses as much as the wondrous world this game inhabits.
Reno Gazette-Journal
8.5 / 10.0
Assassin's Creed returns with a polished take on the franchise's mechanics as well as stunning visuals and vistas that will make you feel like a virtual tourist of Ancient Egypt. The gameplay itself doesn't stray much from the classic formula, which can be good or bad depending on your view of the series' gameplay. Improved combat, however, combined with a nicely crafted world and an intriguing protagonist make Assassin's Creed Origins a worthy entry in the long-standing franchise.
Editor's Note: Last week, DualShockers was transported and hosted in San Francisco by Ubisoft and got the chance to play Assassin's Creed: Origins for over 40 hours on the Xbox One X. The build of the game we reviewed the title on had yet to go through stabilization patchwork as well as a now-implemented day-one update.
Post Arcade (National Post)
8.5 / 10.0
Ubisoft Montreal's Egypt is a special and spectacular thing; a place worth visiting and exploring even if it weren't home to heroes and villains
Assassins Creed Origins is the best title in the series to date. With an intriguing story, an impressive open world and the best combat in the series, Origins is a game I highly recommend for hours of fun.
At the end of the day, AC:Origins is an intriguing game. The extra time has allowed the developers to sort out some technical issues that have plagued the series while also adding in improvements. The story, however, is nothing new or fresh, and the structure has not evolved beyond the now familiar Ubisoft open-world recipe.
A new beginning for Assassin's Creed, with a lot of new elements. Not a perfect game, but a good open world with marvellous locations.
Review in Italian | Read full review
Assassin's Creed Origins is a step, or rather a jump in the right direction, although its core is just classic Assassin's Creed. Don't expect a revolution, only good, quality entertainment. And what other game allows you to slide down from the top of the pyramid?
Review in Czech | Read full review
We have to say that on a general level we are really happy with this new chapter that wants to give something new but without getting too far off the tradition. A game that shows us breathtaking landscapes and an intriguing atmosphere. A story that moves between the pyramids, recreating the majesty of a beautiful kingdom on the one hand, and revealing a mystery behind a powerful Order. Only pity for the combat system, which remains a little woody, though much better than the past. Maybe one of the best Assassin's Creed ever went out; at this round Ubisoft has definitely hit.
Review in Italian | Read full review
Assassin's Creed Origins manages to rejuvenate the series with a solid foundation built on a fun combat system.
Red Value Gaming
84 / 100
A brilliant setting, new systems, and familiar features blend together for a strong prequel to the Assassin's Creed series.
Assassin's Creed Origins offers besides some technical issues a brand new adventure with a functional open world. The new action rpg elements haven't been implemented that well but are definitely a step in the right direction and are supported by a great interface and upgrade system.
Review in German | Read full review
"Origins" is exactly what fans have been expecting from Assassin's creed for years. The game is a combination of ideas from its previous titles and some notions from other games with similar genre which make it become one of the most unique Assassin's creeds up until now. Splendid design of Egypt, roaming system, engaging main missions and notable graphics are all reasons why Origins is a respectful AC title.
Review in Persian | Read full review
It's probably the most beautiful looking game out there to date. The environment is so detailed that you won't find the same place twice. Too bad that the story is mostly boring and has no real twists or remarkable moments and it's a bit of a grind at the end. But if you enjoy the game you can easily spend 70+ hours by clearing all the side missions and hidden secrets.
Review in German | Read full review
I was really torn in assessing Assassin's Creed Origins, as it hits several of the same lows as the rest of the series, with its sometimes uneven mission structure and janky physics. But given that they now have the formula down to a science and didn't rush it out the door, all of that is a little easier to deal with than its predecessors. It was a big risk trying so many new things at once, but it worked, and the setting carries it.
I dislike so many parts of the game. Giant chunks of it are littered with tired mechanics and missions filled with tedium. I even experienced the patented Assassin's Creed PC version at launch problems. It has a real money store where you can buy in-game credits to speed up your progress and some of the progression makes me feel like it was engineered to get me to buy these credits. ACO has almost everything going against it, and somehow managed to win me over. Just moving along in the game world is rewarding on its own.
Origins feels more like an RPG set in the Egyptian times, which is as good as it sounds.
Absence makes the heart grow fonder, and more ready for a hidden blade right through the centre. Assassin's Creed: Origins is an absolutely stellar return to form and even those who have previously not enjoyed the series would be wise to give it a second shot here. The new combat design is a big improvement, the world is rich, the story compelling; there is a lot to like here and it also massively returns on its investment thanks to the amount of content. There are easily over 30 hours here just in taking on the regular story and way over double that to complete the whole map. Buy this game.
Assassin's Creed: Origins is one of the best games in the series that was able to refresh mechanics and offer an amazing world exploration.
Review in Russian | Read full review
A delightful game, full of things today that are very much an Assassin's Creed game. However it's still far removed from what an Assassin's Creed game used to be - for some this is good; for others, less so.
Not completely back to the drawing board, Ubisoft takes some of their better old ideas and blends them with new ones to make one of the best Assassin's Creed games to date in Assassin's Creed Origins.
Assassin's Creed Origins has vastly improved combat and an astoundingly beautiful world to explore, but it felt a little afraid of going all in with its new direction.
Ubisoft were hoping for two things when they decided to give Assassin's Creed a gap year: they wanted to deliver a more polished experience, and they wanted us all to have time to miss shanking people in the neck in a gorgeous historical setting. They have achieved both. Assassin's Creed as a series has had a strange evolution, but going back to the start of the story, the place where the entire Creed was formed, has breathed new life back into it. Absence really does make the heart grow, well, stabbier.
As a whole, Assassin's Creed: Origins really felt fulfilling. The gameplay was fresh and functional. The visuals and design are vibrant and outstanding.
Assassin's Creed: Origins manages to be both experimental and safe. It tries a lot of new things, but it never ventures too far from the Assassin's Creed formula. There's a lot of potential in Origins, and it'll be exciting to see how the new features evolve in future games. Fans of Assassin's Creed should find a lot to like, and it may be time to revisit the battle between the Assassins and the Templars.
Almost at the cusp of true greatness, but not quite there, Assassin's Creed Origins is nonetheless a rousing adventure that truly manages to reverse the franchise's momentum after the double whammy of Unity and Syndicate.
All in all, there's more than enough to give Assassin's Creed Origins a go. Revamped combat, a fantastic representation of ancient Egypt, and a world crammed with things to do, Assassin's Creed Origins is a return to form of the franchise that has us optimistic on what to expect next.
With Assassin's Creed: Origins, Ubisoft has found an oasis in the desert. It's refreshing, blending sensible new mechanics with an established formula; moreover, it feels as though it was designed by a team with their eyes and ears open. The rulebook was far from thrown out, but it's been burnished to an impressive sheen, and this is the best the series has been since Ezio's heyday.
Origins was worth taking the year off. Egypt will be hard to top as a location. The series' dry, ironic, corporate sense of humor is still dull. But nobody can beat Assassin's Creed's architectural history lessons, even if you're still just stabbing folks and jumping out the window while you're sightseeing the entire timeline.
Assassin's Creed Origins is the revitalisation I was desperately hoping for. My cautious optimism has been rewarded by an excellent open-world adventure that could lead to an exciting future for Ubisoft's blockbuster franchise.
Without a doubt the best Assassin's Creed game since Black Flag – and right up there with the best entries in the entire series – Assassin's Creed Origins is a top notch open world title. Egypt itself is the star of the show, Ubisoft having meticulously crafted a stunningly detailed and varied landscape, but outside of the setting, a parade of gameplay and design improvements make this the roaring return to form that the franchise desperately needed.
I would have loved to have given this game a higher score, but I found a lot of issues with it from bugs to the things with the map and other small bits, although I did enjoy playing it because I am a huge Assassin's Creed fan. It's really big and fun, but the issues I listed and the changes they made aren't all great ones.
There is no reason to doubt that Assassin's Creed Origins is one of the best entries on the series in recent years, important changes on combat and progression systems fit well to the game and the representation of ancient Egypt is outstanding. However the game has some of the weaknesses of past games: bugs and lack of creativity on its challenges.
Review in Spanish | Read full review
The extra year of development has helped Assassin's Creed as a whole, as Origins is the next level for the series.
Assassin's Creed: Origins is not perfect, but it does return the franchise to a less tarnished status. While the game does not necessarily wash away the taint that stains Ubisoft's reputation after Unity's negative feedback, it does improve the overall stigma. The story immerses and intrigues, the characters are believable, and the bugs are tiny and negligible. As with most AAA titles, the graphics and audio are well-suited for modern consoles and PCs, and the gameplay is addicting enough to keep players interested. While the target-lock system is finnicky at best, the rest of the game's aspects more than make up for that mild irritation. The two-year break between entries seems to have done Ubisoft well. Hopefully, the company will continue to stick to a quality over quantity model.
Assassin's Creed Origins shakes up the series' combat, loot, and progression, while retaining the atmosphere, impressive open world, and historical bent that has made the franchise so beloved.
'Assassin's Creed Origins' sets a new standard for the series and will likely be the bar by which the features and failings of successive titles will be judged for years to come.
Ubisoft takes a few pointers from the open-world brothers with clear inspiration taking from The Witcher 3, Destiny and Far Cry. Robbing ideas which limit Bayek from having a signature experience, but in today's climate, I can take that because the 30+ adventure was a great one!
Assassin's Creed: Origins is not something that makes you fall in love with it and change the game for the AC franchise but it certainly is the beginning of good changes.
Review in Persian | Read full review
Geeks Under Grace
8 / 10.0
Assassin's Creed: Origins is a game whose content concerns raise the question as to whether or not enduring is language, violence, and nudity is worth the improved graphics and gameplay.
As a soft-reboot, Origins establishes what this reviewer hopes to be a precedent for the series. A stronger focus on the historical settings impact on gameplay is a definite step in the right direction, but Ubisoft still continue to bog their title down with unnecessary elements intended to provide longevity to their game. There's still a need to break away from the remaining restraints of the franchise. Without the resource grinding and MMO level progression, Assassin's Creed Origins could have been the best in the series yet.
Assassin's Creed: Origins tries to save the series from further falling down by taking the series to the ancient Egypt and adding lots of different new stuff including new characters and varied mission. It's still far behind the first two Assassin's Creed games, but it also feels like a new beginning for the series. All in all, the future looks bright.
Review in Persian | Read full review
Origins is a game full of flaws. With the exception of the environmental design, nearly everything could have done with an extra year of development time and a little more care and attention. And yet, Origins is more than the sum of its mediocre parts. I enjoyed most of the 40 hours I spent with Origins and I still have the urge to go back and tick off more boxes.
After taking a year off, Assassin's Creed is going through a transitional period and taking players back to the very founding of the Brotherhood in Ancient Egypt is symbolic of that. The vast new setting, the improved combat system and moving the series towards being a real action RPG have injected this series with a new life.
Assassin's Creed: Origins is the best game in the series, but it's a mediocre action RPG at its core. In this sense, it both succeeds and fails at being a much-needed franchise shakeup.
Assassin's Creed: Origins offers a rich world and a compelling story at first, but it's waylaid in part by the repetitive side quests and a weaker second half. It has secrets to find, but you'll have to go looking for them — and you'll have to do a lot of grinding along the way.
Origins is a great game, it has a compelling story with attractive graphics and impressive environments; however this comes at a cost due to the high graphical demand of the game. Ubisoft has clearly tried to expand into new territories with Origins and it works in their favour.
Assassin's Creed: Origins is far from being a bad game, but fails to achieve greatness as well. If Ubisoft would have cut half of the low-quality content, I think we would have gotten a much better game. While there's definitely room for improvement, I strongly believe that the Assassin's Creed franchise took a turn in the right direction.
Assassin's Creed: Origins is a good gaming experience with a lot of content but the story failed to impress, and while the game changed a lot of thing, it didn't bring anything new for the open world genre.
Review in Arabic | Read full review
Assassin's Creed Origins brings Ancient Egypt back to life with the best sandbox world Ubisoft has made to date. However, a half-baked combat system and poor RPG mechanics sour parts of the experience.
Assassin's Creed: Origins is truly unique compared to its predecessors, though as an Action RPG, it replicates many of the same mechanics you will find in its contemporaries. Regardless, it is a lovingly crafted world worth exploring.
New Game Network
73 / 100
Assassin's Creed Origins does enough things differently to warrant a look, but there is still something left to be desired. It's a lengthy game in a huge and varied open world that provides a foundation for what's to come, but it doesn't quite offer the breakthrough that the series was probably looking for.
Like real life, this game will overwhelm you. The key is to find your own way through it as best as you can, whether it's beelining straight to the next key milestone or taking the time to wander and discover both your neighbors and yourself. It's a familiar adventure, but not a forgettable one.
With Origins Assassin's Creed is better looking and bigger than ever, but the series still has a long way to go in things like story telling and mission design.
Review in Swedish | Read full review
In charting out a new storyline and the largest setting for the series yet, Assassin's Creed Origins makes a few stumbles along the way.
The game is determined to kill what Assassin's Creed once was in the hopes of the series becoming something greater.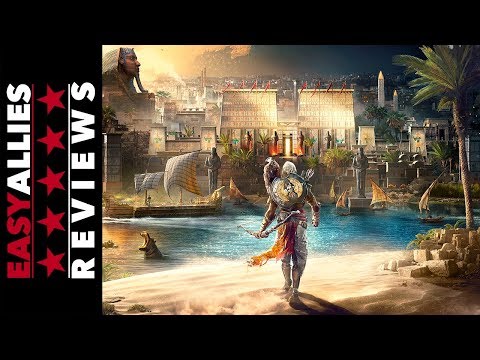 Although Ubisoft Montreal tried to add RPG elements and implement a new combat system in order to create a different gameplay, the problems in physics and various bugs, prevent Assassin's Creed Origins to become a great experience. The game has a great story and beautiful music but it can become repetitive very quickly and we can't see any improvements in graphics.
Review in Persian | Read full review
Assassin's Creed: Origins provides a solid foundation for the future, but a year off hasn't changed the series as much as you might've hoped.
Embracing a more RPG approach, Origins's engrossing open world experience is marred by persistent glitches and a narrative that suffers from poor pacing.
The best looking world we've entered all year can't save Assassin's Creed Origins.
A missed opportunity to reinvent the Assassin's Creed franchise, which offers only incremental improvement and too many old problems.