Percentile Rank
InnerSpace is ranked in the 31st percentile of games scored on OpenCritic.
Rating Summary
Based on 51 critic reviews
OpenCritic Rating
Based on 51 critic reviews
Score Distribution
Unscored Reviews
Sits in a weird middle-ground between lazy exploration and objective-based flying, without fulfilling the accessibility of the former or the difficulty of the latter.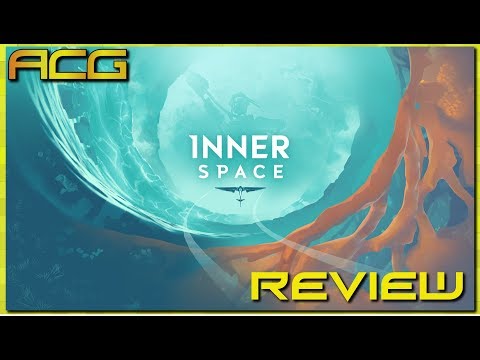 InnerSpace is definitely a game that earns plenty of kudos for the sheer effort and creativity put into it.
Scored Reviews
PlayStation LifeStyle
9 / 10.0
In case you couldn't tell, InnerSpace is a game that you should be playing. The well-realized worlds, exceptional aesthetic and compelling exploration mechanics complement each other tremendously well. If you can get past the occasional bout of unnecessary complex exposition, the evolution of each environment tells a compelling enough story to keep you enthralled from start to finish. Drop everything and check out what deserves to be one of the sleeper hits of 2018.
Overall this is an incredible game and a must play experience. The feel of the game is pervasive and stays with you while you aren't playing it as only the best games do.
Should you want a relaxing game of exploration and discovery, where each crevice and cavern hides a secret to be found, InnerSpace is for you. A marvel of perfectly blended themes, music, and gameplay—standing out for the attention to detail put in. I look forward to seeing what else PolyKnight Games is capable of.
More than just another artsy indie game, InnerSpace nearly earns a place among the greats were it not for niggling issues with the controls
The Game is a Lie
8.5 / 10.0
InnerSpace is a relaxing experience, a polished game, a work of art. Unfortunately, only people who look for something more peaceful will be able to enjoy it, since it is so zen. The way in which it sets this alternative universe is exceptional, and even with a lacklustre narrative and not-so-clear objectives, it deserves the attention of many.
Review in Portuguese | Read full review
Overall, Innerspace is a very relaxing, charming, and beautifully colorful release on PlayStation 4. The gameplay mechanics, art style, and music come together to give us a very interesting release that is definitely worth your time and money. Trophy hunters will be able to aim at getting a Platinum trophy added to their collection, which is always a plus, right? Kudos to PolyKnight Games and Aspyr for working to release this one, since it's a great addition to the PS4 library.
Nindie Spotlight
8 / 10.0
InnerSpace absolutely won't be a game that everyone will enjoy. People seeking action and intensity will be sorely disappointed by this relatively "boring" experience that reveals itself with a slow and deliberate pace. If you are someone who feels a need for a constant beacon guiding you to your next task you will also likely find the freedom the game affords aggravating. If you're someone who expects perfect performance it is worth noting that at times these large open spaces and details can make the framerate drag a bit. If, however, you are looking for something completely different, gorgeous, and full of a certain sense of calm and serenity there's absolutely nothing like it on the platform.
While InnerSpace struggles a bit on the technical side of things, the core game is a wonderful flight though worn out but still beautiful sci-fi landscapes.
NintendoWorldReport
8 / 10.0
There were many times where I was at the point of feeling completely lost, only to find that just around the corner contained the clue to unlock my next destination. While the controls could use a bit more polish, InnerSpace really came to be a beautiful experience that I grew to love. Nothing was handed to me, but I felt like I was actually charting the land and helping understand what had happened in this mystical world that was presented before me. If an ambient and memorizing adventure is what you're in the mood for, don't be afraid to explore the depths of InnerSpace.
It's not a game that is going to be for everyone, and there are problems with direction, getting lost, and the onset of motion sickness. But overall it works great.
Good atmosphere between music and sillence. A brief dream about flying and diving.
Review in Italian | Read full review
Switching Worlds
7.7 / 10.0
InnerSpace started off with me not knowing what to expect, but continued to get better and better. It's not perfect. It feels clunky when you keep crashing into walls when you don't want to. Flying around feels satisfying, though. It's beautiful to look at and relaxing to play while maintaining a fun factor. It's a unique game that is well executed and we need more of these.
relies entirely on its beautiful art style and effortless exploration to tell the story, and in this it succeeds.
InnerSpace can't quite reach the heights of a RiME or Journey, but it's a meatier and more compelling game than ABZU or Oure. There's something genuinely chilled-out about its alien vistas and lazy exploration. It's no thrill ride, but a thoughtful, mysterious adventure with moments of real wonder. If you're in the mood for something different, give it a go.
A part of me wishes there was more to sink my teeth into with InnerSpace – a proper narrative, maybe, but that takes away from what a lovely experience it is. It takes away from how it looks, sounds and moves. Most of all, it would make the game something very different and that would be a real shame because this is a very charming concept fleshed out with a great eye for detail.
Geek Culture Podcast
7 / 10.0
With exploration being the key, InnerSpace is a great candidate for picking up and playing on the game when you have a few minutes here and there. This makes InnerSpace even more appealing on the Nintendo Switch, as long as you don't mind the game's hands-off approach with telling you what you need to do.
Innerspace has all of the things I like in a game. It has an evocative plot, some well-executed flying and diving mechanics, and some tricky puzzles that genuinely require paying attention to the game world around you. All of this is, sadly, perched on top of a visual mode that made the game literally unplayable for me. A glorious few hours was all I could manage, but maybe you have the fortitude of eye and body to make it through the entire experience. I wish that I could.
This game unfortunately doesn't quite reach the heights of the peers that provide its inspiration, although some will be happy just to find a title that allows them to experience it at their own pace.
Short Pause Gaming
3.5 / 5.0
At the end of the day, Innerspace hit just enough of a chord with me to walk away appreciative of PolyKnight Games' effort. As I made my way through the wonderfully detailed levels, I was in awe of just how many hidden secrets there were to discover. Figuring out the puzzles needed to progress through the different area was a nice challenge, and the boss battles were just as complex to figure out. For some, the controls may take some getting used to, but by the time the credits roll, you should have a firm grasp on the flying mechanics. I would've liked a much more impactful soundtrack to complement the game's unique visual aesthetic, but that's not the case here. I feel it would have enhanced the experience even more. That said, if you're in the mood for an exploration game that will reward you for searching every inch of the map and offers up some challenging puzzles along the way, Innerspace will provide you with just such an experience.
Can indie games lose their novelty feel? InnerSpace shows they can. It's a good, but certainly not original game.
Review in Polish | Read full review
Innerspace is certainly not a game for everyone: the lack of a map or anything of the sort makes it easy to get lost in the game, not knowing where to go or what to do. Some people might find that fascinating, while the majority of players will probably utterly despise it. Homewever, for those who dare, Innerspace has one of the most beautiful worlds we've ever seen to explore.
Review in Italian | Read full review
Flickering Myth
6.5 / 10.0
While undeniably rough around the edges, the game's enticing art-style, free-wheeling "do what you like" gameplay and ethereal musical score did nevertheless make most of my time with it both relaxing and enjoyable.
Wonderfully inventive, InnerSpace is a very interesting game. Although it is regrettably missing something to keep the players coming back, it is a lovely, gentle, and relaxing game.
InnerSpace is a visually stunning game that ultimately fails to connect. It wants the player to explore and uncover its secrets, but places them in an environment that is deliberately confusing to the point of frustration.
InnerSpace wears its inspirations on its sleeve, and manages to replicate the tranquil atmosphere it's clearly aiming for. Its flight is enjoyable, with breath-taking views and colourful planets to poke around in. But it's progression and overall narrative really buckle under the weight, making the crumbling Inverse a wasted space for this otherwise relaxing exploration title.
Handsome Phantom
6.5 / 10.0
New Game Network
62 / 100
InnerSpace features a unique game world with some nice moments of quaint exploration and set pieces, but on the whole it's a bit too cramped and pricey to truly soar.
Nintendo Enthusiast
6 / 10.0
The real shame is that is not enough to really make InnerSpace fun to play. At best it feels like a chore and at worst you'll want to snap your Switch in half. If you can grasp the flight controls and are looking for a nonlinear story games then InnerSpace is available now on the Nintendo Switch.
InnerSpace aims to soar high and you have to give the development team credit for their ambition. As an experience I found the concept and exploration intriguing but in practice as a game there is a lot to be desired. The gameplay is not cohesive at times and the game can feel rather aimless. Overall, InnerSpace won't be for everyone but some will love its break from traditional game design.
InnerSpace is a really intriguing title that we wish we didn't want to ever put down; the game's worlds give such a strong sense of amazement that you will want to spend every second flying through them. Unfortunately, you'll likely be left too frustrated by the sometimes near-impossible-to-find story progression tasks to keep going. We really want to love this game, and we very nearly did, but we just can't quite manage it.
Gamerheadquarters
6 / 10.0
Innerspace has some strong elements to it though the progression isn't integrated well and it just leaves you wondering what's going on in it.
InnerSpace definitely sticks the landing in creating a strange and stylish set of captivating worlds that are intriguing to explore. However, the flight controls and puzzles don't come close enough to those same high points. My feelings wavered back and forth throughout this atmospheric aerial (and at points underwater) adventure, and I ultimately realized that I liked what I saw and heard for the most part. It's just too bad that scratching under this surface didn't unearth more rewarding mysteries.
If you want to leave behind all the games with tons of mechanics and experience something a bit more subtle and different, this is the game for you
Review in Persian | Read full review
Despite its lack of ambition, InnerSpace fulfills what it promises: a calm exploration title with much more underlying narrative than the average of its genre.
Review in Spanish | Read full review
Inner Space is not the perfect zen-game that it could have been. Despite moments of brilliance and an overall lovely aesthetic, there are mechanics which seem to be at odds with each other and thus the game seems conflicted.
InnerSpace is, without a doubt, an interesting experience. Despite its annoying inconveniences, it is a relaxing experience from start to finish.
InnerSpace features overall interesting aesthetics and the variety of the vehicles presented is certainly something to keep in mind. Where it doesn't stand out, though, is on its lack of guidance, which can cause some frustrating moments for the players and more variety when it comes to the puzzles would be very much appreciated. As it is, InnerSpace leaves the feeling that its execution is below expected.
Review in Portuguese | Read full review
InnerSpace feels like it rewards players more as a relaxation tool than as a game that grows and evolves through core progress. Indeed, its story is stimulating, the gameplay itself is serviceable, and the presentation is mesmerising, but it just feels a little too lacking as a full package. InnerSpace is worth a look if you find yourself intrigued, but be prepared for an experience that doesn't quite feel fully realised.
There's something irresistibly relaxing about non-violently gliding around the beautiful environments of InnerSpace.
Generación Xbox
5.8 / 10.0
The elements that build the game, its concept, its control, its artistic style, and even its script, are between the acceptable and the outstanding, and nevertheless the game sometimes fails in a noisy way at the basic point of any game: to entertain the gamers.
Review in Spanish | Read full review
If you can make it through InnerSpace's frustrating and tedious lows, there is some degree of fun to be had. However, this game fails to hold a candle to many of the games it tries to emulate. If good, arcadey flying mechanics are all you need in a game, then this might be for you. There is little else on offer to set itself apart from the rest of the pack.
Overall, InnerSpace is a tough sell. It's certainly not a unique game among its contemporaries and doesn't even attempt much to try and differentiate itself. It does accomplish certain aspects of what it offers you, where it can be a tranquil and slow-paced ride, with an appropriate presentation that is pretty to look at. Its merits, however don't out way its faults and can lead to a frustrating experience when looking at the whole package. InnerSpace doesn't quite soar to the heights it needs to be a good game.
InnerSpace manages to craft a bright, bizarre and beautiful world that is probably the best example of the phrase "eye candy" I can think of. Unfortunately, the act of exploring and navigating that serene, majestic world often times felt like a headache. The poor frame rate on Switch and no clear horizons made flying and swimming in InnerSpace far less enjoyable than the idea of those actions ever was.
Invision Community
5 / 10
Perhaps not your average indie, but not quite on the same level as Little Nightmares or ABZU.
InnerSpace falls more than a bit short of the heights it aspires to. The levels feel hard to navigate and they aren't helped by the laggy controls and constant motion of the Cartographer. It feels poorly optimised for Nintendo Switch, with frequent camera stutters and choppy frame-rates. It's overall a very unsatisfying experience, which is made all the more frustrating by the sheer potential InnerSpace has. The beautiful environments and quietly haunting atmosphere are still enchanting, but everything else just feels empty.
InnerSpace is beautiful... and that's all there is to say about it, because, as much as exploration games go, there are far better alternatives out there - with none of them feeling as disorienting as this one.
The overall disorienting look made it tough to get my bearings, which naturally hurts the game's fun factor.