Percentile Rank
Fear Effect Sedna is ranked in the 6th percentile of games scored on OpenCritic.
Rating Summary
Based on 49 critic reviews
OpenCritic Rating
Based on 49 critic reviews
Score Distribution
Unscored Reviews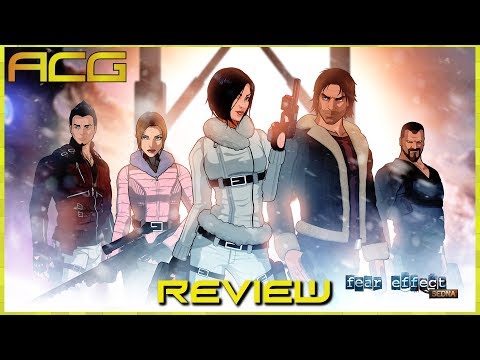 Scored Reviews
In Fear Effect Sedna we find a very linear adventure, but surprisingly varied. We find an isometric perspective game, which at times may seem that it does not pay too much attention to details. However, it is in the graphics that we see one of the main changes with respect to the original. In addition, the sound is simply impeccable and transports us completely to the story.
Review in Spanish | Read full review
Generación Xbox
8.1 / 10.0
Fear Effect returns with a sequel in an indie format, which will please fans of the series even with a change as noticeable as it is the gameplay, but maintaining the signs of the saga that debuted on the PSX.
Review in Spanish | Read full review
Fear Effect Sedna brings back from the past the core elements of the series, with a nice story that manages to drag the player into it.
Review in Italian | Read full review
VGProfessional
7.1 / 10.0
With Fear Effect Sedna, Sushee has managed to create a different yet faithful new episode in a long forgotten cult franchise. While the gameplay mechanics are not optimal for most, and the graphics engine is sub-par for what you would expect from a 2018 title, but it's worth picking if you're a fan of Fear Effect. Here's hoping Fear Effect Reinvented, a remake of the original Fear Effect and Sushee's other project, will be a better way to showcase the French studio's talent.
Fear Effect Sedna may not be the true sequel fans were looking for, but it still delivers an enjoyable story along with creative puzzles and detailed environments. If you take the time to learn how to fully utilise the tactical mode, or you just love micro-managing things, then the combat may work out better for yourself than it did for me. If you don't mind the issues the game currently has and you are a fan of the original games then you may want to try the game out in order to see Hana and friends on their new adventure, however gamers new to the series may not enjoy the story and the setting as much as the fans.
Despite not highlighting either its combat or stealth mechanics, Fear Effect Sedna is a pretty satisfactory resurrection of a franchise that we believed dead by its puzzles, plot and characters.
Review in Spanish | Read full review
Fear Effect Sedna is a flawed return for the late PS1-era classic, with its combat occasionally being a bit clunky and not utilizing the tactical elements as well as it wanted to. But the creepy descent into Inuit horror, stylish graphics, and challenging puzzles and gameplay may still provide you with enough reasons to take a peek at it.
Okay, one last thing. I know this is too much, but at the time of writing, Fear Effect Sedna's app icon for the Nintendo Switch is boring. You know what a great app icon for the Switch is? Something that tells the gamers what they're about to put their hands into. You know what isn't? Letters within textured shapes. Nowhere in "f.e.s." would I know what game Sedna is. I won't even know what those letters stand for. An icon is supposed to give players an idea of what a game's about. Fortunately, this mediocrity might just go away after an update and (hopefully) be replaced by something more engaging.
Ultimately, Fear Effect Sedna is saved by a great story and awesome puzzle design. I found myself completely impressed with where Sushee Games took the Fear Effect series despite the game's shortcomings. Fear Effect Sedna proves that the Fear Effect series can survive in a modern gaming climate and flourish. During my time with the game, once the story began to take unbelievable twists and supernatural elements made there way into the narrative, I truly felt like I was playing a new Fear Effect game and that's a lot of what I was hoping for from Fear Effect Sedna.
Geeks Under Grace
6.5 / 10.0
If you were a huge fan of this series, or games from that era, you could find a lot to like here. It's rough around the edges with cheesy acting, and a lot of game over screens, but if that doesn't put you off you could find an enjoyable time here.
Fear Effect Sedna is proof creativity can't always overcome poor execution. The game is often quite enjoyable, but the inspired moments can be difficult to appreciate amidst Sedna's mishandled nostalgia, ill-considered mechanics, and sometimes-wonky level design. Those willing to ride out the rough patches (or just hungry from some early-2000s cheese) may want to give the game a try, but I'm afraid I don't see this being the Fear Effect franchise's big comeback.
Fear Effect Sedna has suffered from an internal conflict over whether to stay true to the originals or start over. There is an authenticity in approach that lifelong Fear Effect fans will no doubt appreciate, but, taking a step back to look at the game as a whole, even they may come to lament the many flaws that it is riddled with. It's a shame, therefore, that it can't outrun its demons.
The cell shaded look of Sedna and the soundtrack are excellent, but the change in gameplay, some of the combat and the isometric look lessened my enjoyment. The puzzles and innovative ideas are great though and some of the world themes are interesting to revisit, but it most certainly left me remembering the original as the better experience.
Fear Effect Sedna brings a successful series back to the front line after a long absence. This new game will be welcomed immediately by those familiar with the series but new players will find it difficult to relate with the plot, as the game makes no effort to try to connect with them. The animation scenes and soundtrack demonstrate a high level of quality and good production values but the game's strategic component is less interesting than what would be expected and its visual presentation misses out when played on the Nintendo Switch handheld format.
Review in Portuguese | Read full review
Fear Effect: Sedna is a flawed amalgam of disparate parts. It fails to wholly convince as an action, strategy or stealth game, and the delivery of its story is a little stilted. However, the sheer variety of its mix and its fresh visual style may prove enough to keep you playing through.
Fear Effect Sedna makes use of a beloved franchise name and ends up deliverying a totally different experience from what it is expected when the name Fear Effect is heard. If you play it and simply forget about the brilliant past two first games from the franchise, you might be able to have fun with it.
Review in Portuguese | Read full review
Fear Effect Sedna could be a starter for the main course which Square Enix is planning to release in next few months. And I hope to see a great remaster of a game which was on of the finest games of PlayStation 1. A game for old fans and new gamers to enjoy.
Review in Persian | Read full review
The truth is Fear Effect Sedna is not a good game. It's more frustrating than it is satisfying and it will test the best resolve in the world if you are determined to see it through to the end. In this case, sadly, patches and fixes can only paper the cracks of what is an inherently flawed sequel.
PlayStation Universe
5.5 / 10.0
I wish the return of Fear Effect would have been something to celebrate. Unfortunately, it ends up being a mediocre attempt to revive the franchise.
Fear Effect Sedna is sort of an interesting artifact; a game out of its own time. If only playing it was any fun.
Fear Effect Sedna is a major disappointment especially if you are a fan of the series. The game certainly is ambitious but that doesn't help it solve many of its underlying problems.
Fear Effect Sedna features nice and well-made animated cutscenes, strange and sometimes completely annoying puzzles, and barren gameplay with terrible controls, especially during boss fights.
Review in Russian | Read full review
With a cast of characters that are forgettable and challenging gameplay that punishes you with load times and long waits between game over screen to starting at the last check point, I would steer clear of this title unless you are a fan of the previous titles. I believe there are gamers out there who are more forgiving of these things than I am, but I couldn't recommend it to someone without outlining the frustrations I had.
As mentioned earlier, a name carries expectations. Strictly in terms of game design, Fear Effect Sedna is quite possibly the strongest the series has ever been. However, it doesn't go far enough to make up for its deficiencies in atmosphere and storytelling. As it turns out, this title is as cold and distant as its locales and isometric perspective suggest. There's very little imagery to provoke thoughts or spark the imagination, just a high body count and a lot of swear words. Even if that were enough for a Cyberpunk game, it's handled in a manner that isn't stylish or memorable. All in all, this entry is a difficult recommendation, especially for Fear Effect fans.
Fear Effect Sedna revives a cult-classic IP, but the game's flat, subdued script, forgettable characters, and poor controls ultimately hamper this effort.
Fear Effect Sedna once again takes us to a distinctive universe of a popular series, but it suffers from plethora of irritating bugs. This time they've built-up enough to spoil a good idea for the game.
Review in Polish | Read full review
Fear Effect Sedna feels like a fan-service game. Fans will enjoy the story's continuation, but for everyone else, playing it is almost pointless.
Review in Czech | Read full review
A game full of more than it's fair share of style unfortunately lacks any of it's fair share of substance. It may be worth a look if you are a long time fan of the series but there are much better examples of this style of game for everyone else.
Fear Effect Sedna shows that the developer truly knows its source material inside out, but unfortunately the gameplay aspect remains lost. With poor voice-acting, a broken, almost unnecessary tactical system, unreliable A.I., and flat action, Sedna just isn't fun or compelling.
The more masochistic crowd of gamers out there will get a kick out of the formidable puzzles and vicious death cutscenes. The pure mediocrity of the rest of the game doesn't do enough to make it a worthy recommendation, however.
Fear Effect Sedna is vapid and vain, like a B-movie with a bit of gorgeous cinematography. Its gameplay falters miserably and even with the unmistakable atmosphere of the old games, Sedna just isn't enjoyable to sit through.
Fear Effect Sedna is a game that does just enough to be considered basic. Unfortunately, for fans of the Fear Effect series, this is not a triumphant return for the franchise but more so a reminder that it exists.
Underneath the pretty visuals, Fear Effect: Sedna is not a good game. The included systems all sound intriguing but in practice do little more than aggravate. This is an example of a story in the wrong medium, Fear Effect: Sedna would have made for a half decent film.
Fear Effect Sedna is a flawed sequel that misses its target by changing the franchise's genre and stretching itself too far beyond its means. By minimalising the survival aspect, even its own namesake has become redundant.
Fear Effect Sedna is a bad game. Sadly, I wanted to love it simply because of my misplaced nostalgia for the original two titles.
NintendoWorldReport
4 / 10.0
Bad puzzles, repetitive combat, and poorly designed encounters are constant companions. I respect the desire and the work that must have gone into making this revival a reality. I just wish the product would have been better for long-suffering fans.
Fear Effect Sedna is one of those games that were I not reviewing it, I'd have stopped playing very early on. Its few redeeming qualities actually fail to redeem it at all; it's simply not a very good video game, one that could only be satisfactory to the most eager of Fear Effect fans. For everyone else, it's impossible to recommend.
Invision Community
4 / 10
Overall Fear Effect Sedna gets a 4/10, it is fun in some areas with in-depth and difficult puzzles. Combat becomes too annoying in the later sections with party management becoming a hassle due to the mechanics. You cannot customise your character enough, or even stick to a certain playstyle as the game will swap between sneaking, action and puzzles.
It's clear that not enough love was given to Fear Effect Sedna. The lack of polish shows all over the place, and little flaws that could have been ironed out with more testing cripple the experience. The things it does well are rendered disappointing by the frustrating mess one needs to slog through to reach them.
Fear Effect Sedna is a case of improperly executed good intentions. It has an intriguing story at its core, but the bad script fails to make it shine. It has lots of different gameplay mechanics at work, but none of them feel good, let alone good enough to carry the weaker parts. It has a presentation that's less than stellar, even for fans who enjoyed the originals. There's still a chance that you can enjoy the game, but you'll have to forgive the various flaws to do so.
Fear Effect Sedna represented an opportunity to bring a well-remembered series – albeit not always for the right reasons – back to life. As is the case with many games arriving via Kickstarter, though, the ambition of the project fails to translate into the final product.
A tedious slog that sullies the legacy of its vaunted predecessors.
It's sure that developers of Fear Effect Sedna are huge fans of the franchise. They had some ideas about this new episode and there are e few elements that feel compelling. But in the end, there are too many things that just don't work or frustrate the players. Too bad.
Review in French | Read full review
Sedna paints a bleak future for this series. It is a sloppy mess that gets off on the wrong foot, only to shoot itself in the foot right after. It is a weird hodgepodge of body horror, cyberpunk sleaze, and secret agent shenanigans that, in theory, should work, but don't.
If you are an old school Fear Effect fan it'll be obvious the developers are too, but despite the changes this is no better than either of the PlayStation originals.
A failed attempt at resurrecting a cult favourite, Fear Effect Sedna is a tactical shooter in which tactics are largely irrelevant. Atrocious cut-scenes, dreadful boss encounters and dire presentation overall, make this something better left in the past. Steer well clear.
A powerful blend of bugs and poor design make every moment of this game a chore
Fear Effect Sedna conclusively stomps out any life the series had left with its shallow, malformed gameplay and disjointed narrative.