Percentile Rank
Detective Pikachu is ranked in the 52nd percentile of games scored on OpenCritic.
Rating Summary
Based on 60 critic reviews
OpenCritic Rating
Based on 60 critic reviews
Score Distribution
Unscored Reviews
An entertaining slice of Pok'mon sleuthing set within a vibrant version of the series' world.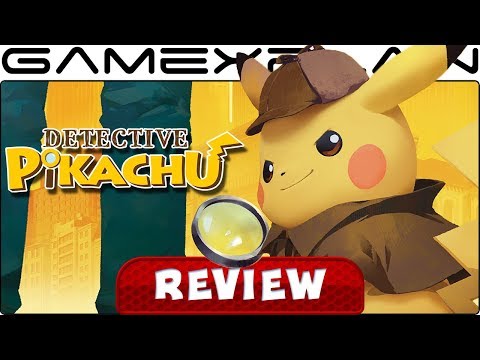 Though the game does fall into the trap of becoming repetitive at times, with not a lot to do post game, Detective Pikachu is still a pretty decent spin-off which lets you see another perspective in the Pokémon world for both fans and newcomers.
Detective Pikachu may be for elementary school kids (my dear Watson) but it's still a welcome addition to the extended Pokémon spin-off universe.
Detective Pikachu doesn't offer an enormous amount of actual game to play, but what's there is hugely charming and entertaining.
Some players will get frustrated having to figure out the puzzles in the exact way the game dictates, and they can get a little monotonous at times, but the game's style and humor will make most Pokémon fans grin from ear-to-ear. Hopefully the live-action film will produce similar results.
Scored Reviews
Detective Pikachu is a title that fans of Pokémon shouldn't miss out on, especially those who are fans of the anime series or those who can't get enough of Pikachu's rosy red electric cheeks. For those looking for a bit more substance in their Pokémon games are encouraged to check out one of the numerous RPGs based on the series available on the 3DS.
Fans of story-driven games or fans of the Pokémon series, in general, will enjoy Detective Pikachu. It's a fun adventure filled with some great Pokémon and interesting cases to solve. The thing I really loved about it was how they incorporated them into various jobs in each of the game's environments. They really made it feel like this world relied on the Pokémon and the humans coexisted with them in a meaningful way. I hope to see more of those types of details in future games. If you like mystery games and Pokémon, you'll be in for a treat with Detective Pikachu.
Detective Pikachu is a surprisingly charming Telltale-like game filled with humor, twists, and a sassy electric rodent. More than a mish-mash of minigames, it's a shockingly solid title with first-class voice acting.
Detective Pikachu offers a bold take on the iconic Pokemon, which succeeds thanks to Pika Prompts that build Pikachu beyond detective stereotypes. Even though I figured out cases far before their end, each one utilized the world of Pokemon to its fullest, and ultimately offered a unique Pokemon experience that I hope we see done again soon.
"Surprisingly fun and cleverly written detective story."
Review in Finnish | Read full review
A different take on a beloved character, Detective Pikachu is clearly aimed at a very young audience with its interesting, funny story.
Review in Italian | Read full review
Detective Pikachu has been a solid hit through and through. From Pikachu's weirdly appropriate voice to the fun cases involving both Pokémon and humans to the interesting detective cases to solve, I had a blast getting to the end of the game.
It's a relaxing, joyful, clever and witty little game that really makes the most of its oddball concept. Most importantly of all, it's memorable. You're not going to forget your time with Detective Pikachu in a hurry, and those memories are going to be all very positive.
His lightning-quick powers of deduction and obsession with gulping down coffee blends from High Hat Café aside, the greatest praise that I can throw at Detective Pikachu is how it always felt like you were really working alongside the electric mouse. And, as we cracked our last case, I can only hope that this is only the start of our adventures together.
Detective Pikachu might be described as a spin-off, but the visual and narrative direction the game has taken is an incredibly welcome one that we would love to see again. The gameplay can be a little too easy and repetitive at times, and we were surprised to see the ending appear so abruptly, but everything is presented within a very solid package that will have kids and adults alike hooked. Dedicated fans of the series will likely get the most out of the experience, with the game's art, storytelling, and genuinely likeable cast showing the world of Pokémon in a great new light, but we'd urge anyone interested to give this one a go. Our adventure only just ended but we're missing our Pika-pal already.
Detective Pikachu is a wonderful quest, where the bright atmosphere of the Pokemon series coexists with 1940s detectives stylistics. Intuitive gameplay, an interesting plot and a great music will please even those who are new to the Pokémon world.
Review in Russian | Read full review
While it's an odd idea for a spin-off, Detective Pikachu manages to create something never seen in the series that works better than anyone might have expected.
If you have ever had even a passing interest in Pokemon's world, you owe it to yourself to play through Detective Pikachu.
Detective Pikachu takes about 9 hours of your time, which most of this time is filled with funny scenes and enjoyable moments especially for the fans of the series. If you already have a 3DS at home, you should be playing it by now.
Review in Persian | Read full review
Detective Pikachu is a game I feel is held back by its overly child-friendly ideas. I can wholeheartedly recommend this to those wishing for their children to experience Pokemon in a new light, but older fans of the series will be left underwhelmed.
Detective Pikachu is a remarkable spin-off, which can be enjoyed thanks to the winks it makes to the Pokémon franchise, his humor and, above all, his protagonist: a peculiar and mocking Pikachu. It may not be especially hard and repetitive, but it's a game worth playing.
Review in Spanish | Read full review
Detective Pikachu is one the best Pokémon spin-offs. Its charming and full of personality, sadly it doesn't offer any challenge. As a Pokémon experience it feels great and adds quite a bit in terms of the relationships between pokémon and humans. Detective Pikachu and Tim make a team that we would like to see in action in the future.
Review in Spanish | Read full review
Detective Pikachu is an ambitious proposal with an acceptable execution. Take the amazing world of Pokémon and give it an interesting twist. The game experience is accessible to everyone. However, it may be too easy for some players.
Review in Spanish | Read full review
The Games Machine
7.6 / 10.0
Detective Pikachu is a simple yet charming adventure, with a great roster of cast members and an adorable couple as the main characters. A must buy if you have kids who love Pokémon; on the contrary, if you consider yourself a true adventurer, remember that this one's a pretty easy game.
Review in Italian | Read full review
Detective Pikachu moves far away from the main series, boasting a strong narrative and a charismatic protagonist that bears little to none resemblance to the Pikachu we're familiar with. In spite of its faults, this first experiment managed to entertain us, and we can't wait to get some new adventures with this coffee-lover detective.
Review in Italian | Read full review
NintendoWorldReport
7.5 / 10.0
Detective Pikachu is a solid, unique spinoff in the Pokemon series that stands out from other spinoffs. It's a relatively easy point-and-click adventure game that won't take much to complete in a few sittings. But some aspects of the gameplay do get clever, and the story does resonate. It's nothing revolutionary, but I can always appreciate a fun with a fun feel and colorful aesthetic.
Geeks Under Grace
7.5 / 10.0
Detective Pikachu offers a refreshingly different kind of story set in the Pokémon world, although the gameplay proves too simplistic for adult players.
Detective Pikachu is a great surprise and a really good graphic adventure. Pikachu's personality, its gameplay and the point & click style are the main reasons why this game is so entertaining, even though it is too easy.
Review in Spanish | Read full review
Detective Pikachu's mysteries aren't compelling. Fortunately, the world and its star character are delightful enough to entertain
Missing Challenges and unimaginative riddles make this game only recommandable for hardcore Pokemon Fans
Review in German | Read full review
Simple puzzle adventure in a magnificent game world, which represents a refreshing reorientation of the series.
Review in German | Read full review
A brand new world crammed with pokemon from seven generations who share their lives in harmony with humans. Pity that the lack of proper challenges leaves the impression that only true fans of Pokemon and family kids will fully enjoy the title.
Review in Spanish | Read full review
Detective Pikachu ranks as one of the most interesting Pokémon spin-offs we've seen in years, and does an wonderful job of offering a fresh perspective on a world we've become almost uncomfortably familiar with in recent years.
D'tective Pikachu has a cool concept and a truly great title character. That being said, the game is way too easy for most players. But it can make a fun first Adventure game for young kids.
Review in French | Read full review
How anyone came up with the idea, let alone made it work, is baffling but this charming little mystery game is the most entertaining Pokémon spin-off in a long time.
Detective Pikachu's simple gameplay and story is made better by its goofy and entertaining star.
Detective Pikachu has a lot of heart but is a bit too easy for my tastes.
Detective Pikachu, although limiting at times, was a good adventure puzzle game for all ages and more so for Pokémon fans but in the same breath it just is not a game that is capable of sending the 3DS off well in its last days of life.
The quirkiness, presentation, strong voice acting, and characters help push past the simplistic gameplay and the narrative the game tells is surprisingly engaging. I had no idea what to expect from Detective Pikachu going in, but it ended up being one of the most unique Pokemon spinoffs ever.
Reno Gazette-Journal
7 / 10.0
Detective Pikachu is certainly a game out of left field. I mean, who would have thought that you'd ever play a game with a crime-solving Pikachu who sounds like a middle-age man? Admittedly, the preponderance of QTEs and lack of a battle system worthy of the Pokemon name feels like a missed opportunity. Its characters also feel a bit too vanilla. If the idea of a Pokemon-inspired Ace Attorney or Professor Layton type game intrigues you, however, then Detective Pikachu is a family-friendly title worth investigating.
It may feel too simple at certain moments but overall, Detective Pikachu proves to be a fun and inclusive game that can even find a place with players who are not fans of Pokémon in the first place.
Review in Portuguese | Read full review
Detective Pikachu is a fresh look at a franchise that's been constantly evolving - pun intended - for the best part of two decades. From fighting games to intense dungeon crawlers, numerous animated films to cameo cross-overs, Pokémon has proven itself to be a massively versatile series. This new story explores a different snippet of this expansive world, the first steps into what may well prove to be another direction for Nintendo and The Pokémon Company to venture down. The game is packed full of humour, challenging puzzles, and an amusing pair of lead characters. It isn't without its faults, but there's enough here for an ultimately rewarding tale and the potential to develop the formula further in the future.
I enjoy catching hundreds of Pokémon and collecting gym badges as the next person, but I wouldn't mind more diversions from the main Pokémon series if they come packed with as much hilarity and oddball humor that Detective Pikachu provided me at my side.
Detective Pikachu is an interesting spin off to say the least, while it doesn't really add anything to the puzzle or visual novel genre, it is still a charming adventure.
Detective Pikachu is the beginning of a new franchise that still has a long way to go compared to games of the same genre. With an intriguing story and a very accomplished graphic section you will enter the world of the protagonist and his electric friend.
Review in Spanish | Read full review
Detective Pikachu, as a character, is really quite special - but the game itself is unfortunately just not very much fun to play.
Detective Pikachu is a mystery game built for kids, and that is clear throughout, though adult gamers can still have fun with the mysteries and world of Pokémon. Simple, charming, though certainly far from essential.
Detective Pikachu is a cute and fun little game but it only offers enough challenge to satisfy an elementary school student.
Ultimately, I like the concept of Detective Pikachu and will likely see the movie when it releases, but hopefully the developers choose to challenge their audience a bit more with any potential sequel.
Detective Pikachu is a deceptively small game with simple cases and not a heck of a lot else. As someone whose detective itch is usually scratched by the Phoenix Wright games, this felt like solving the really easy introduction cases in each, rather than challenging logic and reason. It certainly has the presentation chops, but the people who'll get the most out of Detective Pikachu are diehard Pokémon fans and younger gamers.
Detective Pikachu takes several steps away from the traditional Pokémon experience, with only a handful paying off. The beautiful imagery and distinct world-building will please any Pokémon fan, but the gameplay might leave them wanting more. While the point-and-click-style experience is a novel idea for the gameplay, it never manages to fully grab the player's attention.
Sorry, Detective. Maybe your story will turn out better on the big screen.
I want to see a lot more of Detective Pikachu despite my misgivings with his 3DS debut. I just hope the next game is a little more fleshed out and doesn't tease us so heavily, but developer Creatures was able to build the skeleton of a low key adventure romp.
Detective Pikachu is certainly the boldest game in the Pokemon franchise, but delivers too little in the gameplay aspect. With a linear story and puzzles that lack challenge, the game is suited mostly for very young players.
Review in Slovak | Read full review
The inspired casting of the Deadpool actor transforms this from an average Pokémon movie into fun family fare
While Detective Pikachu's core concept might be a bolt of brilliance, its utilization as an adventure game is anything but.
Pikachu's detective career never manages to capitalise on an ok start, and ultimately nothing is discovered when you scratch beneath the surface.