Percentile Rank
Moonlighter is ranked in the 86th percentile of games scored on OpenCritic.
Rating Summary
Based on 105 critic reviews
OpenCritic Rating
Based on 105 critic reviews
Score Distribution
Unscored Reviews
Rock, Paper, Shotgun
Unscored
It's very charming, very beautiful, and both its comprising halves are enjoyable in their own ways.
Say hello to Will, Will is a nice guy, a nice guy who inherited his family-owned shop known as Moonlighter, as time passed and Will's family declined in years he eventually ended up as the sole owner of the business. Will is also an adventurous sort of lad who loves nothing more than to grab a sword, a shield, and go wandering into the nearest dungeon to test his mettle and grab a bunch of bits and bobs that he can sell in the shop.
Moonlighter does a lot of things right, but you repeat each one consistently. Dungeon crawling to find loot to sell is a nice little twist to a typical roguelite game. The combat is a bit challenging, and upgrades are necessary to find items for your shop. Despite the repetition, Moonlighter is an entertaining game for those who love looting and price haggling.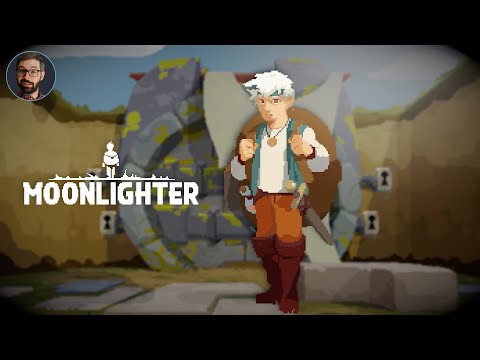 Moonlighter is a brilliant game. The loop of action and shop-keeping means that every drop from an enemy feels meaningful and it always feels satisfying. I only feel it doesn't go quite far enough into its Zelda-like features, with the dungeons being a little too easy ultimately.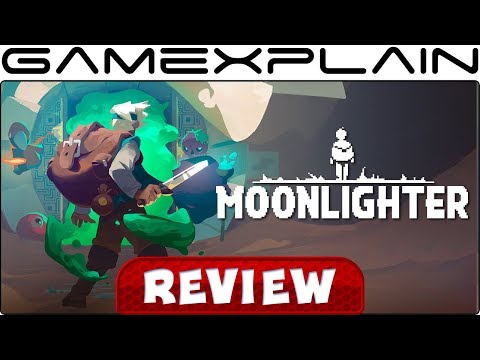 Scored Reviews
This roguelike stands as one of the best available among a myriad of challengers, and a must-buy for anyone who enjoys action RPGs or waxes nostalgic for the original Legend of Zelda. The progressive challenge of the dungeons and their floors never felt unbalanced or unfair, and the game's economy moves along at a satisfying pace, avoiding the feeling of grindiness or redundancy. The balance found in Moonlighter between dungeon diving and shop keeping creates an addictive gameplay loop that will keep you saying, "One more run. One more run."
Moonlighter is a true pixel art gem. It is quite challenging, but also extremely satisfying.
Review in Polish | Read full review
The Outerhaven Productions
A vibrant, fresh blend of rogue-like and store management games, with something for everyone. Aesthetically beautiful, narratively rich, extremely satisfying to play.
Moonlighter is a great indie title about adventuring into the unknown in search of both riches and information. Whether you're deep in combat within a dungeon, re-organising your backpack to make room for new items, or flogging your findings to the locals; the game will have you addicted to its gameplay and intrigued on what's going to happen next in the story. Sure, the first few hours may be slow as you get to grips with how the selling works and you work out how much you can sell things for, but once you get that locked down you won't want to stop playing.
Cultured Vultures
9.5 / 10.0
A true labour of love that you can't help but adore, Moonlighter is the perfect addition to any game library. Endearing, involving, addictive, and challenging all in equal measure, this lovely little rogue-lite will have you hooked in no time.
Moonlighter is a wonderful game that uses a delightful separation of tools to make you want to keep playing. It innovates the dungeon crawler genre in the most ingenious way possible.
Digital Sun have combined two genres that are interesting on their own and made something even better out of them with Moonlighter. It's casual, fun, and challenging at times, not to mention highly addictive. It's the kind of recipe that makes the game one that should not pass under your radar!
Who would have thought that the classic action-RPG would be revitalized by the typically boring prospect of running a small business? Diving into procedurally generated dungeons and slaying beasts with every manner of weapon answers the question, "What would a 2D version of Breath of the Wild look and play like?" Well, sort of like Moonlighter.
A vibrant and visually stunning rogue-like that boasts an exhilarating combat system and an immensely enjoyable shopkeeping mechanic.
Moonlighter is an overall brilliant sum of its parts with the kind of things roguelike fans, action RPG fans or even lifestyle sim fans can find engaging. It's an addicting piece of grinding RPG gaming that comes highly recommended on any platform you choose.
Moonlighter manages to perfectly balance the best bits of Stardew Valley, Dark Souls and Binding of Isaac for a game that just keeps you coming back for more.
Moonlighter is a wonderful combination of Zelda and Animal Crossing that easily commands your constant attention. It looks beautiful with a lovely, pixelated style; music from the shop and the dungeons will be stuck in your head for days. The only fault I could find with Moonlighter it's relatively short — I wanted more dungeons, more enemies to topple, more items to sell.
In spite of an ending that arrives too soon, Moonlighter manages to offer an engaging balance of commerce and action up to the very end. There is a natural rhythm to opening the titular shop during the day only to dungeon crawl once night falls. Progression is constant, emphasizing a design philosophy that prioritizes a lack of wasted time above all else. From enhancing weapons to upgrading Rynoka, every piece of gold Will spends is in benefit to not only the player, but also the flow of it all. With surprisingly tight combat and an economy influenced exclusively by the protagonist himself, this is one of the most endearingly creative takes on action-RPGs this generation.
Moonlighter was a joy of feverish repetition that somehow kept itself feeling fresh the whole 15 hours I spent with it.
Choose the prices, choose the gear, choose your upgrades, choose the dungeon, and choose the loot to sell.
Being a shopkeeper is not as boring as it seems. It's equally fun to slay tons of monsters and to price tons of trophies you get by killing them. One of the best indie games of this year.
Review in Russian | Read full review
Moonlighter is an exciting dungeon crawler that offers a change of pace as you run the town's shop by day, making for an impressive adventure.
PlayStation LifeStyle
9 / 10.0
Moonlighter is going to be a game you'll pick up, play, and instantly want to tell your friends all about. It encourages discussion – how much a certain item costs, how to navigate the metagame of the increasingly tricky Resident Evil 4-style inventory system with its cursed items requiring a shuffle of your bag – and feels like, honestly, the endgame of all roguelikes. After that, there isn't much more the genre can hope to accomplish. It's all here in one gloriously gratifying package that will have you coming back for more, more, and more again. An incredible dungeon crawler with a cutesy consumerist twist that'll provide you with some of 2018's best moments – and capital fun it is, too.
The Game is a Lie
9 / 10.0
Moonlighter turns a boring chore into innovative gameplay. Its concept is unique, and it deals with overcoming in its most varied senses. Its flaws, such as the unbalanced bosses, are too small and can be easily ignored. It's a charismatic adventure that you have to try for yourself.
Review in Portuguese | Read full review
Moonlighter is a delightful rogue-lite shopkeeping sim game (because that's a common combination) that can either take up one day of your time or multiple weeks, depending on your playstyle and preferences. If you're looking for a mild challenge, but want to have an overall relaxing experience in a lovingly crafted environment, then I can't recommend this game enough.
Moonlighter is one of the funniest indie games that we have seen this year. It mixes adventure and management and delivers hours of entertainment with an experience that feels fresh and brand new.
Review in Spanish | Read full review
Regardless of the faults that game may have, Moonlighter is a fantastic game, both in mechanics and in execution.
Moonlighter is an exciting action adventure-shop simulator game that shouldn't be skipped. If you have any interest in running a shop and dungeon diving, then this game is for you.
Moonlighter creates an excellent dungeon-crawling experience for fans of the genre. It combines rogue-lite elements with procedurally generated dungeons to create an adventure that's packed with surprises. Collecting loot to sell in the store adds a new side to dungeon-crawling experience that we don't often see. Selling in the store is multi-dimensional, as we must take supply and demand into consideration. Sometimes by trial and error, we learn the true value of things to assist us in our progression. Progression can be slow due to clunky combat that causes us to die frequently, and a lot of grinding is required to achieve better upgrades. Moonlighter does an excellent job of getting the player to want to delve deeper into the dungeons, since venturing further yields greater rewards. Intricate details and visuals give Moonlighter a memorable style. Enemy designs provide an ample challenge for the risky adventurer, but the story falls short because the narrative isn't memorable.
Switching Worlds
8.8 / 10.0
I've been a fan of Moonlighter since it was first revealed and after having finally played it I can say it delivered. It's a game that fuses two different genres successfully. At one point you're navigating through floors of dungeons in different ways, fighting crazy enemies using a fun combat system. The next, you're growing a peaceful town and selling your earnings the way you want to through the shop you own. The action is fairly competent and constantly makin' cha-ching as a merchant is gratifying. The visuals are beautiful and nostalgic; the same is said for its music. If the idea of feeling stronger and playing smarter intrigues you, and if the choice to handle your earnings fancies you, then Moonlighter is a worthy time sink.
Boomstick Gaming
8.6 / 10.0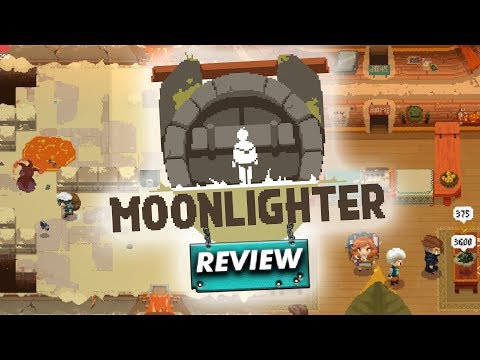 Nindie Spotlight
8.5 / 10.0
All in all Moonlighter is a refreshing mix of multiple game styles that kept me coming back for more. The dungeons keep changing things up and while they start out intimidating with experience and better gear you'll begin to become more confident and capable. The shopkeeping aspect may not be nearly as thrilling but the reward of determining the optimum price for each item is its own reward, especially when you're then able to bring back high-priced items and know you'll be able to rake in the gold coins that you can then use to further improve your situation. It has a very satisfying loop and has enough diversity in its combat options that it's likely just about anyone can get sucked into this hero's adventures.
Delving into these beautiful dungeons, while repetitive, can be rewarding if players have the skill. Barring that, they will at least learn that a problem can be solved by throwing enough money at it and buying a better sword.
Graphics are the main standout feature of indie game and the games unique visual style leaves a strong impression on the player. The narrative whilst simplistic is endearing and the concept stands out as memorable and unique, Moonlighter is a intriguing and clever approach at the action adventure genre and one which will have no trouble standing out.
This post contains affiliate links where DualShockers gets a small commission on sales. Any and all support helps keep DualShockers as a standalone, independent platform for less-mainstream opinions and news coverage.
Overall the two halves of the game fit together very well and combine to make an interesting game. Clearing out the dungeons can occasionally feel a bit grindy because I often had to do part of it over and over before I was able to get all the way through it. There's even a bit of a town management aspect as well. Additionally, there is even a bit of a story about these dungeons which is uncovered as you explore more of them and find various items. The story for the most part is sort of to the side and not the main thing, but it is interesting.
In 'Moonlighter', you take on the role of Will, a young shopkeeper with dreams to restore his town to it's former glory. To do this, he must descend into the ancient and mysterious dungeons and unearth the secrets they hold.
VGProfessional
8.5 / 10.0
Moonlighter expertly mixes a game about being a merchant with a game about being a warrior, and it presents this mix with heaps of charm. It may end a little quickly for some, but the experience is well worth a look
Moonlighter is many things: charming, fun, and well designed. The gameplay loop is brilliant and addicting, and the pacing feels just right. The enemy and item variety is wide, and the combat feels tight. Despite some hiccups with the shop management system, it works well due to its simplicity. Overall, Moonlighter is a great RPG for those looking for something a little different in the genre.
PlayStation Universe
8.5 / 10.0
A deft marriage of dungeon crawling, shop management elements and infectiously twee audiovisual presentation, Moonlighter makes a fine addition to the upper echelon of action adventures available on PS4.
Will is adventurous shopkeeper and he is skilfull in his shop and inside dungeon as well.
Review in Slovak | Read full review
NintendoWorldReport
8.5 / 10.0
Every action you take, whether it be in the dungeons collecting materials or in your shop earning gold to spend on upgrades, helps to move you further along towards your end goal. There were a few technical hiccups that cropped up from time to time and the last few upgrades needed a bit of grinding to unlock. But despite that, I constantly found myself falling victim to the classic "just one more run".
Moonlighter is an absolutely gorgeous adventure that tells an effective and heartwarming tale. The gameplay is top notch, even if it's a bit simplistic. Take away the launch day technical issues and you've got one top shelf production.
A satisfying blend of making a killing, while doing plenty of killing.
Moonlighter is an RPG game with unique idea that made by great game developers as an indie game that absolutely worth your time. Moonlighter has very fun and deep gameplay features based on shop management and action, but in some parts, lack of more elements and mechanisms is visible. Also I must mention that it is a gorgeous looking game with good details and unique art style. Moonlighter is recommended for fans of RPG games who love shop management elements. Be ready to explore dungeons at night, so you can provide your store with high quality goodies!
Review in Persian | Read full review
Either going to the dungeon on an adventure or becoming a master shopkeeper, Moonlighter is the kind of game you'll struggle to put down. The Switch feels as it's true home, so if you haven't tried it yet, with this version you'll be out of excuses.
Review in Spanish | Read full review
Highly motivating dungeon crawler with great pixel graphics, which convinces with its mixture of loot and shop management.
Review in German | Read full review
Moonlighter is a very solid product overall, but there are parts that feel like they could have done a lot more with. It's got great graphics, a simple, yet rewarding premise, and combat is satisfying despite its shortcomings.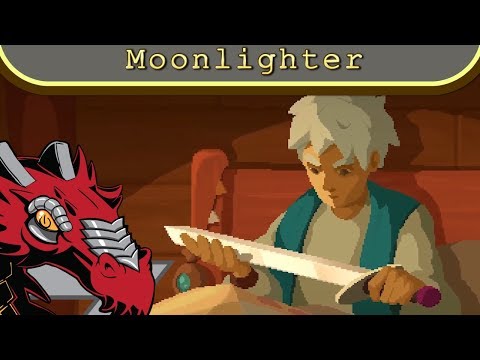 Moonlighter addresses an untapped side of the genre, allowing the player to take control of a merchant. It is a well-executed project and an interesting theme. It suffers with the simplicity of its mechanics and with the occurrence of bugs, but it deserves to be played by any RPG enthusiast.
Review in Portuguese | Read full review
There are a few annoying flies in the ointment — item descriptions don't always fit on screen, weapons occasionally miss enemies within range, and in-dungeon inventory management sometimes feels too time-consuming — but otherwise, the game's engaging blend of active shopkeeping and dungeon crawling should be more than enough to keep retro-styled action RPG fans smiling.
The two very different gameplay elements in Moonlighter compliment each other beautifully. Running a successful shop means you need to become a top-notch hero and collect enough items to sell. Becoming a trustworthy hero requires you to be a prosperous shopkeeper to earn enough gold to craft new things and to enchant your gear. While I do have some issues with the combat, namely how you lunge forward with each attack, I thoroughly enjoyed the boss encounters tied to each of the game's dungeons.
Despite the fact that Moonlighter doesn't do anything incredibly new, it still feels like a wholly unique experience. The combination of dungeons and shopkeeping creates a great gameplay loop that encourages exploration, and the game's aesthetic really helps drive everything home.
Moonlighter is a fun and challenging game that will entertain you for a considerable amount of hours. Its visuals, melodic charm and addicting gameplay are the label of a good indie game. If you enjoy the genre, don't miss this.
Review in Portuguese | Read full review
Moonlighter is an incredibly enjoyable jaunt through some interesting ideas and some fun fights. While the combat gets a little easy as you progress, the fun of watching money pour in as you play is immensely satisfying. It would be nice if there was more reason to play after completion as is normally the case with roguelites, but equally having an actual conclusion is a breath of fresh air for the genre. It is a lot of fun and one that will keep you entertained for a fair while if you want to sink your time into it.
Moonlighter's loop of combat, exploration, and sales is an engrossing one, with steps taken to keep players invested in every part of the game.
A welcome surprise that blends two different genre on one solid experience that is extremely fun during a long time despite being too rigid and grindy on its own scheme.
Review in Spanish | Read full review
Moonlighter is a wonderfully charming adventure with a gorgeous style, Fans of the genre will have an absolute blast. Managing the store and exploring the many procedural dungeons never grew tiresome and the games upgrade system for both the Town and Will kept me going back for "just one more round" long into the evenings.
Moonlighter might have shallow store management mechanics, but more than makes up for it with its amazing gameplay loop of dungeon exploring / looting. One of those games you can't stop once you pick it up.
Review in Portuguese | Read full review
The music and sounds are spot on and everything in the game just seems to compliment each other in a way that makes it feel just right. If more indie game were like this then I would be one happy adventurer/capitalist shop owner.
Moonlighter is a fun, unique mashup of 2D dungeon crawler meets small business simulator.
Moonlighter is a delightful mix of action RPG, rogue-lite dungeon crawling, and shopkeeping sim with an ingenious gameplay loop that'll have you hooked. The way the game's contrasting parts blend into one another means you're always making progress, and it feels great. Exploring the dungeons is challenging and fun, and managing the shop is addictive, thanks to an intelligent economy system. There are some rough edges, such as complex menu screens and one or two minor bugs, but when this game gets its hooks in, you won't care. Shopping around for your new favourite indie? Look no further.
Moonlighter is a genre-mixing delight, however its steep learning curve may turn some away.
Moonlighter is a highly recommend action RPG adventure that's a must buy for genre fans with a Switch. Whether you dig deep into the shop mechanics or just do a quick dungeon run while on the train to work, it ticks a lot of the right boxes and quite frankly I didn't want it to end.
Geeks Under Grace
8 / 10.0
Moonlighter is a successful attempt at doing something new in the rogue-like genre and I applaud the developers of taking on the task. It's a charming, riveting, and a mostly positive experience that any players looking for something different should check out.
Moonlighter is a different kind of RPG that boasts a great deal of depth while serving as an interesting subversion of the genre it's a part of.
Invision Community
8 / 10
In conclusion, Moonlighter is a spectacular compromise between procedural roguelike elements and progression mechanics, leading to a wonderful mix which is satisfying on so many levels. It's a great chance to indulge your inner looter whilst also giving the opportunity to puzzle out prices, and it's perfectly at home on the Switch. It's also proof that having a distinct length and a definite end-point isn't always a bad thing. Yes, you won't get hundreds of hours from this, but it's high-quality and I love it.
Some might be bothered by Moonlighter's grindy nature later on, but I found it to be a fantastic mix of dungeon crawling and a fun store management gameplay that made Moonlighter a treat to experience. Digital Sun crafted a perfect balance of the two main gameplay elements with a forgivable difficulty, and a cute and appealing art design that can appeal to a variety of players.
Whereas normal Roguelites are content with the loop of combat and loot gathering, Moonlighter's idea of selling gathered loot in your own shop is ingenious.
Like all the finest indie titles, Moonlighter has such a simple premise but is done so masterfully it becomes fantastically addictive - from the basic combat, to the Resident Evil style bag management, to upgrading the shop, to selling the goods; every aspect feels great. Combine this with the charming old-school art and you have got a clear winner on your hands. The only real negative is how short the game is and how the story feels a little lightweight. Moonlighter also feels like it would be even better on Switch, so keep an eye out for Cubed3's review of that version soon!
Together with the superb visual style and enjoyable music, Moonlighter provides an experience that is much more than the sum of its individual parts
Selling piles of magical loot is just as fun as fighting for it in this hybrid shop sim and dungeon crawler that is let down only by some annoying bugs
Moonlighter is an appealing and tough action game, with a management side and roguelike elements which builds up the Nintendo Switch catalogue further and further. With a challenging difficulty level and some eye-catching visual details, players will find themselves very much absorbed by Moonlighter's elements and it will be difficult to resist the simple but demanding mechanics of dungeon exploration and selling of items.
Review in Portuguese | Read full review
If you want to play a top-down Legend of Zelda game as a rogue-lite while also taking shifts as a shopkeeper then, hey, Moonlighter is about to scratch a distinctive itch for you. It hits a sweet spot somewhere between satisfying swordplay and nitty-gritty economic sim, although some players may feel it gets 'grindy' after a while in its mechanics. Nonetheless, Digital Sun Games has produced a lush work it can be proud of; one that even touches on our humanity in an optimistic way.
Moonlighter has something to offer for casual players, completionists, and even speedrunners.
Great for bite-sized gameplay, Moonlighter is one of the most polished and well-tuned shop simulator/dungeon diving roguelites we've played in a long time. While the repetitive mechanics can become tiresome if playing for hours at a time, tackling the game in small chunks is a satisfying experience, and we'd recommend it as a casual game for most players.
Moonlighter is a cute and casual revival of an uncommon mashup but doesn't stick around to push the boundaries.
Moonlighter provides an engaging loop of dungeoneering and shopkeeping.
Moonlighter is a good looking game that mashes up dungeon crawling with shop-keeping, but such combination can tire even most durable player. Going back and forth between shop and other dimensions can be fun, but only in small doses.
Review in Polish | Read full review
Game News Plus
7.6 / 10.0
Moonlighter is a mixture of dungeon crawling and shop managing games with a unique, randomized dungeon creation principle. It has simple combat mechanics, simple yet important management features and impressively beautiful pixel art-work. However, it is not an action game or an RPG. This game is perfect for people who would like to relax after a stressful day. If you like dungeon crawlers and shop managing games, this game is just perfect for you. However, if you are looking for a more engaging game, you might want to look somewhere else.
The tale of Will, a man who wants so badly to rise above his station in life and achieve great adventures, will resonate with many. Paired with an addictive gameplay loop and beautiful respect for inspiring art, Moonlighter is well worth the price of admission.
Moonlighter is a beautiful game that combines simplified versions of two game types into one. It's a novel attempt that plays it too safe on both fronts, and is held back from being something truly fantastic because of its lack of variety.
Moonlighter's original conceit blends shopkeeping with monster-slaying in a way that's satisfying for most of its length. While both its combat and trading eventually get repetitive, the gorgeous graphics and pixel art make it a pleasant journey while it lasts. Unfortunately, your character's quest comes to feel as shallow as the merchant's life he wants to escape with its uninteresting goal and uninspired conclusion.
Moonlighter is a good idea made game, and as such it entertained us for all the time we spent with it. It's by no means perfect, but Digital Sun's first effort is a quirky little game recommended to all the people who loves roguelites and hack'n'slash rpgs.
Review in Italian | Read full review
New Game Network
73 / 100
Moonlighter is an enjoyable RPG with a fairly typical loot-grind cycle. It might miss the mark with some of its bigger thematic elements and could use a couple of tweaks to be a more well-rounded action game, but Digital Sun gets the important stuff right.
A game that's built with charm and an amazing concept disappoint when it is plagued with bugs that many will have to tolerate while waiting for an update. And other than this setback, I had found no majorly negative aspect to say about Moonlighter. It is beautiful and a game that's worth a cent, if only it gave more time to work out its kinks.
Exploring dungeons, selling loot, and upgrading gear creates is an enticing loop. However, the experience grows stale with repetition
Moonlighter is a delightful adventure into the depths of ancient dungeons and the trials of running an equipment shop.
Moonlighter's combat, art, quality-of-life fixtures, and addictive gameplay loop make for an easy recommendation.
Moonlighter is a cute -- if not overly repetitive -- dungeon crawler that puts a unique and much-needed spin on roguelikes.
Though Moonlighter has several problems that prevent the game from truly achieving greatness, the excellent art and music and the fun gameplay experience make it worth a try if you enjoy roguelikes and want a new title to play.
Even with it's own flaws, Moonlighter is an enjoyable ride that successfully mixed between two different gameplays
Review in Arabic | Read full review
Fighting and farming, selling and upgrading. that's all there's to it. could be entertaining for a couple of hours, but after a while it kind of suddenly loses its charm and has nothing more to offer.
Review in Persian | Read full review
Just Push Start
3.5 / 5.0
For as much as I complained about Moonlighter, it's actually a lot of fun, it just has a lot of bad parts between the fun bits. If the bugs get hammered out, upgrading becomes practical and the progression arc is reduced in the future or at least on the Switch version I can see it being a hit, but the current form needs a lot of work. Glitches and errors aside, the idea of constantly having to collect and sell loot to purchase marginally better gear is daunting, leaving an experience that is pretty bland. Combine this with the fact the experience is more static than varied and you have an interesting adventure that does almost everything in its power to squander what good it has. Hopefully it will improve in the future and those willing to take the chance on it won't have a terrible time, it just has a lot of room to improve.
With slick store simulation and solid — albeit somewhat flawed — combat, Moonlighter is a game worth checking out if you're in the mood for something different. It's not perfect, but there's hours of enjoyment to be had leading the double life of a storekeeper and adventurer in the village of Rynoka.
Old Grizzled Gamers
67 / 100
Moonlighter sells itself as a rogue-lite action RPG with shop management mechanics and some of the most beautiful pixel art around. It's a frustrating game to review because it both succeeds and fails in many places making it difficult to prioritize what works and what fails.
A lot could be tightened up to make the game feel more snappy and responsive in almost every aspect, especially when it comes to moving inventory items. Moonlighter is incredibly captivating on the surface, but there is a lot of frustration just waiting to be uncovered.
Moonlighter is Zelda with a shopkeeper twist. Balancing beautiful animations and soothing tunes against an underwhelming plot, a thing combat system, and plenty of grinding, there's plenty to like and dislike.
Moonlighter is a game worth checking out. I loved that this game has a risk-reward to its rougelike system. It makes for an interesting combo that I feel worked in the player's flavor.
At first, Moonlighter is a fascinating and beautiful game. But after a few hours, it's its lack of depth and the fact that its gameplay loop never really feels fully enjoyable that we retain.
Review in French | Read full review
If it has the letters RPG in it, I am there. Still battling with balancing trying to play every single game that grabs my interest, getting 100% in a JRPG, and devoting time to my second home in Azeroth.
Moonlighter is a fun game, but only when it works. The mix of shopkeeping and dungeon crawling elements was excellently done and the upgrades are cool, but the crippling bugs ruin the experience.