Percentile Rank
SEGA Mega Drive Classics is ranked in the 60th percentile of games scored on OpenCritic.
Rating Summary
Based on 58 critic reviews
OpenCritic Rating
Based on 58 critic reviews
Score Distribution
Unscored Reviews
Sega Genesis Classics is a worthy tribute to Nintendo's greatest competitor, and a must-have title for Switch owners.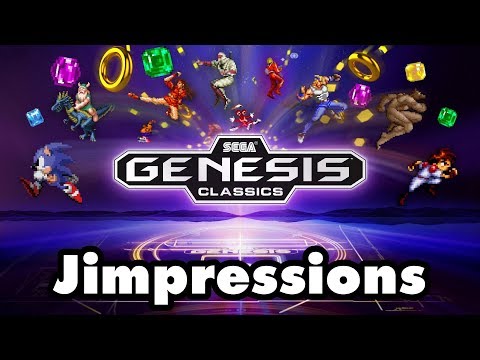 Scored Reviews
Sega Genesis Classics boasts an amazing collection of 50 games, all of which will keep you busy and entertained for hours. Some of the games can be challenging to a fault, but that's just the way some old school games were made. The games hold true to their original forms and bring you a cartridge full of nostalgia that you can pop right into the console of your heart.
NintendoWorldReport
9.5 / 10.0
The Sega Genesis Classics is a must own on your Switch. I would recommend buying it digitally so you can have all of these games available at any time without having to swap out a cartridge. Knowing that anytime I have my Switch out of the house, I can easily pop off the Joy-Con and jump in a quick match of Virtua Fighter 2 with my friends is a game changer.
Ultimately the only complaints that I can levy against SEGA Mega Drive Classics Collection are that there is not quite enough icing on what is an admittedly very generous cake.
The collection of games itself is just such incredible value, covering off such a broad range of SEGA's history when it was at its very finest, that anyone missing out on this is doing themselves a real disservice.
Unless you own an impressive collection of 16 bit cartridges and an old TV, this is the best way to play Sega classic games. We miss some titles (specially racers, shooters and third party) and more extras, but still a great compilation for old school gamers.
Review in Spanish | Read full review
A sizeable collection of memorable Mega Drive games that goes the extra mile in making it feel like 1990 again
The Mega Drive Collection is a wonderful nostalgic return to the games of SEGA's golden age. Despite missing a few favourites, the collection includes something for almost everyone and with the addition of save states, a rewind feature and a virtually immaculate presentation it feels fun, familiar and accessible. In short, this is what a great retro-game collection looks like.
The best part about the Sega Megadrive Classics collection is the out-of-game in-built features. Similar to other "collections," you can quicksave and load as easy as pushing the right joystick up and down.
If you love the 16-bit era as much as I do then purchasing Sega Genesis Classics should be mandatory.
Chalgyr's Game Room
8.3 / 10.0
With dozens of titles to choose from, many of which rank among the best in video game history, the Sega Genesis Classics delivers a lot of bang for your buck. This collection rightly hangs its hat on bucket loads of nostalgia, but some nice new features make this more than just the repackaging of older games I have seen in other compilations over the years. I could nitpick about a handful of titles that should have been here and some that might as well have been left off, but this is a collection of games that is definitely worth playing.
For 29.99€ you'll bring yourself home more than fifty titles that changed the gaming history in the early 90s: SEGA Mega Drive Classics is definitely a reasonable package, one that's pretty well built considering the variety of the selection and the online support. Not everything has aged properly, but it's still well worth it (especially at this price and during this seemingly never-ending wave of nostalgia).
Review in Italian | Read full review
A great example of preserving and presenting retro gaming on a current gen console! The Nintendo Switch version might very well be the optimal version of this title.
Lots of good/great games in a competent package. But... where are the third parties classics?
Review in Italian | Read full review
A great compilation with a lot of classics but we miss some games and a few more extras in the mix.
Review in Spanish | Read full review
There's a disappointing lack of museum features, but you can't really argue with 50 classic Mega Drive games, online play, and a surprisingly generous price tag.
This collection of classic Sega Genesis games features a wide array of great titles at an unbeatable price. Just make sure you have a passion for retro games -- or feel hopelessly nostalgic for the 16-bit era.
Sega Genesis Classics is without a doubt the best hommage the old 16-bit Sega console could receive. With 50 games, which features solid gold trilogies, only the retrogaming haters may miss this very best-of, lacking the expired licence-based titles. The new interface offers countless options to prevent us from frustration, and the four saves slots for each game could take you back to the past for more than a few hours.
Review in French | Read full review
Sega Genesis Classics is a good sampler for the console's vast library of games.
Gamerheadquarters
8 / 10.0
The Sega Genesis Classics is a great way to check out an amazing library of releases from one of the most iconic consoles.
Sega Genesis Classics delivers modern convenience options and passable emulation across its fifty-three titles. No Genesis collection can be definitive without support from third-parties, but "new" additions like Gunstar Heroes and Alien Soldier help curtain the perpetual void in Sega's compilations. At $30, Sega Genesis Classics is an easy and accessible way to appreciate a selection of the Genesis' best work.
Sega Megadrive Classics is certainly not ''the'' ultimate collection which will satisfy everyone, due to the lack of some great games and the retirement of others, but the new entries are also remarkable. The offer is still efficient as before. We regret that too few games can be played in french language. Still, for the price, that collection worth its purchase, either to discover some forgotten gems ( and some rotten games too), or to initiate those who have not known the90's in video games with a best-of coming from one of the best consoles of its generation.
Review in French | Read full review
SEGA Mega Drive Classics is a great purchase if you want to take a trip back to the 90's and replay many classic games. Containing over 50 titles, you won't find a collection this big for such a low price whilst also offering high-quality emulation with added extras like instant rewind, quick saves, and the mirror mode. A lot of the titles are brought into the 21st century with the inclusion of online leaderboards, challenges, trophies and online multiplayer which adds to the replayability factor. Pretty much every genre is included and there is bound to be something for everyone. If you grew up with a Mega Drive/Genesis then I can't recommend this enough – you will explode with nostalgia!
SEGA's had more than one stab at creating a comprehensive collection of its best Mega Drive titles and, as a result, SEGA Mega Drive Classics does lose some of its impact due to sheer familiarity; for example, we already have an immaculately-ported version of Sonic on the Switch eShop right now. Even so, it's hard to argue with the 50-odd games that ship with this new compendium, and only a fool would contest the fact that it showcases some of the best games of the 16-bit era. The modern-day enhancements are welcome too, and while this isn't the first time many of these games have gone portable (SEGA Mega Drive Collection on the Sony PSP did that over a decade ago, and let's not forget the amazing SEGA 3D Classics range on 3DS, which overlaps with some entries in this selection), it's a real boon to be able to play the likes of Phantasy Star IV or Story of Thor on the bus. When you take into account how much quality there is on offer here, SEGA Mega Drive Classics becomes an easy recommendation.
Unlike the recently released PlayStation Classic, SEGA Mega Drive Classics has had the effort put in to ensure that there is enough depth and optimisation to keep all players happy. The huge range of popular titles at such a low price is hard to pass up - a budget option for fans to sink their teeth into. Those very particular about their emulation may want to consider buying the newer line of SEGA AGES titles available on the eShop, but anyone who wants some classic '80s and '90s throwbacks should look no further.
If you fondly remember owning a SEGA Genesis or Mega Drive and don't already have a way to play a majority of the games included in SEGA Genesis / Mega Drive Classics, it really is essential.
With beautiful presentation, fantastic emulation, and the potential for co-operation, this is a great collection for those who have fond memories of the old-school.
While not everything is a classic and there's a few notable omissions, this is still a great mixture of genres couple with neat emulation gimmicks. For Nintendo fans, it's also a great time travel machine back to see just how the other lived during the great console war.
Like any compilation, SEGA Mega Drive Classics consists of games ranging in quality from classic to just plain terrible and everything in between. That being said the good definitely outweighs the bad here and while it's a shame this bundle is missing some key Mega Drive releases there's still plenty of fun to be had experimenting with its fifty plus catalogue.
Sega Mega Drive & Genesis Classics is a great collection and a must have for players who want to know the history of gaming.
Review in Czech | Read full review
The Games Machine
7.9 / 10.0
Despite the lack of some great titles and a technically forgettable multiplayer, SEGA Mega Drive Classics is a good collection that offers dozens of hours in old-style fun.
Review in Italian | Read full review
A modern retro collection should have a good batch of games and some extra niceties like save states and emulator settings. SEGA Genesis Classics checks those boxes, providing the best way to do what Nintendon't today. But considering it doesn't even have all the first-party hits that it should, much less the most memorable third-party ones, it's hardly a definitive package.
SEGA Genesis Classics is a great collection of Genesis games. The list is diversified and quite complete, despite the absence of certain titles, such as Sonic 3 and Sonic and Knuckles. The hub with a nostalgic look is good and the challenges are interesting, but they should be in a larger number - 1 per game, at least. The online, however, is bad.
Review in Portuguese | Read full review
While I continue to lament the lack of certain exceptional titles, the wide range of games being offered helps ease that pain. If you're looking to dive back into the Sega library without hauling out old hardware, the Sega Genesis Classics collection is a fine choice.
Overall, Sega Genesis Classics is a neat collection to have on the go and on your Switch.
A throwback is good every now and then, but it's the younger generations that need a recall of what it was like during the great-ol-days.
Overall, Sega Genesis Classics is not a bad selection of games from the Genesis library. There's a very competent emulation of the gameplay from the original hardware. However, it lacks some key games and extras we got in past compilations, and the sound emulation is lacking.
SEGA Mega Drive Classics is a very generous package, offering over 50 16-bit titles for a very reasonable price.
PlayStation Universe
7 / 10.0
This collection of titles from a golden age of Sega has some of the greatest 16-bit games ever made included, and also features a few important, if dated, gems. The extra challenges and nifty menu screen are pleasing additions, but thanks to minor latency issues and the existence of multiple Sega game collections over the years, this is only really recommended for the sake of convenience and/or curiosity.
Invision Community
7 / 10
Overall, the Sega Mega Drive Classics collection is a decent addition if you are craving some more retro game time. Unfortunately, the omission of a lot of really good titles hampers this collection as a whole. Of course, there are licensing issues but you can easily see where they tried to cram titles in just to fill the collection up.
All in all, this collection is fine. I can't criticize the game selection based on what it's not. It's just tiring having yet another incomplete look at SEGA's games for their most popular system ever.
I can sit down with my seven year old son and both of us will be having heaps of fun
It manages to package together some of the greatest games ever produced, throw new challenges your way, deliver a nice mixture of visual options, and provide the retro feel 90s babies will rejoice over. The Sega Genesis Classics collection stands out as the preferred method to enjoying Sonic and his mascot buddies on current-gen consoles.
Truthfully, the quality of Sega Genesis Classics is almost wholly dependant on one's own taste in 16-bit-ness. Those with a burning adoration for the titles on offer will have a complete and utter blast with this retro offering, and maybe even newbies can find a thing or two to smile about. Despite its minor flaws, Sega Genesis Classics is what it is: An simple but effective compilation at a decent price.
The emulation is perfect, the extra features are great and the Switch is the perfect system for this bit of nostalgia. Unfortunately, the collection of games is a little lacklustre, with the real standouts games that we've seen bundled together many times before.
For any fans of classic SEGA games, this is a must-have. You'll certainly get excited and have those moments of remembering playing these as a kid.
This collection shines with the underlying impressive emulation of Mega Drive hardware, the variety of visual options you get to switch between realistic and pixel-heavy versions of each game, and the quality of life stuff like rewinding and picking up where you left off. And thanks to over 50 titles in the collection there are gems to find that you may not have played before - including Phantasy Star and Alien Soldier.
Mediocre collections of retro games. There are more titles than in the previous version of this bundle, yet still some classics are missing. The emulation is also not that great.
Review in Polish | Read full review
PlayStation LifeStyle
6.5 / 10.0
At the end of the day, Sega Genesis Classics is simply a collection of 50 games from 25 years ago that will inspire brief moments of nostalgia. It's not the first collection of Sega games to release, and I'd be hard pressed to say it will be the last.
Sega Mega Drive Classics is a very well put together retro collection that takes a group of games that are well remembered and drags them into the 21st century. It's not going to overly surprise, but nor is it meant to.
SEGA Mega Drive Classics does a great job at modernising the classics, bringing in some games that we haven't seen in a release like this before, but at the same time drops some true classics like Sonic 3. While a plethora of features and some slick presentation make this feel like less of a cynical cash grab than it could be, the omission of these titles and cumbersome navigation makes this collection serviceable but less than definitive.
Many of the games featured were great back in the day, but if we're going to revisit them now, it'd be nice to have some more features for the nostalgic amongst us to enjoy.
Most gamers are going to find something to enjoy here, with literally hundreds if not thousands of hours in these 53 titles, but hardcore purists will be put off at the absence of arcade ports, unlockable curiosities, game box art, and other fun bonuses that they've come to expect with these types of packages.
For £25 though you are getting your moneys worth. There's a hefty amount of classic gaming here and if you can look past the somewhat iffy versions of your childhood titles and you aren't too bothered amount what's missing, the added extras and the included challenges may this your go-to collection if you're playing on PS4. Anywhere else? You'll find superior standalone versions of these games on the Xbox Store and Steam. Spend your money on those instead.
The technical issues may not be as noticeable in some titles, but they utterly break the likes of Alien Soldier.
After spending some time with SEGA Mega Drive Classics, the nagging feeling is why these compilations are always riddled with issues. There aren't many complaints to be had when it comes to the library, yet the emulation is never up to snuff. Perhaps dedicating such a large amount of resources to the UI wasn't the right call. A number of features are poorly-realised and implemented. It's hard to enjoy the games when nothing sounds or feels quite right. The stuttering is especially baffling. While its appearance is rare, it should be non-existent. In short, fans of the console deserve better.
The Outerhaven Productions
Sorry SEGA fans, but this collection doesn't feel like anything more than a cheap cash in.