Percentile Rank
Red Faction Guerrilla: Re-Mars-tered Edition is ranked in the 45th percentile of games scored on OpenCritic.
Rating Summary
Based on 58 critic reviews
OpenCritic Rating
Based on 58 critic reviews
Score Distribution
Unscored Reviews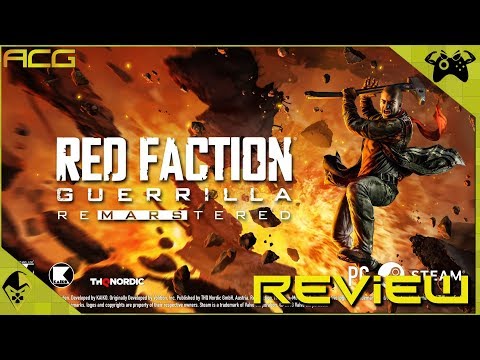 The game fully understands what makes it fun, and it does everything it can to empower the player to see that with as few restrictions as possible.
Rock, Paper, Shotgun
Unscored
I've had such a blast playing it all over again, and desperately wish Volition would announce a new entry in the series that – unlike the follow-up Armageddon – is also set outside in a big open world.
It's not really worth your time to play this one but if you haven't before, wait for it goes on sale before you buy it.
Review in Turkish | Read full review
Red Faction: Guerrilla is a game that knows its place in life and owns it. A game so confident in its gimmick that nothing else in the game world matters. It was refreshing when it was released and it is still refreshing now. No heavy stories, no deep combat systems, just a man, his hammer and a giant playground waiting to be torn apart. Bliss.
Scored Reviews
Red Faction Guerrilla: ReMARStered is a great remaster in many ways. The team haven't taken anything away from the game in this transition and instead, they have bundled it with the DLC and improved on pretty much every aspect, including the framerates. Sure, the game has it's moments where the destruction can get a little too much and it will begin to buckle, but they happen very rarely and overall the game is silky smooth. There is a lot of repetitive side-missions and a massive emphasis on destroying anything you see, but that's the beauty of Red Faction Guerrilla: ReMARStered, it's all about destruction and carnage whilst performing the mundane tasks of the local rebel alliance.
Red Faction Guerrilla Re-MARS-tered Edition is a game that we all deserve, given a second chance to really bring the house down
Just Push Start
8.5 / 10.0
While I wouldn't consider Red Faction: Guerrilla a classic like Killzone 2 or Halo 2, it's still a lot of fun to play. Sure, it hasn't aged as well as other games but it's still a fun experience, if only for the fact it allows you to think outside of the box. Maybe you smash this skull or blow up that wall, giving players a fair amount to consider while trying to free the people of Mars. Combine it with a story that instantly hooks you, though it fails to maintain the momentum, decent gunplay and plenty to see and do, it makes a solid choice for fans and newcomers alike.
Handsome Phantom
8.5 / 10.0
It's been over seven years since we've seen an entry in the Red Faction series. The fact that they can live on is nothing short of a miracle. After all that THQ has been through over the past few years it's nice to know that they still have love for this franchise. With this release it's safe to say that if it does well enough a potential sequel could be on the way to follow up 2011's Armageddon.
With so many recent games focusing on building up towns or surviving hordes of zombies, RFGR is a blast from the past that reminds us that as a kid, building things wasn't the fun part, it was smashing them to bits that made it worth the time!
PlayStation LifeStyle
8 / 10.0
As backhanded as it may sound, Red Faction Guerrilla Re-Mars-Tered Edition is far better than it has any right to be. The mechanics that originally made it heaps of fun still hold true today. Shedding the excessive complexities that accompany modern open-world games is a surprising breath of fresh, albeit dusty, air. Regardless of whether you are a red planet rookie or grizzled Martian veteran, you won't want to miss the opportunity to revisit this explosive gem. It really brings the house down.
A solid remaster which has evidently had plenty of work put into it. Red Faction Guerrilla still holds up today thanks to its fantastic destruction which remains relatively unrivalled. Whilst some areas of the game do show their age, this is still a great game being sold at a fair price point.
Red Faction: Guerrilla Re-Mars-tered presents a great opportunity for those who have already played it and those who haven't. For the former, it's a chance to experience its explosive, imperfect glory in a higher framerate and with better visuals. For the latter, it's a chance to play one of the cult classics of last generation at its peak.
It may be almost a decade old, but Red Faction Guerrilla's bland sandbox and story is still easily overlooked in favour of its gold standard of open-world demolition that now benefits from a substantial bump in visual quality.
If you're a fan of Just Cause or Saint's Row, then Red Faction Guerrilla might well tickle your fancy. In the days of sprawling open world titles with hundreds of missions tied together with awful stories, the simplicity of this game makes a welcome change. Violence is not big, hard, or clever, but it sure is a hell of a lot of fun. Red Faction Guerrilla Me-Mars-tered is the remaster no one was asking for, but has turned out to be a welcome surprise.
What saves this tossed-off narrative is the way it, like every other aspect of the game, interacts with the destruction.
In 2009, Red Faction Guerrilla proved that just one mechanic can elevate a game to be something much more than it actually is. And surprisingly, in 2018, Red Faction Guerrilla Re-Mars-tered proves that that still stands.
Alec Mason's adventures on Mars are just as much fun as they were nearly a decade ago. Worth a look as a low-cost summer game.
There's quite a lot that I like about Red Faction: Guerrilla Re-Mars-tered and some parts, not so much.
Red Faction: Guerrilla Re-Mars-tered is full of nostalgia of good old days for me. Some of the gameplay mechanics might look old in 2018, but we can't ignore that the main game released almost 10 years ago. Graphics upgrade is noble and the game delivers an epic funny experience with amazing destruction system in stunning 4K resolution. While Red Faction: Guerrilla Re-Mars-tered has some weaknesses just like the main game, but it's still worth your time and money, especially if you fell in love with the main game, back in 2009.
Review in Persian | Read full review
If you are the kind of gamer who appreciates destruction – beautifully done destruction, this game will satisfy. Hands down. If you are expecting to have an epic storyline involving a superior military force going up against a ragtag group of rebels, I'm sorry. You are better off searching somewhere else. Other than that. it's a very fun game that is accessible to plenty of gamers.
Digital Chumps
7.5 / 10.0
I would recommend Red Faction: Guerilla to anyone who likes sci-fi and third person free roaming. While it lacks an intuitive story line, the gameplay makes up for that by being original and engaging. I did, however get bored after playing for long periods of time so I recommend playing in spurts.
Red Faction Guerrilla was a frantic open world romp and mayhem simulator. This remaster is a total recall of the original with a fresh coat of paint.
Despite being nine years old, this remaster makes Red Faction Guerrilla look almost new. With its fantastic GeoMod 2.0 engine, the mayhem and destruction hasn't lost any of its appeal, though its PS4 Pro "high quality" mode is in dire need of optimisation.
Gamerheadquarters
7.5 / 10.0
Red Faction Guerrilla Remastered is a good effort to bring back what was an excellent game of destruction while being a well rounded package.
Red Faction Guerilla: Re-Mars-Tered is, in the end, a terrific, if seriously flawed, open-world game. I do admit that I'm a bit biased against this thing called colonialism, but the writers should have examined the wider ramifications when trying to inject even a semblance of emotional connection into the game. Overall, it's a fun jaunt through the past, and although I'm sure I'll get tired by the eventual repetitiveness, just like all open-world games, it's a great experience for what the gameplay provides.
The Games Machine
7.3 / 10.0
Red Faction: Guerrilla Re-Mars-tered shows a lot of contradictions: we can find the same amazing and never equaled free approach, but also a very old-fashioned game world that results too much empty for today's standards.
Review in Italian | Read full review
Disassembling numerous buildings with a hammer and explosives is still a lot of fun after nine years.
Review in German | Read full review
Red Faction: Guerrilla Re-Mars-tered brings back the best destruction in gaming. It also opens the door for another game in the series.
Red Faction: Guerrilla is a good game, but it hasn't aged very well. Its open-world structure is only a glimpse of what the genre would become in later years. Its saving grave is to be found in the destruction mechanic, that it's still very up to date and enjoyable.
Review in Italian | Read full review
While the graphical and technical improvements in RFG : Re-mars-tered are obvious and appreciated. No improvements in Game play seriously damages the quality of this remaster. Red Faction Guerilla : Re-mars-tered is the definitive Red Faction Experience but at the same time is far from a perfect remaster.
Review in Persian | Read full review
Boomstick Gaming
7 / 10.0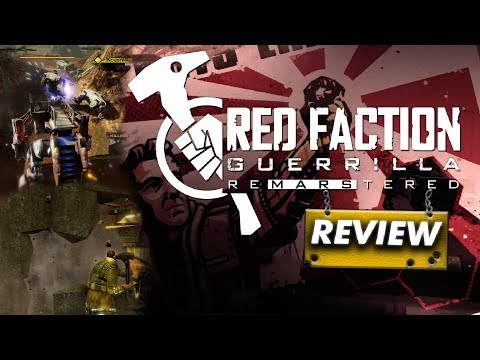 While not necessarily a great example of how a remaster should be done, Red Faction: Guerrilla Re-Mars-tered still serves as a reminder of how enjoyable it is to bash buildings to rubble with a big sledgehammer. We recommend you get your ass back to Mars sharpish.
It's a shame that for the second time Red Faction: Guerrilla will not have the attention that deserves, but the truth is that the game, despite it's still fun to play, it's simply outdated.
Review in Italian | Read full review
Red Faction: Guerrilla is ostensibly an open-world action game. It is actually an escalation of opportunities for artistic demolition. Other aspects of Guerrilla—shooting, narrative, driving, logic—may be generously labeled as dated or defective, but rarely distract from the lure of explosive Martian terrorism. Re-Mars-Tered Edition is a convenient and good-enough way to treasure its spectacle in 2018.
Red Faction Guerrilla Re-Mars-tered won't be winning any awards for Remaster of the Year, but blowing stuff up is still so much fun that it works. The explosive gameplay brings enjoyment to side, story and DLC missions.
The core loop of liberation through complete and utter destruction remains incredibly fun, though, and the unilateral destructibility still feels genuinely novel. Important moments of revolution and history are captured in glimpses of the crumbling monuments of a waning mind-set—for example, the destruction of the Berlin Wall is a physical manifestation of Eastern Europe's unrest and frustration towards the Soviet Union, and the wall's destruction remains a mark of liberation in an area where the residual effects of past regimes can still be felt today. Guerillamakes me wonder what will mark America's liberation from the current tyranny in power—or if a liberation, be it physical or psychological, will occur at all.
PlayStation Universe
7 / 10.0
Red Faction Guerrilla was the best of the Red Faction franchise and its Geomod technology proves its capable of withstanding the test of time. It may feel a bit dated in its driving mechanics and shooting controls but it makes up for that in it's phenomenal destruction that never gets old.
Although Red Faction Guerrilla did almost nothing to polish the last gen version issues, the 30 dollars price and upgraded visuals may very well worth it to once again take on the red planet, and discover its secrets.
Review in Persian | Read full review
Despite the numerous visual corrections, the years do not pass in vain for an original game of 2009.
Review in Spanish | Read full review
While the hammer, gun and remote explosive are fun to tear across Mars with, the explosive action becomes dulled by repetition and the flow is too often broken by frequent frame-burps and crashes...
Red Faction: Guerrilla was one of my favorite games in childhood, but after playing through it with fresh eyes I'm able to see the issues I didn't pick up as a kid: the story isn't memorable, the combat is lackluster, and the large open world isn't full of many interesting things to do.
Chalgyr's Game Room
6.3 / 10.0
Red Faction Guerrilla Re-mars-tered isn't a bad title but certain aspects show their age and the lack of refinement from the original release. That's not to say that it's not a hell of a lot of fun to take on the EDF in any way you see fit, it's just that the controls can often get in the way of a really enjoyable time.
Red Faction Guerilla ReMARStered is far from perfect, but it's fun, and it's proof that not every game needs to have a serious, super in-depth narrative to please.
Red Faction Guerrilla returns, taking a second crack at being an instant classic. The awesome environmental destruction returns alongside the hammer, one of the best gaming weapons ever. And the game has been redone in 4K resolution with improved lighting and textures. Unfortunately, the bad stuff still remains: shooting and driving feel floaty, enemy response is tuned too high, and there are a number of glitches present. As such, the remaster merely brings a great game into the modern age, without the improvements that would mark a better re-release.
Acceptable remaster without surprises and with old stlyle gameplay.
Review in Slovak | Read full review
Red Faction Guerrilla Re-Mars-tered Edition's gameplay provides overwhelming issues that only some gamers can endure.
Red Faction: Guerrilla Re-Mars-tered is not the first time that THQ Nordic has commissioned the services of KAIKO, with the developer previously bringing the first two Darksiders games to current-generation consoles. The experience gained while updating those titles appears to have paid off, with this latest offering lending vivid life to the Martian landscape. Nevertheless, the game is the product of a different era, and its age shows through in a number of key areas, the most notable of which is the archaic and uninspired open world. Despite these drawbacks, the game remains as engaging, and a series revival with Volition once again at the helm would surely be welcomed by many.
It's just a destruction simulator, nothing more than that.
Review in Polish | Read full review
Red Faction Guerrilla is back with a remastered version that is not enough to make up the 10-year-old flaws of the game. In spite of the fact that destroying everything is still quite funny, there are better options nowadays for the fans of this crazy action games.
Review in Spanish | Read full review
There are a handful of high points, thanks chiefly to the emergent gameplay provided by Geomod 2.0, but not enough to change what is, in the end, an acceptable but unremarkable sandbox shooter.
Hopefully, some patches bring this remaster up to par, because it would be unforgivable to have Guerrilla fail a second time due to a rushed port.
Red Faction: Guerrilla's central mechanics of destruction are a blast, but in the nine years since the game's original launch, we've played a lot of much better games. What was perfectly acceptable by our standards back in 2009 just doesn't cut it anymore, and as a result, Guerrilla is plagued by a number of major issues. Unfortunately, thanks to a bevy of technical issues, it doesn't even succeed as a remaster.
Red Faction: Guerrilla's biggest strength is without a doubt the sheer amount of fun you can have smashing things across Mars. Sadly, that initial enjoyment doesn't last long as you proceed to do the same missions over and over again. Is this game worth picking up, or even worth replaying? For the sake of nostalgia, it might be nice to boot up the game just to relive old memories, but I wouldn't recommend purchasing this title. Despite launching at a reduced price and even being free in some instances, I would suggest playing something else. The standards for open-world third-person shooters has risen far beyond Red Faction: Guerrilla. Skip this game unless you are a huge fan of the original, or you just really love breaking stuff.
It simply doesn't hold up ten years after release, and whilst we can kick back and enjoy the wanton destruction for a little while, it just isn't enough to hold the attention for as long as the game is asking of you.
The gameplay itself is fun and the weapon variety is great, but the crashes really kill a lot of the fun. Outside of that, the game world is rather bland, but at least that doesn't break the game.
The story might as well not exist, the mechanics are clumsy and prone to screwing you over through no fault of your own, enemies come at you in endless numbers to make destroying things a deeply annoying and repetitive experience, and the slightly upgraded textures—which are the only real difference between this version and the original apart from some newfound performance issues—are virtually imperceptible because of the uninspired art design that's still trapped in the Guerrilla-era war against colorfulness.