Percentile Rank
Dragon Quest XI: Echoes of an Elusive Age is ranked in the 98th percentile of games scored on OpenCritic.
Rating Summary
Based on 103 critic reviews
OpenCritic Rating
Based on 103 critic reviews
Score Distribution
Unscored Reviews
In conclusion, everything I have said about Dragon Quest XI being one of the best games of all time is definitely correct, because I played the game in Japanese for 300 hours. I wouldn't have done that if it weren't a masterpiece.
Eurogamer
No Recommendation / Blank
No Recommendation / Blank
Aug 28, 2018
A sumptuous, generous and absolutely gorgeous RPG that isn't quite the measure of Dragon Quest's illustrious past.
Dragon Quest 11 is a beautiful example of what a JRPG can be after 30 years of lovingly guided evolution. Its success is irrevocably tethered to those decades of development, though, and that means you probably already know if this is a game for you. If you're not already one of the faithful, Dragon Quest 11 is unlikely to make you a convert.
As my first foray into the Dragon Quest series, I'm absolutely ecstatic at what I've found here. A gorgeous world and exciting story made even better by a top-tier cast of characters in design, usefulness and general likeability. From what I've researched, this seems to be the standard for the series, so I can happily report that this will just be the first in my journey into Dragon Quest. If you're a fan of the JRPG genre and you, like me, have never played a Dragon Quest game before, I'd highly recommend giving it a chance to impress you.
Scored Reviews
While it is a massive and overly traditional role-playing game, do not let these elements dissuade you from trying it out. Stick with it and your patience will be hugely rewarded.
Dragon Quest XI: Echoes of an Elusive Age is a beautifully designed game from story to gameplay construction. To boot, the game is absolutely gorgeous and is fun to watch in motion. The fact that you have easily over 70+ hours of gameplay (teetering on 100) makes the longevity of the adventure more memorable. This is how you make an RPG, and I hope that the good folks at Square Enix continue to develop the series the same way.
Dragon Quest XI: Echoes of an Elusive Age takes everything to love about classic JRPGs and refines them to their utmost. The result? Absolute brilliance. If you had to pick just one JRPG to own on a modern platform, then let it this be the one.
Dragon Quest XI not only manages to be the best game in Square-Enix's iconic series, but is one of the best JRPGs to be released in recent years.
Dragon Quest XI is one of the best games ever made. From its deep gameplay and charming characters to its gorgeous visuals and stunning music, Echoes of an Elusive Age is a game that no one should miss out on.
If you're a fan of Dragon Quest VIII, you'll find a lot to love about Dragon Quest XI. Its character-driven plot and skill system recall the series' breakout PlayStation 2 installment, though Dragon Quest XI's lively world and expressive monsters lend it a unique feeling and flavor. Some fans might feel let-down about Dragon Quest XI's lack of job system or other options that let you fine-tune every aspect of your party (what I wouldn't give to see Dragon Quest V's monster-friending system make a return), but if you're in the market for a turn-based RPG that feels nostalgic but doesn't force you to deal with old genre mechanics, you won't find a better quest.
Dragon Quest XI is, from end to end, an iconic example of everything that Dragon Quest has stood for since way back in the 80's. It's charming and has a colourful energy that makes it very hard to put down.
With its modern accoutrements, slick design, heartfelt storyline, lovable party members, long (100+ hours) quest, and ridiculously impressive character animations, I can't imagine anyone who loves JRPGs not completely adoring this game to the point of mental illness.
Dragon Quest XI: Echoes Of An Elusive Age is a perfect game, it sticks to with traditional JRPG roots while still bringing in a few new mechanics to freshen it up a bit.
PlayStation Universe
10 / 10.0
An incredible achievement, and even after 150 hours in we didn't want it to end. From an emotional story, simple yet engaging combat, and gorgeous visuals. Dragon Quest XI: Echoes of an Elusive Age is simply remarkable and shouldn't be missed.
Dragon Quest XI is by far the best game I've played this year, and one that I will continue to play for the foreseeable future. If you have kids or a family, play this game with them. Depending on their ages, you might find some parts of this game a little dark, but the bright and vibrant worlds will be an experience that you all can share and cherish together for many years to come.
Dragon Quest XI is a high new benchmark for the series, and shows how a traditional JRPG can still be appealing for the modern age.
Dragon Quest series hit its peak with Dragon Quest XI offering one of the most engaging stories in a JRPG full of unforgettable characters and a turn-based combat system that can tailor to your experience. This is a classic JRPG that is worthy of being considered one of the best games released this generation.
The Dragon Quest team triumphed in introducing what enchanted millions of players 30 years ago, and they managed to produce a modern RPG that adheres to its traditional roots.
Review in Arabic | Read full review
If you've been waiting since DQVIII for a Dragon Quest title to hit your PlayStation, you'll be glad it's finally here. It may not do a lot to push the genre forward, but like the game's design so clearly sets out to do, Dragon Quest XI is an homage to the JRPG and its fans. It's an immense, addictive, and joyful experience from the first moment on. I cannot recommend it enough.
Dragon Quest XI is the perfect game to kick off the annual Fall glut of games, simply based on the merits of it being a massive sprawling JRPG that could easily carry you into the Winter months if you want it to. There's so much to do and it's so easily to get lost for hours just exploring the world trying to find the right materials to craft some better gear, or to finish up that side-quest that you picked up in Puerto Valor, or maybe the casino is more your style? Dragon Quest XI is easily one of the best JRPGs this generation, and it would be a shame if you missed it.
This is matchless experience in unique and charming world for all JRPG fans.
Review in Slovak | Read full review
If you have been missing the pure, genuine adventuring encouraged by the JRPGs of old, and you have been eager to see what the most traditional incarnation of the genre could achieve when paired with top-notch production values, this is most definitely the game for you.
Dragon Quest XI Echoes of an Elusive Age is as much of an homage to the older Dragon Quest titles as it is a new step foward for the series. With a great story, a superb set of characters and loads of content to discover, Dragon Quest XI is one of the best JRPG to come out in recent years
Review in Spanish | Read full review
The game isn't flawless, but the vast majority of its flaws are drops in a bucket of glory.
DQXI is a fantastically fun romp through a gorgeous world that delivers on its promise of an epic, if conventional, JRPG adventure.
Dragon Quest XI: Echoes of an Elusive Age represents pure JRPGs at their very best and it's sure to be a treat for JRPG fans. If you like Japanese games, it's definitely one of the best games released this year.
Review in Czech | Read full review
Reno Gazette-Journal
9.5 / 10.0
Given the Dragon Quest series' long and storied history, it almost feels sacrilegious to say that the latest entry is the best of that whole lot. But that's exactly what Dragon Quest XI feels to me. As a fan of classic turn-based JRPGs, DQXI is a full-throated, unapologetic rendition of the genre I know and love so well. Yes, it's not perfect, but it's about as close to perfection that a Dragon Quest game can get.
Dragon Quest XI: Echoes of an Elusive Age does not find the black thread of anything nor try to revolutionize the genre at all; On the contrary, it seeks to pay tribute to all his legacy that has forged through more than three decades and that has led it to become one of the most important exponents of the genre and one of the most beloved franchises in Japan. If you are a lover of JRPG then do not hesitate, Dragon Quest XI is an adventure that you must live and experience.
Review in Spanish | Read full review
Just Push Start
4.75 / 5.0
Dragon Quest XI: Echoes of an Elusive Age is a phenomenal game that JRPG fans will want to play. The brief break gave Dragon Quest XI a chance to improve a number of things and that certainly paid off. The storyline is interesting and engaging, something that will suck players in and hold their attention until the very end. And, outside of the main story, there is a wide variety of things for players to do. Needless to say, if you feel like recent JRPGs have been lacking, then you'll probably enjoy Dragon Quest XI: Echoes of an Elusive Age.
Dragon Quest XI: Echoes of an Elusive Age, in one word is a must-buy game for every JRPG fan. The game follows traditional elements of the genre and although doesn't have any revolutionary changes, but every mechanics and features of game are so well-crafted. The game has very vibrant atmosphere and unique art style as always in this series. At the other side, the story of the game is like other JRPG games but it also has unique feeling of a Dragon Quest game. The Music sometimes get boring because of the long time needed to complete the game. Despite a lot of Japanese poorly translated games, The localization of Dragon Quest XI is amazing. finally, i must say that Dragon Quest XI: Echoes of an Elusive Age is a game that every RPG fan must experience.
Review in Persian | Read full review
From our perspective, Dragon Quest XI: Echoes of an Elusive Age is now considered the best title in the series, putting the 8th installment behind. I kept asking myself during my playthrough if this is the best role-playing game of the current gen or not. It's hard to answer a question like that but I do believe it is, at least now.
Review in Persian | Read full review
Even considering the mediocre soundtrack, the return of the Dragon Quest main series on a PlayStation platform could not be more special. The eleventh edition of the franchise is exceptional and complete. Not only the best way to revisit a beloved genre in recent times, Dragon Quest XI is also a fantastic game - perhaps one of the best of 2018.
Review in Portuguese | Read full review
Dragon Quest XI is simply the best Dragon Quest of all time. A classic old school rpg, with all the best things taken from over 30 years of JRPG.
Review in Italian | Read full review
Dragon Quest XI: Echoes of an Elusive Age moved me in ways a Japanese RPG hasn't done in years.
Attention to details, addictive gameplay, amazing atmosphere of a fairy tale with incredibly beautiful scenes and bright style make this project a must play for all fans of role-playing games.
Review in Russian | Read full review
However, for those who have fallen in love with the genre, and grew up adoring Dragon Quest, Final Fantasy, and others, this game is the ultimate expression of the traditional JRPG.
Dragon Quest XI is a stellar game that displays a great command of the ins and outs of its genre the way few other games can and do. What it lacks in originality, it more than makes up for with its confident execution of ideas, showing that a game doesn't need to be revolutionary or the freshest thing on the block to be an incredible experience. With a memorable cast of characters, a well-told, briskly paced story, stunning and vibrant visuals, and a beautiful and extremely varied world as its setting, Dragon Quest XI serves as yet another excellent instalment in this amazingly consistent franchise.
If you've been waiting for a true follow up to Dragon Quest VIII or just have been craving a massive JRPG with a gorgeous world, this is the game for you.
Dragon Quest XI is not an RPG for everyone. It's a game that lives on its legacy and refuses to evolve with the genre, preferring to slow down its gameplay rather than completely transform it. If turn-based combat isn't your thing, Dragon Quest XI won't change your mind, but if you want a great RPG, with a charisma rarely found in the genre, and explore one of the most vibrant worlds we find on consoles, this is the game for you.
Review in Portuguese | Read full review
It is indeed one of the best games in a series of greats, and a JRPG that is without a doubt an instant classic. One I will undoubtedly cherish for many years to come.
By staying true to its roots and adding some modern design elements, Dragon Quest XI: Echoes of an Elusive Age stands as a compelling JRPG that is a perfect starting point for any gamer that wants to know what the Dragon Quest craze in Japan is all about. We loved every minute of exploring Erdrea, fighting cool monsters and forging weapons in an adventure that took us more than 80 hours to complete.
Review in Spanish | Read full review
I would suggest picking this game up and having it being the side game to the blockbuster titles coming out right now to bridge the gap between the big releases, because it moves fast enough with the plot to always feel like something is being accomplished but not as fast as say Spider-Man that came out the same week. Don't let Dragon Quest XI be lost in the Fall game rush.
With a great cast of characters expertly brought to life, a gorgeous visual style, and a seemingly never-ending supply of varied story beats to experience, it is easily worth any JRPGamer's time, and sets the new watermark for the series moving forward.
If you're a fan of the JRPG genre, especially classics Final Fantasy 6, Chrono Trigger, or any of the original Dragon Quests I would heavily encourage you to check out Dragon Quest XI: Echoes of an Elusive Age.
Embark on an Epic Quest to bring light to the shadows. And let the Echoes of your justice ring through an Elusive Age. For you are the Luminary, chosen by faith and destined to defeat the Lord of Shadows.
Dragon Quest XI's strength lies not in defying conventions, but in refining the concepts its predecessors pioneered to the absolute apex of what a Dragon Quest game can be.
Dragon Quest 11: Echoes of an Elusive Age is a classic-style, turn-based JRPG that makes some smart changes to the formula while still being firmly rooted in tradition.
PlayStation LifeStyle
9 / 10.0
I have my issues with Dragon Quest XI: Echoes of an Elusive Age. It's a bit clunky when it tries to pretend it's cool like other video games. I wish I had vocations instead of skill points to play with, and it would be nice if I could get from point A to B a bit faster, or have more to do along the way. But at the same time, I found myself engrossed in the usual grind I've come to love over the years, the silly and fantastical creatures from my favorite artist, and the storytelling that met and even rattled my expectations. There's even a neat little crafting system I didn't have room to mention, secrets to find, and of course hours and hours of post-game content. If you want to go on an adventure, and I mean a real adventure that tugs on your heartstrings, makes you smile, and yells puns at you constantly, do not sleep on Dragon Quest XI.
Steeped in tradition and not afraid to show it, Dragon Quest XI reflects the best qualities of the series' past.
Dragon Quest XI is an amazing and lengthy JRPG that you should definitely pick up if you are a fan of the genre. This game is definitively my personal Game of the Year for 2018!
Will you be getting this title when it releases on September 4th 2018? Let us know in the comments or on Twitter, and keep an eye here on Rice Digital in the future for coverage of more awesome Japanese games.
Dragon Quest XI has managed to stay true to its roots and also add tons of new features thanks to a new, powerful engine. If you never had the chance to enter the world of Dragon Quest, now is the best time.
Review in Persian | Read full review
Dragon Quest XI: Echoes of an Elusive Age is a real treat and should be the game that finally solidifies the reputation of the franchise in the West among the very best RPGs ever made.
Dragon Quest XI sticks to what it does best, offering a traditional Japanese RPG experience that's simply a joy to be a part of. It's an old school adventure wrapped up in gorgeous current-gen visuals, but it's the lovable characters that win the day. The game's fit to burst with personality, wit, and charm, superbly localised and meticulously crafted. It may not push the genre forward, but it's peak Dragon Quest, and it's absolutely one of the best RPGs on PS4.
Dragon Quest XI has a lot of offer for fans of the Dragon Quest games series. The game is extremely entertaining and its journey across towns and cities is what makes it more fun and exciting.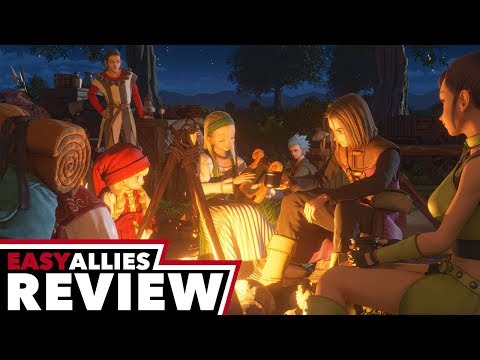 Dragon Quest XI proves that a traditional turn-based RPG in 2018 can not only work, but also thrive. Longtime fans and newcomers alike should not hesitate to take the trip to the Elusive Age.
Dragon Quest XI is an incredible example of how to take a classic series and modernize it with updated graphics and voice acting while still keeping what made the original so charming. If the story stayed strong all the way through, it would be my favorite in the series hands-down. Nevertheless, it's still in the top three Dragon Quests that I've ever played.
The Games Machine
8.9 / 10.0
Dragon Quest XI: Echoes of an Elusive Age is probably the best Dragon Quest of all the time, but this does not automatically make it a game for everyone.
Review in Italian | Read full review
Dragon Quest 11: Fate of Fate plays the strengths of the series fully, even addressing newcomers.
Review in German | Read full review
There's not a whole lot of franchise innovation to speak of, but Dragon Quest XI still provides a sweeping journey worth completing.
Dragon Quest XI excels when it emphasizes fighting bad guys, exploring dungeons, and finding treasure. It's a visual feast populated by a cast of colorful monsters more engrossing than its main characters. Uneven story beats and some icky bits sometimes slow Dragon Quest down, but superb mechanics remain the focus, making Echoes of an Elusive Age a top-tier JRPG for the modern age.
Dragon Quest XI: Echoes of an Elusive Age exaggerates a bit on the oldschool RPG nostalgia but it's also the reason why this game is so good. The deep character development and the amazing open world with its compact levels will satisfy newcomers and RPG veterans as well.
Review in German | Read full review
All in all, Dragon Quest XI: Echoes of an Elusive Age is a standout example of the franchise. It's undeniably safe, but on the flip side, it's engaging, enjoyable, and polished, and it showcases almost all of the franchise's strengths. It also has its share of weaknesses, but in terms of nostalgia for the olden days, it's an example of how to do it right. It might be a bit too repetitive for longtime Dragon Quest fans, but if you were going to play one Dragon Quest, DQ11 is the one I'd recommend even over my personal favorite. It's a great entry point to the franchise, and it's a charming, fun, and likeable JRPG on its own merits.
Dragon Quest XI brings the legendary Japanese RPG franchise to consoles (properly) for the first time in 13 years, and it's a mostly fantastic new chapter of the series. Its story, gameplay, characters, and visuals all work to blend timeless series elements with newer-era genre refinements, and most of the time, the results are great. Unfortunately, there are a few times when honoring tradition is a weakness, not a strength—most specifically in the case of the game's protagonist.
Dragon Quest XI is a big game with lots to see and do, and you won't breeze through the game in a weekend. If you are willing to put in the time and see it to the end, though, the game is highly rewarding as a JRPG with a surprising amount of depth. Some of its larger story moments are enjoyable in their own right even if they can be derivative or are mere shadows of specific moments from classics of the genre, but while the game may not reinvent the JRPG, I had a blast making my way across Erdrea.
New Game Network
85 / 100
An excellent entry into anyone's JRPG collection, Dragon Quest XI will have you wondering why more of the series hasn't made its way to consoles. It manages to capture the spirit of genre classics with memorable locations, engaging explorative elements, and fun combat.
Dragon Quest 11 falters in the pacing of its story and features an unimpressive OST but at the end of the day, this game is like getting together with an old friend and hanging out on a cool summer's day; it's familiar and oh so comforting.
Dragon Quest XI is a gorgeous throwback to 8 and 16-bit JRPGs, with a lengthy story and engaging cast of characters. Even if you think you've gotten your fill of classic JRPG goodness from Octopath Traveller, DQXI is still worth checking out.
DQ XI is classic in its shape,despite some additions and new features, but the game managed to surprise us in a beautiful way due to its scenario. Epic and surprising for the series, he will affect palyers looking for a very good JRPG with texts translated into french. We would have liked to have a better technique especially for the score. But its richness, its characters are also here to give us a nice adventure. And it's seems obvious that all the fans have to buy the game.
Review in French | Read full review
IGN Middle East
8.4 / 10.0
Dragon Quest XI offers an exciting storyline, attractive characters, and a subtle gameplay that gives the player full control over his companions and implements different strategies, while retaining the series with a classic spirit with a more beautiful, versatile and graphical level that fits the atmosphere of the title, not the exaggeration described One of the best versions of the series.
Review in Arabic | Read full review
Boomstick Gaming
8.4 / 10.0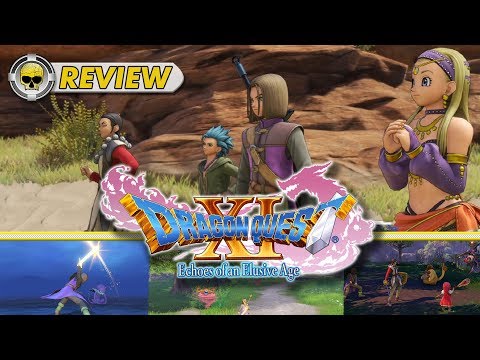 This isn't a shake up for the series and can sometimes feel dated, but the long, hard-fought adventure comes together in an engaging way
VGProfessional
8.2 / 10.0
Dragon Quest XI is very much a classic J-RPG, and while a lot of the ideas here have been done before, they haven't been done this well. It's a great example of a game that doesn't innovate, but definitely enhances the classic formula and improves on it
Invision Community
8 / 10
Overall Dragon Quest XI: Echoes of an Elusive Age gets an 8/10, it is beautiful, exciting and brings back that good VIII feel of yesteryear. Fans of the series will love the updated combat system that keeps to the core of the series design, improved graphics and larger maps. The music is reminiscent of the past but sound design clings onto that nostalgia a bit too harshly with retro choices in a modern release. The difficulty is pretty solid if you decide to fight enemies but can ramp up if you move around the very easy-to-dodge foes. If you are a fan of the series, DQ11 is pretty much just more Dragon Quest, without any drastic changes to the formula.
Whether you're a lifelong fan or new to the series, Dragon Quest XI: Echoes of an Elusive Age is an easy recommendation.
After many years a new main title from Dragon Quest series has made it's way to home consoles and personal computers. Dragon Quest XI's world is charming, beauteous and full of details that are waiting to be revealed. game's story and characterization is polished very well and with the help of smooth controls the game will entertain you for hours without making you tired. game's soundtrack and voice acting might feel a little underwhelming but you can always mute the music and venture into the beautiful world of the game with your favorite music in the background. if you are a fan of role playing genre don't miss out on Dragon Quest XI.
Review in Persian | Read full review
If you're a fan of JRPGs then you must play Dragon Quest XI: Echoes of an Elusive Age whether you've played the earlier games or not.
Dragon Quest XI: Echoes of an Elusive Age is not a perfect game but it is a perfect Dragon Quest. Full of winks dedicated to his most loyal followers, but also thought for the good grade to new generations.
Review in Spanish | Read full review
'Dragon Quest XI: Echoes of an Elusive Age' represents the peak of what the franchise can deliver.
This isn't the end-all, be-all of JRPGs, but it's still a damn fine Dragon Quest game, not to mention a great introduction to the genre for newcomers. Think of it as JRPG comfort food and you'll have no trouble whatsoever.
While Dragon Quest XI: Echoes of an Elusive Age doesn't push the boundaries of RPG design in any new way, it is an enjoyable and refined return to the Dragon Quest franchise. Some might decry its lack of ambition, but for fans of the genre and the series, new experiences like this are few and far between.
One day, Dragon Quest may succumb and drop turn-based combat. Thankfully, that is not today. Echoes of an Elusive Age may play it very safe, but the carefully balanced combat and wealth of ways to build the characters keeps things from getting boring. The sheer density of content in the main quest means it will take a staggering amount of time to complete. Compounded with some entertaining and charmingly written side-quests, this journey breaks the 100 hour mark easily. There can be a few too many instances of catering to the lowest common denominator that even the hard mode modifiers can't fix, but if it means more people can enjoy this amazing game, then so be it. The only thing holding back what could be almost a masterpiece for the genre is its terrible soundtrack.
It may be overly familiar, but Dragon Quest XI is built on strong foundations; newcomers and veterans alike will find a lot to love.
Dragon Quest XI is a hallmark of excellence for the genre, and while some may be put off by its adherence to classic tropes, it features a modern twist on combat, narrative elements, and character customization. It's a hefty slice of throwback goodness without too much of the baggage that can come with old-school games.
Dragon Quest XI: Echoes of an Elusive Age is another fantastic entry in a series that's become recognised for its high quality in the JRPG genre.
Dragon Quest XI is the best looking in the long running franchise, and at its core, while unchanged, remains solid and funny. Still, we would like to see some major changes and improvements in the next installment.
Review in Italian | Read full review
Geeks Under Grace
8 / 10.0
Dragon Quest XI is a gorgeous, fun RPG with likable characters and, though predictable, a well-told story. Classic JRPG fans are sure to enjoy their time with Echoes of an Elusive Age.
The more you play, the more you become charmed and enchanted by the world in which you play. As the story develops, and you get pulled into more and more grand escapades
Enix, and by proxy Square, have found myriad ways to repackage the journey of Dragon Quest and Dragon Quest XI: Echoes of an Elusive Age proves that they haven't run out of ideas yet. It's one of the easier modern Dragon Quests to get into precisely because it gets back to basics. If you've been pining for an older-school character-focused RPG instead of the player-created party focus of IX and the MMO aspect of X, the wait has ended.
Paste Magazine
7.5 / 10.0
This entry feels a lot more accessible and welcoming compared to other games in the series, and the English voice overs help to breath a lot of character into the extremely long plotline. With that said, it feels as though the efforts made to appeal to a western audience for this localization have in turn caused it to become much tamer, especially when it comes to the game's combat difficulty. Despite its minor flaws, Dragon Quest XI's sprawling story easily outshines everything else and makes for an exciting adventure for you to lose yourself in.
Dragon Quest XI: Echoes of an Elusive Age is a good game but doesn't do much to differentiate itself from other JRPGs. The visuals are fantastic, but the uninspired battle system and disappointing soundtrack bring down this game significantly.
I have a weird love-hate relationship with Dragon Quest XI: Echoes of an Elusive Age. At times, its nostalgic, its nicely written story and its unique design just blows me away but at other times, I simply hate its poorly designed interfaced, its lack of innovation and the simple fact that it never dares to try anything new. When it does something, it does it perfectly, but it simply doesn't feel enough in 2017. It plays it way too safe for its own good.
Review in French | Read full review
Old school to a fault, but fans of the series – and anyone else that appreciates its honest charms – will find much to love in this simplistic but heart-warming role-player.
A JRPG for people who haven't played one in a while, basically. Well-made, but disappointingly safe.
PlayStation Galaxy
6.5 / 10.0
Overall, Dragon Quest XI is a mediocre JRPG. It looks fantastic, but the gameplay is "meh" at best. Although it can capture your interest here and there, there isn't really anything too special about the game. It's still worth getting if you enjoy grinding, leveling up, and seeing your characters get stronger. So if you want, pick up a copy and see how much fun you can get from the 11th installment in the series.
Though visually sumptuous, the game doesn't do much to strike a bolder, more mature path within a tired series.
Ultimately, our time in Erdrea makes us realise why Dragon Quest is Japan's national game. It's not necessarily because it's the best or the most innovative, but for its generation-spanning fans, familiarity breeds comfort.
It is the latest in a long history of Dragon Quest games, but sadly doesn't do enough with that long lineage. It should have been better, but doesn't reach that level of quality.