Percentile Rank
Damsel is ranked in the 45th percentile of games scored on OpenCritic.
Rating Summary
Based on 16 critic reviews
OpenCritic Rating
Based on 16 critic reviews
Score Distribution
Unscored Reviews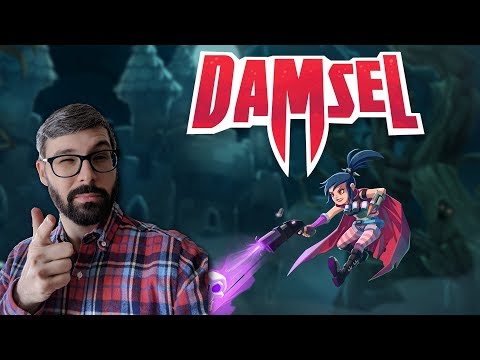 Scored Reviews
Overall, Damsel is a cute little game that anyone can get into.
Damsel is a fun arcade-style platformer/shooter/speedrunner/whatever genre you want to call it. The comic-style motif is a nice concept that I haven't seen for a long time and the gameplay is pretty fluid. The darkness of the stages and the similarities between the three game modes kind of bring the game down a little, but it's still an enjoyable outing for the Nintendo Switch.
Cultured Vultures
8 / 10.0
Damsel is a fast paced and stylish affair that keeps your heart racing with intense gameplay, despite some eventual repetitiveness.
Damsel is an engaging, challenging platformer that has a little something for everyone. It may get too hard too early for some people, but mastering the mechanics is incredibly rewarding.
Damsel will seep hours from your timestream. If you're up for a fast action game like the days of old, Damsel has you covered
Slaying creatures of the night are something many of us gamers are quite familiar with. Whether we used swords, magic or guns, it always gives a bit of a rush and frankly quite fun.
Gamerheadquarters
7.3 / 10.0
Damsel delivers a fairly solid experience with a narrative told through neat comic book style strips prior to levels.
Damsel is a spirited, fast-paced platformer that is enhanced by its comic book inspirations.
Damsel is an intense, occasionally frustrating title, for those who have quick reactions, an eye for planning, and a patience for repetitive death. Those who like their games challenging, twitchy, and demanding of player improvement should consider joining Damsel on her wild ride into the night. But those expecting story, adventure, or even mercy will likely find themselves thirsty for more.
New Game Network
68 / 100
Damsel manages to be a competent action platformer that speedrun enthusiasts and leaderboard junkies should get a kick out of, but it achieves little beyond this. The constant dashing around while shooting vampires proves fun in short bursts, but doesn't have a ton of longevity.
Damsel is a solid, if not forgettable title that really stands on its visual presentation and tight game play. I had fun with my time, but never felt the need to boot it back up after a few hours. Still at the low price it is worth checking out if the genre interests you. I certainly had plenty of fun digging into it.
Damsel is far from being a bad game. It looks nice, controls well, and has a decent soundtrack. But its moment-to-moment action grows tiresome when played for a considerable length of time. It's a game best enjoyed here and there – a handful of levels at a time – otherwise it just gets overly repetitive and your interest starts to wane.
Damsel's gameplay never comes together, and it's too repetitive to be particularly fun.
Damsel misses the mark in many ways, but really isn't all that bad. It's more of a glaring missed opportunity than anything else.
Damsel gets a middling recommendation. If you're looking for something you can file under "slightly difficult to get used to, eternity to master" then this would be in that rather specific category. As I said at the start, this won't look out of place on the Switch or Steam library, as those two are bread and butter for this kind of game. Whereas on the supposed powerhouse that is the Xbox, it just seems like a waste of potential. Granted, this is only an indie title, so there isn't going to be mass dollar behind it. It's just that the end result on the Microsoft flagship is a bit of a damp squib.