Percentile Rank
SNK 40th Anniversary Collection is ranked in the 66th percentile of games scored on OpenCritic.
Rating Summary
Based on 33 critic reviews
OpenCritic Rating
Based on 33 critic reviews
Score Distribution
Unscored Reviews
First, let's cover the broad spectrum, before we start dialing in on some of these actual titles. Right out the gate, I can tell you the presentation here is amazing. Every last game comes with just about every variant the original release exists in. American and Japanese arcade variants, contemporary console ports, it's all here. Not only do you have all of these variants, all of them superbly emulated, but you also have all of the extras. How would you like a ton of soundtracks to listen to, of classic SNK tunes? Done. Posters, samplings of vintage magazines, concept art? You've got it. There's tons of these little details and careful touches all throughout.
Scored Reviews
PlayStation LifeStyle
10 / 10.0
SNK 40th Anniversary Collection is one of the coolest, most fascinating video game releases out in 2019.
Overall, SNK 40th Anniversary Collection has titles that old school arcade gamers are sure to appreciate and also does an impressive job of diving deep into the company's four-decade history. However, this may be even more of a niche collection than the Capcom Beat'em Up Bundle, which could work against it in the end..
SNK 40th Anniversary Collection is not full of flawless gems that everyone will love, and it suffers a bit in terms of variety. Strictly viewed for what it is, however, which is part retro videogame anthology, part history lesson, it is one of the finest one in the market, making this the definite product for those who want to try the titles on offer.
The SNK 40th Anniversary Collection is a must-have game on Nintendo Switch. Digital Eclipse, SNK, and NIS America have knocked this one out of the park, giving us an extended look at many of the classics that shaped up SNK during its early years. It does not feature every game, because that would require a ton of extra work and a way bigger development budget, but what is available, and what will be added on December 11, more than justify the asking price. After having a blast playing the games in this collection and marveling at the incredible museum section, I wouldn't mind seeing a second and third volume!
What I hoped would be a decent collection of SNK's early gaming efforts ended up being one of the most impressive retro compilations I've encountered in recent memory. While not every game included will excite more casual players, those who do have an appreciation for the library offered here will find them presented with a level of care, concern, and passion that is too rarely seen.
NintendoWorldReport
9 / 10.0
SNK isn't Nintendo or Sega, but they carved a unique path through the industry that has helped them stick around for 40 years. This celebration might only be focused on the first dozen or so years, but it's a lovingly crafted and curated virtual exhibit that sets the standard for retro collections for the future. SNK 40th Anniversary Collection shined a light on a company I didn't know much about, and I'm thrilled it will now be easy for others to learn about them the same way I did.
Classic game compilations don't get much better than SNK 40th Anniversary Collection.
Nindie Spotlight
8.5 / 10.0
While I'm not sure people who aren't either "vintage" gamers like me or folks who have an appreciation for video game history will have a great deal of incentive to pick it up, the SNK 40th Anniversary Collection delivers just about everything I could want from such a package. It provides both an opportunity to immerse yourself in the game industry and its rise through the eyes of this one revered company and to enjoy a completely arcade-accurate experience by playing these classic titles.
The Games Machine
8.4 / 10.0
Putting aside a limited amount of genres, SNK 40th Anniversary Collection includes an educational value that is unrivaled in the history of retrogaming, offering the definitive learning tool for all SNK fans.
Review in Italian | Read full review
Chalgyr's Game Room
8.3 / 10.0
The SNK 40th Anniversary Collection is a really good one right now that promises to only get better in the near future as the catalog expands. It would have been easy to just emulate the titles and tuck them in behind a menu to select your game of choice and be done with it, but there are some quality features baked in and around the different games that show that the development team took their task to heart and wanted to provide a great experience to SNK fans. The end result is a very enjoyable collection of NES and arcade classics.
This is how you made a retro-collection: full of extras and interesting tidbits.
Review in Italian | Read full review
Either way, it doesn't take a genius to see that the SNK 40th Anniversary Collection isn't for everyone. Many of the games here really haven't aged quite as well as others developed for the same generation. If rummaging through the nostalgia of gaming history does appeal to you though, then this mid-range priced time capsule could very well be worth your investment.
Reno Gazette-Journal
8 / 10.0
As an old-school gamer who's seen my fair share of classic collections that either nickel-and-dime gamers or just do the bare minimum, the SNK 40th Anniversary Collection is a refreshing and pleasantly surprising take on the whole retro collection trend. Yes, some of its games aren't as fun to play nowadays or don't have the cache of more popular old-school titles. A plethora of features and free additional content, however, make this a pixel-perfect example of a retro collection done right.
This is how retro compilations should be done. Although the emulation has a few little hiccups along the way and single Joy-Con multiplayer is sadly missing, the overall package here is wonderfully presented. Rather than just slapping a rudimentary menu over a bunch of old ROMs, it's clear there's been a lot of effort made here to catalogue an often forgotten period in one of Japan's most important game developers. As with all compilations there are a few misses, but the quality is generally high, and the supporting museum mode is an absolute treasure trove for retro enthusiasts.
A portion of SNK's pre-Neo Geo library is given the archaeological treatment in the diverse and educational SNK 40th Anniversary Collection.
SNK 40th Anniversary Collection is a great example of how a retro collection should be assembled.
SNK 40th Anniversary Collection is by far my favorite collection of classic titles. The fact that they are on Switch and available on-the-go is a major plus. Throw in the jump-in moments and watch mode on top of more free games down the road makes this a must-own for Switch owners.
This all comes from a passion to keep as much this industry's history alive as possible, and it all shines through in the final product.
An act of love to rediscover one of the most glorious japanese software house, but time not always is completely merciful.
Review in Italian | Read full review
The SNK 40th Anniversary Collection is an impressive museum exhibit of forgotten games that don't all hold up today.
SNK 40th Anniversary Collection is a good compilation of SNK games, which will remind a lot of good memories to the fans of this brand, even if the Vs fighting and run&gun games are missing (find them on the Neo Geo Mini).
Review in French | Read full review
Great ports, awesome extras, and both arcade and NES versions make this a good game that many will enjoy.
SNK raised the bar for this type of retro collections.
Review in Slovak | Read full review
This collection may not appeal to everyone, as when you boil it down a lot of these title feel the same. This serves more as a collector's piece, which isn't a bad thing; it's just very niche. As you can see though, SNK 40th Anniversary Collection does has a lot on offer. With thirteen titles from the off, eleven more coming the month after, and the various versions included, this anniversary bundle makes for quite the collection of portable nostalgia. Old games are very hard and it's important that we know where all the wonderful games we play today, started out. If you're interested in seeing those beginnings, then pick this game up and fill your boots.
A worthy compendium for one of Japan's greatest arcade developers.
The SNK 40th Anniversary Collection is a great collection of not necessarily great games. While retro enthusiasts and multiplayer fans will likely have this anthology near the top of their wish list, others might want to wait for some DLC to flesh it out.
Boomstick Gaming
6.9 / 10.0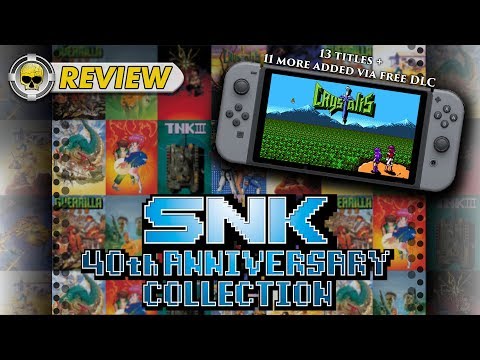 Without a doubt, SNK 40th Anniversary is probably the strangest collection of retro and classic games I have ever spent time with. Overall, the package bounced around with me having feelings of fun, intrigue, disappointment, and confusion all at the time time.
For this collection to be really worth the price of admission, SNK needed to dip into its more recent history, and particularly the fighting game genre, where the company has a genuine leadership position. It didn't do that, so it's hard to shake the impression that you'd be better off with a couple of the dozens of Neo Geo Classics that are available as individual purchases on Switch.
SNK 40th Anniversary Collection is an interesting package, but even with the upcoming titles to be added, I have to question its value. Luckily, this is not a full price package, but even then many gamers will doubt the value proposition, quite rightly. I'm not saying don't buy the SNK 40th Anniversary Collection, but whether you'll keep playing the game after a few multiplayer sessions with friends is questionable indeed.
SNK 40th Anniversary Collection is out now! Do you think you will pick this title up? What is your favourite SNK title? Let us know in the comments, or on Twitter, and check back for more coverage of SNK titles and other Japanese games.