Percentile Rank
Sid Meier's Civilization VI - Switch Edition is ranked in the 95th percentile of games scored on OpenCritic.
Rating Summary
Based on 22 critic reviews
OpenCritic Rating
Based on 22 critic reviews
Score Distribution
Unscored Reviews
Scored Reviews
I already know that this will be my most-played game on the Switch over the longer term. Once you start playing Civilization, it has the most incredible ability to make you lose all sense of time, and desire to play anything else.
One of the best PC to console ports ever, with the strategy great working impressively well on the Switch and opening up the series to a whole new audience.
Civ VI released two years ago for PC and has grown through updates, tweaked gameplay and DLC since then. The Switch version is just the base game, but that's more than OK. There's plenty to sink your teeth into, providing hours upon hours of unique experiences, accompanied by a divine soundtrack to really get you in the mood for building nations. Civ VI is a titan of a game and well worth your time, even if you've already spent hours on the PC version, because, now it's portable, which is potentially dangerous to those who have jobs. Now the threat of taking "just one more turn" can haunt you wherever you go.
An excellent conversion for one of the best Civs to date. Great interface, good performances. Too bad for the battery drain, but with two full hours playtime of it's very reasonable and acceptable, considering the quality of the port.
Review in Italian | Read full review
It's Civilzation on Nintendo Switch in all its glory. It's full featured, plays great with the Switch control schemes and is addictive as ever.
If you think Civilization peaked at IV, the sixth entry won't change your mind, but we envy anyone who's never played the series – Civilization VI on Switch is a brilliant introduction.
Firaxis Games has done a magnificent job of porting Civilization 6 to the Nintendo Switch. While the PC version offers superior graphics and controls, you won't be able to put this Civilization 6 Switch port down. It retains the series' effortlessly addictive gameplay and is the perfect title for newcomers and long-time Civilization fans alike. Just one more turn.
The Switch edition of Civilization VI brings the full (base) Civ experience to a handheld. For this alone it's an essential purchase for strategy players, but the interface and presentation make this one of the best games on the console on its own merits.
Civilization VI is a great adaptation of the strategy classic for Nintendo Switch. Controls need some learning, but the game is deep and fun (and we love local multiplayer).
Review in Spanish | Read full review
A blend of touchscreen controls and physical buttons makes this one of the most convenient ways to play Civilization VI, and the portability makes it the best version to play on the go. Recommended to everyone who's looking to build a nation or take over the world.
VGProfessional
8.6 / 10.0
While Civilization VI on Nintendo Switch lacks online multiplayer, it's amazing to see how well it runs on the handheld console even with its limited technical abilities. With brilliantly adapted UI elements and controls for the Nintendo Switch, Civilization VI almost feel as native to the hybrid console as it is to the PC.
The perfect RTS game on the go, Civilization 6 feels at home on the switch.
Review in German | Read full review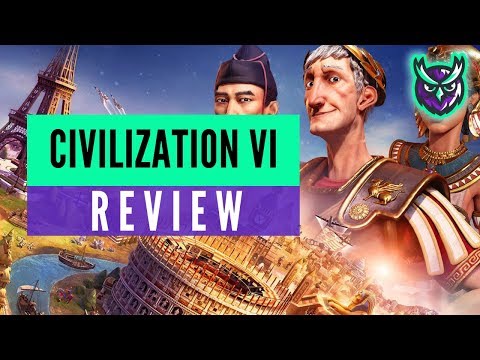 Still, it's clear to see that Civ 6 is going to be one of my most-played Switch games, because that's just the kind of game it is. You can't say no to one more turn, and I can already foresee many times where my feet fall asleep in the bathroom. TMI?
Daily Nintendo
8.2 / 10.0
If you allready played a Civilization game it is more of the same, but nevertheless the empire building sim keeps its addictive charms.
Review in Dutch | Read full review
In general, the port of the best PC game of 2016 turned out to be good, but technically weak compared to the original version. However, the gameplay is not simplified, and this is very important. Civilization VI is an ideal strategy game for playing on the go, wherever you are. We hope that developers will release a patch with visual upgrade and multiplayer mode.
Review in Russian | Read full review
The turn-based strategy game Civilization VI finally made it to Switch, coming with a mostly accessible control scheme for those new to the series.
Sid Meier's Civilization VI on the Nintendo Switch is a huge success.
A very good port. If you don't have a PC and want to discover Civilization VI, head straight to this Switch version. The game is nearly identical, except it doesn't include the Rise and Fall extension nor the multiplayer mode. For the rest, it is the same game, the same pleasure that you can carry wherever you want. You will just have to be patient at the end of a game, because each turn will last quite a long time.
Review in French | Read full review
NintendoWorldReport
7.5 / 10.0
With the exception of the missing online play, Civ VI is - for better or worse - a faithful and complete port of the PC experience. It's disappointing to be stuck primarily playing with AI but there's a lot to love about Civ VI's single player experience, and playing on Switch turns out to be a solid way to experience the rise and fall of entire civilizations.
The Switch version of Civilization VI is an impressively similar experience to the PC version, for better and for worse.