Percentile Rank
Pikuniku is ranked in the 66th percentile of games scored on OpenCritic.
Rating Summary
Based on 53 critic reviews
OpenCritic Rating
Based on 53 critic reviews
Score Distribution
Unscored Reviews
Rock, Paper, Shotgun
Unscored
What a really pleasant time this is. It's family-friendly, without being a kids' game.
Pikuniku is an absolute treasure, whether you play on Switch or PC. Sectordub have smashed it with the fabulous soundtrack, the way it looks, plays, feels, and everything else in-between. Pikuniku has me completely wrapped around its' overly long legs.
Pikuniku's adorably hilarious approach to overthrowing a dystopian regime makes this brief adventure one worth spending a chilled out afternoon with.
Playing out like an interactive episode of Don't Hug Me I'm Scared, Pikuniku is a perfectly formed three hour adventure.
Pikuniku happily fills in the gap between bigger and longer games, brightens your day, and leaves a lasting good feeling
Overall, Pikuniku makes for a joyful experience to be enjoyed by kids and adults alike, at least for the couple of hours that it lasts.
Scored Reviews
Pikuniku is a short-and-sweet experience that's fun, simple, engaging, and smooth. I can recommend it to just about anyone.
It's hard to talk about Pikuniku without giving too much away, so just know that it's a fun little puzzle-platformer that doesn't take itself seriously.
Pikuniku is an unbridled joy. It's rainbows, ice cream, long weekends and kittens, combined and distilled into their purest, most potent form.
My favorite gaming experiences are the ones that elicit a pure and physical response from me. Whether it's a horror game making me clench my cheeks or a story-driven game dropping my jaw and pulling a tear from my eye, those kinds of experiences are the ones that stick with me the most. With Pikuniku, I was smiling and laughing throughout the entire thing, and too few games get that kind of response out of me. Pikuniku is a treasure of a game, and I can't wait to see more from this team.
I had been looking forward to playing Pikuniku since it was revealed as a Nintendo Switch release, and I'm happy to report that it's certainly a colorfully charming, relaxing and fun 2D platforming exploration puzzle game that I highly recommend you buy on Nintendo Switch. You'll be able to take on this adventure on your own or with a friend or loved one thanks to its local co-op, so be sure to grab the game!
NintendoWorldReport
8.5 / 10.0
That said, I do wish there was a little more to do, especially since the world and characters are so unusual and entertaining. Anyone with even a little interest in Pikuniku should consider picking it up and going in as blind as possible. Much of the enjoyment is in simple, child-like discovery.
Pikuniku is a short & sweet experience that never takes itself seriously. The game is super fun and cheerful thanks to its gorgeous appearance, well-composed music tracks, delightful gameplay and good sense of humor. However, its short length might leave you wanting more.
Review in Persian | Read full review
Are you in the mood for an absurdist yet cheerful adventure-platformer about corporate sabotage? Pikuniku just might be your game.
Pikuniku is worth your money and time. It may not be a revolutionary work of high art, but it's definitely enjoyable. I'd recommend buying it for the Nintendo Switch so you can play it in pieces, but the PC version (which I played) is perfectly acceptable. This is a game I'm going to tell my friends about and get them to buy.
It's impossibile not to love Pikuniku, but now I want some more.
Review in Italian | Read full review
We struggle to recall a dystopia quite as cheerful as the one found in Pikuniku. It's a short game, but one packed with heart and imagination, with a great single-player component and excellent couch co-op that can genuinely be enjoyed by anyone. It makes us remember the fun we had cutting pieces from our friends in Snipperclips, but where we occasionally hit a brick wall with that game, Pikuniku sidesteps frustration in favour of a breezy and charming adventure; a perfect salve if you need a break from the backlog, but don't dive in expecting endless hours of gameplay.
When it comes to laidback delightful fun, Pikuniku provides a top-notch adventure that'll keep your toes tapping as you journey forth.
Pikuniku is an intriguing game as it takes some heavy concepts and transforms them into something colourfully palatable, with interesting characters and a fun soundtrack.
Despite being rather short, Pikuniku is sure to please players anyway thanks to its pleasant presentation, relaxed atmosphere, goofy characters, and its world that's just plain fun to explore.
Handsome Phantom
8 / 10.0
This game will not challenge you nor will it show you anything that you haven't seen before from a mechanic point of view. Clocking in at only 3 to 5 hours, you won't even be playing it for all that long. But what Pikuniku will do is make you smile. It's outrageous, random, nostalgic, and most importantly, shouldn't be missed.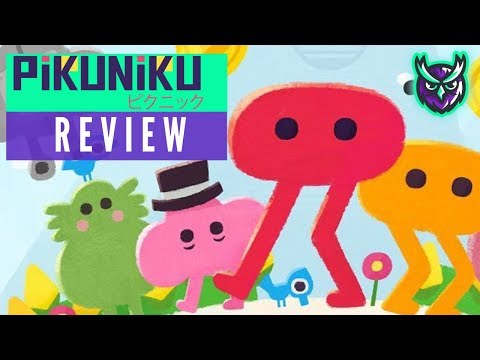 In the wrong hands, Pikuniku could have been a shallow and ultimately forgettable experience, but its expressive dialogue, clever framing, and charming, upbeat soundtrack do enough heavy lifting to elevate it into something far more endearing. The characterization, in particular, is delightfully fleshed out. It's a simple game with a ton of heart that'll leave you beaming when everything's said and done.
Still, developer Sectordub have created a delightfully quirky experience with bags of personality. It might not last very long, but Pikuniku manages to deliver a lot of fun little moments before you see the end screen.
Pikuniku is an eye-pleasing, entertaining outing that just oozes charm, with characters who are endearing without ever becoming irritating. If you want a game that will have you grinning with joy, then pick up Pikuniku.
If you are looking for a game that will constantly have you asking yourself what you just experienced, Pikuniku may just be what you are looking for. The main story can take you anywhere from 3 - 5 hours along with nine co-operative levels, trophies to discover, and achievements to unlock. Pikuniku is a truly delightful fever-dream on two spindly legs.
Some mild frustrations and pacing aside, Pikuniku is disarmingly agreeable, revelling in the random while telling a surreal and well-structured story. Both my kids (they're the reason this review is so far after release, hogging the Switch to play this) and I have had a tonne of fun with this game, inspiring bemused, furrowed brows and face splitting smiles a plenty.
Pikuniku is an entertaining distraction, a wonderful game world to romp around in. And when you've finished the entire story in a day or three of casual play, you can look forward to restarting it with your inventory intact and exploring all the nooks and crannies to find what you missed before, and going back to finding Ernie, and kick, kick, kicking him back up through the tunnels and back to safety. Tell him I said, "Hi."
If you're looking for something short, sweet and bound to make you smile, you won't be let down by Pikuniku's infectious charm and gameplay.
A short, funny platforming adventure about a weird little dude on a strange quest, Pikuniku is a charming delight.
Honestly, it's just a really fun game and you should play it. It is only a few hours of your time, and it's sure to bring a smile to your face.
It would have been nice if Pikuniku was longer and had a bit more to its story, if only because it means spending more time with its interesting and charming world. Still, what we have is a fun blend of physics-based gameplay, traditional platforming, exploration, eye-catching art and a fun cast that makes for one cute, highly-enjoyable experience. It's a quick little romp through a gleefully bizarre world that you won't regret checking out.
This game belongs in the same breath as Undertale and Night in the Woods for the way it plays with its own video game-ness. Pikuniku bashes tropes, breaks the rules, and defies any possible expectations you could have.
Its look and feel gives it a charming aesthetic that draws you in, and its solid controls coupled with balanced puzzles makes you stay a while. A funny campaign that has some true laugh out loud moments, but sometimes has vague mission objectives forcing you to wander around aimlessly until you stumble upon the next step.
Devolver Digital presents Pikuniku, an endearing and outright hilarious all-ages platforming adventure game, but it's over way too quickly.
It may not be long but you'll have a big, dumb smile on your face the whole time; a pure realization of quality over quantity.
A wonderfully absurd tale of insurrection and kicking stuff in a cheery-looking world.
Pikuniku is quirky, funny and more than a little bit mad, all adding up to a short-but-sweet, colourful platform adventure.
Flickering Myth
7.5 / 10.0
Pikuniku doesn't do much new with the cutesy indie game formula, but it does present a beguilingly offbeat mood, wrapped around some enticingly colourful visuals and snappy gameplay that doesn't tax the brain.
Pikuniku is definitely a bit of an odd title. It's a little shorter than I was hoping, but across the entirety of the game I was never really uninterested or bored, I actually really enjoyed my time with it. If I had to say though, I feel like there could have been a little more effort put into really branching out with some of the mechanics, but I'm not disappointed with the game by any means, I just found myself left wanting more.
A charming little adventure with a good heart, a quirky atmosphere and a fascinating tone. Pros and cons can for once essentially be the same: some will be delighted by the randomness and the utter simplicity of the whole experience, while others might find it a bit too much.
Review in Italian | Read full review
Level Down Games
7 / 10.0
Sometimes, I want to relax and play something that doesn't require too much effort or thought, and Pikuniku certainly filled that hole in a playing catalogue that, for me, is usually occupied by the newest hardcore, realistic, blood-and-guts grit fest. The game garnered plenty of laughs from me and I've recommended it to a few friends to try; especially since it was free on Twitch for Amazon Prime subscribers for a few days. The price tag on Steam is set at $12.99, which may be a little high for a short, low-budget game with little replay value, but if you find yourself bored and looking for something fun to do with a few extra bucks and one of Steam's frequent sales on your radar, Pikuniku isn't a bad choice at all.
Despite its childish look, Pikuniku tells us a revolutionary tale of a random guy joining a resistance group fighting against an evil corporation. Funny until the end, Devolver's new game may mostly count on its strange physics, even to the point of frustration when the game asks for strong platformer parts. The two-player mode might balance a very short length though.
Review in French | Read full review
Cultured Vultures
7 / 10.0
Pikuniku is a bizarre and often hilarious puzzle platformer that is too hamstrung by its brisk campaign to make it much more than a neat distraction.
The Game is a Lie
7 / 10.0
Pikuniku is a little game that can be a lot of fun and even funny at times, but is, most of the time, monotonous and unoriginal. It shines brightest when it's not afraid to be naturally quirky but sometimes tries too hard to fabricate quirkiness that doesn't belong.
Review in Portuguese | Read full review
Pikuniku is a hilarious game that's oozing with charm. Its single player campaign is full of moments that make you feel like a kid again, and its co-op mode is surprisingly relaxing. Unfortunately its charm is let down by a clumsy control scheme that doesn't always mesh with some of the mechanics, and this can create an experience that ultimately feels unrewarding.
Pikuniku's minimalistic visuals, wacky humour, overall happy vibe, light collect-athon mindset, and simple gameplay mechanics, make it a good pick for those who just want to kill an evening or two with something that's fun, but not that demanding. Sadly, there's a severe lack of content at hand, which is surprising given the length of it all.
This puzzle-platformer's puzzles and platforming might be merely alright – and the music is a proper irritant – but Pikuniku is full of so much cheer and loveliness elsewhere. It's bursting with character in a story that's equal parts silly and uplifting.
New Game Network
60 / 100
Pikuniku offers a few amusing moments, but its underwhelming presentation and simplistic gameplay make for an easily forgettable experience.
Pikuniku is simple, silly, and ultimately kind of pointless. That being said, if you're looking for a short, feel-good experience, it might be up your alley.
Pikuniku is a vibrant, simplistic adventure platformer with a great sense of humour.
Its absurdity, alongside occasional quips do end up pulling their weight, but it's not enough to save Piku's journey from being inoffensive and simply forgettable.