Percentile Rank
Eastshade is ranked in the 83rd percentile of games scored on OpenCritic.
Rating Summary
Based on 13 critic reviews
OpenCritic Rating
Based on 13 critic reviews
Score Distribution
Unscored Reviews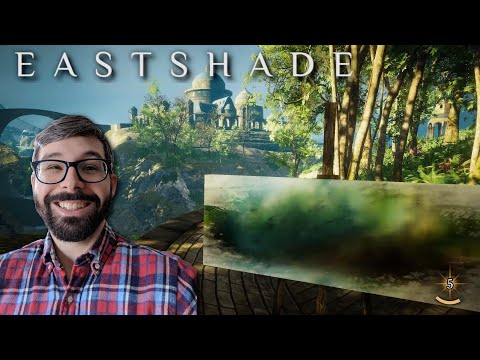 Rock, Paper, Shotgun
Unscored
A slow, gentle, personal RPG, with neat little stories, characters I remember, and a real sense of having spent time in a special place.
Scored Reviews
Eastshade is an original masterpiece that needs to be experienced by everyone at least once in their lifetime.
Cultured Vultures
9 / 10.0
Entrancing, magical, and beautiful, Eastshade is much more than a pretty picture.
Eastshade is a rare first-person open world game about doing nice things and bringing communities together, a genuinely feelgood and gorgeous experience.
The Games Machine
8.2 / 10.0
Eastshade is a wonderful surprise. A videogame in which violence is not contemplated and which gives free rein to the exploration of the world, as well as the discovery of the characters that populate it. The artistic direction is also fantastic, lending itself perfectly to the protagonist's brushes. Despite some small technical issues, Eastshade is an incredibly deep and relaxing experience.
Review in Italian | Read full review
Eastshade Studio's latest release is a great, relaxing experience overall, although some under-developed features and a few dated gameplay mechanics prevent the game from reaching its full potential.
Review in Persian | Read full review
Eastshade is transcendent. While the game may not be perfect for everyone, fans of RPGs and players looking for a relaxing video game will certainly want to check it out. The game's gentle soundtrack and gorgeous visuals nicely accompany its detailed open world for a beautiful, chilled out experience.
Eastshade may have some serious technical problems, but it's a wonderful game that deserves a lot of attention.
A charming traveling artist adventure which uses image capture in interesting ways.
Eastshade is an immersive and contemplative adventure set in a quirky fantasy universe. In spite of some performance issues and underdeveloped mechanics, it achieves a memorable gaming experience.
Eastshade delivers an original first person walker experience with its anthropomorphic world where all you have to do is paint. Too bad its lacky graphics and chaotic frame rate ruins the mood more than once, because its wonderful soundtrack leaves the player with a strange bliss sensation. The benefit of a walk in the forest, no doubt.
Review in French | Read full review