Percentile Rank
World War Z is ranked in the 45th percentile of games scored on OpenCritic.
Rating Summary
Based on 92 critic reviews
OpenCritic Rating
Based on 92 critic reviews
Score Distribution
Unscored Reviews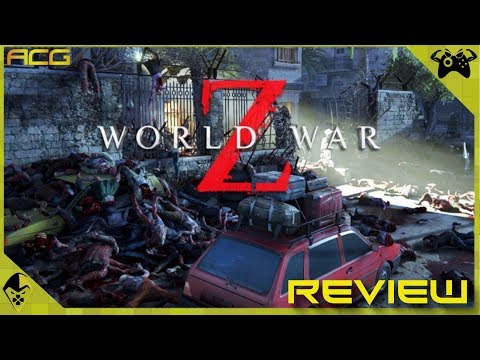 World War Z takes the fun gameplay of the Left 4 Dead series and adds nice touches that create a fun and frantic zombie co-op experience. Some technical issues aside, World War Z is a blast with friends and scratches that Left 4 Dead itch that you might have.
Unboxholics
Worth your time
Saber Interactive focused on pure fun and in this regard the studio fulfilled its goal. The game, despite its problems, is offered at a budget price and presentes an ideal cantidate for spending countless hours with your frineds.
Review in Greek | Read full review
Eurogamer
No Recommendation / Blank
No Recommendation / Blank
Apr 26, 2019
A co-op shooter that's an unashamed throwback to Valve's all-time classic, complete with a few quirks of its own.
you can't deny it's fun mowing down hordes of zombies with your mates.
World War Z is the kind of game that needs a dedicated squad to play with. In World War Z you damn well better give no quarter, because you can expect none.
World War Z is an OK multiplayer game elevated by hilarious zombie physics
When it comes to zombies, I MUST have a look - and look, World War Z is a hell of a lot of fun. When you are exposed to this gigantic zombie mass for the first time and desperately try to hold a position, your fingers get sweaty. Especially at the beginning it's these moments that hide many technical shortcomings. But after several hours the "Oh, man!" and "Fuck, really now?" moments accumulate. If the developers diligently polish up here and add new content as planned, then these annoyances gradually disappear and allow an undisturbed look at a surprisingly good and fun co-op game, which could actually be a serious alternative to Valves' aging king on the Undead Throne.
Review in German | Read full review
Scored Reviews
Overall, the game is a fast-paced team shooter, and it will take everyone working together to make it out alive. This game is very much like Left for Dead in its levels and gameplay mechanics. The game is available now on Xbox One, PlayStation 4, and PC for a price of $34.99 USD. For this game, I would say throw down the money and come enjoy the world that was brought to us in the movie. You won't see Brad Pitt in the game, but you will have one heck of a time either way.
Although it has a shoddy A.I system, a rather short campaign, and a PVP experience that needs some work, at a price point of only $39.99, World War Z packs the action, urgency, and fan service that's bound to bring you back.
Rectify Gaming
8.5 / 10.0
World War Z is reminiscent of Left 4 Dead but improves on the formula with upgradable classes, weapons, and PvPvZ modes.
World War Z hews closely to the core tenants of the genre, but its zombies make the familiar monster feel unique. The story is interesting, but light enough that it knows when to stay out of the way
Without a doubt, it's hard to play World War Z without comparing it to Valve's Left 4 Dead series. Many of the similarities are here but Saber Interactive decided to take to those concepts and fleshed them out. Adding a leveling system and a larger variety of competitive options. It's a cooperative shooter with lots of things to kill and while that may sound mediocre it's done so well here. World War Z is all about mindless carnage as you plow through another wave of zombies.
A brilliant spin off of a amazing movie. Teamwork, cooperation and zombies!
Before launch, World War Z seemed to be spoken of with skepticism, perhaps due to its curious choice of IP.
PlayStation Universe
8 / 10.0
World War Z is a blast to play featuring some great action and some intense encounters that should be experienced by anyone looking for a great co-op game.
The zombie hordes grow tiring but it makes for a great Left 4 Dead clone. The best we have ever had.
As it stands, World War Z is a game that should bring you a good few entertaining hours blasting zombies away with some buddies.
PlayStation Galaxy
8 / 10.0
While the glitches and bugs aren't game-breaking and don't really affect the entire experience, the only gripe I have with the game is how repetitive the objectives are in its campaign mode. In the end, World War Z is still a great spiritual successor of Left 4 Dead and it packs a lot of fun when you play it with your friends.
At first glance, there was little promise here. A movie tie-in to a pretty bad movie, so long after it, and clearly taking more than inspiration from another existing popular franchise? Yet, what at first seems like just another shallow Left 4 Dead clone reveals itself to be so much more, it feels more a true successor to its inspiration, definitely one to pick up for groups of friends looking for a new game to enjoy together, even more so for the Left 4 Dead fans out there. If the stability issues can be resolved, this is going to superb and needs to be on more people's radar.
A surprisingly deep and fun co-op shooter, World War Z proves that killing hordes of zombies is still fun, years after the genre hit its peak.
Chalgyr's Game Room
8 / 10.0
Though flawed and missing a few crucial quality of life updates, World War Z does indeed scratch that itch that folks who were looking for a Left 4 Dead-style game. Chalk full of exciting and memorable moments, World War Z for the most part has successfully blended action-packed goodness with that panic-ridden anxiety of being overwhelmed with (literally) hundreds of zombies. With a few user updates and more variety in missions, World War Z could be a mainstay cooperative shooter that is here to stay.
World War Z doesn't hide its intentions. It's not a layered, in-depth survival sim. It doesn't try to be anything it's not. It's built around the horde effect, which it nails. They're like train wrecks: you can't stop watching them—except the train is headed straight for you.
Tense horde fights made up for the occasional bug, but World War Z should absolutely be played with friends if you're thinking about jumping in.
Geeks Under Grace
8 / 10.0
World War Z's impressive replayability elevates it, making this game one of the best in the zombie genre.
Overall, World War Z is a pretty fun but extremely short co-op zombie shooter that is eerily similar to Left4Dead but helps counter the withdrawal any fans of that franchise may have. A few more bug fixes and much more in-game content would give this game the much-needed resuscitation it deserves.
Simply if you are a fan of Left 4 Dead and Similar games, you can really enjoy World War Z. WWZ is a valuable co-op zombie-killing game that challenges you in every step of the game. It's a very well-made game and you can spend a lot of good times with your friends slaughtering zombies with team work and strategy. World War Z is one of the best choices to play in its genre.
Review in Persian | Read full review
A capable coop shooter with a lot of potential and amazing swarm mechanics
While the campaign was fun and the gameplay was fairly diverse, I'm not sure there is enough here to keep me playing as a single player who isn't the biggest fan of PVP. I reviewed OVERKILL'S The Walking Dead on PC a few months back and while that game has had its share of issues, as well as possibly scrapping its console release, I found it had a bit more to it to keep you going as a single player with the ability to build your camp and send survivors on missions. World War Z is a good alternative option if you were looking forward to The Walking Dead but it is more directed towards the PVP players in my mind. On the plus side, I didn't encounter any bugs and the matchmaking seemed reliable for the most part.
Is World War Z as good as Left 4 Dead? No. Is it fun despite that? Yes. There's few pleasures in gaming that can compare to swinging a thrumming chainsaw blade through a horde of ravenous undead, and World War Z delivers. And really, it's not like Valve makes games anymore.
Cultured Vultures
7.5 / 10.0
It's not revolutionary by any means, but World War Z is a fun zombie shooter that actually surpasses the movie on which it is based.
Gamerheadquarters
7.5 / 10.0
World War Z delivers a quality experience that's filled to the rim with zombie swarms.
While it needs more polish and content to be truly great, World War Z is by far one of the games that has surprised me the most in 2019.
An interesting game for those who are still waiting for Left 4 Dead 4, but with it's own twists that makes this game even more fun. It could have more zombie types, better matchmaking or an interesting multiplayer PvP... But maybe that's too much for a B class game like this.
Review in Spanish | Read full review
World War Z isn't exactly a polished game but it is an intense and thrilling experience that is easy to recommend.
World War Z is far from being as polished as it should be, but it's made well enough and has enough content to keep you and your friends busy for some time. The gameplay is fun and entertaining, but the game does need a bit more refinement to make it shine the way it's supposed to. Overall, not a bad co-op experience.
World War Z is a surprisingly fresh take on the well-trodden Left 4 Dead formula. While a bit rough around the edges and nowhere near as groundbreaking as Valve's series, World War Z is a confident co-op shooter that turns the intensity to 11 without being overwhelming or obnoxious. If you think you've got the stamina, this war is worth enlisting for. The links above are affiliate links. As an Amazon Associate, Wccftech.com may earn from qualifying purchases.
World War Z is a fun and thrilling zombie killing experience that should leave fans of the Left 4 Dead series satisfied.
World War Z doesn't pose any kind of threat to the dominance of Left 4 Dead, and it'll have its hands full of Back 4 Blood lives up to its pre-build hype. However, there's more promise with Saber's release than you might expect.
Not so cool as Brad Pitt in the movie, but still good choice in cooperation against massses of infected.
Review in Slovak | Read full review
World War Z's lack of variety and ambition can't stop a satisfying zombie slashing with a good group of friends.
World War Z has a lot of technical issues than could be solved with some updates. But if you have a group of friends to play with, the game can be very enjoyable.
Review in Portuguese | Read full review
Just Push Start
3.6 / 5.0
Overall, it feels like a game that should have been released as an Early Access title for the next month or two. With a touch of polish and some quality of life improvements World War Z could be the closest to Left 4 Dead 3 we may get.
Overall I would recommend this as a fun experience, the storyline will play out in about 6-7 hours but the real enjoyment comes from the Co-op mode so grab your buddies and get slaughtering those Z's
The Games Machine
7.1 / 10.0
Uninspired and with a bunch of issues, this fast paced shooter can fill the void left in the hearts of Left 4 Dead fans.
Review in Italian | Read full review
Underneath the connectivity issues and game-breaking bugs is a solid third-person zombie shooter in the vein of the classic Left 4 Dead series.
Zombie swarms are impressive in World War Z, but soon you don't even notice them anymore, because the gameplay, although fun at first, gets boring rather quickly.
For anyone looking to experience something comparable to Left 4 Dead, you'll find what you're looking for in World War Z. While it sticks a bit too close to the successful formula from Valve's zombie shooter, it differentiates itself by featuring the amazing Swarm Engine
What World War Z does well is provide straightforward co-op action that entertains and enthralls, even if it is just in the short term. It has plenty of rough edges, but developer Saber Interactive has been fairly clever about where it has allowed those edges to be. Being a zombie shooter in 2019 is probably the stalest kind of game to be, but World War Z proves that staleness needn't matter if you ensure enjoyment is high on your list of priorities.
The main pleasure is the fact that we have to face huge hordes of zombies. The feeling of surprise we can have during movie of 2013 is intact. The main problem is the lack of content (not enough levels and chapters).
Review in French | Read full review
World War Z is one of the biggest surprises this year so far. It's a ton of fun, especially with a good group of friends. There's a decent amount of content on offer for the game's lower than average retail price, some super impressive zombie horde tech and a beefy progression system. It's not without its flaws though, with numerous areas in need of tightening up such as gunplay feedback and movement, but despite that the game is absolutely still worth picking up.
World War Z is nearly the Left 4 Dead sequel I've always wanted. The jump to third-person shooter doesn't grate, nor does the wholesale lifting of elements from the much-better Left 4 Dead series.
Even though this game is familiar, World War Z offers a solid co-op action experience with its impressive zombie hordes and class abilities. It is a Left 4 Dead game with reason to go back.
Saber Interactive, Mad Dog Games, and Focus Home Interactive's third-person co-op shooter World War Z provides decent zombie-slaying fun, but it is far from perfect.
It's safe to say that World War Z doesn't shy away from its undeniable likeness to Valve's 10 year old masterpiece. In borrowing many of that game's ideas, from its AI engine to the uncannily similar special zombies, it's actually become a spiritual successor that can scratch that Left 4 Dead itch. World War Z might lack in originality, but this isn't enough to deter from the brainless, fast-paced, cooperative shooter action that you can effortlessly sink hours into and unknowingly get a real soft spot for.
While it's an unabashed Left 4 Dead clone that never extends beyond the conservative concepts and budgets that obviously constrained its development, World War Z offers up an enjoyable adventure that at times does a lot with the little it attempts. No matter whether playing the co-op campaign or competitive multiplayer, there's enough good to the game to make the bad not feel as bad.
Although it borrows heavily from the house that Left 4 Dead built, World War Z is a fast-paced fun time with a great sense of progression
And that really is what it comes down to. I feel that if anyone enjoys cooperative player vs environment games like Left 4 Dead, Strange Brigade or Warhammer: Vermintide, then World War Z is for you. It's not the greatest of the bunch, but it scratches the same itch as the above games while bringing a little something of its own with the swarm mechanic.
The simplicity and the integration between the difficulty level and the progression system are the best thing about World War Z, and makes it has an excellent replay value. The multiplayer is less than it could be due to the overuse of the zombies horde in it, and how shallow it is.
Review in Arabic | Read full review
Overall, World War Z provides a decent co-op zombie experience, despite some drawbacks. The weapons lack oomph, even when powered up, but they are still decent. The class system doesn't make anyone feel too different, but much like the weapons, there aren't any terrible classes
The concept of making a co-op focused third-person shooter based on the World War Z movie is exciting in theory, but the execution here is clearly flawed. Nevertheless, it is a solid shooter that works out mostly in its co-op mode with a group of friends.
World War Z has plenty of rough edges and for love of god it really REALLY needs an evade button, but it's a small price to pay for such a video game event.
World War Z is very competently made and has very few flaws, but it's just nothing we haven't seen plenty of times before.
World War Z has its flaws especially with its throwaway PvPvZ mode and repetitive campaign, but it's genuinely a pretty fun zombie shooter akin to Left 4 Dead. It's a fun title to just pick up and play with a few pals when you're bored or have run out of games to play. It's even enjoyable solo with AI companions. World War Z is worth a go, then, at least until Back 4 Blood makes its debut.
World War Z is a game full of zombie hordes everywhere, a feeling of great burden and a great experience to try with friends, who will have fun for a long time. But, at the same time, the negative points are very huge, from a bad gunplay to the little variety and very short duration. And they weigh a lot on the title...
Review in Spanish | Read full review
Blast Away the Game Review
6.5 / 10.0
Overall, for its price, World War Z isn't an unfair package as a title of its kind. With the ability to add more content later, repair its unbalanced multiplayer, and hopefully deliver an experience worth undertaking in the future. In its current state, it's just a short-lived experience without any longevity to it.
World War Z lays a solid foundation for future content, gameplay expansions, and DLC (free or not). The gameplay loop is fun, although repetitive, it delivers a frantic moment to moment shooting experience.
Rely On Horror
6.5 / 10.0
I started to have fun once I disentangled my mindset from much of what the game was trying to do to be unique and just played it like it was Gears or some other equivalent shooter. Running and gunning and paying little attention to objectives. It's just too much of a pain to try and juggle so many things while the game is also throwing all of these weird constrictions at you.
World War Z has a Left 4 Dead-based-DNA that exposes too much its lack of originality. The game, in its essence is fun and enjoyable, but most of the merit it isnt't all of its doing.
Review in Italian | Read full review
World War Z is a competent team-based shooter that doesn't really add anything new to the genre. It is, however, great fun to play with friends in short bursts.
New Game Network
65 / 100
Outside of the excellent co-op play, World War Z is a mixed bag of issues. With no story to get invested in, the progression system is a total drag and there's little here you haven't seen done better before. However, as long as you have friends willing to join in, this shooter can be an intensely enjoyable time.
A fun game while it lasts and I can't see it lasting more than around 7 hrs to fully play through with a decent team of seasoned TPS/FPS players. Disappointingly inorganic considering the premise, but if gunning down swarms of Zombies is your thing I think you will get a real kick out of it. Definitely worth a play.
PlayStation LifeStyle
6.5 / 10.0
If you want something you don't have to think too deeply about or are into competitive multiplayer with friends, then World War Z could be for you. But if you're expecting an in-depth narrative and a campaign that requires strategy and coordination, then perhaps you should stay away.
It might not too unbearable when you play with your close friends and you guys coop perfectly. But in general, this game is even much more boring than the zombie's daily life.
Review in Chinese | Read full review
World War Z has all the makings of a good co-operative experience thanks to its comprehensive class and weapon variety, but its objective-based gameplay can't quite live up to the same standard. You're sure to find enjoyment in fending off swarms of the undead and the multiplayer is a real highlight, but it's unlikely to pull you away from better multiplayer titles for long.
The level and character design is something to marvel at with World War Z, but it gets bogged down in its flaws. There's a good game buried in here but first impressions aren't stellar, and promises of updates don't do much for a fully released game with very noticeable problems.
A curate's egg of zombie clichés and surprisingly solid multiplayer, with the movie's undead hordes replicated in impressive fashion.
World War Z is unrefined and rough around the edges, but it makes up for this with satisfying co-operative action that fills your screen with hundreds of enemies for you to kill.
Bland and mostly harmless, World War Z is another co-op zombie shooter that you could play.
World War Z is probably actually up there as film tie-in games go, and is capable of offering some nifty zombie action that can get your pulse racing. But once you've seen its tricks, it all gets a bit samey fast - faster because we've seen something very similar before - and it's hard to imagine it having much of a shelf life
Like the movie it's loosely based on, World War Z is in no way scary. It's not even particularly compelling as a piece of horror. But like the movie, it is a relentless piece of AA action fluff that, if played with the right group of people, makes for a riotous and frenetic – if shallow – action tower defence game.
It will brighten up a few evenings, but it is unlikely you will stay here for a long time.
Review in Russian | Read full review
Shotguns sound like small calibre rifles, grenades and C4 detonate with the force of a small firecracker, and the heavy machine gun sounds like someone spilled a box of tic-tacs on a wooden floor. They get the job done; multitudes are massacred, the world is a safer place, etc etc, but without decent sound effects to back up the zombie slaying it's about as satisfying as watching a Michael Bay movie on an iPhone.
World War Z has a great gameplay hook, but it unfortunately lacks the variety needed to keep it engaging past the first few hours.
World War Z has some moments that are an utter blast – the special zombie types and impending doom of a zombie tower bring pure excitement. However, these moments are few and far between, leaving a shell of game with very little content, a lack of creativity, a near non-existent story, and a disappointingly shallow progression system.
World War Z has no challenge, or tensions, or conflict; and a game with a horror setting but nothing horrifying is just horrifyingly boring. It's fine on a technical basis, though.