Percentile Rank
Everybody's Golf VR is ranked in the 63rd percentile of games scored on OpenCritic.
Rating Summary
Based on 27 critic reviews
OpenCritic Rating
Based on 27 critic reviews
Score Distribution
Unscored Reviews
The latest iteration of the Everybody's Golf franchise is a prime case of quality over quantity. What is there is excellent, but what isn't, could have elevated this game, and potentially even the franchise, to higher levels than it has ever previously reached.
Scored Reviews
Everybody's Golf nails the most important thing: hitting the ball feels great. It's just disappointing that there isn't anything in the way of multiplayer to test your technique against your friends.
Everybody's Golf VR's devotion to (and immersion in) the ambience of golf transcends its simulation-oriented peers. As I swing a virtual club with one of my physical hands on a course populated by dinosaurs, instead of feeling lost in the abstract, I'm committed to refining and improving my shot. Everybody's Golf VR's affable pragmatism and judicious feedback grant access to a sport I had always considered too distant and aloof to negotiate.
In the end, Everybody's Golf VR is an excellent new way to experience golf without the funny pants or rising greens fees. What it lacks in localization, it more than makes up for with immersive and light hearted fun. Tee up, this one is fun for the whole family.
The Games Machine
8.2 / 10.0
Everybody's Golf VR mixes the arcade soul of the series with a pseudo-simulative approach of the gameplay.
Review in Italian | Read full review
Glitched Africa
8.2 / 10.0
The game may not be perfect but it is the best way to play golf without the sunburn.
In other words, the price is about right. You can get a feel for Everybody's Golf VR in a few short hours, but if you're anything like me, you won't want to move on quite so fast. It's an earworm of a game. Just thinking about it makes me want to dig out my PlayStation VR and clear the room. That's no small feat.
It's a shame because the golfing basics feel so good once you get to grips with them that it seems a shame there's no real reason to keep testing your skills. Leaderboards offer a small incentive, but less asynchronous multiplayer would've been appreciated.
Everybody's Golf VR is a charming golf game capable of putting you directly on the grass. Everything feels and functions perfectly and once you learn the ropes, it can almost be a tool to teach you how to play real golf. Interactions with the female caddies are a little weird, but they're part of the game's charm and wonderful homey and relaxing atmosphere. If you're looking for a VR golf game, here you go. This is the one.
Because of the lightness in content, Everybody's Golf feels like an early access version of the game. At least the game is priced accordingly. Fortunately, the paucity of content is offset by the strong technical and gameplay aspects of the VR presentation.
For the ultimate golfing experience, look no further. Everybody's Golf VR may be missing some of those multiplayer options and a meaty career mode, though fits itself in a tidier, more focused package pitched at a great price.
Clap Handz implements it's enjoyable vision of golf in the virtual reality realm, and motion controls, with remarkable results. A fun an accesible golf game that lacks gameplay modes and options (there is no multiplayer, career mode...). If you forget about that, and want some fun sports in VR, that's just what if offers.
Review in Spanish | Read full review
Everybody's Golf VR has the great limitation of providing little in terms of contents and game modes, but what it offers is great for any golf fan.
Review in Italian | Read full review
If the idea of a rewarding and delightful game of golf in a virtual reality world sounds appealing to you then you'll love your time with Everybody's Golf VR.
There's a stark lack of content on offer here, but that shouldn't detract from what's one of the best digital recreations of Golf available. There's not a lot of it, but what there is, is a joy to play.
PlayStation LifeStyle
7.5 / 10.0
VR tracking issues aside, this is an absolute must-play if you're into arcade golf games, and if you're looking for something relaxing to play in PSVR. I do wish the game worked better from a technical standpoint, but given the limitations of the hardware in its current state, it works well enough.
Everybody's Golf VR feels like a good first step in getting the sport on to a new technology. Once you get used to the controls — specifically controlling the shot direction and amount of power needed — you'll find the game to be very immersive due to its presentation.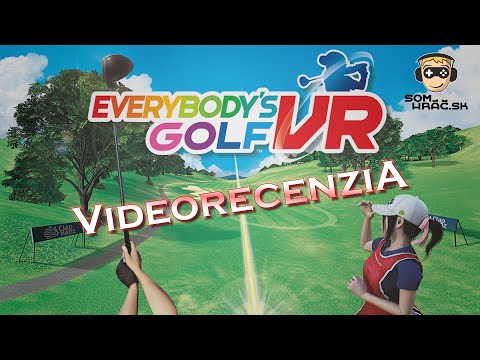 PlayStation Universe
7.5 / 10.0
It shouldn't be surprising that Everybody's Golf is a good fit for PSVR, but the manner in which Clap Hanz has interpreted its accessible take on the sport into the realms of virtual reality is indeed surprising. Though it may be relatively limited, it has essentially kept the spirit of Everybody's Golf intact whilst changing the very way it's played, and done so by stripping back the fluff and keeping things relatively simple. That's very much the Everybody's Golf way.
Colourful golfing action with a fascinating complexity to each swing – and a stealth workout – but relatively few courses.
Everybody's Golf VR brought the sensation of playing golf to your room in an enlightened way, but its luster dulls away with the realization that you are the only golfer in this world.
Review in Arabic | Read full review
Everybody's Golf VR is a great golf game for PSVR but misses a lot of the ease of pick-up and play that the franchise is known for because of the medium.
Everybody's Golf VR loses a little of the series' trademark accessibility as part of its transition to PSVR, but putting in some practice is a worthwhile endeavour, as this is a seriously rewarding arcade sports game. The presentation is top-notch throughout, and while the package is a little light on content, everything that's included has been polished to a sheen. This is the second time Clap-Hanz has reinvented its legendary PlayStation property for the PS4, and once again it's delivered a Nice Shot.
Nice but short Golf in virtual reality, with low content and without real competitions.
Review in Slovak | Read full review
Everybody's Golf VR is a solid golfing experience for players of all skill levels, but it lacks enough incentives to keep playing its few courses.
Everybody's Golf VR offers the same gentle style of golf that the previous entry had, and the golf feels pretty realistic. Unfortunately, there's a lack of modes and limited variety of courses that bring the overall experience down.
With wonky mechanics and a lack of immersion, this is less a virtual golf simulator and more of a boring golf mini game that just happens to have some fun waifu eye candy.