Percentile Rank
Catherine: Full Body is ranked in the 81st percentile of games scored on OpenCritic.
Rating Summary
Based on 54 critic reviews
OpenCritic Rating
Based on 54 critic reviews
Score Distribution
Unscored Reviews
For those who have not played the original, Catherine: Full Body is an easy recommendation. For those who enjoyed it before, there's enough here to warrant another go, though one might wait for it to drop in price a bit.
With some adult themes and an intriguing story mixed with addictive puzzling gameplay, Catherine: Full Body is a great remaster despite some questionable writing.
As a game, Catherine Full Body plays very well and the flow between interactive fiction and puzzle solving is surprisingly seamless, offering a great hook. In that sense, the game has aged well and holds up as a great visual novel. But in terms of the story the game tells across it's vast, branching narrative, there are question marks around some of the content in the game. Both in the way it defines the relationships we share as human beings and how it normalises some individual behaviour in those relationships.
Scored Reviews
With nearly perfect gameplay and entertaining stories, Full Body will prove to be the perfect blend. If you're a new player or even just a fan of the original, Catherine has never been more worth picking up.
I was a fan of the original Catherine, and I'm pleased to find the changes are mostly for the better. If you like puzzle games, specifically ones about finding patterns through the noise, and don't mind potentially uncomfortable questions about mature topics, I highly recommend picking up Catherine: Full Body.
Accessible, engaging, though-provoking, and packed full of content, Catherine: Full Body is one of those rare things: a perfect game.
Electric Bento
9.3 / 10.0
Catherine: Full Body is the epitome of re-releases, with fresh new story content and new modes to try out, everyone that missed the first time should check this release out.
Catherine: Full Body has aged like the finest of wines. For fans of the story, the new characters and plot threads fold in fantastically after an awkward start, and they're coupled with a wealth of new dialogue and beautifully animated cutscenes. For fans of the gameplay, new remixed levels and difficulty options add brand new challenges for even the most hardcore Catherine enthusiasts, and with support for the game's niche competitive scene to boot. And if you've never played the game before, all of these additions make an already classic video game even more of a must-play experience.
Catherine is a rare game - it's one that handles sex themes with maturity and nuance, and then folds gameplay elements into the narrative themes that are enhance the core narrative.
Catherine: Full Body is a complete package that's great for both newcomers and returning fans alike.
Just Push Start
4.5 / 5.0
In the end, I stand by it being one of the best titles last generation and strongly suggest it to anyone, especially those troubled by the looming threat of adulthood. For what it is, there are few games like that and this more than makes up for a bad choice here and there.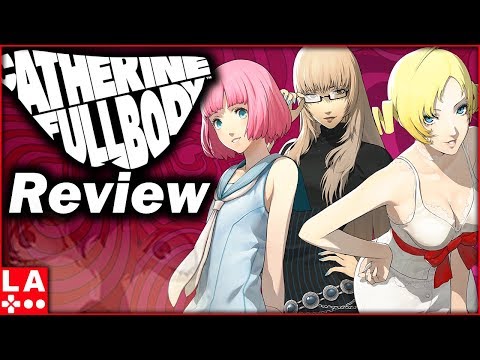 A fantastic puzzle game hides underneath an interesting, engaging story. There's plenty here to warrant another look, and if you skipped it before, don't pass it over this time.
It's the quintessential way to experience Catherine, especially for those who may have missed out on this gem of the decade. The story, a relatable one of regret, commitment, and facing the music, should resonate with those looking to get emotionally invested in a great, timeless romance.
Catherine Full Body adds new story and game modes, making the game more fun to play. The cutscenes give us a story that is deeply rooted in people's hearts, and the sokoban parts are interesting too.
Review in Chinese | Read full review
I honestly can't fault Catherine: Full Body and if you're a proponent of games as art then this is definitely a game for you. It's a stunning achievement and one that I'm glad to have played through.
Catherine: Full Body offers a fresh new way to experience the 2011 PS3 classic with new twists and surprises galore.
Catherine: Full Body is a glorification of the original game, unmissable.
Review in Italian | Read full review
Catherine: Full Body is the perfect excuse to revisit or to play for the first time this fantastic puzzle game made by the same team behind the Persona franchise.
Review in Spanish | Read full review
The Games Machine
8.5 / 10.0
Catherine: Full Body is a journey towards maturity that doesn't take itself too seriously, but at the same time offers a good excuse for a bit of introspection. Neither a remaster nor a remake, this version manages to offer an even richer and more substantial experience than the original.
Review in Italian | Read full review
Catherine: Full Body takes the 2011 cult classic to the next level. With new story elements, remixed stages, and compelling characters, this title is sure to satisfy old fans and newcomers alike.
Its gender depictions might not have aged like fine wine, but there's still nothing quite like Catherine: Full Body. Whether you play it as an anime visual novel, a nightmarish puzzle or bizarre fighting game, it's a richer experience all-round.
There's no doubting that Catherine: Full Body is wacky and bizarre, but those qualities are embraced in a mighty enjoyable way. It is as stylish as it is thought-provoking with an extra layer of childlike hilarity that ensures you're kept entertained, whether that's when divulging in the game's narrative or during Vincent's nightmarish climbs. Is it mainstream? No. Will everyone enjoy it if they give it a chance? Yes. It doesn't take itself too seriously, but Catherine: Full Body explores the more mature aspects of human intimacy and the many, many pitfalls that come with love and growing up in ways that not many other games manage. Add to that a solid story, enjoyable block-based puzzling, and some fresh additions built entirely for the new release, and you'll quickly find that Atlus are onto another winner here.
Catherine Full Body is a great review option for the 2012 title. A fresh and original proposal that will please both those who enjoy now for the first time, and those who already try their day, with a lot of visual and playable improvements.
Review in Spanish | Read full review
Far from complying with a normal remastering, ATLUS has added a series of contents and variants that make Catherine: Full Body remain as interesting as the original release was.
Review in Spanish | Read full review
Catherine: Full Body is a laudable remaster. It introduces a new route through a well orchestrated twist, but if you don't want to take it you will find again the same psychological attention and character development. The game is a sincere work about the man and its bonds and will to overcome adversities. You should give it a chance if you don't have played on previous generation, but this time even the original players may find a reason to come back to block-climbing.
Review in Italian | Read full review
Catherine: Fully Body contains many of the blemishes from the original but doubles down on the amount of puzzles, which is a net gain. If you already had your fill though, you may as well catch up on some of the new endings and call it a day.
PlayStation Universe
8 / 10.0
Catherine: Full Body brings a PS3 hit title to the PS4 with its own modern additions. Not everything is ironclad, but Full body still shines despite its shadows. With new modes, a new character, and new ways to puzzle, Catherine: Full Body adds to the heart of the original in intriguing ways.
Catherine: Full Body brings additional content inconsequentional to the story and great improvements to the gameplay. Regardless of the version you choose, Catherine continues to be a great experience to players interested in great stories or unconventional puzzles.
Review in Portuguese | Read full review
A fascinating adventure that, thanks to the depth of its narrative and branching paths, can be experienced and re-experienced numerous times without losing its charm.
The price tag is a little daunting, though. I can't help but feel like $40 would be a better price, since paying a full $60 for a game you've already played before is a bit of a hard sell. I'd recommend waiting for a sale, though if you're a super-fan of Catherine and want it now, don't let me stop you.
Like any good relationship, Catherine: Full Body is worth sticking with for its positive qualities. There will be hardships and sometimes you'll cringe at what's going on, but there are few other titles that display adult themes with as much nuance in addition to being a tough, but satisfying puzzle game.
The Game Fanatics
8 / 10.0
Catherine: Full Body is yet another respectable remastered title from the guys at Atlus. Everything that made the original great is still here and there are honest attempts to address or fix story or character issues with the addition of new scenes and scenarios. If you enjoyed the original, there is just enough to have you come back, and if you missed out on this underrated gem before, now's the best time to jump in.
Catherine: Full Body's narrative contributions may ultimately serve to hinder what was an otherwise thoughtfully written story about self-discovery, but the overall improvement when it comes to gameplay is almost staggering.
Catherine Full Body offers a deeper look into poor Vincent Brooks' nightlife, by adding a new and surprising temptress to the original story. With the arrival of japanese voices and a French localization, this new version also allow the player to get rid of the almost impossible puzzles, to simply enoy the story or the social interaction of the so cozy Stray Sheep bar.
Review in French | Read full review
The Full Body remaster of Catherine shows that its unique blend of action-puzzling and adult themes still holds up after almost a decade, even if its big new addition doesn't quite fit in.
Cultured Vultures
8 / 10.0
With a new love interest, a new ending, hours of new content and a gameplay system that's unlike anything out there, Catherine: Full Body is a brilliant remaster of a cult hit.
Catherine: Full Body is an indelicate yet thoughtful game, a messy and at-times eyebrow-raising precis on gender and relationships, but a unique and worthwhile experience all the same.
Full Body re-elaborates the original Catherine, proposing a version that, beyond the huge news on the offer side, inserts a fourth character in the love triangle able to unhinge its balance.
Review in Italian | Read full review
If you enjoy tricky practical puzzles and wacky Japanese stories then you'll love Catherine: Full Body.
Like inclusion of Rin, Catherine itself is a tricky one; you'll love it and hate it almost in the same thought. That's not necessarily a terrible thing though — it's an extremely unique experience that you owe it to yourself to at least try if you haven't already. That said, consider that you can get the initial experience on a multitude of platforms for a fraction of the price.
Catherine: Full Body is a marked improvement over the original Catherine, offering more ways to play for those who want to experience an engaging yet slightly problematic story.
PlayStation LifeStyle
7 / 10.0
All I see is a story that embraces its own toxicity, with views on relationships so useless and counterproductive it's almost suspicious how desperately it wants Vincent to be a hero.
Still one of the few video games to deal with love and relationships in anything like a realistic manner, but the attempts to shoehorn in an extra new character fall flat.
Catherine: Full Body is the best way to experience an incredibly unique game. It oozes style eight years after its original release, and although its storytelling does stumble from time to time, this glimpse into the desperate life of Vincent Brooks is still more than worthy of your attention.
Catherine remains a talented caricature of a hysterical, impossible man's moral frailty and romantic insecurity. Characters and complications introduced by Full Body, however, lack the connective tissue and social maturity to support its expanded ambition. A (now optional!) tower-climbing puzzle game fused with a supernatural infidelity meditation, even in its spiraling convolution, still survives as a provocative oddity.
The new additions to Catherine: Full Body are mostly a win, with sharper graphics, more complex puzzles (and better hand-holding for players intimidated by them), and more background on Katherine in particular. Where it lacks though is in the new romance route, which is awkwardly shoehorned in and feels too separated from the rest of the story. Still, for Catherine fans, Full Body has enough nightmare-inducing goodness to make it worth another round 'til last call.
With Catherine: Full Body, it feels like Atlus was trying to find an acceptable midpoint between remake and remaster.
If you can look past that, though, there are new story elements here that help to enhance and develop its existing characters to make them feel more relatable. If not, well, at least the puzzles are awesome.
Catherine: Full Body has more interesting things to say about relationships that are dragged down by a story too cynical to let it shine.
Catherine: Full Body didn't really change my opinion on Catherine all that much. I'm still as conflicted as I was in 2011 with a love for the art style and weirdness of the game. The uninspired puzzles that make up the rest of it wear out their welcome too quickly though.